The Hurry Up is your nightly dose of updates from the Ohio State football recruiting trail, keeping tabs on the latest from commits and targets from around the country.
Ohio State, Clemson battling for country's No. 2 receiver
Last week, Brian Hartline was ranked as the No. 1 recruiter in the nation for the 2020 class by ESPN for grabbing commitments from four senior receivers ranked in the top-15 nationally. 
In just his third year on the recruiting trail, Hartline is already making a case to crack that top-five list for a second straight year with one top-12 junior receiver on the way (Jayden Ballard), the No. 8 receiver leaning heavy to the Buckeyes (Marvin Harrison Jr.) and the country's No. 1-rated athlete (Emeka Egbuka) still very much in play to join fellow Washingtonian Gee Scott Jr.
Hartline turned his attention on Saturday, however, to yet another highly prized 2021 receiver, and it went very well. 
Beaux Collins visited Columbus for the Michigan State game. Collins is the nation's No. 2 junior receiver and No. 30 overall prospect and became the highest-rated 2021 player to visit for a game this season outside of Buckeyes commits Jack Sawyer and Kyle McCord. 
The Buckeye coaches, fellow recruits and fans made about as strong of an impression as they could have.
"Oh, I loved the atmosphere. It left me in awe," Collins told Eleven Warriors on Sunday. "I really bonded with Coach Hartline and Jason Kwon the most. And Jack Sawyer, Lorenzo Styles and Kyle McCord were cool to hang around."
Collins was the first player onto the field, walking through the tunnel with Kwon and assistant receivers coach Keenan Bailey by his side. That's before he walked out to stand in the south end zone for a long talk with Hartline, who met with Collins first before moving on to speak with other recruits.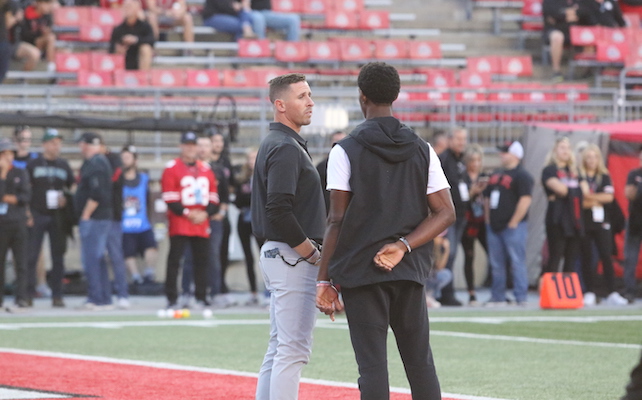 The 6-foot-2, 195-pound receiver out of St. John Bosco (Calif.) High School has become an even bigger priority for Hartline and the Buckeyes, and they are in good standing with Collins after this weekend.
"Yeah, they're still pretty high on my list as of right now," Collins said. 
The only real problem here is congestion. Yes, it's great for Ohio State to have all those receivers coming in next year and to have so many wanting to come to Columbus the following season. That situation also lends itself to creating a bit of a logjam at the position. 
Collins says he isn't one to back down from competition, though, and if he has to compete with those guys, it would only help his own development and theirs. 
Collins was able to establish a relationship with Scott, Julian Fleming and Jaxon Smith-Njigba, plus the guy who could be throwing him the ball in college (McCord) this weekend. Those were major steps in this process, and Ohio State made another great impression on Collins, who has visited three times this year. 
Now comes another step that's just as important but is out of the Buckeyes' control.
Collins holds offers from LSU, Florida, Alabama, you name it, but this has shaped up to be a one-on-one battle between Ohio State and Clemson, and now the Tigers get to make another pitch.
Collins will be visiting South Carolina for his first Clemson game experience this weekend to see how Death Valley compares to the Shoe. 
If that atmosphere meets the hype, Dabo Swinney could add another advantage to at least three areas in which Clemson already seems to have a leg up:
1) Collins is teammates at St. John Bosco with Clemson's quarterback of the future, five-star dynamo DJ Uiagalelei. No doubt that's going to be a major selling point Clemson will be making throughout this process. 
2) Clemson had its off week last week, and that gave Tigers quarterback coach Brandon Streeter time to fly to California to see Collins and Uiagaleli play in person. That made a big impact on Collins. No word yet on whether or not any Ohio State coaches will be headed to see Collins this Friday for his game against JSerra Catholic. Hartline might be headed somewhere; just not sure where.
3) Clemson's wide receivers room by the time Collins would hit campus is not as deep as Ohio State's (at least as we speak). Assuming Chris Olave continues his ascendence and declares for the NFL Draft after next season, that still leaves Garrett Wilson, Fleming, Scott, Smith-Njigba, Mookie Cooper, Ballard, and potentially Harrison Jr., Egbuka and Troy Stellato to compete against, in addition to maybe even a couple others. The Tigers, meanwhile, have just two receivers committed in 2020 (four-star E.J. Williams; three-star Ajou Ajou), one committed in 2021 (four-star Dacari Collins) and have just two offers handed out to juniors (five-star Agiye Hall; Stellato) as they continue to utilize their slow-play method in recruiting. 
Class of 2021 offers (approximate):
Stanford- 17
Clemson- 45
Texas- 67
Oklahoma- 69
Notre Dame-70
Auburn- 117
FSU- 133
Georgia- 130
Alabama- 135
Ohio State- 137
LSU- 184

— Anna Hickey (@AnnaH247) October 3, 2019
(Side note: If Clemson's dishing out one of their offers to Stellato, that should tell you something about what the rest of the country is starting to find out about him. There's always room on a roster for a fast, reliable route runner with great hands. Ahh, it was nice to sneak my daily Stellato talk in there.)
Unless Collins is absolutely blown away this weekend – let's not rule that out with Death Valley's environment one of the best in the country – Ohio State isn't out of the running. The Buckeyes will still get at least one more shot to impress Collins, who sounds like he'll be plenty patient and not rush a decision.
"I'm not sure as of right now (when I'll come back to Columbus)," Collins said. "But I'll definitely be back for an official."
McGraw offer could be coming soon
Out of the 50-60 recruits who were in the building Saturday, many of them do not currently hold an Ohio State offer. Even highly ranked guys.
Count four-star weakside defensive end Rodney McGraw on that list.
McGraw is a 6-foot-6, 223-pound 2021 prospect out of Elkhart Central (Ind.) High School and holds offers from Michigan, Penn State, Purdue and Cincinnati. McGraw, an athletic up-and-comer who is his high school basketball team's starting center, is also the state's No. 5-ranked junior in Indiana, the No. 18 WDE in his class and the No. 309 overall junior prospect. 
He was able to meet with the Buckeyes' coaches and form a relationship with them as Larry Johnson continues his own strategy of taking player recruitment very slowly. 
"I talked with Coach (Greg) Mattison and Coach Johnson," McGraw told Eleven Warriors. "They said they liked my film and speed off the edge. The atmosphere was great, louder than the other places I've visited, and the Blackout was cool. Really liked the energy from the student section."
McGraw, who visited Wisconsin two weeks ago, will most likely be making a return trip over to Columbus again this fall as he navigates the rest of his visits.
"Looking forward to getting back up there sometime this season," McGraw said. "I have a few other trips planned to Notre Dame and Penn State, but I'm excited to get back up to Cincinnati as well."
Buckeyes leaving impression on Texas five-star
Ohio State's winning ways and its strong defensive staff, led by legendary defensive line coach Johnson, continue leaving impressions nationally among the best recruits. 
Landon Jackson is on that list of players who have taken notice of the Buckeyes' dominance, especially up front.
"Their winning tradition and coaching staff really impress me," Jackson told Eleven Warriors. 
Jackson is a five-star weakside defensive end in the 2021 class out of Pleasant Grove (Texas) High School. Johnson has been cultivating a relationship with the 6-foot-6, 240-pound junior since early September, and the Buckeyes offered Jackson during that flurry on Sept. 15 and 16.
Jackson says he hopes to get up to Columbus this fall or spring, but there is no set timetable for a visit.
"I do plan on making a trip up there sometime," Jackson said. "Not sure when yet, though."
Story to visit Columbus soon
Najee Story is one of the highest-ranked recruits in Ohio. 
Rated as the No. 6 junior in the state, the No. 11 strongside defensive end and No. 162 overall 2021 prospect, the 6-foot-4 product out of Solon has gained plenty of recruiting interest. He has racked up 14 total offers, including from Ohio State, Alabama and Nebraska, and he has visited Penn State and Northwestern.
This weekend, he will be visiting South Bend, where he could potentially meet up with fellow Buckeyes recruiting target Styles.
"I'm hearing from a lot of schools — a lot of Big Ten schools, some SEC schools and ACC schools," Story told Eleven Warriors following Solon's 42-7 loss to Mentor on Friday.  "Next week, we're gonna try to travel down to Notre Dame, and then October 26, I'm gonna try to get to the Wisconsin game (at Ohio State)."
Story says he's talked quite a bit with Buckeyes' in-state junior commits Ben Christman, Ballard and Sawyer, and his relationships with Ryan Day, Johnson and the rest of the staff are going well.
"We have a great relationship. They're so close," Story said. "You get to meet a lot and get to build that relationship so it's going good."
Moore to make unofficial visit
Andrew Moore, a 6-foot-2, 192-pound senior cornerback, received a preferred walk-on offer from Ohio State last week. 
Moore, who says a PWO with Ohio State is gaining more appeal, was at the Buckeyes' game against Michigan State in an unofficial capacity, and he told Eleven Warriors he will be visiting unofficially again on Wednesday after receiving an invite from assistant coaches Justin Perez and Drew Christ. 
Carroll puts Buckeyes in top eight
Four-star 2021 running back Lovasea Carroll got his Buckeyes offer back in mid-September during that same flurry of offers as when Jackson got his.
On Tuesday morning, Carroll unveiled his top eight schools, which included Ohio State.
Respect!! @ChadSimmons_ @HypeSportsToons pic.twitter.com/NnXsbeWzyH

— Lovasea Carroll (@LovaseaC) October 8, 2019
Carroll had previously been committed to South Carolina, but two weeks before he received his Buckeyes offer, he decommitted from the Gamecocks and reopened his recruitment.
Please Respect My Decision @ChadSimmons_ @247Sports @espn pic.twitter.com/MywRczvPHo

— Lovasea Carroll (@LovaseaC) September 1, 2019
Keep the questions coming
As I said last week, I want to start answering some questions in the Hurry Up. My plan is to do that on Thursday or Friday, so throw 'em down in the comments section if you've got 'em. 
No need to repeat any questions from Sunday or Monday. I've already got one or two earmarked.