Gallipolis – Nothing seemed out of the ordinary to Zach Loveday. For him, it was just another day at school in the fall of 2016. He had no idea what he was about to experience would become a typical day.
All of a sudden, Gallia Academy's athletic director pulled the then-freshman out of spanish class. He had some news for Loveday, who was just 14 years old.
"Get your stuff ready. You're going to go down. You've got a workout," he told Loveday.
Workout? How am I supposed to work out? What kind of workout am I doing?
Loveday hadn't ever talked to a college coach who came to see him play. He hadn't even played a high school basketball game yet. But then-Ohio State assistant coach Greg Paulus had made the trip to the 3,607-person town to meet him and watch him play.
When he walked back into the classroom, everyone wanted to know what just happened.
"Nobody had ever seen that before," Loveday said. "We don't have very many high D-1 prospects ever to come out of here."
The workout, led by Gallia Academy coach Gary Harrison, didn't go particularly swimmingly. Having never done anything like that before, Loveday wasn't sure how to show off his game.
"It was really awkward," Loveday said. "Everything was on the fly. We were just kind of making stuff up as we know because we didn't know."
Loveday and Harrison did everything they could think of, shooting for a while and working in the post. As he played, Paulus sat up in the stands watching and talking with the freshman's parents. After about an hour, it ended.
As Paulus walked out of the gym, Harrison had to know how it went. Gallia Academy hasn't had a basketball player earn a scholarship from a Division I program in decades. Might Loveday eventually become the first?
"I said, 'What did you think, coach?'" Harrison said. "He said, 'Oh, we're coming. Trust me.' Paulus told me, he said, 'If a coach is not interested, they don't stay around. If they're interested, they're going to be there longer than you think.' He was."
---
Long before Loveday entered high school, Harrison targeted him as a player who could help Gallia Academy down the road. He first saw Loveday play in fifth or sixth grade. Even then, he stood out. Loveday was six feet tall in sixth grade. By the end of seventh grade, he was dunking.
Harrison began inviting Loveday to play at his varsity team's open gyms when he was in middle school. The football player-filled team didn't take it easy on him, which he admitted was intimidating at times.
"It was kind of amazing because our varsity kids, when we had open gyms, they were always wanting to beat Zach," Harrison said. "I'm like, 'You're a senior. Why do you want to beat an eighth grader?' Sometimes he brought the best in them older kids just because of the competition."
Three years later, the high schoolers who desperately tried to avoid losing to a middle schooler come back to watch Loveday.
In his freshman year with the Blue Devils, Loveday broke the school record with 117 blocks. The next year, he raised the program record with 121 blocks. Last season, he averaged 17.3 points, 11.5 rebounds and 4.3 blocks per game while shooting 61 percent from the field and 36 percent from 3-point range.
Gallia Academy finished 16-6 during Loveday's ninth grade season, then went 20-4 last season, eventually falling in the Division II district semifinals. It was the program's first 20-win season in 15 years. Excitement about the team has permeated the town. Loveday still remembers looking around at a completely packed, standing-room-only home gym during a game against Ironton last season.
"I had never seen that before because basketball here had never been as special as it was last year," Loveday said.
He'd better get used to the fervor because expectations are even higher than they were his first two years in high school. Even during Loveday's freshman year, Harrison said he had people telling him Gallia Academy should win the state championship.
Loveday is also about 600 points away from setting the school's scoring record. Who holds the current record? None other than his high school coach.
"I told Zach, 'You know what. I've had it since '87,'" Harrison said. "I said, 'You know what, if anyone's going to break it, it's going to be you. But I'm going to tell you something: I want you to break it this year. Because if you score 600 points this year, we're going to state. If you don't, we're not.' Because that means he's got to average about 25, 30 points a game. If he does that, we're not going to be beat."
Now a junior in high school, Loveday stands 7-foot-1 and weighs 200 pounds. On the court, he's a gazelle. He runs the court with fluidity and has shockingly quick change-of-direction ability for a player with his size.
"More or less now, I'm on my own path now. I'm going down the road nobody's ever went down from here before."– Zach Loveday
Loveday has such confidence in his ball-handling that he "always" wants to play point guard, Harrison said. He's comfortable from 3-point range and in the post. He enjoys mismatches, which he often gets in a conference without anyone else taller than 6-foot-5.
"That right there is why everyone wants him," Harrison said after watching Loveday sprint down the court, cross up a defender and swish a jump shot.
Loveday's game has changed so much in recent years that he isn't sure how to define it.
He had just watched Anthony Davis drop 32 points on 13-of-21 shooting, adding 16 rebounds and eight assists, so he compared his evolving game with the NBA star's. Davis isn't a classic back-to-the-basket big man, and neither is Loveday. He can hurt defenses on all areas of the court and uses his length to be an impactful defender.
Harrison believes Loveday's versatility separates him from other prospects.
"I think he's going to be a college coach dream because he's going to be like (Dirk) Nowitzki – he can step up and shoot the 3 – and he's so long when he shoots, you can't block his shot," Harrison said. "When he develops to get around people, he's one dribble from the 3-point line, layup. And he can post. There's games last year where he drop-step dunked over people, I mean, hard.
"The sky's the limit for him. And he's a gym rat."
It's no longer a question of whether or not he'll break the dry spell of Division I basketball prospects coming out of Gallia Academy. Loveday, the No. 49 overall prospect in the 2020 recruiting cycle and the top player in the state of Ohio, will end up at a high-major college.
It's just a matter of which school he picks – and he has more than a few options.
---
Just like his workout with Paulus, Loveday described his first meeting with Ohio State assistant coach Ryan Pedon as "awkward." Neither Pedon nor Chris Holtmann had ever spoken with Loveday before attending an early season game against Ironton last fall.
It took some time to get used to. He had developed a good relationship with Paulus, but once Thad Matta was fired and Holtmann opted to bring all three assistant coaches with him from Butler, Loveday had to get accustomed to the new staff.
"Now that I've really gotten to know the staff up there a lot better, I really like how the program's headed," Loveday said. "What they're doing with it is really, really good. I like the way they act. They act professional."
The respect of Ohio State's coaches stood out to Loveday, who said even if he has a gripe with the program, they don't take offense and instead try to fix the problem.
Loveday said he's heard stories from fellow prospects who didn't choose to attend historical powerhouses. Those coaches got mad, since they essentially expected them to pick their school. He doesn't get that feeling from Ohio State, which he appreciates.
"They're not like that," Loveday said. "They're like, 'OK, we respect your decision to not go here. All right, have fun. Good luck.' They're not stuck up like we expected you to go here. I love the way they act professionally on the court, off the court, everything about it."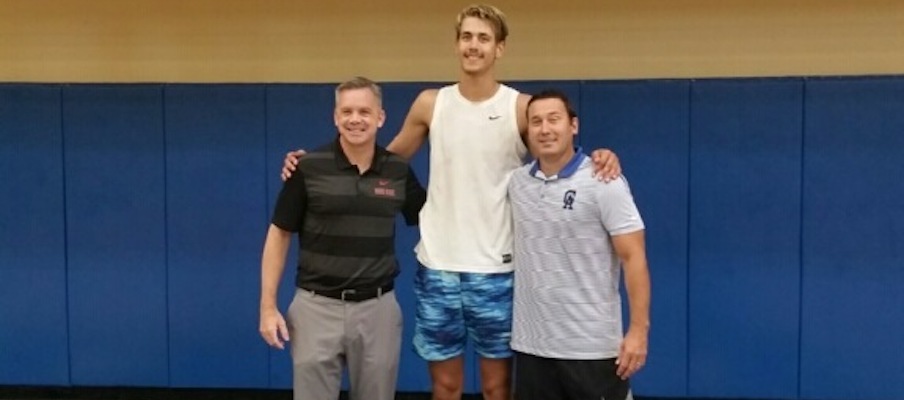 Loveday has taken about three or four visits to Ohio State and hopes to take a visit in about a month. He wants to watch the Buckeyes take on Michigan in football since "not too many people get to say they sat front row at that game." Ohio State's coaches told him they'll try to get him to the game if there are seats left. Harrison is sure they'll get him in the door, and it would make sense to do so.
In his introductory press conference as head coach, Holtmann said wanted to "close our borders and dominate the state of Ohio in recruiting." At Big Ten media day, Holtmann said the Buckeyes are searching for a big man with rim protection in the next recruiting class or two.
Loveday fits both criteria. He's been a target of Ohio State for a while, and he was the first in-state prospect Holtmann watched play a game in person after taking the job.
Ohio State has sold him on the support of the university, as well as the ability to fit him into its system. When Holtmann brought Loveday into his office on a visit, he showed the high schooler a slideshow highlighting what Loveday called a "world-class education."
"You're not going to get that anywhere else," Loveday said. "With connections across the states with as many alumni as they have, it's like, you're bound to find a job somewhere if basketball isn't what you choose to do for your life."
Holtmann and his staff also have used Keita Bates-Diop as an example for Loveday. It's not a perfect match, of course, since the eventual Big Ten player of the year stands four inches shorter, but he allowed the team to go big or small.
"They're like, 'That's what we can do with you. We can take you, play you three through five as a forward," Loveday said. "We can play you because of what you can do with the ball."
While it's hard to imagine Loveday playing small forward, especially since he intends to put on weight, he's certainly more agile than the typical 7-footer.
Unlike many prospects from Ohio, he didn't grow up rooting for the Buckeyes, even though he hails from a town mainly filled with fans of the team. Gallipolis lies on the border of West Virginia and is a two-hour drive from Ohio State, though, so fans from Michigan, Marshall, West Virginia, Kentucky, Louisville and other universities populate the town.
"I've had a lot of people press me," Loveday said. "It's like, 'Why don't you commit to Ohio State?' And it's like, well, I want to see everything else. You've got to remember there's 49 states outside of Ohio State that there's hundreds of colleges that I may want to go see, or something like that."
A born and bred Ohio State fan or not, Loveday should be – and is – a high priority for Ohio State.
---
No matter how many people corner him to try to read into his thoughts, Loveday wants everyone to know he's not close to making a decision. He has no idea where he wants to go – nor does Harrison, for that matter – and doesn't intend to commit to a school for about a year.
He keeps telling people the same three words: "I don't know." But he knows the quandaries will keep flying in. That's just the nature of being the top recruit in the state.
"I don't plan on committing any time soon," Loveday said. "I plan to make it through this basketball season at the school, next spring and summer sessions on the circuit, and then that fall hopefully will have garnered enough interest and offers that I have a nice pool of them to pick from and narrow it down and then finally, heart set on one that I know if I go, I'm going to love it."
He watched Oscar Tshiebwe progress through his recruitment and learned from the 2019 five-star big man.
The Pennsylvanian took his time through the process, accumulating as many offers as possible before going on official visits to his final four schools: West Virginia, Kentucky, Baylor and Illinois. Eventually, only after he went through the entire process and felt comfortable with a cadre of schools, did he pick his finalists. Tshiebwe finally wrapped up his recruitment last week by committing to the Mountaineers.
"That's what I want," Loveday said. "I want to play a 16, 17-U complete season and then hopefully, like him, have a lot of offers to choose from, narrow down and then set on one that I really want to go to that I know I'm going to be happy at."
After just two years of high school, Loveday has a large, ever-growing list of scholarship offers.
Purdue offered him over a year ago. Ohio State followed up with an offer a couple months later. He also holds offers from Louisville, Florida, Indiana, Stanford and Xavier. A bunch of other schools are circling the top-50 prospect, as well. Michigan has watched him in person before, and a coach plans to fly in to see him again next week. Loveday visits West Virginia on Thursday.
The only three head coaches to visit him in Gallipolis have been Holtmann, West Virginia's Bob Huggins and Stanford's Jerod Haase, who emphasized he was there because Loveday is a 4.0 student. Expect that number to grow in the near future.
Multiple teams, including Ohio State, have flown into the small town of Gallipolis. Wolverine assistant coach Deandre Haynes told him next time he comes, he'll bring "the big cheese," John Beilein. Coaches willing to fly in to see him still shocks Loveday.
"Never. Never before," he said. "That was a new one even for me."
Baylor has gone so far as to have one of its assistant coaches, John Jakus, sit in the stands to watch Loveday play trombone in the marching band during a Friday night football game.
Playing in the band is a "relief" from his "somewhat stressful" life as a basketball player. He's passionate about music.
"I told coach Pedon, 'You let him dot that i, you'll have him. If you let him dot that i, I guarantee you,'" Harrison joked.
Loveday said he feels like his recruitment is beginning to move to its "middle" phase as coaches wrap up the 2019 cycle of prospects.
"Now that they can shift their main focus from 19 to 20, I'm sure that now I'm really starting to get to the heat of it where it's like it's going to be phone calls two, three times every day," Loveday said.
With that comes stress, but also the ability to talk to and bond with college coaches from across the country. "Who knew Huggins and Kentucky's John Calipari were so personable?" he thought after meeting both of them. That's just a perk of being the state's top prospect.
No one from Gallipolis has ever done this before. No one has had people flying in to the rural town on the border of Ohio and West Virginia just to watch him play and speak with him. He doesn't have any role models to follow, but he's OK with that.
"More or less now, I'm on my own path now," Loveday said. "I'm going down the road nobody's ever went down from here before."