When E.J. Liddell watched the various college teams recruiting him play on television last season, he didn't just treat them like normal basketball games. Instead, he envisioned himself on the court.
Liddell, a four-star prospect from Belleville (Illinois) West, imagined himself in the offensive system. He considered how he might fit alongside the pieces on the court and looked for someone similar to him in order to visualize a path to success.
That meant, when viewing Ohio State, the 6-foot-7, 225-pound power forward fixated on Keita Bates-Diop.
"I see him as a versatile four," Liddell said. "He posts up. (He plays) out on the perimeter all the time, too. Can dribble the ball up the court off the rebound. He's a very active guy in their system, which I like."
Liddell tuned into the Buckeyes' games as much as possible, even before Chris Holtmann called him in January to offer a scholarship.
"I watched Ohio State all the time," Liddell said. "I mean, I missed a few games here and there, but if it's on the TV, I will watch it. I just always loved Ohio State."
He saw Bates-Diop evolve from a 11.9-point, 6.4-rebound player in his second season at Ohio State to a 19.8-point, 8.7-rebound Big Ten Player of the Year honoree in his fourth season before declaring early for the NBA draft.
During his official visit to Ohio State on Aug. 31, Liddell finally had the chance to meet Bates-Diop, with whom he believes he has a similar style of play. Bates-Diop lauded Holtmann and told Liddell the program has "great support."
"They said (Bates-Diop) had a lot of potential, but he never really got to use it until his senior year, until he got into coach Holtmann's offense," Liddell said.
Monday night, just a little over a month after meeting Bates-Diop and hanging out with commits Alonzo Gaffney and D.J. Carton on his visit, Liddell announced his commitment to Ohio State.
He chose the Buckeyes over two finalists, Illinois and Missouri. Liddell took official visits to all three schools within a few weeks of each other, but ultimately decided to join Holtmann's program. The commitments of Liddell, Carton and Gaffney give the Buckeyes their first recruiting class comprised of three top-50 players since 2011.
"I'm going to be patient, I'm going to be patient. I mean, I'm going to be very eager to join. I'm going to have to focus on my high school season, win another championship. And then after that, I'm going to be ready for it."– E.J. Liddell
Liddell, the No. 48 overall prospect and the 10th-best power forward in his class, called Ohio State's camaraderie the determining factor that led to him opting to become a Buckeye. He said the cohesion was immediately noticeable.
"Who they hang around and who they be around, that's the players I want to be around," Liddell said. "People with good influences and not with outsiders telling them what to do and putting them in bad things. It's like the basketball team's all around each other and they all connect. It's not like certain guys sit outside the group."
The fit alongside Carton, Gaffney and the rest of a young Ohio State squad made sense to Liddell, as well. He sees himself as someone able to take the role of Bates-Diop, a do-everything forward.
"I feel like the most comfortable thing for me is posting up because I have a lot of different moves in my post-up game," Liddell said. "If not, I can face up. I can catch the ball in the post face-up and take bigger guys off the dribble or shoot a fadeaway or something. But with a smaller guy, I can just bully my way down there and everything."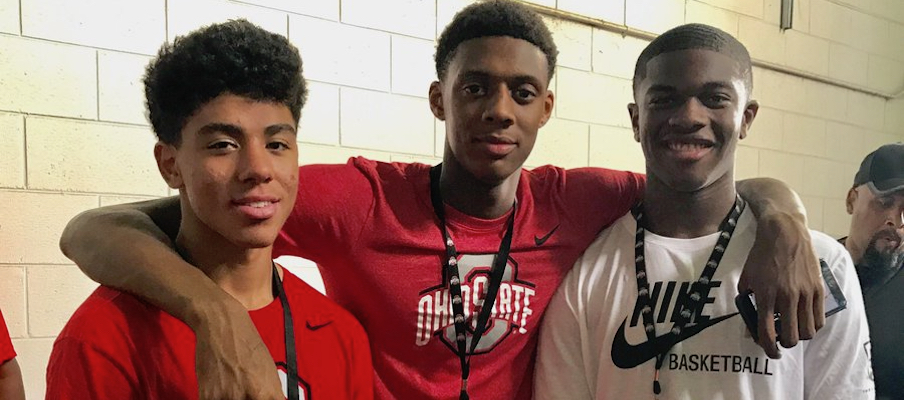 Though he's a capable scorer who averaged 20.9 points per game while knocking down 58 percent of his shots in a state championship-winning season last year, Liddell doesn't view himself as someone who needs to put up shots in order to make an impact. He also averaged 8.2 rebounds, 5.9 blocks and 2.9 assists as a junior.
He used to compare himself to former Michigan State and current Golden State Warriors forward Draymond Green, saying "I can do everything on the court."
"I mean, he doesn't really have to score all the time," Liddell said. "He helps a lot with defense and passing. But right now, I don't know (who to compare myself to) because I'm improving my game a lot with ball-handling and shooting."
Before heading off to college, Liddell said he must improve his body by turning excess fat into muscle. He said he has been told he is "college ready," but believes he needs to get in better shape.
Liddell's decision to turn down schools closer to home in order to attend Ohio State certainly wasn't easy. But since Liddell was a kid, he has always wanted to attend and play a sport for the Buckeyes. That sport, however, wasn't always basketball. When he was younger, he desired to play college football, just like his father, Eric.
At some point, Liddell realized his future lies on the court, though that didn't end his attraction to Ohio State.
"It's just been an awesome school for a long time," Liddell said. "I love how they were always good at football and they're always winning."
Now, Liddell must wait. He has more than a year to wait until he can suit up in scarlet and gray for a regular-season game.
"I'm going to be patient, I'm going to be patient," Liddell said. "I mean, I'm going to be very eager to join. I'm going to have to focus on my high school season, win another championship. And then after that, I'm going to be ready for it."