Rosemont, Ill. – Chris Holtmann isn't under the impression Ohio State will have a rock-solid, go-to five-man lineup by the time the season opener against Cincinnati tips off on Nov. 7. Speaking at Big Ten media day on Friday, he said the starting lineup will be "pretty fluid" throughout the season, something the players "have to understand."
Kaleb Wesson and C.J. Jackson, the team's only returning starters and the only returners who averaged more than 4.1 points per game, combined for 61 starts last season. The rest of the returners combined for 19 total starts – 10 starts for Musa Jallow, five for Andre Wesson and four for Micah Potter.
Uncertainty on the roster bodes well for Ohio State's four freshmen – Luther Muhammad, Duane Washington Jr., Jaedon LeDee and Justin Ahrens – who have a chance to play their way into significant minutes early in their careers. Still, Holtmann doesn't expect the smoothest of transitions into the college game.
"I think our freshmen will have times where they're going to look very much like freshmen, and they have. They really have," Holtmann said. "But there's also going to be times where they have really impactful moments."
Last year's freshmen – Kyle Young, Jallow and Wesson – certainly had their fair share of ups and downs.
Wesson started nearly every game, but battled conditioning problems. After playing double-digit minutes in every game in November and December, Jallow only played 10-plus minutes in five of the final 15 games of the season. Young wasn't able to get on the court much, playing behind Keita Bates-Diop, and had to overcome confidence issues.
Given Ohio State's lack of depth among returners, especially at guard, the Buckeyes might have to endure similar hiccups. That means relying on freshmen to become serviceable defenders early in their careers, which can be a challenge.
"Guys don't love doing it right away because naturally most kids are thinking offense, offense, offense. They think that's how it's going to get them on the floor," Holtmann said. "So, it's been a process for us. We're not there yet. Our margin for error in every area is smaller, so we have to be more on point defensively than we were last year."
Holtmann expects Muhammad, who has the potential to become an impact defender, and Washington to play from "day one." He was the top-ranked recruit in Ohio State's 2018 recruiting class, which ranked fourth among Big Ten teams.
Though Holtmann likes Muhammad's potential as a two-way guard able to play both guard positions, his and Washington's minutes might come more out of necessity.
"Well, we need him," Holtmann said. "He and Duane were both recruited with the idea that we need them. We need them. And I think he's talented and capable and has the ability to play on both ends."
Ohio State's backcourt only features two returners – seniors C.J. Jackson and former walk-on Joey Lane – to go along with Wake Forest transfer Keyshawn Woods. It'll add the instant offense provided of Washington and two-way impact of Muhammad.
"Luther Muhammad has been a really important recruit for us, given our lack of guard depth," Holtmann said. "We have loved coaching him. He has a tremendous work ethic, capacity for work. He is really competitive."
Both LeDee and Ahrens might not see the floor as much as much as their freshman guard counterparts.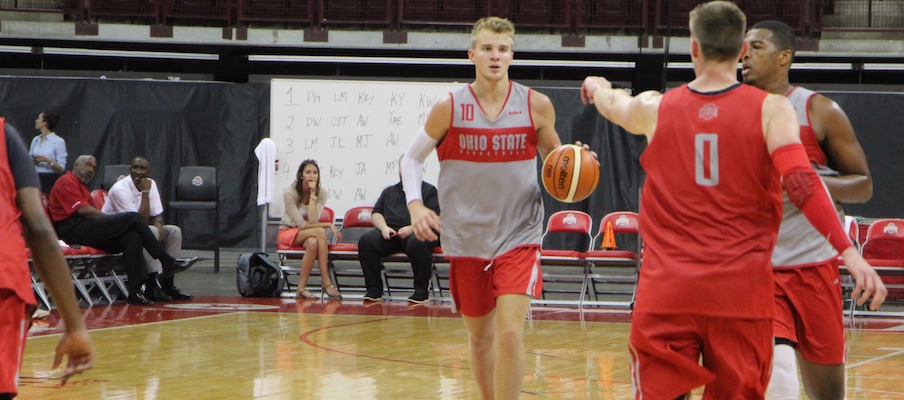 Wesson played significant minutes in the post last year, but he entered college with an intriguing combination of skills (top prospect in the state) and size, at 6-foot-9, 270 pounds. Neither LeDee (6-foot-9, 230 pounds) nor Ahrens (6-foot-5, 180 pounds) entered Ohio State as top-100 recruits, which doesn't necessarily preclude them from early playing time, but it could signify a longer transition, which Holtmann said is typical for forwards.
Plus, with Wesson, Young, Micah Potter and Andre Wesson returning, minutes for the freshmen forwards might be harder to come by than time on the court for Muhammad and Washington.
"I think any time you're a big guy like Jaedon is, your learning curve is a little more significant," Holtmann said. "I also think Justin – I think both those guys, Justin's more than capable, but he played at a small school, so there's a little bit of a learning curve there. Was very well coached. I think they'll all have their moments where you'll look at them and you'll say, 'OK, that's a freshman.' Any time you're talking about big men, it's always a little bit further for guys who have size."