Rosemont, Ill. – The stands at the sold out, newly renovated Fifth Third Arena will be packed. Cincinnati fans will be out in full force to support their Bearcats. Ohio State, the state's flagship program, will enter a hostile environment as an underdog with a significant chance of losing to an in-state school in the season opener on Nov. 7.
Is that a good thing for all involved parties?
For this season, yes. Just don't get used to it.
Every college basketball program works in its own best interest. For that reason, Ohio State has not played a road game at Cincinnati since 1920.
"Wow," Ohio State head coach Chris Holtmann said when told it has been nearly 100 years since this game has happened. "What am I thinking? All these coaches before me, they had it figured out. What am I doing?"
He was only partly joking.
Everyone, including Holtmann, understands the danger in scheduling Cincinnati, even though he didn't know about the newly done arena when agreeing on the dates. Mick Cronin's Bearcats play a rugged brand of basketball that challenges opponents' willingness to play physical.
"I think it's a good thing for us and our program or else I wouldn't have done it," Holtmann said at Big Ten media day on Thursday. "But, there's some risk involved, too."
Ohio State will play Cincinnati at its own volition. After hearing the requests of Buckeye fans to play in-state teams, Holtmann scheduled a game with the Bearcats to spark interest in the program that desperately needed a jolt.
While Holtmann said he might regret it in a month, after the two teams face off. But it's in the best interest of his program, as it currently stands. Plus, it gives the entire sport a boost in the state.
"I just think in college basketball right now, you need on-campus game that are attractive for people," Holtmann said. "That's going to be a sellout in Cincinnati. And when they come to our place, it's going to be a sellout probably. I think that's a good thing."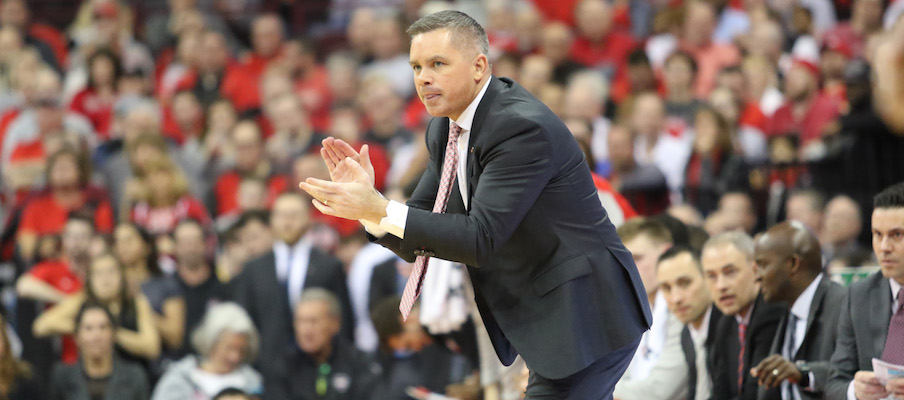 Ohio State's home-and-home series with Cincinnati includes a game against the Bearcats in the Schottenstein Center in the fall of 2019. The team's next game against an in-state team hasn't yet been scheduled. And the question of whether Holtmann would even be willing to schedule a game against an Ohio-based team will beg if the Buckeyes have another successful season.
If it's no longer in the best interest of Ohio State to play in-state teams like Cincinnati, the Buckeyes might no longer seek them out.
"We're all working in our own best interest," Holtmann said. "And I think when you have that, that collides with maybe what's collectively best for college basketball in the state. I just think that's the reason. Some people just don't want to play other people. I understand why we didn't play Cincinnati and Xavier, Dayton for a while outside of tournament play.
"But I think this thing with Cincinnati right now is good for us."
How long can Ohio State keep its assistant coaches?
When Ohio State hired Chris Holtmann, the head coach brought all three of his assistants from Butler – Ryan Pedon, Mike Schrage and Terry Johnson – with him to fill out the coaching staff at his new job. Holtmann even hired Mike Netti, an assistant from his staff at Gardner-Webb, as special assistant to the head coach. But it shouldn't be took much longer until Holtmann will have to make a move to replace at least one of them.
Holtmann said they had "some people reach out" for head coaching positions this offseason, but none of them had an on-campus interview. He said some decided it wasn't the right time, but Holtmann understands that time might not be too far off.
"I think our staff, it's only a matter of time before they become head coaches," Holtmann said. "I think Ryan, Mike and Terry are all capable of that and more than ready. I think they would all three be outstanding head coaches."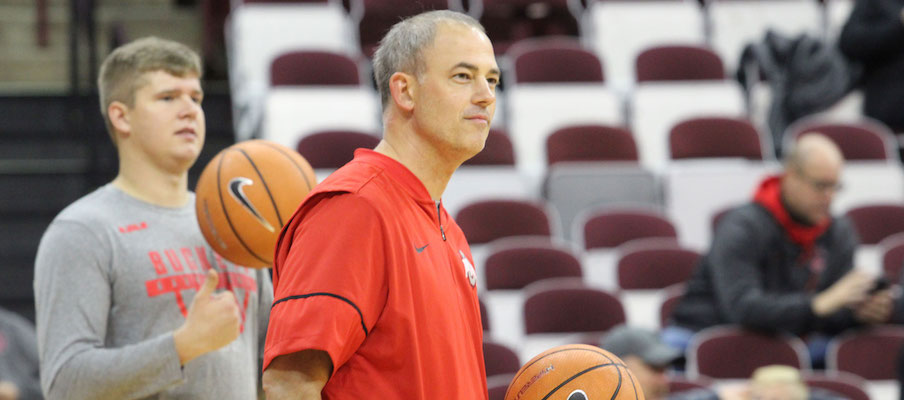 All three assistant coaches signed two-year contracts that expire after this upcoming season, which is a typical length for assistant coaches. Both Johnson and Schrage have worked as coaches for two decades, and Pedon has been an assistant coach since 2005.
Each of them, Holtmann said, hope to eventually take the helm of a program.

"They're fully invested in what we're doing here, fully invested in it," Holtmann said. "But I think yeah, absolutely, they would very much like to be a head coach, and I really want that for them just like you want your players to reach their dreams."
Kyle Young making strides
As a 6-foot-8 freshman, Kyle Young didn't have a clear path to the court last season. In front of him stood Keita Bates-Diop, the Big Ten player of the year. Young played in just 25 games for an average of 8.6 minutes. He scored 44 points and grabbed 40 rebounds.
He'll have an entirely new role this upcoming season, though, with Bates-Diop gone and an opening at forward. Thus far, in practice, he has taken advantage of the opportunity. Both Holtmann and Andre Wesson named him as a player who has stood out as having taken a leap in the offseason.
"I saw him play in high school and he was a great player in high school," Wesson said. "It was just more of a confidence thing for him. He's definitely made a big jump."
Young, the No. 80 overall prospect in the country last year, will compete for minutes in the frontcourt with Kaleb Wesson, Micah Potter, Jaedon LeDee, Andre Wesson and Justin Ahrens.
"He just has to do it. He has to do it in games a few times," Holtmann said. "That's the biggest thing for him. He needs to do it over and over. He's going to have more opportunity than he's ever had to do it this year. I think he'll have an impact."
Only two players – Kaleb Wesson and C.J. Jackson – are locked into starting spots. Given Young's development and the opportunity presented by Bates-Diop leaving early, Young certainly has a chance you play himself into a starting role. Holtmann said he expects a fairly fluid starting lineup this season, given the uncertainty presented,
Holtmann said Young will make an impact as a rebounder, defender and with his energy. Young must improve his consistency as a shooter, Holtmann said, and though he might not be a "prolific scorer," he still should be able to put up points.
"He's a guy where he just does whatever it takes to win," Andre Wesson said. "He's not really a guy that needs a bunch of shots or would shoot a bunch of shots. He's just a guy that'll set a hard pick for you or go get that offensive rebound that you need or take that charge. Just him doing that helps the team a lot."
Putting last year in the "rearview"
It would be easy for Ohio State to think about last year's success. An afterthought in the Big Ten picked to finished in the conference's basement, the Keita Bates-Diop-led Buckeyes raced out to a second-place finish and made the NCAA tournament, far exceeding expectations.
Back for his second season at Ohio State, Holtmann hopes to make sure his team doesn't mentally live in the past.
"We tried to put last year as quickly as possible in the rearview mirror," Holtmann said. "I think you get asked about last year's team because it was a fun team for people to watch and observe. But we tried to quickly turn the page as much as possible. I think our guys understand that many of the major components of last year's team are gone. That's exciting for them in new roles."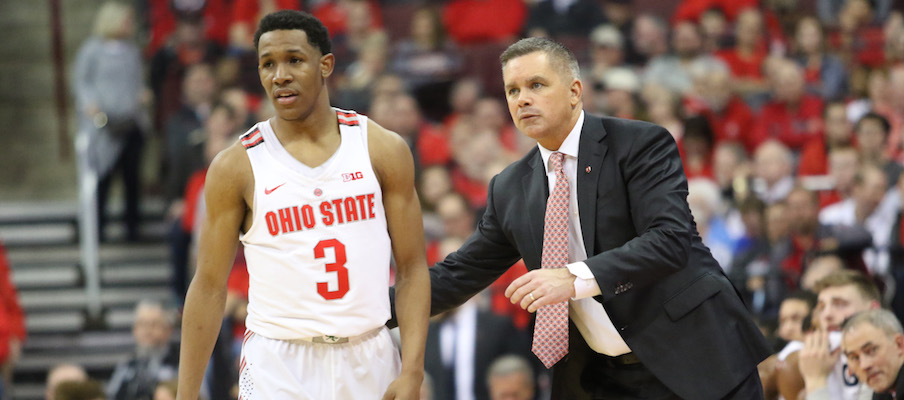 Holtmann called it the "most important thing we've tried to do" between the end of last season and the beginning of the upcoming season.
"I just think, as much as anything, we want to be about continued growth," Holtmann said. "Last year was a fun year, but if we reflect too much on it, it's going to take away from what we're trying to do right now. So, we're going to stay in the present as much as possible."
Banged up, but nothing serious
Ohio State is a couple weeks into its pre-season practices, but has only held a single practice with a fully healthy team. The banged-up Buckeyes have dealt with minor ailments, such as bruises and illnesses.
"We've been just a little bit banged up," Holtmann said. "We have not had a chance yet to be able to have our full team, except for one day, which was Tuesday. That's been a little bit frustrating."
Musa Jallow has dealt with various injuries that have hindered him throughout the offseason. C.J. Walker will sit out this season after transferring from Florida State, and he had tests on his shoulder, but is back at full-go in practice, Holtmann said.
Despite the task of practicing with a full team seeming nearly impossible, Ohio State has managed to avoid any severe injuries. It's especially important this year to avoid key players missing time due to a margin of error that Holtmann said is even smaller than it was last year.
Andre Wesson's third year
Andre Wesson averaged just 2.9 points per game, but he's Ohio State's fourth-leading returning scorer. That doesn't necessarily mean he's finally improved his shot and is due for offensive outbreak on a team looking for scorers to step up.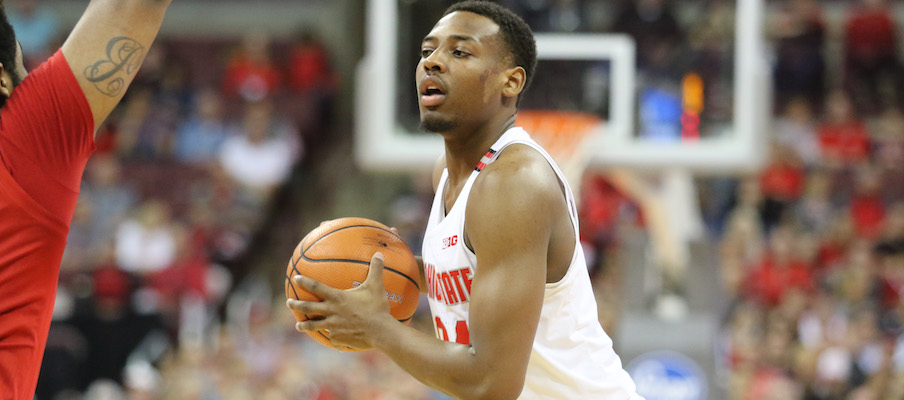 Having scored double figures just once in his first two seasons, he's more than happy to take a supportive role.
"I'm a guy that I'll do whatever it takes for our team to win," Wesson said. "If that's scoring double digits, cool. If that's not scoring at all and just rebounding, I'm fine with that too. It's just whatever I can do to help the team win."
After dealing with an undisclosed injury that severely hindered his ability to play last summer, he took advantage of his time this summer, making 300-to-500 shots every single day. Though he won't turn himself into a score-first player, he felt it important to work on both his shooting and playmaking. Repetition was key, Wesson said.
"I've worked a lot on getting my shot more consistent," Wesson said. "I've worked a lot on more playmaking type stuff. It's been a big offseason for me."