ROSEMONT, Ill. – From radio interviews, to a live appearance on the Big Ten Network, to a 50-minute sit-down interview with reporters, Chris Holtmann went through the ringer at Big Ten media day in Chicago on Thursday.
After spending the entire morning and early afternoon discussing the outlook of the 2018-19 Ohio State team, he heard nearly every possible question.
But over and over, he heard different iterations of the same two queries: Do you care about being picked toward the bottom of the Big Ten for the second year in a row? And will your team replace the lost production of Keita Bates-Diop, Jae'Sean Tate, Kam Williams and Andrew Dakich?
For Holtmann, the first question has an easy answer. Ohio State bucked the projections last season, and Holtmann said he doesn't feel any added pressure or spotlight on the team after finishing second in the conference last year.
"Honestly, I'm not really hung up on that," he said. "We got upset because no one would pick us last year in the NCAA tournament. I kind of had fun with that. But the reality is any time you have this many unknowns about your team, you're going to have questions. I don't take it as a slight, or it's not going to be bulletin-board material.
"I really don't use that with our guys a whole lot. We've got to prove it."
The second question, though? The answer isn't so obvious, both for those looking at the program from the outside and Holtmann.
"I think people are curious about how we're going to transition from four really good seniors, important players – in particular Keita Bates-Diop and Jae'Sean Tate," Holtmann said. "I do think people are curious about how to implement six new players. So I'm anxious to see, as our fans are, how we're going to manage that."
Last season's remarkable run that led to the Buckeyes ending the regular season alongside Michigan State and Purdue as a top-three team in the Big Ten certainly would not have have happened without Bates-Diop and Tate leading the resurgence.
Bates-Diop, who left early for the NBA after last season ended in the Round of 32, averaged 19.8 points and 8.7 rebounds as Big Ten Player of the Year. Whenever the Buckeyes needed a bucket, they could count on him.
Tate, a stalwart who averaged at least 22 minutes per game for four straight seasons, also played his final season for Ohio State, which will miss him for a myriad of reasons. He averaged 12.3 points and 6.3 rebounds to go along with consistent defense and notable leadership skills.
Williams also provided shooting, and Dakich offered stability and depth at point guard.
Only in their stead, uncertainty lies.
C.J. Jackson and Kaleb Wesson are the only two returners who averaged more than 4.1 points per game. Both players must step up into even larger scoring roles in order to make up for the losses of three starters.
Jackson scored the second-most points per game last season (12.6 points) one year after putting up 5.6 points per game.
His increased propensity to score correlated with his an improved shooting percentage from all areas of the field. He hit jumped from 39.5 to 41.6 percent from the field, increased his 3-point percentage from 32.1 to 37.9 percent and improved from a 67.3 percent free-throw shooter to 79.2 percent from the charity stripe.
"He had a terrific year last year," Holtmann said. "He's going to have to have an even better year this year, which is hard because he took a huge jump. Is he going to have the same kind of jump? It's probably unrealistic to expect that. But I do think that only happens through consistent hard work and great preparation. He really embraced that and bought into it and had a heck of a year."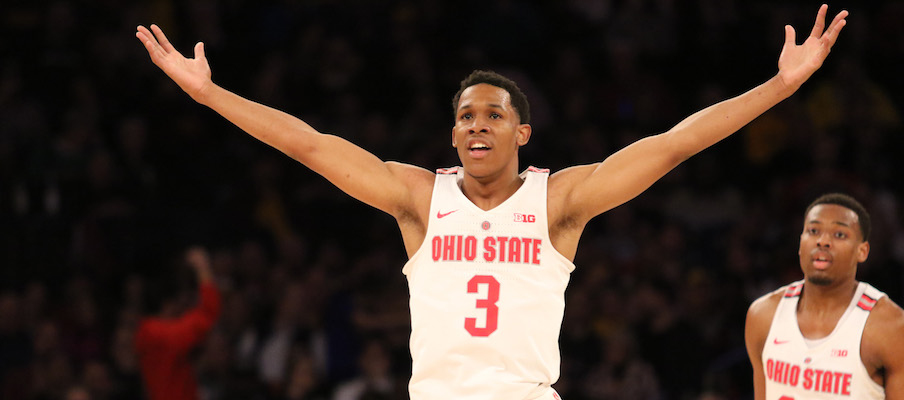 Jackson will be joined in the backcourt by Wake Forest transfer Keyshawn Woods, sophomore Musa Jallow and freshmen Luther Muhammad and Duane Washington Jr.
Given the lack of collegiate experience in the group and the ongoing acclimation of Woods to the system, it's important to Ohio State that Jackson take a leading role. Wesson must also make a leap and become a primary scoring threat for more than just the 20.7 minutes he averaged per game last year.
Last year, Holtmann said, Wesson's conditioning devolved and he struggled to stick in games for long periods. Without Bates-Diop, Tate and Williams to keep the defense from keying on, Wesson will be one of opponents' focuses, which could further tire him out, even though he said he worked on conditioning often during the offseason.
"We're going to have to put a plan in place to where he's doing extra as the year's going on," Holtmann said. "We're going to have to put a plan in place for him and he's going to have to commit himself to doing that because naturally he's just, he's a big guy."
Expect Wesson to drag big men out to the 3-point line in order to defend him. Both he and Holtmann said that would be a part of his game this season, with Wesson saying he will take up to three or four triples per contest.
Beyond Wesson and Jackson, nearly every player has immense unknowns.
Micah Potter has to play more physical and aggressive, Holtmann said. Kyle Young must overcome confidence issues. Andre Wesson is an effective defender, but has only reached double-digit points once in two years. Jallow has dealt with nagging injuries this offseason.
Woods has ample experience and production at Wake Forest, but he has never played stepped on the court in the regular season as a Buckeye. Jaedon LeDee and Justin Ahrens might need longer to develop, since they're freshman big men, Holtmann said. Muhammad and Washington will be called into action early due to lack of depth in the backcourt, but have never played a minute of collegiate action.
Ohio State has less than a month until it takes the court against Cincinnati on Nov. 7. Until then, Holtmann won't know until then who – if anyone – will rise to the level of Bates-Diop and Tate.
"Prepare as well as we can for those moments, and then it's going to come in say, like, when we're playing at Cincinnati, at home against Fort Wayne, at Creighton," Holtmann said. "Who is answering the bell in those moments?"