Like children or snowflakes, recruiting is unique for each and every prospect that we get to know over the year. Personalities vary, approaches (the way the prospect handles their recruitment and the way each school handles every recruit) vary and most certainly, results vary. There's no other way to put is there? Recruiting is a crapshoot that breaks your heart as often as it provides you reason to troll your rival fan base.
With 2013 quickly winding down, we're going to trek back through the most recent 12 month's biggest recruiting wins for Urban Meyer and Ohio State with the 2013 Top 11: Recruiting.
Today is a busy day for everyone, so let's cut the pleasantries and get to the meat and potatoes.
No. 11 - NO HELPING HAND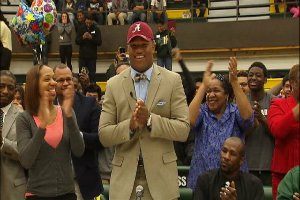 For many moons, the prevailing knowledge around recruiting circles was that the University of Michigan was likely to reel in two of the nation's top five players in the 2014 class. With USA Today Defensive Player of the Year Jabrill Peppers in the fold for months and actively recruiting Da'Shawn Hand (the country's top defensive end,) many assumed that Hand — who had publicly stated Michigan was his leader for some time — was all but certainly a future member of "Team 135." In November, Hand chose Alabama in a decision that was shocking to many, and agitating to many others. 
NO. 10 - LINEBACKERS FRONT AND CENTER
Ohio State's recruiting has not suffered in many areas in the last decade-plus, and it's gotten even better since Urban Meyer's arrival in the fall of 2011. One area that had eluded Meyer — up until January's US Army All-American bowl — was the linebacking unit. In fact, through the entire 2012 calendar season, Ohio State's 2013 recruiting class (one of the nation's top three classes) had a big, fat, goose egg in the LB column.
Until January. In a ten-day span Meyer and his defensive staff reeled in three linebackers, Georgia's Trey Johnson, Texas wunderkind Mike Mitchell and Cleveland Glenville's Chris Worley. This trio is the foundation of Ohio State's defense in 2014 and beyond and will make big impacts soon.
NO. 9 - WHAT'S UP, HOLMES?
Before his midsummer visit to Ohio State, the writing on the wall for Norfolk (Va.) star defensive end Jalyn Holmes was scribbled in Florida State's garnet and gold, but he was all Scarlet and Gray before he even left campus. Or was he?
Holmes made his intentions known prior to leaving Columbus, but wanted to travel back to Virginia to discuss his commitment plans with his coaches and teammates at Lake Taylor High School. Unfortunately for Holmes, the story found a way to the public a day earlier than he wanted and it led to some contentious moments between his mother and a networked Ohio State website. A day after the drama, Holmes committed to Ohio State as planned and the Buckeyes had landed the nation's 4th-ranked defensive end, stealing him from Florida State's grasp.
NO. 8 - SUPERMAN TURNS HEADS
When Urban Meyer took the helm in Columbus, one of the events recruitniks were looking most forward to was Friday Night Lights. The camp, held annually inside Ohio Stadium's hallowed walls, is a showcase for the Buckeyes' program and many of the country's most talented prospects. This past July saw hundreds of recruits piled in for their shot at Buckeye glory, but it was Canton McKinley's Eric Glover-Williams, donning the famous "S" symbol of Superman, that left the thousands of fans buzzing with excitement.
Showcasing elite speed, incredible leaping ability and a knack for the big play, EGW made play after play, even calling out Buckeye commitment Dame Webb repeatedly in a memorable series of one-on-one drills. Williams lit up the field at wide receiver and at defensive back, and made more news just a few weeks later when he became Ohio State's first commitment for the 2015 recruiting class.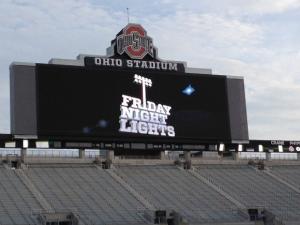 NO. 7 - WHAT'S THE MATTA
After two quiet recruiting classes in 2012 and 2013, Ohio State's Thad Matta reeled in a top-five nationally-ranked class for 2014, a class that he was able to discuss at length in mid-November.
The jewel of the class, Louisville (Ky.) native D'Angelo Russell, is the nation's 17th-ranked player and a shooting guard that Matta is definitely looking forward to getting on campus. 
"Getting another great guard at Ohio State. In terms of what position is he – a point guard or a two-guard? I don't know, exactly. I think we can run him at both," Matta said on signing day. "He's got the ability to make big-time plays with the basketball in his hands, be it three-point shots, driving and getting fouled. He makes guys around him better. He's a guy that won a national championship as a high school player. Montverde (Fla.) is one of the top high school programs in the country, so he's been coached."
NO. 6 - SUNDAY FUNDAY
Junior days at Ohio State are usually when recruits get their first "real" look at what the Buckeyes have to offer them, and they often end with names not often heard of becoming regularly discussed players. On February 10th of 2013, the Buckeyes junior day got a bit extreme in a matter of moments. Within an hour, the Buckeyes received commitments from Kyle Trout, Parris Campbell and Lawrence Marshall, becoming Ohio State's second, third and fourth commitments for 2014. 
Marshall decommitted three days later — and eventually committed to his homestate Wolverines — but his commitment put Michigan on the watch: the Buckeyes were not going to be shy about recruiting "that state up north."
NO. 5 - DAMON WEBB IS A BUCKEYE
While the brief commitment of Marshall no doubt rattled some Maize and Blue cages, it was the January pledge of Cass Tech star defensive back Damon Webb that really rocked the foundation of recruiting up north. Aside from his substantial talent, Webb's verbal has helped Ohio State open the door to Cass Tech, one of Michigan's premiere football programs and a traditional Wolverine feeder school.
Since his commitment, Webb has been instrumental in helping recruit a number of other key players to Ohio State through various camps, Twitter interactions and it was the innovative spirit of Webb and his mother that is responsible for 2014Bucks.com, the first "recruit for recruits" website we've ever seen. 
NO. 4 - THE BELL TOLLS FOR WE
As the 2013 recruiting class was winding down, the Buckeyes and head coach Urban Meyer were waiting on one last vital piece of the puzzle, Georgia's Vonn Bell. Bell, a consensus five-star talent was back-and-forth in the final weeks of his recruitment according to most who watched it closely, but most didn't think Ohio State was a legitimate landing spot for the star safety, believing that Alabama and Tennessee were more viable options.
On national signing day, Bell took the stage in a nationally-televised ESPN announcement. This this happened. 
Then this happened.
Then this happened. 
NO. 3 - THE KING RETURNS TO HIS KINGDOM
There is no more polarizing athlete in Ohio, and perhaps the entire country, than LeBron James. The Akron born "King" has long been a vocal Buckeye supporter, even providing the Ohio State basketball program with shoes and gear emblazoned with his personal logo. The Buckeyes, of course, have returned the favor, holding tightly to the relationship they have with one of the world's most recognizable athletes.
In late September, James made an appearance in Columbus as the Buckeyes prepared to host a number of top basketball recruits in tandem with a huge night game on the gridiron against rival Wisconsin. James gave an inspiring pregame speech to the football team and addressed fans at Ohio State's "Skull Session." He was seen on the sideline throughout the game and was generally the biggest attraction (aside from the football game) on a night that included 106,000 scarlet-clad maniacs, fireworks, explosive plays and a nail-biting finish. 
It's good to be King, and it's good to be friends with the King as well.
NO. 2 - BUCKEYES OWN EUGENE
When Nike invites you to their prestigious "The Opening," camp in Eugene, it's a surefire sign that you're a recruit worth watching. This past summer, no school was represented as heavily as Ohio State. Future Buckeyes littered the roster of every one of Nike's training camp squads, underscoring Ohio State's national appeal and Urban Meyer's ability to connect to players all over the country.
At the time of the event, Ohio State had 14 verbal commitments and a whopping nine of them were participants in The Opening. Jamarco Jones, an All-American lineman didn't get an invitation because of injured shoulder or that number certainly would have been 10. Since then, Ohio State has added commitments from "The Opening" participants seemingly left and right. Raekwon McMillan, Johnnie Dixon, Demetrius Knox, and Curtis Samuel have brought the Buckeyes' total to 13 of 19, an astounding number when you consider The Opening invited 145 total players from across the country. That's nearly 10-percent Buckeyes.
Ohio State Runs The Opening

| PLAYER | POSITION | HOMETOWN |
| --- | --- | --- |
| Stephen Collier | Quarterback | Lee County, Ga. |
| Parris Campbell | Running Back | Akron, Ohio |
| Curtis Samuel | Wide Receiver | Brooklyn, NY |
| Johnnie Dixon | Wide Receiver | Palm Beach Gardens, Fla. |
| Terry McLaurin | Wide Receiver | Indianapolis, Ind. |
| Kyle Trout | Offensive Line | Lancaster, Ohio |
| Demetrius Knox | Offensive Line | Fort Worth, Texas |
| Dylan Thompson | Defensive Line | Lombard, Ill. |
| Jalyn Holmes | Defensive Line | Norfolk, Va. |
| Kyle Berger | Linebacker | Cleveland, Ohio |
| Dante Booker, Jr. | Linebacker | Akron, Ohio |
| Raekwon McMillan | Linebacker | Hinesville, Ga. |
| Damon Webb | Defensive Back | Detroit, Mich. |
With Ohio State still chasing a number of key players in 2014 like defensive end Solomon Thomas and any other number of potential surprises, this number could still grow. It truly is a Buckeye nation.
NO. 1 - "I'M FINALLY HOME."
I'll just leave this here.