Happy Valentine's Day to all you spoken-for Buckeye fans out there. I hope your day is full of love and capped with a little Bow-Chicka-Bow-Wow.
To the rest of you, Happy Woody Hayes's 100th Birthday!  
It's hard to believe the Old Man would've been 100 today. It seems like just a few years ago he was dotting the i or enjoying the greatest day of his life, as he addressed Ohio State's graduating class of 1986, which took place roughly one year before his death on March 12, 1987. 
A few snippets include:
"So many times you have found here at the University people who were smarter than you. I found them all the way through college and in football: bigger, faster, harder.  They were smarter people than I.  But you know what they couldn't do?  They couldn't outwork me.  I ran into opposing coaches who had much better backgrounds than I did and knew a lot more about football than I did.  But they couldn't work as long as I did.  They couldn't stick in there as long as I could.  You can outwork anybody.  Try it and you'll find out you can do it."

"And I had a great, great association with my coaches.  No one ever had better people than I did.  Or better football players, and we outworked our opponents.  The only way we got beaten was if we got a little fatheaded, if we didn't train well, if we had dissension on the squad, if we didn't recognize our purpose in life.  Those are the people you win with."
Beyond Woody's five national titles, all of which occurred before my lifetime, I would like to thank him, on his 100th birthday, for how his leadership at Ohio State impacted my father. If not for Woody's ability to lead Ohio State back to national prominence, and his love for history and character as a giving individual, I can't say for sure that my dad would've instilled the same passion in me for Ohio State football that I am so thankful to have coursing through my veins today. 
Happy Birthday, Woody. Your impact on a great university, the football program, and its passionate following paved the way for us to take part in the communal celebration that is Ohio State football on fall Saturdays in Columbus and every day in between.
In honor of your contributions to Ohio State football, I toast you with a delicious Woody Haze 100. 
BACK TO FOUR. On Sunday, Lawrence Marshall, a weakside defensive end prospect from suburban Detroit, committed to Ohio State as part of a three-bagger Urban Meyer and his staff hit into the corner.
On Tuesday night, Marshall made the trip to East Lansing to take in the Michigan State-Michigan basketball game. On Wednesday, he visited Ann Arbor and while there, decommitted from Ohio State.
Explaining his decision via Twitter, Marshall said, "I had a great time at Michigan State yesterday, I had a wonderful time at Michigan today an and ever [sic] better time at Ohio State but I want to consider other schools so I am decommitting from Ohio State."
National Signing Day 2014 is still a year away, so this is far from over for any party involved, really.
THE RULER'S BACK. In meetings this week, the NCAA Football Rules Committee voted to propose a slew of new rules which will be forwarded to the Playing Rules Oversight Panel for review. 
The Oversight Panel meets on March 6 to discuss the various proposals, which upon approval, would become new rules in effect for the 2013 season. 
The headlining proposal is a rule change that would call for the ejection of players who target and contact defenseless players above the shoulders, in addition to the typical 15-yard penalty. The committee notes the rule would mirror the existing penalty for fighting and comes with a bit of a safety net to account for bad calls:
If the foul occurs in the first half of a game, the player is ejected for the remainder of the game. If the foul occurs in the second half or overtime of a game, the player is ejected for the remainder of the game and the first half of the next contest.

 

The committee has also decided, in an effort to address concerns when one of these plays is erroneously called, to make the ejection portion of the penalty reviewable through video replay. The replay official must have conclusive evidence that a player should not be ejected to overturn the call on the field. Additionally, a post-game conference review remains part of the rule and conferences always have the ability to add to a sanction.
Examining the rule regarding blocking below the waist was also a chief focus at the meetings. Looking to address recent confusion on the current interpretation of the rule, which deemed illegal any block below the waist occurring against a player based on where they lined up at the snap of the ball, the committee's amended view would allow for blocks below the waist, regardless of where the player lined up at the snap, so long as the player is facing the oncoming blocker. Conversely, blocks below the waist that come from either the side, or back, would be deemed a penalty. 
A few other proposals of note:
To add a 10-second runoff with less than a minute remaining in either half when the sole reason for the clock to stop is an injury.
To establish three seconds as the minimum amount of time required to be on the game clock in order to spike the ball to stop the clock. If one or two seconds remain on the clock, there is only time for the offense to run one more play.
To require teams to have either their jersey or pants contrast in color to the playing field. (See ya, Boise blue)
To allow instant replay to adjust the clock at the end of each quarter. Previously this provision was only in place for the end of each half.
VERBAL WARFARE. In the wake of some signing day switch-a-roos, many schools are taking a look at whether or not they should institute a policy that forbids orally committed players from taking visits to other schools. 
Still smarting from losing longtime verbal commit A'Shawn Robinson to Alabama on National Signing Day, Mack Brown had this to say on the subject:
"The thing that we will do is we have allowed the kids to commit and still look around the last couple of years -- we're not doing that anymore," Brown said last week on Signing Day. "If you are committed to us, be committed. If you're going to go look, we're going to go look."
Obviously, other schools such as Michigan and Oregon have adopted similar approaches, though the interpretations can be a bit loose and Oregon is said to already be backing off the guideline that former Duck head coach Chip Kelly instituted. 
I do see both sides of the coin here. It's easy to criticize programs that threaten to pull a kid's offer for looking elsewhere but when you're dealing with 18-year-old kids, it probably makes more sense to handle the situation with kid gloves. 
Some blue chips are already expressing a lack of love for the policy, including current Longhorn verbal OT Demetrius Knox:
"I feel like, regardless, if you are committed or not, you should be allowed to take visits and official visits to other colleges because, what happens your freshman and sophomore year if you are at a university and you didn't take those visits?" Knox said. "You might have second thoughts or whatever. If you went on those visits you get to decide what school is best for you so you can never have second thoughts."
While there are certainly holes in the argument of this particular high school senior, like why he would even consider giving a verbal if he wants to look around, the bottom line is boys will be boys and even the best recruiters in the country like Saban and Urban, who aren't afraid of getting into a recruiting dogfight, would only be hurting their chances of landing a stud prospect.
The best course of action seems to be putting minor pressure on the player by explaining the impact of his verbal on the rest of the recruiting effort the school is putting together, while continuing to recruit the kid almost as if he hasn't given a verbal pledge. If he's already leaning your way and you keep showering him with love, he's more than likely prepared to stick with his initial verbal commitment.  
I guess I just see this being more effectively handled in a one-off manner in which the existing, specific situation of the player and program both come into play, instead of having a one-size-fits-all approach that offers less flexibility depending on what could be crucial variables on both sides.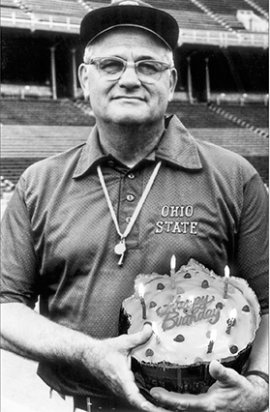 LIKE A BO$$. The necessity to field a competitive football team, in order to fully realize the money-making potential of a program, continues to drive up compensation for bosses at power-conference schools. 
According to USA Today, one new wrinkle as schools filled vacancies this season compared to the previous year is that they did so with head coaches from other programs at a much higher clip, instead of promoting someone's assistant coach. 
The result is a 7% increase in average basic compensation, on the heels of a season ago when new head coaches at FBS schools made 35% more than their predecessors earned in 2011. And when you factor in the reality that many coaches hired this offseason came with buyout clauses that the new school is typically inclined to handle, the cost of a new head coach can realize an even sharper increase:
Nearly any head coach who breaks his contract to accept a job elsewhere in football is required to compensate the school he leaves. But the new employer generally agrees to pay that buyout, creating what is essentially a one-time bonus for the coach it has hired. In some cases, the amount of that bonus is increased by the new employer's willingness to also pay the taxes the coach would have owed on the one-time bonus.

When that money and one signing bonus is taken into account, new head coaches at Football Bowl Subdivision schools will be paid an average of around 26% more than what their predecessors made in 2012. Last year, including buyouts paid on their behalf, new head coaches at FBS schools were paid about 45% more than what their predecessors made in 2011.
These increases come at the same time many institutions are spending less, or not matching the same pace, as the coin dedicated to athletics so the belly-aching continues but the bottom line is that a strong football program is a necessity for schools that are in the business of making money. 
B1G TIN. Stricken with NBA All-Star weekend fever, Brent Yarina cobbled together rosters for what would be mythical conference three-point shooting and dunk contests. 
The three-point contest roster isn't overly sexy with a cast of Ben Brust, Gary Harris, Jordan Hulls, Nik Stauskas, D.J. Richardson and Christian Watford. I'd lean toward Hulls though Harris certainly impressed two nights ago against Michigan. 
The dunk contest, however, would probably rival the NBA's version with the likes of Victor Oladipo, Sam Thompson, Rodney Williams, Glenn Robinson III, Jared Berggren and D.J. Newbill forming a pretty sick lineup. I'd probably swap Branden Dawson for Berggren but regardless, such an event would be fun to watch this season. 
At post time, Oladipo was running away with the fan vote, followed by Williams and Thompson. I might take Sam ahead of Williams, but only by a nose, with Oladipo the clear winner. Who you got? 
ASSORTED CANDIES. The 10 Greatest Slam Dunk Contests... John L. Smith's shady ways... RichRod Bahama... Random Mardi Gras costume... Urban to quiz young Buckeyes on Woody Hayes... 20 Wonderfully Bizarre Guests From The "Jerry Springer Show"... 8 Possible Reasons the Olympics Dropped Wrestling... Picture from the 1946 detonation of a 23 kiloton nuclear bomb at 90 feet below the ocean's surface.