The Buckeyes are finished with football, so you can go ahead and begin the countdown to eternity.
We've got about three weeks left on this fun blue marble, fellow Mayan culture enthusiasts. At least the Buckeyes had the courtesy to finish off the 13th b'ak'tun and the entire Mayan timeline with an almost-perfect record of 12-1. Yes, that stupid Taxslayer Bowl lapse in judgement was technically on their previous calendar, but we'll count it toward the grand 2012 finale. Self-loathing works like that.
If you're confused, here's the quick recap: End-of-the-world fetishists have everything as you and I know it crashing to an abrupt halt on December 21.
It's the sum of all fears: The world will end right in the middle of the Beef O'Brady's Bowl. Just as the Mayans predicted it.
It's the final edition of The Situational for 2012 – and possibly ever. Let's go! Time's wasting!
THE DEAD PRESIDENT
Over the past 13 weeks we have paid homage to dead guys who held the highest office in the land and/or who have graced our currency.
This week, being the season finale where cliffhangers and plot twists are expected if not required: Wayne Woodrow Hayes – son of Ohio, father of Buckeye football culture, born on Valentine's Day 99 years ago – is categorically a dead president.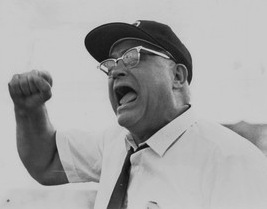 Woody loved history. I'd like to think for that reason he would enjoy reading The Situational. Unfortunately, aside from this section it also features liquor, gambling, stupid people, cheerleader pictures and music that would cause him to turn several shades of purple with rage.
And he had too much respect for the office of the American president to enjoy his insertion into this space on a technicality. Woody was the 3rd vice president for the American Football Coaches Association (AFCA) from 1958-1960. In 1961 he slid over one chair to 2nd VP, and then one more to 1st VP in 1962.
In 1963 he occupied the only chair left, that of AFCA President. Just 25 years earlier Michigan's Harry Kipke, who cameoed on 11W last week, was elected to the same chair. Kipke was Michigan's first AFCA president, followed by Fritz Crisler (1941) and Bo (1983).
Hayes was Ohio State's first president. John Cooper was also elected to the post in 1992, but he's alive and well, whereas Woody is just...alive forever.
Thank you, Mr. President. You have no idea how many young people who were born after you passed think the world of you today.
THE SITUATIONAL WAGERS: THE MAC CHAMPIONSHIP, BIG XII CHAMPIONSHIP, PAC-12 CHAMPIONSHIP, SEC CHAMPIONSHIP, B1G CHAMPIONSHIP

THE MAC CHAMPIONSHIP: KENT STATE GOLDEN FLASHES (+6.5) against Northern Illinois. Kent State's BCS hopes have been aided by Ohio State's postseason ban, moving them up one precious slot. YOU'RE WELCOME, BROS.

THE ACC CHAMPIONSHIP: GEORGIA TECH YELLOWJACKETS  (+13) against Florida State. You know why nobody really talks about how bad the ACC is? Because talking about the B1G's awfulness is more interesting. Y'ALL ARE WELCOME, SIRS.

THE PAC-12 CHAMPIONSHIP: STANFORD CARDINAL  (-10) against UCLA. The winner plays not-Ohio State in the Rose Bowl. YOU'RE WELCOME, BRAHS.

THE SEC CHAMPIONSHIP: GEORGIA BULLDOGS (+8) against Alabama, neither of whom have to contend with an undefeated Buckeye team in the precarious BCS math this season. YER WELCUMB, BROSE.

THE B1G CHAMPIONSHIP: NEBRASKA CORNHUSKERS  (-2.5) against third-place, and super-assy, Wisconsin. (everybody in unison) YOU ARE WELCOME, HUSKERS.

LAST WEEK: 3-2 | SEASON: 30-35
THE NOWLEDGE
You haven't come down from your Buckeye High since Saturday, and this is a weird one: For the first time in 25 years Ohio State's aftertaste is going to be Michigan blood until the 2013 season begins. You just don't see too many seasons that end with a victory over the Wolverines and then...nothing.
Every edition of The Game has a hero, and some of them get to have a goat. The former for Ohio State in 2012's edition of The Game is debatable, but my leanings are toward an El Guapo/SHZR combination.
The latter doesn't seem to be too controversial this time around. Oh come! Let's sing Al Borges' praise:
Going to spend the day trying to convince Brady Hoke to let me call the plays for Michigan tomorrow. Just doing my part, everybody.

— Fake Pat Shurmur (@FakePatShurmur) November 23, 2012
Fake Pat Shurmur, for anyone who subjects themselves to the Browns every week [points at self] is a humorous slant on Cleveland's real and routinely clueless coach. He's like The Onion in human form with a headset. Good to know he's a Buckeye fan. Looking at Michigan's recruiting success in Ohio it's hard to tell anymore.
Al Borges with a terrific first-half gameplan. Michigan's offense sufficiently unpredictable.

— Bob Wojnowski (@bobwojnowski) November 24, 2012
Well, things initially didn't go according to Shurmur's plan (SURPRISE). Michigan came out saucy, smoky and dripping with mystery. Two-QB backfield? Damn, we were hoping they wouldn't do that.
That's a terrific variation of the wishbone diamond plays Nebraska runs. Al Borges coaching his tail off today.

— Samuel McKewon (@swmckewonOWH) November 24, 2012
Part of the problem in that first half was Ohio State playing cover-two against three receivers on Michigan's long TD pass (math!) and then there was the "tackling" on Denard Robinson's long TD run...but yes, it was an offense that Buckeye fans would have killed or at least maimed for in recent years. 
What could've been.. Rich Rod vs. Urban Meyer in a Big Ten spread offense shoot out.. Borges' pseudo spread is entertaining though...

— SpreadOffense.com (@SpreadOffense) November 24, 2012
With a 21-20 lead going into halftime and both offenses moving the ball – and both defenses hitting hard enough to hear the pads smacking from the Varsity Club – the second half was trending toward a 2006-like 42-39 finish.
In the second half Ohio State started tripping all over itself in the red zone and shooting three-pointers where six would have been better. But that didn't matter, because Michigan's offense was tighter than Brady Hoke's belt on Thanksgiving night. Also: On any other night. 
And the fingers of blame – as well as the torches of angst – were all directed at the man in charge of the plays.
Al Borges is Ohio State's MVP right now.

— Matt Zemek (@MattZemek_CFN) November 24, 2012
Disagree. Ohio State telegraphed its offensive plays for a full decade and kicked every Big Ten ass in spite of it.
Nice game Borges...Suckeyes MVP

— Stein (@SteinC30) November 24, 2012
[collects Wolverine tears in a cup] [drinks them slowly] [pees back into a different cup] [pours it through Kevin Costner's pee-recycling filter from Waterworld] [repeats forever]
HIDE THE WOMEN AND THE CHILDREN AND GET YOUR PITCHFORKS READY. WE'RE HEADED TO THE HOUSE OF AL BORGES.

— Maize n Brew (@MaizenBrew) November 24, 2012
DON'T HURT HIM. HE HAS PLENTY OF GOOD YEARS LEFT.
Thank you, Al Borges.

— Eleven Warriors (@11W) November 24, 2012
Spelled out in rose petals, from the entire staff at Eleven Warriors. Read the card! Read the card!
Borges sucks meat

— Nick Montgomery (@CoMoonchi) November 24, 2012
HEY WAIT A MINUTE. Ohio State and Michigan can agree on very few things, and sucking meat is one of them: There's absolutely nothing wrong with it.
Hours later and Al Borges still sucks.

— Scott Bartz (@ScottFire54) November 25, 2012
Ohio State isn't scheduled to play football again until August 31, which means this win over Michigan is going to provide so much aftertaste.
If the Mayans end up being right it will be the taste earth takes to its terrifying grave. Best apocalypse ever!
THE BOURBON
There is a bourbon for every situation. Sometimes the spirits and the events overlap, which means that where bourbon is concerned there is typically more than one worthy choice.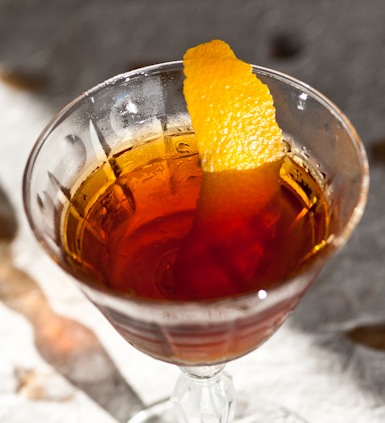 Unless you enjoy pissing away your money, you're making your own coffee at home. Yes, going to Starbucks and Dunkin Donuts is fun – if you want to tack a couple of years onto your career.
Oh, you haven't read about coffee and the power of compound interest? You should. But this Situational Bourbon isn't about retirement plans; it's about the home-brewed coffee that didn't fit in your traveler on your way out the door this morning.
The Revolver exists for those room-temperature leftovers still in the pot when you return home from your miserable job. Pour that brown mess into a glass about a third of the way and then add bitters. Wait, you don't have bitters? You should always have bitters.
Now you need the spiciest bourbon in your library that is acceptable for mixing, i.e. not too high up on the shelf. Knob Creek, which is a solid airport-layover bourbon in its own right, does well in this area. 
Drop in a citrus peel and that's it. You can just swirl it around the glass, pour it back into your traveler, drop a scoop of ice cream into it – whatever.
You just made use of your leftover morning coffee while giving yourself a nice little kick in the pants. Which you probably needed anyway. 
THE PLAY-OFF
As both the 11W 2012 Football Season Editorial and Mayan Calendars have indicated, this is the final edition of The Situational.
That makes this the final Play-Off, which means we need a song to lead us out of here and into oblivion. Unfortunately, there is a challenge this week, as the tunes in this space throughout the series have been decidedly mixed, by design.
They have been terrible and great, cheesy and heartfelt, funny and incoherent and more often than not, pretty stupid. It seems appropriate that we take all of those attributes and squish them into one final Situational anthem.
Citizens of planet Earth: I give you Donnie Iris and the Cruisers.
Season's over. If you would like to go back and relive all of our bad wagering advice, dead aristocrats, bourbon cocktails and Situational miscellany: 1 | 2 | 3 | 4 | 5 | 6 | 7 | 8 | 9 | 10 | 11 | 12 | 13
We'll see you on the other side. Go Bucks.