Ohio State football is back from a bye and that means we have another Eleven Warriors football Roundtable featuring your favorite Dubster Analysts.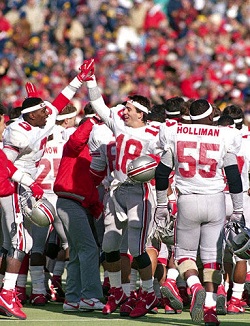 Today, we have Corey, Chad and Derek chiming in with all kinds of knowledge bombs and witty one-liners. I even joined the action today, because hey, this is a pretty big weekend.
Please feel free to let us know your thoughts in the comments.
The Buckeyes are fresh off their bye and have had two weeks to prepare for Wisconsin. With the extra preparation time, what different aspects will we see this week from the offense and the defense, if any?
Chad: On defense, I expect the Buckeyes to have worked on Wisconsin's shifts and motions extensively – I think we'll be ready with sound gap defense, which will allow for more blitzing against a green Wisconsin quarterback. On offense, I expect to see more of the two running back set as well as a greater focus on the passing game. While Vannett, Heuerman, and Stoneburner have all looked good catching the ball recently, Devin Smith and Corey Brown have kind of taken a back seat, so look for more deep throws their way.
Dave: On defense, I expect the Buckeyes to load the box. Wisconsin has been through so many quarterbacks and that definitely takes a toll on their confidence in the passing game. The Badgers definitely want Montee Ball to get that record and to get it convincingly.
On offense, with a game of this magnitude, I expect the playbook to open up meaning more QB designed runs and long bombs.
Derek: I think the offense will continue to implement more and open up the playbook more.  Braxton Miller's continued development will allow more and more creativity with the play calling. The defense will just be a lot more healthier which should help solidify things, especially at linebacker with the return of Etienne Sabino.
Corey: I think the defense will remain the same, nothing too different. They have played well the last two games and they just need to continue to improve off of that. On offense, I think we will see a good dose of the run game to try to control the clock and take the crowd out of the game.
One of the major story lines of Saturday will be Montee Ball and a chance to break the career TD record. How do the Buckeyes shut Ball down and limit his yards?
Chad: I think the defense does manage to contain, if not shut down, Ball. As good as Ball and the Wisconsin offense are, our defensive personnel and schemes are built for defending inside zone, outside zone, and power. Boren and Sabino are suited for going against bigger (slower) running backs, the defensive line can shut down the inside run game, and Roby and Howard will lock down Wisconsin's few receiving threats to make the Badgers have to rely upon Ball to win. I like the defensive matchup a lot.
Dave: Like I said above, just load the freakin' box and let Wisco try to pass.
Derek: Montee Ball has been limited every single time he has faced the Silver Bullets that are the OSU defense. I think that will stay the course for much of Saturday as OSU has had two weeks to prepare and heal up for this one. Montee Ball is similar in many ways to Le'Veon Bell, and the Buckeyes held Bell to under 40 yards rushing.
Corey: The Buckeye defense have had decent success shutting Ball down, but I honestly think he at least ties the record, at home, on Senior Day. The Silver Bullets will hold him under a 100 yards, but he still gets his one score.
Wisconsin has already locked down the Leaders slot in the Big Ten Championship game. How will that play into Wisconsin's scheme? Do you think they will sit any guys to avoid injuries or will they play this game like any other?
Chad: Sitting Ball or Borland just lowers Wisconsin's chances of winning, and Wisconsin should really want to win this pseudo-rivalry game. I think Bielema has to treat this like a rivalry game or else he shows weakness relative to Urban, the new guy in town.
Dave: Although Wisconsin could be playing for a Rose Bowl berth (if they beat the Legends champion), I don't think they're slowing down with this game. Like everyone thinks, there is more at stake than just a win or a loss for these coaches.
Derek: I think they will approach this game just like any other because it is Ohio State and a "rivalry" has kind of emerged with these two teams. Also, with it being sort of a disappointing season to Wisconsin's standards, they want their guys out there to continue to get better, as they have the last few weeks. The Badgers can still make a BCS bowl game and facing Ohio State could be good preparation for that.
Corey: I don't think they sit anyone down. There is nothing more Bielema would want than to give Urban his first loss at Ohio State. If anything, they may sit people next week.
Johnny Manziel has stolen the Heisman spotlight recently with a huge win over Alabama. What kind of stats does Braxton Miller need to put up in his final two weeks to be at the Heisman ceremony in New York City?
Chad: Braxton needs to beat both Wisconsin and Michigan, pass for more than 200 yards in each game, and probably run for a hundred and change as well. So, average weeks for Braxton. A "Heisman Moment" or two wouldn't hurt, but he's had plenty of jaw-dropping runs this year.
Dave: Just to get to the ceremony, Braxton needs to continue putting up 100 yards on the ground and about 200 through the air. Add three or four touchdowns in the last two games and he'll be sitting pretty in NYC. The chance his name is called is slim.
Derek: Braxton needs to own these next two games in order to have an opportunity to win the Heisman. I would say around 300 yards passing in combination with 100 yards rushing and 5 total touchdowns each game would be jaw-dropping numbers and performances that would force voters to consider him. Both games being victories would also go a long way.
Those numbers are outrageous and seem unrealistic, but that would catch the voters' eyes. I think if he continues to perform much the way he has so far this season, he will make it to New York but not be a serious candidate to win.
Corey: He has to go for over 400 total yards each game and at least a combined 8 TDs.
Make a prediction: will the SEC have program in the BCS title game this year?
Chad: No, I don't think so. I think at least two of Notre Dame, Kansas State, and Oregon will be undefeated at the end of the season. This is a tough year to evaluate the top teams. The one "sure thing" was Alabama. Too early to say if the SEC is down or the other conferences are getting more competitive, but I'm not convinced a one-loss SEC team should go in over any of those three.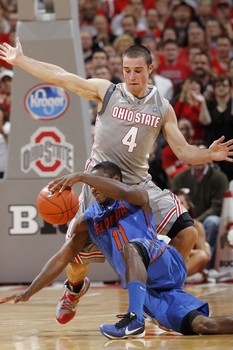 Dave: I'm putting it at 90%. We all know it will work out in their favor and a team like Alabama will sneak back in after winning the SEC Championship. Yes, that means that Kansas State or Oregon will lose.
Derek: No. I think 2 of the top 3 undefeated teams will remain that way. Kansas State and Oregon.
Corey: Yes, there are 6 of them in the BCS top 10 and I just believe at least Kansas St. and Notre Dame will lose a game.
OSU is currently #6 in the AP poll. If you had a vote, where would you slot the Buckeyes? Who is your number one?
Chad: I'd have them at 5 or 6. I think OSU-UGA would be pretty even head-to-head. I'd put Oregon at number one.
Dave: I would put them over Notre Dame and since they are undefeated, number three sounds reasonable.
Derek: I would also have the Buckeyes #6 because I believe one-loss Alabama and Georgia are better than Ohio State. Alabama hasn't played much tougher of a schedule than Ohio State, but watching them play shows that they are better than OSU. I think Oregon is #1.
Corey: Since they are undefeated, I would have them at #4, behind all the teams that are bowl eligible and undefeated. Oregon is my #1.
What is your outlook on having both Zach Boren and Etienne Sabino at linebacker?
Chad: I love this group of linebackers against Wisconsin. The two are made for this kind of physical, between-the-tackles kind of running game.
Dave: Any depth is a great thing and it's great to have them both against Wisconsin and Michigan. I just hope Sabino is ready to play.
Derek: I think having a healthy Sabino to couple with Boren and Shazier is the best linebacking unit we have put on the field thus far this year. I'm not sure how they will position Boren and Sabino together, but you have to have your best players on the field, and those two surely are.
Corey: I think it can only help. Perhaps Sabino learned something from Boren the past few weeks. Plus we have seen that Ohio State needs the extra help at LB.
Will you have your computer tuned in to ESPN3 to watch Buckeye basketball while you tune in to the football game?
Chad: Absolutely!
Dave: No doubt. This is the best time of the year: the prime of college football season, college hoops just started, NFL heating up, NBA just tipped off, and hocke... yeah, that's about it.
Derek: I will not. I haven't really gotten my interest in OSU basketball yet for this season to watch them simultaneously with the football team.
Corey: No, I'll have the DVR set for the hoops game. I have to work, so it's a tough decision.
Bonus Prediction: at what minute mark will the Wisconsin student section fill to capacity? (There were 10 minutes left in the Q2 when it was filled last time OSU visited Madison.)
Chad: If it's not full before the game then I'll be very disappointed.
Dave: I'm going to say that it'll be full by the end of the first quarter. Remember a 2:30 CST start time is rough for these UW students.
Derek: Late 1st quarter. I think they are kind of geared up for the first Meyer-Bielema showdown after the controversial statements made in the offseason.
Corey: Since it's 3:30, it won't be until the middle of the second quarter, as it takes a while to wake up the passed out people that are in the middle of State St.
---
Next week's Roundtable edition: Michigan. Send us your questions for next Friday's special edition.