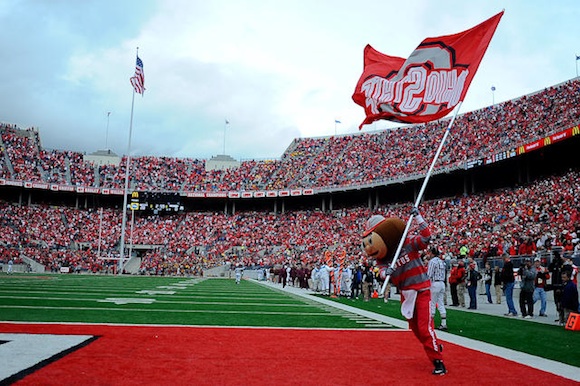 It's now okay to admit that last summer you emotionally prepared yourself for the decline and collapse of the Buckeye football empire. You were not the only one.
All of those days and months of relentless media castigation along with the looming, wildly-speculative disciplinary action had that effect on a lot of fragile psyches. When you see certain agony on the horizon, you mentally brace for the absolute worst. It's tough to stay positive in the middle of a screaming typhoon.
Beyond the scandal that felled our beloved head coach, there were wild stories of boogeymen dispensing forbidden gifts, fixed camp raffles during Ronald Reagan's first term and our enigmatic star quarterback earning $40,000 by signing autographs on the side. It all sounded quite plausible, up until the NCAA ruled it was not.
Every day it was something new and different, but it was always something bad. So you prepared your feeble animus for something badder. Amidst that bad news was the tricky little matter of determining which teenagers would be wearing those silver helmets you like so much in the not-too-distant future.
The game behind the game - recruiting - is a formidable indicator for future returns, and Jim Tressel's Buckeyes were savvy in establishing a core for each recruiting class before the weather turned warmer. Filling out each class with a whimper was the frustrating norm with very few exceptions, all mitigated by the fact that they started strong.
This 2012 class that will sign its letters of intent in a couple of days began no differently in that regard: Two five-star Ohioans, guard/tackle Kyle Kalis and tailback Bri'onte Dunn verbally committed to Tressel very early on in the process. However, that was before the self-inflicted and unsolicited third-party assaults on the Ohio State brand began in earnest.
Three weeks after calling himself 'a fighter' who wanted to be a Buckeye despite the fresh news of Tressel's departure, Kalis rescinded his pledge to Ohio State. He had been widely regarded the most important member of the class, and he would very soon be heading to Michigan and actively recruiting on the Wolverines' behalf.
This was only the beginning of the recruiting unpleasantness.
Lifelong Buckeye fan Kyle Dodson - a talented Ohioan occupying a position of dire need (OT) criminally ignored by Jim Bollman - abruptly committed to Wisconsin. Even already-signed incoming freshman Ejuan Price called off his plans with Ohio State.
The future was viciously circling the drain with unkind timing, as all of the lousy news was occurring shortly after Buckeye football had already lost both Tressel and Terrelle Pryor. Recruitment and retention were each in the red for Ohio State, and it was only June.
That decline and collapse of the Buckeye football empire? It was already happening without the benefit of a single football game.
So it is okay for you to cop to having installed a psychological safety net for your expectations, which are normally wired for championships. Even Alex was dispassionately anticipating even more unpalatable badness:
While Ohio State won't likely snag any big time out of state players this year, they are sure to re-gain the trust of players in their backyard who likely would have committed by now had Tatgate never exploded. (June 2011)
That low-hanging local fruit Alex was predicatively referring to turned out to be Tyvis Powell and De'Van Bogard, the latter coming from the ever-reliable Cleveland Glenville Buckeye feeding machine and the former being the bravest commitment of your 2012 recruiting class.
Brady Hoke and Brian Kelly were already poised to carve up Ohio for themselves, leaving the remainder to the Penn State assistants who recruited for the program at the behest of the late Joe Paterno, who spent the majority of his final decade in State College on self-administered house arrest where recruiting was concerned.
By the end of November, Buckeye recruiting was the same slow discomforting trickle it had been since early June, as coveted recruits had either eliminated the Buckeyes outright, were still playing the waiting game along with the rest of us or never actually considered Ohio State.
The Buckeyes finished their lost season at 6-6, losers to Michigan in Ann Arbor as well as six times on the recruiting field (Kalis, DT Ondre Pipkins, DE Tom Strobel, DE Christopher Wormley, LB James Ross and DB Terry Richardson are all headed to Michigan and hold scholarship offers from Ohio State) and headed for final NCAA judgment.
Right after the Michigan loss Urban Meyer took over as many of us had hoped and anticipated that he would and promptly subjugated almost a year of relentless brand assassination in a little less than a week. No big deal, you guys.
The result, still in the making, is that Ohio State's class of 2012 is one of the very best in the nation. It's a shock to everyone, regardless of their leanings.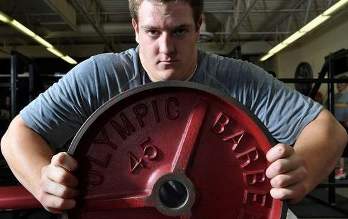 Some hilarious explanations have been floated to explain Meyer's remarkable recruiting successes. There was Ohio State's very common NCAA exemption for additional headcount to incoming coaching staffs during bowl season, diligently spun by ESPN as a unique or controversial favor which was then predictably consumed by the understandably obsessed.
Alas, the forfeiture of commonly-granted staff exemptions was not listed amidst the punishments levied by Ohio State and the NCAA on the football program.
But it should have been! cried (mostly) Michigan fans, because Ohio State was inexplicably attractive again, and that extra .34 of a football staff that was suddenly making magic on living room couches had to be the reason. Far be it for lame ducks Bollman and Nick Siciliano to take time from their Gator Bowl preparations which consisted of [FILE NOT FOUND] to hit the recruiting trail for their successors.
Between June 9, 2010 - almost a year before Tressel resigfiretired from Ohio State and this past Halloween, the Buckeyes accumulated 13 verbal commitments including the ever-wavering one from Dunn.
All but one of them (Michael Thomas, via California by way of Fork Union Military Academy) are sons of Ohio. You know, the guys Alex told you would still come to Columbus despite all of the ugliness.
Since Halloween, ten more players have committed to Ohio State. Seven of them are from outside of Ohio. Eight of them were previously verbally committed elsewhere.
The Buckeyes' class of 2012 now claims eight verbal commitments that also hold Michigan scholarship offers (this statistic still feels downgraded following Rich Rodriguez' failed three-year quest to win the MAC, but it shouldn't any longer). Counting Dunn, who was a soft verbal at best, Ohio State is a perfect 8-0 against Michigan in recruiting when it has a permanent staff in place.
Hoke did all of his damage during the turmoil months against a phantom staff. He has been shut out since the new regime arrived. Meyer does not seem to give any damns about other coaching staffs' head starts or verbal commitments.
Another school that has a new coach with an inescapable narrative to overcome is Penn State, for whom Meyer has shown no mercy whatsoever.
What began with Tommy Schutt and Noah Spence has continued with Camren Williams and Armani Reeves. All of the jewels of Penn State's class now belong to the Buckeyes. They didn't exactly all deliberately defect to go to Ohio State, but that's where the Nits' recruiting prizes landed once they lost them.
Buckeye fans aren't terribly sympathetic to Penn State's recruiting plight for a multitude of reasons, but most especially because of what happened to Ohio State's own original recruiting targets in the wake of Tatgate: Kalis would be the homegrown star of a 2012 class that in all likelihood would be coming to Columbus to defend what was at least a 2011 Big Ten title.
So forgive Buckeye fans for not delving into an unproductive discussion involving time travel. There are more than a few other things we would fix with our history eraser aside from just preventing Tatgate, like giving Ryan Hamby vice-grip hands and teach Pryor to decline handouts, both real and imagined.
So what was once Penn State's is now coming to Columbus. Meyer not only salvaged the class of 2012, he improved what it probably would have been without the great disturbance of 2011.
He did this with all of two months to sell a battered program with a fresh postseason ban.
Ohio State football, which seemed destined for a period of less-regarded They Really Want to Be Here types of players - the late-bloomers and Plan B types that Penn State will be stocking itself with for some time - is selective again. So if you were bracing for reminders of Nick Mangold's meager star rating as justification for any recruit that could be considered a reach...alas, that will never go away.
Almost as shocking is that January - typically a spectator month for Buckeye fans while other schools are aggressively closing their classes - is impetuously exciting. Verbals? In late January?!
The 2012 recruiting season will close with Ohio State and Michigan both firmly in the top ten nationally, which is a formidable indicator for future returns in college football's greatest rivalry. They got some of the Buckeyes targets when the program was at its weakest; Ohio State got several Michigan targets as the Wolverines were coming off a BCS victory.
Kalis has earned an enhanced role of persona non grata without even having adorned Michigan's famous gimmick upon his head yet. Meyer is a villain to Ann Arbor despite having been absent from the Ohio State sideline since Tressel's camp raffle hoodwinking scams were still active. The Big Two are back, but most importantly, Ohio State football hasn't declined or collapsed.
The Buckeyes finished with a losing record and will sit out the 2012 postseason, and yet no B1G team has more momentum heading into the spring than Ohio State.
These days, as was the case last summer, Ohio State finds itself in the news daily. This time around, the news has been overwhelmingly positive. So now you're preparing your fragile animus for something even better than that. Good for you; good for all of us.
It's okay to admit that during this recruiting renaissance you are emotionally preparing yourself for the expansion and continuation of the Buckeye football empire. You are not the only one.