Wow, what another week it has been in recruiting. Just when you thought you couldn't top last week's 11W recruiting updates, Urban just keeps going and gives us more and more to talk about.
Jeremy did a great job earlier this week bringing everyone up to speed on where things stand now with The Buckeye Board, but it's time for some more tidbits on what is going on in the recruiting world. It's extremely hard to keep up with the pace Meyer has set on the recruiting trail, and if his on field product plays as fast as his off-field recruiting prowess, people are going to stop talking about SEC speed and start talking about Ohio State speed.
In this week's recruiting notebook, we bring you the latest on this weekend's visitors, what impact Bri'onte Dunn's commitment may have on another recruit, the buzz on Ricquan Southward looking around, and more. Join us after the jump to hear the latest buzz in the Ohio State recruiting world.
Weekend Visitors

Last week brought a long list of visitors that yielded great results for the Buckeyes in the form of commitments from Se'Von Pittman and Tommy Schutt, as well as re-affirmation of a commitment from Bri'onte Dunn. Jordan Diamond had a blast and Kyle Dodson could be on the verge of flipping his commitment from Wisconsin to Ohio State any day now. You can read more about the buzz from last weekend here.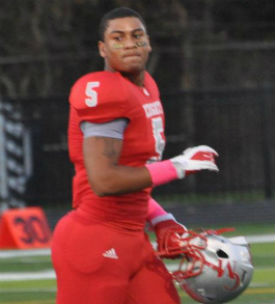 The momentum continued early this week, as Camren Williams, a current Penn State commitment, decided to explore all of his options. Of course, when Urban came calling, Williams listened and decided to take a spur of the moment official visit to Columbus with his father, former NFL veteran Brent Williams. We spoke to Camren following his visit and it appears it will be a two-horse race between OSU and Penn State.
The four-star prospect from Massachusetts really enjoyed his time on campus, but wants to give Penn State a chance to hire a new staff and pitch him on what they have to offer before making a decision. Williams will visit Ohio State again, this time with his mother, sometime in January after he goes to Happy Valley, and will also allow Meyer to make an in-home visit. As stated yesterday, I think there is a long way to go on this one, but if I had to call it today, I think Williams joins the Buckeyes' recruiting class.
As we approach the rest of the weekend, two more members of the class of 2012 are expected to be coming to town. Those prospects are Harrisburg (PA) Bishop McDevitt DE Noah Spence and Trotwood Madison DB Bam Bradley.
The word on Spence is that he was once thought to be a Penn State lock, but with all that has gone down, started to look elsewhere. He still maintains a good relationship with PSU defensive line coach Larry Johnson, but it is unknown if Johnson will be retained by the new head coach. Spence was visited by Notre Dame and LSU this week, both of whom tried to get him to set up visits, but were unsuccessful and it appears the only official he will take will be to Columbus.
That information, coupled by what I heard Tuesday regarding Spence, leads me to believe this is Ohio State's to lose. Spence plays in the state title game on Friday and OSU coaches will be in attendance. He then heads to Columbus for the weekend, where I expect him to give a silent verbal to Urban Meyer, which will be announced publicly in early January at the Under Armour All-America Bowl. If this comes to fruition, it would be a huge get for the Buckeyes, giving them the top defensive line haul in the country for this class.
As for Bradley, it appeared there were initially poor feelings towards Ohio State under Jim Tressel, because the Buckeyes were slow playing issuing him a scholarship offer. As soon as Luke Fickell took over, OSU extended that offer, but things looked to be an uphill battle with programs like Penn State, Stanford, and Pittsburgh having the upper hand.
Things have obviously changed now and Urban Meyer has let the Bradley family know he is wanted in Columbus. Meyer's goal is to make the talented Trotwood Madison program a pipeline to Ohio State under his reign, much like Glenville was one for Tressel. That pipeline starts with Bradley who helps fill a need at safety and could have some immediate impact at the Star position in Luke Fickell's defense.
Bradley will be coming up with his family, and with Pittsburgh now in disarray, I like the Buckeyes' chances.
As Jeremy told you this morning, one player who will not be making the visit is Baltimore (MD) Gilman WR Cyrus Jones. Jones was scheduled to visit Columbus this past week, but the super prospect is now saying he will not take the trip and that OSU just wasn't the right fit for him. He is down to Alabama and Virginia Tech and will announce his decision at the Under Armour Game.
While it was nice to even be in on Jones, this is not a huge loss. Joel Caleb and Stefon Diggs are still possibilities, and it appears the former is extremely high on the Buckeyes after his visit a couple weeks ago. Nick Saban may have put his best salesman hat on in convinicing Jones not to take the visit to Columbus, as he knew 48 hours with the Urbanator could mean bad news in this one for the Tide.
It was reported earlier this week that Jones would be coming with a Gilman teammate, and it was big news because of who that teammate was. I could kill you with suspense, but I won't and the fellow visitor was highly regarded 2013 DT Henry Poggi, the son of Gilman coach Biff Poggi.
Poggi, a 6-4/260 defensive tackle, is rated as one of the best players nationally, regardless of position in the class of 2013. He already has offers from Alabama, Auburn, Maryland, Michigan, Stanford, Iowa, Tennessee, Boston College, North Carolina State, Northwestern, and Vanderbilt, in addition to the Buckeyes. His oldest brother played at Duke and his middle brother, Jim, currently plays for Iowa, but it appears the younger Poggi is trying to carve his own path and will likely not attend either of those institutions. In fact, as good as the older two Poggi's were, Henry is even better.
It is unknown if Poggi will still be visiting, but when it is all said and done, don't count Luke Fickell's importance out in this. While Urban Meyer has Poggi excited, he has stated he is glad to see Fickell is on board, because he has done such a great job recruiting him already. I don't expect Poggi to make a decision anytime soon, but the Buckeyes should be in this one until the end. Getting him on campus this weekend could be the first win in many battles over this talented junior.
Bri'Onte's Impact

Getting Bri'onte Dunn to finalize his recruitment was a huge win for Urban Meyer in his quest to revamp the recruiting class of 2012. What Urban also knew, that maybe not all of you realized, is that is also gave the new coach a chance to add a good player to the class of 2013.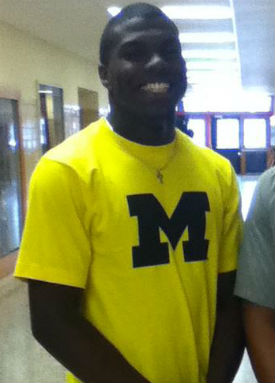 In a move that was definitely well thought and strategically made, Meyer offered Alliance Marlington ATH Dymonte Thomas. What does this have to do without Bri'onte Dunn, you ask? Well, Thomas, a current Michigan commit, is the cousin of Dunn and the two are very close. Thomas looks up to Dunn like a big brother and has been outspoken in the past about having a desire to play with his cousin.
Dymonte wanted things going fast early in his recruitment and when the Buckeyes weren't quick to pull the trigger on an offer earlier this year, he didn't take it well to say the least. Some close to the situation say Thomas was puzzled as to why other programs were offering him as a junior, but his home-state school was not. He visited some other programs, including Michigan, and gave a verbal commitment to Brady Hoke and the Wolverines shortly after a visit to Ann Arbor.
When word of Dymonte getting an offer broke on Tuesday, many thought this one had no legs, as he tweeted that he was all Michigan. In my opinion, that was the move of a young teenager who is still a little bitter over not getting an offer early, and that things could change moving forward. I fully expect Urban Meyer to have Bri'onte Dunn talking to his cousin about Ohio State if he is truly a target Urban wants, and I think as time continues to pass that Thomas would be more and more comfortable with the idea of donning the Scarlet and Gray over the Maize and Blue.
I am not saying Thomas will flip anytime soon or even ever. As things stand right now, he definitely is "all Michigan" and it would be tough to argue this one would change. That being said, you have all seen how good Meyer is on the recruiting trail. Give him a full year to court Thomas, coupled with Dunn whispering sweet nothings about OSU in his ear, and I think this one has the potential to change in favor of the good guys come National Signing Day 2013.
ricquan heading southward?

The Ohio State recruiting class currently numbers 18 players. It was assumed that all 18 were solid verbals after Dunn re-affirmed, but it appears that Ricquan Southward still wants to see all of his options.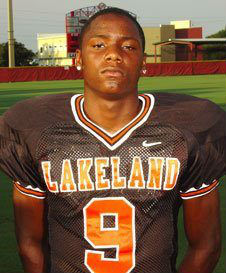 Southward, the 6-1/190 receiver from Lakeland, Florida, switch his verbal from Miami (FL) to Ohio State just days before Urban Meyer was hired as the Buckeyes' head coach. The timing was weird, right before the Michigan game, and many had theories that Southward wanted to get into the class to be protected before a new head coach came in and potentially wiped off the recruiting board for uncommitted prospects.
Fast forward to today, where Southward apparently now wants to visit Florida, as Will Muschamp and the Gators have shown interest all of a sudden with wide receiver depth thin and only one committed player at the position in their class. Urban Meyer built a pipeline from Lakeland to Gainesville during his time there and Muschamp has tried to keep that going, but has not been successful as our new fearless leader was. Whether this is a play to keep the Lakeland pipeline open or Muschamp's chance to stick it to Meyer, the Gators apparently mean serious business in this situation.
Regardless of past success, Muschamp does have Southward's ear and that is a bit troubling for OSU fans. With Roger Lewis, Frank Epitropoulos, and Mike Thomas in the fold, as well as having Joel Caleb,Stefon Diggs, and possibly Davonte' Neal in the queue for visits, receiver is not a need for the Buckeyes and a switch for Southward could mean another spot for one of the uncommitted targets. That being said, Lakeland is a school Meyer will want to continue to tap into, and having an ambassador like Southward in Columbus would likely help with future players from the school.
I'm not sure where this one is going yet, but it should be interesting to see how things shake out with Southward and the Buckeyes. Some people have mentioned academics could be the issue here, while others have mentioned Southward might "all of a sudden be realizing" that depth isn't necessarily thin anymore in Columbus. Either way, we're not sure how Meyer will handle committed prospects taking visits to other schools, but what we do know is we will sure find out soon.
Marshall, Marshall, and more Marshall

One of the most highly touted 2013 prospects, not only in the Midwest, but in the entire nation is Middletown ATH Jalin Marshall. Marshall stands at 6-1/190 and runs like a gazelle. He plays quarterback for the Middies, but it is expected he will likely move to wide receiver, running back, or defensive back at the next level, despite his desire to be a signal caller in college.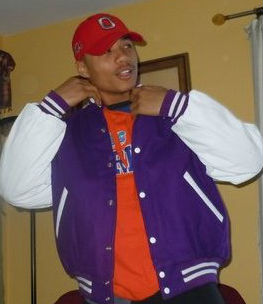 It has been long thought that Marshall will end up deciding between Ohio State and Notre Dame, despite interest in visiting some programs like Alabama and LSU. Jalin grew up as a Buckeye fan, so the home-state school started with an advantage, but Brian Kelly's ties to Ohio have helped the Irish make their way into his top two as well. This was closer than most people though, until once again, Urban called.
Meyer has made it a priority to let Jalin Marshall know he is a priority for the Buckeyes and their class of 2013. There could not be a better scenario than having a stud like Marshall be the first to commit in the class and be a leader in helping him recruit other great national players to come to Columbus. The Middletown star will be traveling across the country over the next year as he is invited to showcases, tournaments, camps, and more, and will get the opportunity to interact with some of the country's best.
Urban has only gotten the chance to speak on the phone with Marshall, but that hasn't stopped him from selling the program. Although he was unable to make it, Jalin's family was invited to Columbus by Meyer so that they could meet the new coach, hear his vision for the program moving forward, see what both the university and the football program had to offer, and more. And things couldn't have gone better.
Marshall's family apparently had a great time in Columbus and came back to Middletown extremely high on Meyer. Jalin already was excited about the coach coming to the school he grew up rooting for, so when you put the two together, it could be a recipe for success. This thing isn't over just yet, but the Buckeyes definitely are in a great position to land a player ranked in the top five nationally for the class of 2013.