Folks, we have an update from NASA.
Not only is the Best Damn Band in the Land approved by one of 12 people in human history to walk on the moon, there's a damn Ohio State flag in space.
What an awesome tribute! Thank you, @OhioState!

Thought we would return the favor - from the @Space_Station!

O - H!@TBDBITL@TheRealBuzz@AstroMCollins@NASAglenn#GoBucks pic.twitter.com/aV5qdXhlA5

— Doug Wheelock (@Astro_Wheels) October 10, 2019
I'm no expert on space logistics, but it's not like Amazon could have Primed that thing up to the ISS after the show on Saturday. That means that beauty was already living up there, which brings a tear to my eye.
ICYMI
Word of the Day: Motile.
 BARON ABANDONED. Baron Browning is shining like the five-star he truly is this season, which might leave some of you (justifiably) wondering where the hell he was last season.
Well. He'll tell you.
From Nathan Baird of Cleveland.com:
Browning admits he struggled to find the singular focus necessary to excel in football. He did not go into specifics, but he said distractions back home and his own lack of priorities were both factors.

However, he also said he felt abandoned by someone at Ohio State. Browning declined to name any individuals, and admits some complicity in the breakdown of the relationship. Regardless, the episode contributed to his diminished role.

"One person who I didn't expect to give up on me gave up on me, and it just didn't sit well with me," he said. "So then at that point, the relationship is ended. Every time you see one another, it just wasn't what it needed to be, or the relationship it once was."
It's just a guessing game if you'd like to try and figure out which coach he's referring to, but I'm not sure it really matters who it was specifically, because it seems like it was a bigger issue than that.
We've heard enough players openly discussing of strife between players and coaches (Damon Arnette also said he didn't get along with the coaches) that it seems it was a  pretty large-scale culture problem.
And now, it seems the culture couldn't be better.
 TAKING IN BENEDICT ARNOLD(S). I've got no issue with turncoats, so long as they're turning to my side.
That's why I ride heavy with Greg Mattison and Al Washington. And so does Urban Meyer.
Move from Michigan's staff to Ohio State's?

Two coaches (Al Washington and Greg Mattison) did just that last offseason, and we got @CoachUrbanMeyer to weigh in on a transition that would "be hard to do". pic.twitter.com/TjwYu01o5q

— Big Ten Network (@BigTenNetwork) October 10, 2019
I like that hiring Mattison Meyer's suggestion, and that Ryan Day went with it.
I guess the whole "seeking advice from the resident coaching legend" thing wasn't just a talking point, it's actually happening.
 BULLETS BACK. In one season, Ohio State's defense has miraculously gone from quite literally the worst in program history to the best in the country.
Imagine trying to move the ball against this:
In @PFF grade, the Ohio State defense has the:

- #5 DI (Jashon Cornell)
- #1 EDGE (Chase Young)
- #4 Safety (Jordan Fuller)
- #5 CB (Jeffrey Okudah)

Overall, this defense is the highest graded in all of CFB. In other words, dont sleep on this team come playoff time. pic.twitter.com/TqsP542Tp5

— Anthony Treash (@PFF_Anthony) October 10, 2019
With each passing day, Ohio State's 2018 defense seems more and more like just a distant nightmare that can't hurt me anymore. Thanks for coming back, bullets.
 COUNT YOUR WINS. I'm a huge fan of data visualization and I found this one particularly mesmorizing and would encourage you to stare at it until you're adequately satisfied.
From a fellow by the @ of @joel.bracken on Flourish.com:
It's damn near magical how quickly Rutgers plummets from the absolute top to near the bottom after a two-decade head start on everyone else.
Also, it sure seems like it's just a matter of time before Ohio State catches Michigan...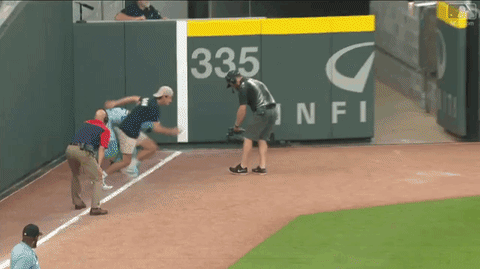 FOUR BOOTS? Some of y'all might remember Ohio State hoopster Derek Funderburk (if you don't, I don't blame you – he redshirted and never played a minute).
He's now at NC State, goes by "DJ" and has a bad relationship with parking tickets (and car boots, clearly).
From Joe Giglio of The News and Observer:
Funderburk, who had multiple outstanding parking tickets, had four car boots placed on the tires of his vehicle while it was parked at the Reynolds Coliseum parking deck on Jeter Drive on campus on Sept. 25

At 6:02 p.m., Funderburk drove off with two of the boots on his car and damaged the other two and the concrete surface in the lot. The total damage was $330, according to the redacted version of the incident report provided by the university police department.

The car boots were valued at $70 each and two were considered stolen. The concrete damage was valued at $50, according to the report.
I don't know how much experience y'all have with parking boots, but "drove off with two of the boots on his car" isn't something my brained comprehended as possible before today.
Also, they strapped FOUR boots to his car? Good lord, how many parking tickets did he have?
 GET DUMPED THEN, BYE WEEK. Tomorrow is not a game day, meaning there will be no Game Day Skull Session. But there is still football to be played and there are still picks to be made, so here's what I'm riding with.
We were in the green for the second-straight week last week, moving my overall record to a still-terrible 19-25-1. The climb back continues this week, though I'm at an early disadvantage this week since I can't count on Ohio State for the auto-cover.
We're rolling with seven picks:
Miami -2 against Virginia. I just think Miami is much more talented than Virginia overall. That hasn't always manifested itself in wins, but Miami looked good against Florida and really outplayed North Carolina and Virginia Tech for large stretches of those losses. I think Miami gets it done with new starter N'Kosi Perry.
Maryland and Purdue UNDER 56. Both of these teams are without their staring quarterbacks and Purdue doesn't have Rondale Moore. That, plus less-than-ideal weather conditions and I just don't know how they combine for more than eight touchdowns.
Temple +6 against Memphis. There are better things to watch at noon on Saturday, so if you'd prefer to just completely forget that this game exists, I certainly wouldn't blame you. But I'm riding with the Owls. I understand why Memphis is favored, but I don't agree. I think Temple's defense has been stout and I like them to cover and possibly even win.
Michigan State +10.5 against Wisconsin. I know Wisconsin's the better team in this game, I just don't think it's that much of the better team. Michigan State's defense is solid against a one-back power offense like Wisconsin and the offense looked far better than I expected. If Northwestern can nearly beat Wisconsin, I like Michigan State to keep it close.
Michigan -22 against Illinois. Michigan is going to absolutely blast Illinois. The Illini are basically a revolving door on run defense and can't do jack on offense – and are also starting a backup quarterback! Michigan's not good, but Illinois is horribad.
Oklahoma -10 against Texas. Everything inside me wanted to pick Texas here, but Oklahoma is just drastically better and I think they cover this pretty easily. Texas' defense has been almost non-existent at times, and I think this Oklahoma offense is probably even better than the LSU offense that hung 45 on it – but Oklahoma's defense is better than LSU's (that feels weird to say).
LSU -13.5 against Florida. This is another one I'm not overthinking. LSU is drastically better than Florida. I think Florida's defense is legitimately good, but it's not good enough to keep the Tigers at bay all game and the Gator offense certainly isn't good enough to keep this close if it turns into a shootout.
 NOT STICKING TO SPORTS. The Chinese navy's new mystery submarine... I tried to kill myself twice - now my Bentley is helping save lives... The NCAA vacates a Division 3 national championship over a broken down Subaru... What does huffing a sharpie really do to your brain?... Former Alabama nurse is accused of stealing insulin to poison her husband... Purdue bans students and staff from wagering on Purdue sporting events...