The decision wasn't really Kaleb Wesson's to make.
If he stayed in the NBA draft pool, he wouldn't have been picked. And if he chose to remain at Ohio State for his junior season, a chance existed to possibly get selected by an NBA team in a year or two.
In order to turn himself into a more intriguing prospect who might work his way up draft boards, as he heard from executives and coaches with both the Boston Celtics and Atlanta Hawks – the two NBA teams with which he worked out – he needed to make some major changes. It required what Wesson described a couple weeks ago as a "lifestyle choice."
By that, he meant he needed to lose weight. A lot of it.
"That's a lifetime goal for me was to play in the NBA, and that's what they wanted to see," Wesson said. "They wanted to see me at a lower weight. I said I didn't see a year before a lot of people in the draft who were 6-9, 280, 6-9, 290. So I just seen it as something I had to do to achieve my goal."
When Wesson stepped off the plane in Columbus following Ohio State's loss in Tulsa, Oklahoma, in the second round of the NCAA tournament, he weighed 289 pounds. Nearly six months later, as he answered 40 minutes of questions at his team's media day two weeks ago, he weighed 255 pounds.
It's an unfamiliar number for the trimmed-down big man who doesn't remember the last time he was so light. Even as a freshman at Westerville South High School, he said, he weighed more than 255 pounds.
"I ain't seen that number in a minute," Wesson said. "I couldn't even tell you, to be honest."
Anyone familiar with Wesson's story knows weight loss has been a familiar trope.
It dates back to his days in high school, when he tipped the scales at 325 pounds as a junior before dropping more than 50 pounds to get himself down to 270 pounds for his senior year. He didn't stay at that weight too long, though, eventually getting back over 300 pounds. Before his freshman and sophomore seasons at Ohio State, he also cut weight in the summer.
"In most offseasons, I feel like I've dropped weight and then gained it back," Wesson said. "I feel like it's just now I feel like just seeing that level of where I am now as far as where I was at the end of the year, I feel like it's night and day. I feel like now it's a lifestyle choice instead of just trying to drop weight for the summer or trying to drop weight for just the season."
To achieve his NBA dream, the weight loss has to be permanent. He can't afford to gain it back again over time. 
"I don't really think about stuff like that. As far as what we're concerned right now, we've got a game against Cedarville on October 30, and we've got to win that one."– Kaleb Wesson on whether he considers the possibility of this being his last season at Ohio State
So, Wesson changed his diet. Instead of relying on juice, lemonade and Hi-C, he mainly stuck to drinking as much water as he could. He gave up some foods – "that list is too long" – to fill his meals with more protein and less carbohydrates. He even got offered a kale chip by Musa Jallow this summer, which he couldn't scarf down.
"When he gave me one of those, I was like, 'No, I can't eat this, bro,'" Wesson said with a laugh. "I was like, 'If this is what healthy is, maybe I'm not there yet.'"
Working his way around the kale chips, he followed the advice of a nutritionist at Ohio State and started participating in frequent body composition analyses. 
Wesson ran. He boxed. He worked out on the court with his older brother, Andre Wesson, at Woodward Park Community Recreation Center. Altogether, he altered his physical state.
"As far as moving bodies and everything, it's a little different," Wesson said. "But I feel like I didn't lose that much strength in the offseason. I worked a lot with (strength and conditioning coach Quadrian Banks) in being able to maintain my strength and stay at a lower weight."
To be clear, Wesson didn't need to make this change. It wasn't a necessity if all he wanted to do was keep playing well for the Buckeyes.
Last year, he led the team in both points (14.6) and rebounds (6.9) per game. Everything offensively revolved around him; no one else was able to score with nearly as much consistency. If he would have stayed the same weight – 289 pounds rather than 255 pounds – he still would have been the frontrunner to lead the team in scoring and rebounding in the 2019-20 season.
But Wesson didn't decide to lose weight with only his third year at Ohio State in mind. That choice became a necessity with his NBA prospects to consider.
Wesson's two NBA workouts this spring defined much of how he developed this offseason. The first came with the Atlanta Hawks in front of head coach Lloyd Pierce, assistant coach Chris Jent and others, and it didn't go particularly well. He didn't shoot at the level he wanted, and the pace of the drills caught him by surprise.
"I definitely had to take a step back and realize what I was doing," Wesson said. "It was definitely a learning step."
His second workout came with the Boston Celtics. Playing in front of head coach Brad Stevens and general manager Danny Ainge among others, he shot well, giving him confidence that he's "capable of playing at that level."
After both workouts, Wesson had a chance to get feedback from the coaches and scouts, who both let him know he didn't have enough stock to get drafted and gave him feedback about what he needs to improve to get to that point. At the top of the list was a change in his body.
"They just told me they want to see me at a lighter weight," Wesson said.
Now at that lighter weight, Wesson will have a chance to apply what he learned from the pre-draft process and showcase himself at 255 pounds as a junior at Ohio State.
That means more pick-and-pop opportunities for the big man eager to show off his outside shooting touch after spending the entire offseason working behind the NBA 3-point line. It means more leash from the coaches to allow him to guard on the perimeter and switch onto guards if necessary. It also means better conditioning and movement which might allow him to stay on the court longer without having to leave the game due to lack of conditioning or a tough defensive matchup for a 289-pound center.
Kaleb Wesson with some bounce. Catches the transition alley oop off the backboard and finishes. pic.twitter.com/3O5F5jccQ1

— Colin Hass-Hill (@chasshill) July 7, 2019
But he hasn't forgotten his bread and butter down low in the post. Chris Holtmann said he has heard from Wesson's dad, Keith, who has said, "'Coach, don't let him get too skinny now."
"I think there is a balance because he is so good at using what he's got," Holtmann said. "We're trying to figure that out. Has that affected his ability to seal guys any more? I think I'd prefer to gain what you're going to gain in his ability to play harder, maybe stay out of foul trouble and move a little bit better. And let's not forget, too: this is the feedback that he got when he went through the NBA stuff. This is the information he got. 
"I think it benefits him in the long run. The reality is it'll always be something he'll have to work on. It's just his body type. It's fine. But it is a strength for him."
Wesson has spent enough time on YouTube watching clips of Demarcus Cousins and Nikola Jokic to know that big men who diversify their offensive games can work in modern-day basketball.
Both Cousins and Jokic stand at least 6-foot-11 and have multiple seasons with at least 18 points and 10 rebounds per game, and both are adept playmakers on the perimeter who have averaged at least five assists per game in a season. They aren't the old-school, back-to-the-basket big men of the past, and Wesson doesn't want to be defined by that style of play either. So, he said, Ohio State will test out his offensive versatility this year while playing in an offense that aims to have more secondary scorers, along with a pair of traditional point guards in CJ Walker and DJ Carton.
"The coaches, they definitely want to see what I can do as far as more on the perimeter," Wesson said. "Pick-and-pop situations. Playmaking on the perimeter as far as more than back to the basket because that part of the game's kind of leaving."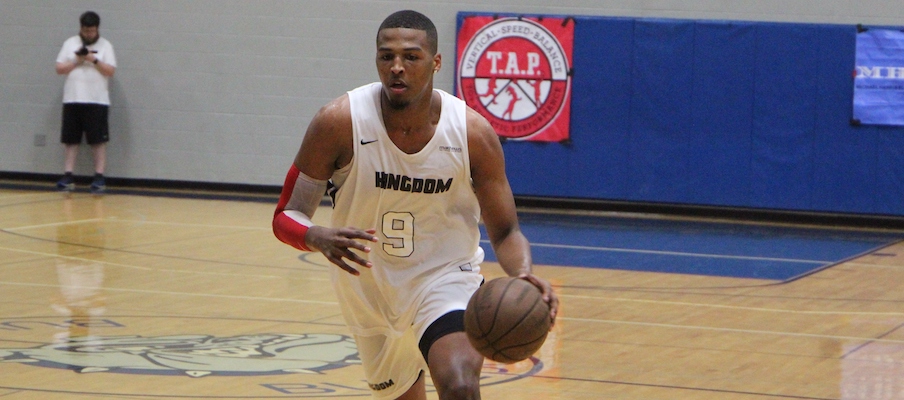 Hovering over the 2019-20 season will be the question of whether it will be Wesson's last in Columbus. He said he hasn't sat down with Holtmann yet to have that discussion.
In the spring, Wesson's main goal in the pre-draft process was to gather information about the evaluations of him from NBA teams and what they want to see him improve. He never felt anywhere close to deciding to leave college.
"I had expectations to come back," Wesson said.
That might not be the case next spring.
Making it to the NBA has been a stated goal of Wesson's for years, and few players ever test those waters twice and return to college both times. Also, the Buckeyes have recruited with the possibility of Wesson bouncing to the NBA in mind. They recently accepted a commitment from three-star power forward Zed Key, pushing their total scholarship players for next season to 14, one over the limit. 
If his game has developed as much as his body, this could be Wesson's last year at Ohio State.
"I don't really think about stuff like that," Wesson said. "As far as what we're concerned right now, we've got a game against Cedarville on October 30, and we've got to win that one."
By next spring, he hopes he'll be the one making the decision of whether or not to go pro rather than the NBA teams.