Chris Holtmann says he hasn't read the preseason magazines. He says he hasn't delved into the offseason projections.
But he knows. He knows that more is expected of his team this season than in the prior two preseasons at Ohio State. 
The Buckeyes have found themselves among the top five teams in the Big Ten in most projections, with some going as far as to place them in the top 10 nationally. With a young roster and plenty of unknowns, there's a wide variety of opinions about where this team could finish at the end of the 2019-20 season.
That, though, isn't Holtmann's focus as he inches closer to his third season in Columbus tipping off, and he doesn't want those expectations to be in the heads of his players.
"More than anything, focus on the day-to-day. I think we'll get what we earn, whatever that looks like," Holtmann said at Ohio State basketball media day on Tuesday. "I think that's the biggest thing for us is to focus on the day to day and the process of getting better and not put too much thought into kind of what's said good or bad about us, what's written good or bad, what's projected good or bad. There's a little bit of everything when it comes to that. We're really trying to focus on the day-to-day and improving, and that's going to start on Thursday."
Preseason camp begins on Thursday, which marks 41 days until the season opens.
After that month-and-a-half period, Holtmann thinks he'll have a better handle on just how good his team will be this season. Until then, he wants his team taking a day-by-day approach, which he said he has seen from his players.
"I really think that mindset can give you the best chance to be successful," Holtmann said. "We know on our schedule we feel like we can get beat any night, and we feel strongly that we can win any night. That will come soon enough. Our focus is on the task at hand."
Three injuries to know
When Ohio State opens its preseason camp on Thursday, Holtmann won't have his full roster at his disposal.
Musa Jallow, a junior wing, is "going to be out for a while," Holtmann said. The head coach did not want to get specific with Jallow's injury other than to note it's a lower-leg injury. The plan, Holtmann said, is to take it "week-to-week" and see how Jallow progresses. This is an important year for Jallow, who averaged 2.9 points and 2.9 rebounds in 15 minutes per game last year.
Sophomore forward Justin Ahrens and freshman forward E.J. Liddell will also miss time. Holtmann said he expects both players to return at some point in the preseason. Ahrens is recovering from a back injury that limited him in the summer, and Liddell is also dealing with a lower-leg injury.
"As far as our team outside of that, everybody's healthy and ready to go," Holtmann said.
A couple key sophomores
To Holtmann, it's difficult to overstate the importance of Luther Muhammad and Duane Washington Jr.
"I think you could look at their growth as as important with anything with our team right now," Holtmann said. "Are they going to learn from their freshman year where they had some really good moments and some moments where they struggled? Can we as a coaching staff get them to take some of those lessons that they learned and take the next step? Primarily, it's in a lot of ways, but it's going to begin with a higher level of efficiency on the offensive end from both of those guys."
In a backcourt that also includes freshman DJ Carton and transfer CJ Walker, Muhammad and Washington are suddenly veterans.
At the beginning of the 2018-19 season, Muhammad thrived, scoring double figures in 12 of the first 20 games. After 20 games, he was shooting better than 40 percent from 3-point range and his role had seemed to click into place. But his production and play level cratered in the final dozen or so games last season, leading to a cut in minutes played. He ended the season shooting 37.4 percent from the field and 37.5 percent from 3-point range.
Washington averaged seven points, 2.5 rebounds and 1.1 assists per game as a freshman, shooting 37 percent from the field and 30.6 percent from beyond the arc. 
"I think we saw Duane take steps as the season went on and improve in that particular area. Luther hit maybe a little bit of a wall and struggled in some of those areas," Holtmann said. "I think as coaches, now that we've had a year coaching them, can we do a better job of making sure that we're putting them in positions to make them the most successful? I would point to that as much as anything. 
"Last year I said, maybe around this time, that if we were going to get back to the NCAA tournament, it was going to be because of our older guys and the steps that they took. And we saw that with a couple guys. They took major steps forward. That's going to be key with those guys, including Justin."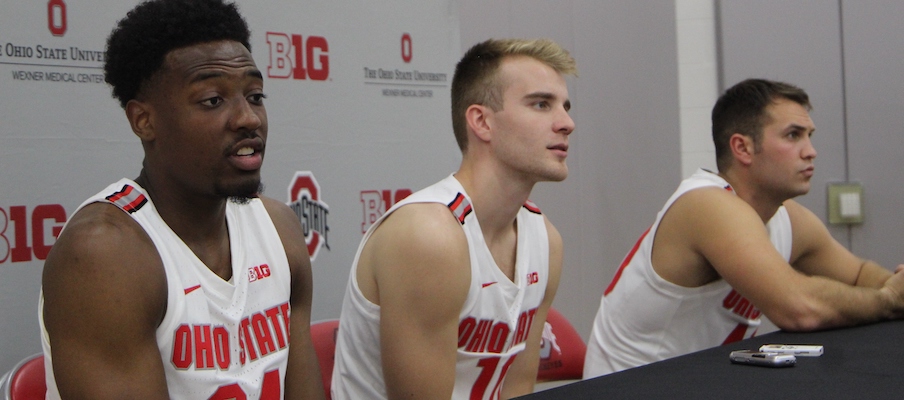 The point guard situation
Holtmann won't name any starters at this point in the year, but we likely already know a few of them.
Kaleb Wesson will assuredly start at center. Andre Wesson and Muhammad have the inside track to start at small forward and shooting guard, respectively. That leaves a pair of position battles between freshmen and juniors to track.
E.J. Liddell and Kyle Young are the most likely starters at power forward, and either CJ Walker or DJ Carton will start at point guard.
Neither Walker nor Carton has ever played a minute for the Buckeyes, yet Walker has the advantage in experience, having played two seasons with Florida State. Plus, he had a chance to learn the system and practice with the team while sitting out a year ago.
"CJ is tough and tough-minded and I think has a really good understanding of playing to win and what that looks like and plays with good pace, has been a part of successful teams," Holtmann said. "DJ adds a dynamic of being able to get in the paint and provide an opportunity to attack in transition. So those are things we're looking forward to kind of continuing to explore here in this next month."
Holtmann said he expects a learning curve for both Walker and Carton, especially early in the season.
But given Carton's talent that made him a near five-star prospect and what Holtmann has described as Walker's natural leadership traits, there's reason for Ohio State to have optimism about the position.
Waiting to see on the freshmen
In order for Ohio State to maximize its potential this season, it needs strong play from its four freshmen.
Holtmann hasn't been prone to hyperbole when discussing their potential impacts, but he understands the importance of them. Carton, Liddell and Alonzo Gaffney were all top-50 prospects, and Ibrahima Diallo is the tallest player on the team.
"I think all of them have had moments where they've looked like the gifted players they are, and all of them have had moments where they've looked like the freshmen they are," Holtmann said. "I think that's been to varying degrees the case for all of them. Again, we've had a couple that have had some injury bugs that have kept them out of some stuff. But been pleased with the consistency and the work ethic of guys."
Carton and Liddell are especially set up to play significant roles on this year's team, and Gaffney and Diallo will have a chance to earn minutes in the coming weeks.
"We'll see. This next month will be telling because you go from doing workouts every other day, and conditioning stuff is hard with (strength and conditioning coach Quadrian Banks)," Holtmann said. "But now it's a five-week grind. It'll be fun in a lot of ways, but it'll be a grind for them as well."
Assistant coach responsibilities
In the offseason, Ohio State's coaching staff experienced a minor shakeup when assistant coach Mike Schrage left to become Elon's head coach.
With Schrage gone, Holtmann brought former Buckeye video coordinator Jake Diebler back to Columbus, this time making him a full-fledged assistant coach. At Ohio State, Diebler will be the position coach for the point guards and combo guards.
Assistant coach Ryan Pedon will primarily work with the wings, and fellow assistant coach Terry Johnson will spend most of his time with the big men, as he has done since he arrived at Ohio State.