Having just got home from getting shots up at the local YMCA, Ohio State commit Kalen Etzler began walking toward his closet when he pulled out his phone and clicked on the Instagram app.
When it opened, four-star point guard Meechie Johnson's face appeared. Demetrius Johnson, Meechie's father, had posted a video with a paragraph of text in the caption. Deciding not to read what had been written, Etzler turned the volume up and began watching the video.
Initially, he thought Johnson made the video to thank the community or change high schools. That changed in an instant. Unexpectedly, Johnson put on an Ohio State hat and announced his commitment to play for the Buckeyes.
"When he said he was going to commit, my body kind of went numb for a second," Etzler recently told Eleven Warriors. "I was like, 'What the heck is going on?' I was not expecting that at all."
Johnson had not given Etzler any hint of his commitment, which came on Aug. 13 during a meeting in Chris Holtmann's office at the Schottenstein Center.
Together, Johnson and Etzler became the first two 2021 prospects in the country to commit to a single school. The Buckeyes landed both of them before even having anybody in their 2020 recruiting class. A month after Johnson's commitment, Ohio State still has the top-ranked 2021 class in the country since nobody else has multiple pledges in a class.
Now that both Johnson and Etzler have committed, the two Ohio natives have set their sights on having another in-state prospect join their class: St. Vincent-St. Mary's Malaki Branham, a four-star shooting guard.
"I just need to make sure that he's welcome and we want him."– Kalen Etzler on Malaki Branham
Moments after Johnson's commitment, Etzler sent his new future teammate a congratulatory text message. Then, he called Branham and broke the news to him about Johnson's decision. Per Etzler, Branham was "so surprised."
"I just wanted to see where he was at," Etzler said. "I was just telling him we could be a good class together. It was just instinct. Getting Meechie, it's like all right, on to the next guy."
Branham is that guy.
At 6-foot-4 and 175 pounds, Branham broke out with NEO Tru Game on the Nike EYBL circuit this spring and summer. Ohio State became the first major program to extend him an offer on May 9. Missouri, Alabama, Louisville, Illinois, Cincinnati and Xavier have offered him scholarships in the following months, and he reportedly took a recent visit to Michigan State.
As his spotlight has increased, so too has his ranking. Currently, he's the No. 28 overall prospect and the third-ranked combo guard in the 2021 class.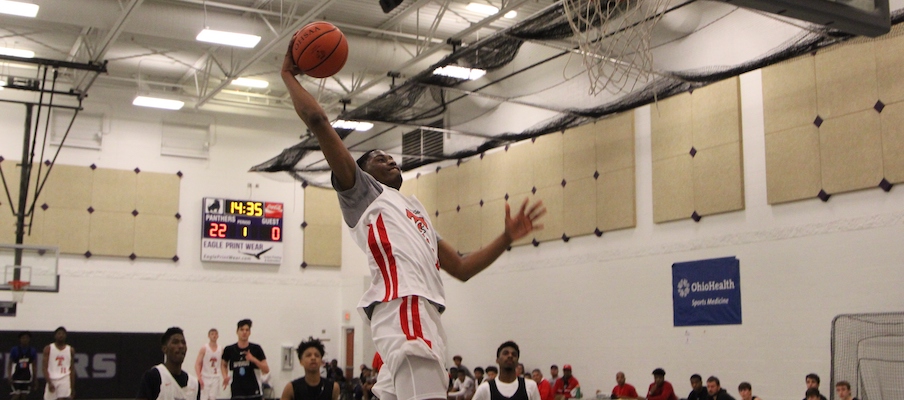 Because he grew up in Columbus, Branham has a natural connection to Ohio State. However, he's not a lifelong Buckeyes fan or somebody who always dreamed of wearing the scarlet and gray, so it's certainly not a lock that ends up in the 2021 class with Etzler and Johnson. Regardless, Branham been in their minds for a while. 
Just days after Etzler committed, he singled out Branham and Johnson as those he wanted to play with. Months ago, Johnson had his mind on Branham, too.
"When Kalen committed, I was like, 'Oh, wow. If I commit there, that would be two top players in the country and you could potentially bring in some other good players with you, like Malaki,'" Johnson told Eleven Warriors days after he committed to Ohio State.
With their choices made, Branham has become the top target for both Etzler and Johnson.
The day after he committed to Ohio State, Johnson called Branham, reminding him that he's an "Ohio kid." Johnson told him he thinks Holtmann and assistant coach Ryan Pedon are "some great guys" but ultimately will leave the choice up to him.
"I told Malaki, I said, 'You've got to get that feel for yourself. If you want to be at Ohio State, that's where you want to be. If you want to be somewhere else, that's where you want to be.' I can't force him," Johnson said. "All I can do is encourage and tell him how it is. When it's time for him to commit and it's time for him to make a decision, he'll make that decision for himself, and he'll have that feel for himself."
Johnson and Etzler don't have a tight relationship yet, having not spent a ton of time together. But Etzler already knows Branham well.
"We're always lighting up on each other's Snapchat stories," Etzler said. "And it's not even just basketball. He'll slide up on anything, and I'll slide up on about anything."
With so much time until any 2021 prospect can even sign a National Letter of Intent, nobody – including Etzler – is putting the full court press on Branham.
He has a bunch of offers and plans to take his time before making a decision.
"It's just more so joking around," Etzler said. "I don't want to get too serious on him and scare him away. It's more just, you know, 'Come and join the squad.' Just try to get him on our side. I don't want to push it too much and have him lose interest. I just need to make sure that he's welcome and we want him."