GARFIELD HEIGHTS – Meechie Johnson knew what could happen. He knew what he wanted to have happen. He didn't know exactly what would happen.
So while sitting in the car as his father, Demetrius Johnson Sr., drove he and his stepmom on the familiar route from Garfield Heights to Columbus on Aug. 13, he practiced asking the questions he planned to put forward to Ohio State's coaching staff. He wanted to ensure he didn't leave any room for misinterpretation. How head coach Chris Holtmann and assistant coach Ryan Pedon answered them would determine whether or not Johnson committed to play basketball for the Buckeyes on the spot.
Only a few days prior, the 6-foot-2, 160-pound, four-star combo guard had called his dad to tell him that he wanted to end his recruitment early and attend Ohio State, which didn't come as a complete shock.
"He was always in love with Ohio State," Demetrius told Eleven Warriors in a recent interview. "He used to talk about a lot of other schools. When Kentucky called, he talked to Duke this summer, the excitement wasn't the same like it was for Ohio State."
Johnson's father makes most of the basketball decisions for his son, including how he trains and where he plays basketball. But he always intended to let his son, the No. 71 overall prospect in the class of 2021, choose where he wanted to play college basketball. The final step? A meeting with Ohio State's coaches in order to get every remaining question answered, which they quickly scheduled for Aug. 13.
In the following days, Johnson, who hasn't played in a basketball game since suffering a torn ACL in early March, had to make sure everything about it felt right. On Aug. 11, the Sunday just two days before the scheduled visit, Johnson attended a service at his grandfather's church, Harvest Time Evangelistic Ministries, and asked God for guidance. He wanted a sign. Anything that would signal why he shouldn't commit or why it's not the right time.
The next day, he woke up early and prayed. No clue.
The next morning at 7 a.m., he did the same. Nothing.
"I said, 'God, I've got a couple hours. I don't know what it could be. It could be a text, a call. I don't know what could it be. But just give me something, something, a dream, I don't know what it was,'" Johnson told Eleven Warriors. "I just wanted to make sure. This is my future on the line."
Without anything to suggest he should reconsider his plan, Johnson departed for Columbus with his father and stepmother around noon on Aug. 13.
This, he already knew, wouldn't be a normal visit to a university.
Johnson, who announced his transfer from Garfield Heights to ISA on Monday, estimates he has visited Ohio State a dozen times – about six as a freshman and six as a sophomore – in the past two years. He first took a tour of campus many years ago with former Ohio State big man and Garfield Heights graduate David Bell. He remembers walking into D'Angelo Russell's dorm – "imagine a room with shoes everywhere with nowhere you can walk" – when the Golden State Warriors guard was a Buckeye.
Johnson didn't want a tour. He wanted to make a decision – though he was prepared to leave Columbus without committing if anything threw him off.
What began as normal small talk in Holtmann's office at the Schottenstein Center quickly morphed into what Johnson described as a "deep" conversation that lasted two hours, especially when he began asking the questions he had planned.
His first inquiry centered around opportunity.
Understanding the roster construction, he knew Luther Muhammad, Duane Washington Jr. and DJ Carton could still be on the team when he arrived on campus, and there's always a possibility somebody could transfer into the program. He also had seen the Buckeyes offer scholarships to other 2021 guards, specifically naming five-star Khristian Lander and four-star Kennedy Chandler. That didn't offend him, he said, knowing that they had to continue recruiting to ensure they'd have somebody if he didn't end up playing for the Buckeyes. 
"This is where I want to be. I'm home. I'm around some good guys, some great guys. I'm around some great coaches. I'm around family. It's two hours away. They can drive up and see me. I'm home, man. I'm home."– Meechie Johnson on Ohio State
Johnson wanted to be certain the coaches truly believed in him, so he asked Holtmann just how badly he wanted him at Ohio State. 
"I'm going to give 110 percent. Being a leader, that's something I don't have to worry about. Competing, that's something you don't have to worry about," Johnson said, recalling what he asked Holtmann. "But I just want to be given the opportunity to play. Like, I want to be a pro. I want to be a pro. I'm going to be honest: my goal is to be a one-and-done player. But if it's not that and I've got to stay for two, three, four years, then that's that. But I just want to be given the opportunity. So if you have all these guards, where do I fit in?"
Holtmann broke down the roster. Tossed out the possibilities. Let him know what could and what could not happen. He told Johnson he'd have to compete to earn minutes the same way he would at any other program, including the blue bloods.
Satisfied, Johnson and his father moved on. Next, they wanted to hear about Johnson's prospects of playing at the next level. Johnson wanted somebody who believed in him as an NBA prospect, and when he asked Holtmann what he thought of that possibility, the head coach responded affirmatively.
"He said, 'Meechie, I believe you can be a pro. I believe you can be a one-and-done player. I believe you could be a two-and-done player,'" Johnson said. "He said, 'However long it takes, if you have a great year at Ohio State and you do what you do and you be a team player and you win and we get to the next level and you're a first-rounder,' he said, 'I'm going to help you pack your bags. Like, I'm not going to make you stay. I'm not going to try to keep you. If you're an NBA player and you're going to make it to the NBA,' he said, 'that's what we want to do.' He said, 'We want people here to reach their dreams. We want you to reach your dreams.' So he said, 'If you're here for one year, we love you for that. You'll always be family. If you're here for two years, three years, four years, we're going to love you regardless.'"
That, Johnson said, was the last answer he needed to hear. Finally, he had a chance to do what he had hoped.
Before declaring his commitment, he had one final question for Holtmann: "Coach, you trust me?"
Holtmann, per Johnson: "Yes."
Johnson: "If you can trust me as a player and I can trust you as a coach and you give me my opportunity to come in and play and you allow me to be who I am and be the person I am on the court and we win, you've got me."
Holtmann, per Johnson: "I trust you. I believe in you. I want you here. Are you telling me that you're coming?"
Johnson: "I'm all yours."
Those words signified Johnson's verbal commitment. 

Suddenly, the Buckeyes had a second 2021 pledge, with Johnson joining four-star power forward Kalen Etzler in the class.
---
Johnson still remembers the smells of the barbecue in the backyard of his grandmother's Cleveland house.
That aroma permeated the air. Hot dogs. Hamburgers. Whatever she had on the grill remains entrenched in his memory. Food and basketball. That's all he needed on Sundays after attending church.
Then just 6 or 7 years old, Johnson remembers playing backyard games against children that were already 9 or 10 years old, including current Duquesne guard Frankie Hughes. He somehow always found himself hanging around older kids.
"It was intense. Getting knocked down. Getting up," Johnson said. "That's where I learned if you're going to be out here, you're out here … I can't be out there playing like a little boy or else I can't play, and that's what I learned. That's where I really learned my competitiveness and my fearlessness."
During those early years, Johnson spent most of his time at his grandmother's house. 
When Johnson's mother got pregnant, she was just 17 years old. Demetrius was still in high school, too. He chose to rebuff scholarship offers from more prominent programs to play basketball for Kent State in order to remain as close as possible to his first-born son.
But his father needed to attend classes, practices and games, and his mother was doing the best she could to get by as a single mother at a young age, meaning neither was a constant in the first decade of his life. During that time, Johnson's grandmother predominantly raised him. 
"She's amazing, man," Johnson said. "She's beautiful. She really pushes me. She always made sure I was doing the right thing. She let me be who I am."
Johnson's dad, though he wasn't always available, stayed in his life and came home as much as possible, calling Johnson his "main priority." 
When he could take his son on road trips, he did. And when Johnson's godfather could take Johnson in his blue Chevrolet Impala to Purdue University Fort Wayne, the school Demetrius transferred to from Kent State, he made that happen. 
"When my dad was home, everywhere he went, he took me because he wasn't around that much," Johnson said. "Like, he was around when he could be, but he had college. He was still a kid. He wanted to pursue his dreams but wanted me to pursue mine too. My dad thought ahead. He wasn't just thinking of the present. He was thinking of the future for me. That's why I'll always say he sacrificed his career for mine."
Those are the moments Johnson believes most people don't understand. 
Everybody sees his Instagram account with nearly 89,000 followers. They see his YouTube videos with hundreds of thousands of views. And now they know him as an Ohio State basketball commit.
"I don't think they know how I really got here," Johnson said. "I don't think they know how much my family, how much I had to sacrifice to be in this position, the struggles I had to go through as a kid just to get here … That gave me that edge."
---
With eventual Ohio State signee Alonzo Gaffney on the roster, Garfield Heights attracted plenty of college attention as Johnson prepared for his freshman year of high school.
That frequently led to high-profile coaches in attendance at open gyms inquiring to Garfield Heights coach Sonny Johnson, Meechie's uncle, about this incoming freshman they didn't know too much about. Rick Pitino and Roy Williams both saw Johnson light it up. Holtmann, though, might have seen the best performance in his first viewing of the combo guard as Ohio State's head coach in September 2017.
"He shot the heck out the ball that day," Demetrius said. "Man, he was in the zone."
Johnson believes Holtmann knew who he was before the open gym but didn't quite grasp how "special" he was as a true freshman.
After watching Johnson? Holtmann had seen enough to take him into Sonny Johnson's office and let him know he'd make him a priority.
"We sat down and (he) said, 'Listen, you're a freshman, you're young. You've still got development to do, but we believe in you, and we believe that you can be a pro. And we're going to recruit you now, and we're going to recruit you hard, and we're going to stay in touch,'" Johnson said.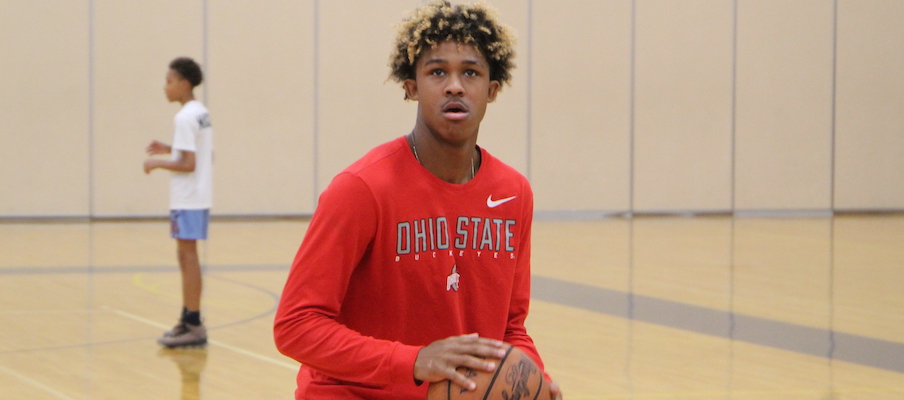 On Nov. 29, 2017, Holtmann pulled the trigger with an offer to Johnson before he had ever even played a high school basketball game. It proved to be a deft decision.
Johnson turned in a strong freshman season, catching everybody's attention by dropping 50 points in a game against Benedictine just two weeks after receiving the Ohio State offer. He continued developing,
"When I wasn't injured, not to brag or anything, I was doing really good," Johnson said. "I was putting up big numbers. I was beating some good teams. I was getting known. I was getting calls from everywhere. I talked to Kentucky. I talked to Duke. I talked to everybody."
He earned offers from Florida, Louisville, Georgetown, UNLV, Miami University and other mid-major programs. Blue-blood programs had begun to take a look at him. All the interest led him to keep a ranking of his top schools in the notes app on his iPhone, which he shared with Eleven Warriors.
Here's how Johnson had the schools ordered on Sept. 20, the last time he altered the rankings.
Ohio State
Kentucky
Florida
Duke
North Carolina
Arizona
UCLA
Kansas
Miami
UNLV
Johnson said he used the list of schools as motivation.
"If I didn't commit to Ohio State, my plan was to have every single offer on that list and have every single one of them schools interested in me," Johnson said. "That was something I had as a goal before I committed. But once I committed, I don't plan on decommitting. I don't plan on anything like that. I'm 100 percent committed to Ohio State."
The out-of-nowhere ACL tear this spring altered his plans, though.
The moment he suffered the injury, Johnson understood it would affect his recruiting landscape. Some schools would back off. Some would check in with him once in a while. Some would talk to him infrequently. Ohio State stood out to Johnson among the crowd due to its persistence. Even though an ACL injury can take a year to recover from, Holtmann and Pedon never relented in their pursuit of Johnson.
"Ohio State, they was calling every week," he said.
The idea to commit during his rehab truly came to Johnson after a pair of phone calls.
The first call came from Chris Holtmann, who dialed up Johnson's number while on a half-hour break from his USA Basketball duties this summer. He could have called anybody, Johnson thought, and he chose to talk to the 2021 prospect who won't take the court for a game until the next calendar year.
"All that stuff, I started to think about," Johnson said. "I was just like, 'This stuff is real.'"
The other call, the one that sparked Johnson's commitment, came more recently.
About a week before Johnson committed, Pedon called him just to check in. Johnson stopped his rehab, putting his workout on pause to have what he described as an ordinary 17-minute conversation.
"When I hung up, I literally sat down, and I sat down, like literally sat down and started thinking for about five minutes, like, wow," Johnson said. "It just hit me. Like, they've been calling, talking to me like I'm the player in the game. That meant something to me, and I called my dad. My uncle Juby just kept telling me, he was always asking me, 'You don't want to go to Ohio State? They check on you a lot.' He was just always encouraging me, asking me, making me think. And that's when it hit me. Like, wow, they really do. They really do care about me since they've been recruiting me. And that meant something to me."
---
It didn't take long for Johnson to begin referring to Ohio State as his "dream school."
His first-ever visit to the Schottenstein Center came in 2011 when Garfield Heights lost to Trey Burke's Columbus Northland team in the state semifinals. Despite the result of the game, the experience awed Johnson.
"The gym was so big," Johnson said. "It was something I'd never seen before. I'd never seen nothing like it before, ever. That was the first big arena I've ever seen. I was just like, 'Wow. Wow. This is amazing.' From then, growing up, I just had that feeling."
Shortly thereafter, he got that feeling again when he saw the Buckeyes take on an Indiana team powered by Victor Oladipo and Cody Zeller while visiting the university with then-big man target David Bell.
As he learned more about the basketball program – rather than the football team, which he always rooted for – the interest continued to skyrocket. Johnson's competitive streak emerged when he realized while growing up that the Buckeyes played in the Big Ten along with a pair of teams from the state to their north.
"When I found out that Michigan and Michigan State was like rivalry to Ohio State, that's one thing I take serious," Johnson said. "If I'm an Ohio kid and my state or my school don't like you, I want to compete against you."
No, really. He means what he's saying.
On the day he committed, he brought up that exact point to Holtmann.
Johnson: "I said, 'If I come here and they think Michigan is better than us, I don't want to play Michigan here. I want to play Michigan at Michigan against their fans. I don't want to play here. I want to go beat them in their gym. I want them to feel ashamed because we beat them in their gym.' That's how I am. I want you to feel discouraged in yourself because you lost in your gym."
Had Johnson gone anywhere else, he might not have had such strong feelings in similar situations.
Earlier this summer, he took a visit to Miami. Beautiful campus. Hot weather. Respected coaches. Major conference. Strong academics. What's not to like, right? Johnson enjoyed it, he said, but he just didn't fall in love the way he did with Ohio State.
"Even after that, right after that visit's over, and this is no knock to any Miami coaches – like I said, they're great guys – after that, I said that I still don't get that feeling like I do at Ohio State," Johnson said. "At Ohio State, it just felt like home."
That feeling. That hard-to-describe feeling. Schools couldn't simply conjure it up in a few phone calls each month or a single visit.
"(Ohio State) was the one I fell in love with," Johnson said. "It felt like home, and it felt like every time I went there I needed to be there."
---
Before suffering a torn ACL, the worst injury Johnson ever had, he estimates, was a jammed finger. Yet, when talking about both the mental and physical pain he has endured since the knee injury, Johnson remains remarkably calm and accepting of the injury. 
"The day I thought I tore my ACL, I was actually OK with it," Johnson said.
His father, though, had a different immediate reaction.
"My dad was the one who was really crying about it," Johnson said. "He was in the office sad, crying, like 'I can't believe this happened.' It was just a shock."
Demetrius thought he had a handle on what to expect in Johnson's near future. He foresaw Johnson debuting on the Nike EYBL circuit this summer, which could lead to him further blowing up in the world of recruiting. Soon, more offers and college visits could follow.
Rather than that, though, the knee injury gave him a scary glimpse back at his past. Demetrius suffered two patella injuries and didn't rehab them properly, which has left him with knee problems that still hinder him at times. Johnson, his father hopes, won't make the same mistake. 
The first step? A healthy recovery with long-term goals in mind. Even though Johnson might get cleared to return to playing basketball in November or December, he won't play any games during his junior high school season at ISA.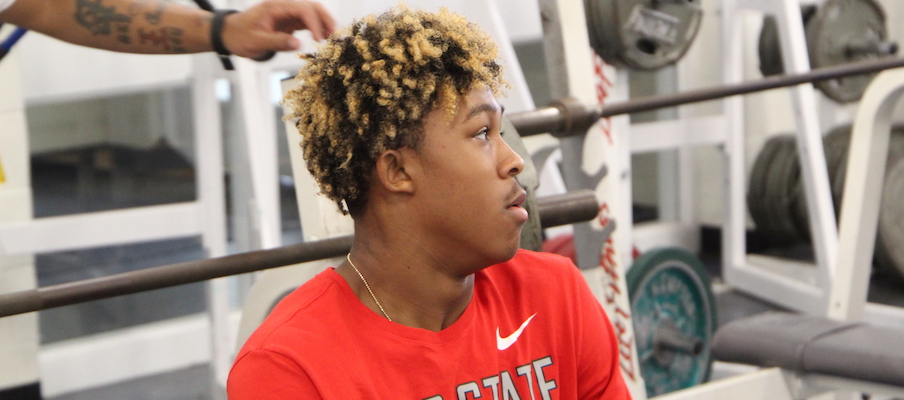 During his time off, Johnson said he already has "learned so much" about himself off the court. He began to read more and spend extra time with family. He's taken school more seriously, increasing his GPA to 3.8 and making the National Honor Society. Since he can't play, he's started watching more film.
Naturally, he's also going to the gym as frequently as he can to work back from his knee injury – including the night he committed to Ohio State.
"I called my strength coach," Johnson said. "I said, 'KP, I know it's late. Come and pick me up, bro. I'm committed. We could celebrate by going out to eat. I want to celebrate by going to the gym. I want to work out. I want to go get my knee stronger. I don't care if I'm going to be 100 percent by tonight, but I can get some progress done.'"
Nothing gets Johnson more amped up or excited than talking about his work ethic. He almost wants somebody to challenge him that he's not a hard worker. He seeks out motivating forces. If he's at the gym with somebody for a similar amount of time, he said, he'll sometime return later for another workout just to get an edge. When he was unable to participate in the CP3 camp he was invited to, he contacted his trainer and asked to go to the gym.
The idea of anybody working harder than him, even though he can't play a game of basketball right now, doesn't sit well to Johnson, especially now as an Ohio State commit.
"When I come back, I plan on being a top-20, top-15 player in the country," Johnson said. "I know that I'm going to come after every single guard, everybody they have ranked over me. I'm going to grow some more inches. I'm going to get stronger. I'm going to get faster. All I can do right now is shoot, so my shot will be something you haven't seen before. And I know that if I'm a top-15, top-20 player in the country, I can get them offers from Duke and Kentucky. I can get offers from Arizona, UCLA, all the schools on the West Coast. I can get that stuff. 
"But this is where I want to be. I'm home. I'm around some good guys, some great guys. I'm around some great coaches. I'm around family. It's two hours away. They can drive up and see me. I'm home, man. I'm home."