The five days Kalen Etzler spent in St. Louis at the Nike Elite 100 camp, filled with dozens of the top underclassmen in the nation, served as a bit of a reminder to the 6-foot-8, 195-pound power forward. A reminder that even though he's one of the top players in his state and already committed to Ohio State, his dream school, he's far from a finished product.
By Thursday, when the Convoy native headed back to his home state, he needed to sleep, but essentially all he could fit in was a nap.
Etzler made the trek to Columbus for Saturday's OHSBCA Showcase, a more than five-hour event at Capital University that featured 100 invited Ohio high schoolers who played in front of coaches from Ohio State, West Virginia, Michigan State, Butler, Cincinnati, Ohio, Xavier and other programs. Buckeyes head coach Chris Holtmann and assistant coach Ryan Pedon were in attendance.
"It was eye-opening in a big way," Etzler told Eleven Warriors on Saturday. "I come in (to St. Louis), the top kids in the nation, get smacked around for five days that I was there. Then you come here and you get smacked around a little bit for the day. So I'm tired. But it opens my eyes. It pushes me a little bit more to know what I have to do now."
It didn't take long for Etzler, the No. 73 recruit in 2021, to realize the exceedingly high level of competition in St. Louis. He, along with Chris Livingston (Buchtel), Sencire Harris (St. Vincent-St. Mary) and Malaki Branham (St. Vincent-St. Mary), represented Ohio at the event.
The group of 100 players included 12 of the 24 five-star prospects in the class of 2021 and some of the top 2022 recruits who were led by a generational talent, Emoni Bates. Etzler said a trio of five-star recruits – Jonathan Kuminga, Chet Holmgren and Paolo Banchero – stood out on the Saint Louis University courts that teemed with Division-I prospects who pushed him throughout the week.
"I can feel it, especially when you're out there playing and it's a little frustrating trying to make moves on the top kids in the nation, make plays on the top kids in the nation," Etzler said. "Sometimes I find myself being a little too passive. But, you know, it makes me tougher. That was one thing I really found out is I need to get a lot stronger if I want to compete at a high level."
Ohio State commit Kalen Etzler, one of many who didn't abide by the "no dunking" sign at today's OHSBCA Showcase. pic.twitter.com/JZ0pWaeswC

— Colin Hass-Hill (@chasshill) June 29, 2019
Though he's athletic and shoots from beyond the 3-point arc, Etzler will eventually become a power forward at the collegiate level, making banging in the post a necessary skill.
"Better footwork when I go in the lane," Etzler said. "Wider base. I want to just, from a body standpoint, put on some pounds."
Prep Hoops mentioned Etzler as a standout during the Wednesday portion of the Nike Elite 100 due to his skill with the ball, rebounding and 3-point shooting.
Throughout the week, though, he stood out in a different way: he has already committed.
Nobody at the Nike event in St. Louis has even begun their junior year of high school, and the 2022 recruits haven't started classes for their sophomore year. Tre White, a 2022 shooting guard, was the only other player in attendance who had committed, and he made his decision a week ago.
"Everyone's walking around and they're talking about it, asking me, 'Are you the one who committed to Ohio State?' So that was pretty cool," Etzler said.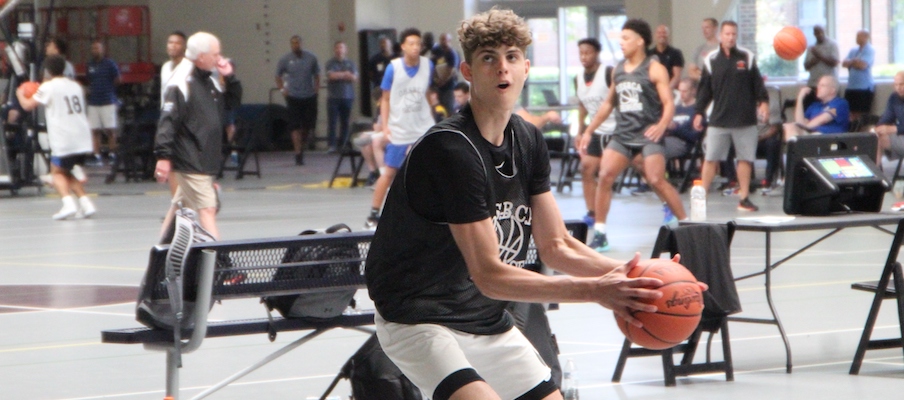 When Etzler committed to Ohio State on May 12, he became the first top-100 prospect in the class of 2021 to commit. A month and a half later, he remains the only top-100 prospect who has decided where to attend college.
"I know where they're coming from," Etzler said. "Like, I had my mind set (on Ohio State). It's the one I wanted, the perfect fit. But I can see with these kids, some of them wanted to rack (offers) up just because. Some of them are waiting for the right school to offer. So, it's weird. Like, when I did it, I didn't think it was that weird. But as I walk around, like, I'm the only one committed here."
Since coaches haven't been recruiting him, he has begun to try to convince a pair of 2021 prospects with offers from the Buckeyes to join him in Columbus.
"Malaki, I'm trying to get in his head," Etzler said. "Caleb Furst a little bit. But those are the only two, really, I've talked to."
Neither Branham nor Furst have shown an interest in making their decisions as quickly as Etzler, who has no regrets about his.
Nearly two years will pass before Etzler can even enroll at Ohio State, which gives Holtmann and Pedon plenty of time to figure out how best to prepare him for the Big Ten. He has remained in frequent contact with the coaches.
"It's mostly just motivation and checking up right now," Etzler said. "They're not really telling me what to do just yet, which I hope it comes soon because I'd like some guidance. But I think we're both on the same page. I know what to do, and they trust me that I know what to do."