ROSEMONT, Ill. – Chris Holtmann was just in the middle of explaining how Ohio State went 8-12 in the Big Ten last year, which he believes often gets forgotten when projecting his team's outcome this season, when he paused mid-sentence and he took a quick turn.
"Side commentary: don't ever bet against Purdue," Holtmann said at Big Ten media day on Wednesday.
He had likely seen the unofficial preseason conference poll compiled by The Athletic and the Columbus Dispatch that had the Buckeyes picked to finish third in the conference, behind Michigan State at No. 1 and Maryland at No. 2 but one spot ahead of the Boilermakers.
Skepticism of Purdue makes sense at first sight. It no longer has two-time All-American Carsen Edwards and his 24.3 points per game, and Grady Eifert and Ryan Cline graduated after they each started all 36 games and shot better than 40 percent from beyond the 3-point arc last year. Replacing three starters, as Holtmann learned when Ohio State lost Keita Bates-Diop, Jae'Sean Tate and Kam Williams then proceeded to finish with a sub-.500 record in the conference the following year, isn't a particularly easy task.
But to Holtmann, Ohio State simply hasn't earned the benefit of the doubt in the way Purdue has by making the NCAA tournament and finishing at least six games above .500 in the Big Ten each of the past five years. 
"I think as much as anything there's certainly nothing wrong with expectations," Holtmann said. "It's really what you're working for. You're working toward that. But when we talk about having a relevant program, we want it to be about our accomplishments."
Purdue has a 321-159 record with 11 NCAA tournament appearances and three Big Ten titles in Painter's 15 seasons, with a strategy not too dissimilar from what Holtmann has begun to employ.
"I think if you can get your program to that level to where regardless of the graduations or transfers or changes there's a level of competitive success," Holtmann said, "I think that's what certainly we would aspire to."
The Boilermakers aren't teeming with five-star prospects. Just like the Buckeyes, they don't have multiple freshmen each year joining their program looking to bounce to the NBA after one season. Does Holtmann want to land coveted recruits who are bound for the NBA after just a year or two? Sure, and it happened under Thad Matta multiple times. But that's not a viable model of consistent, year-after-year success at Ohio State. 
What Purdue has shown, though, is a proven framework that also works in Columbus.
"Was it Lil Wayne who said – I'm quoting Lil Wayne, believe it or not – real G's move in silence like lasagna?"– Chris Holtmann on Ohio State's preseason expectations
The Boilermakers have won so consistently by recruiting well to their system and developing players into impactful upperclassmen. In other words, they've won by what Holtmann calls "staying old" – a term he often uses – or having multiple veterans to rely on every year.
"I think old wins," Holtmann said last week at Ohio State media day. "Mature talent wins consistently in college basketball."
Talent, in general, wins. But with the best of the best national recruits often heading to Kentucky, Duke, North Carolina, Arizona, Kansas and other powerhouse programs, teams like Ohio State often have to build rosters that combine strong recruiting classes with upperclassmen.
To stay old, Ohio State has to first get old, and the Buckeyes certainly aren't there yet.
Holtmann's quest began with the 2017 recruiting class, when he added Musa Jallow and Kyle Young to the already committed Kaleb Wesson. All three remain in the program now as juniors. Luther Muhammad, Duane Washington Jr. and Justin Ahrens each got valuable minutes as freshmen in a roller coaster of a 2018-19 season and enter this year as sophomores with in-game experience that last year had Holtmann thinking, "I hope this helps us next year."
"I remember a lot of games – too many games – where I said that," Holtmann said. "And it was honest. They were in the mix. They were playing, and I'm saying, 'OK, hopefully this will help us in years to come. It'll help them. It'll help us.' I really hope that's the case."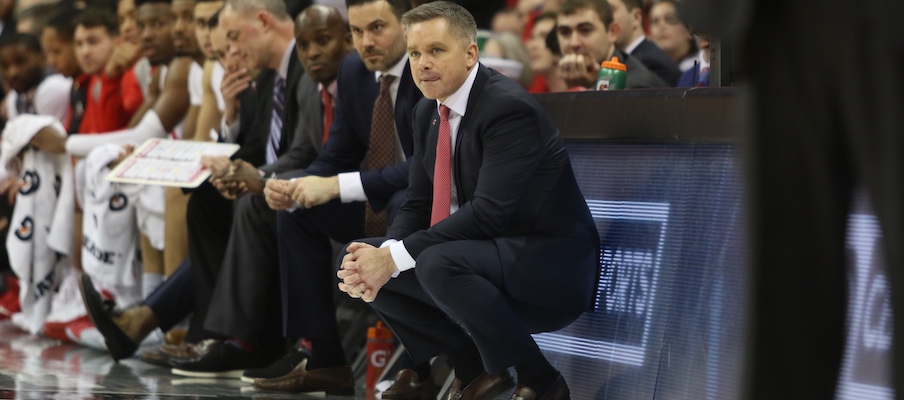 In the 2019 cycle, Ohio State added the top-ranked recruiting class in the Big Ten with three top-50 recruits – E.J. Liddell, DJ Carton and Alonzo Gaffney – and Ibrahima Diallo, a long-term project at center. It already has two 2020 commitments from Eugene Brown and Zed Key, both of whom are viewed as multi-year players. To fill in the gaps, Holtmann has added four transfers – Keyshawn Woods, Andrew Dakich, CJ Walker and Justice Sueing – in a similar manner to how Purdue landed High Point's Jahaad Proctor to help replace Edwards this season.
Entering his third year, despite the progress he's made, Holtmann is still coaching a remarkably young team. With four freshmen and three sophomores compared to just one senior, it's even more inexperienced than last year's group, which he said was the youngest team he'd been around.
Yet, the preseason expectations are higher than ever in the Holtmann era, and it's not particularly close. Ohio State has a unanimous preseason All-Big Ten honoree, an improved point guard situation, a pair of Big Ten freshman of the year candidates, better secondary scorers and more post depth.
Holtmann hasn't focused on the potential of this team, though. Multiple times on Wednesday, he talked about focusing "more on the bricks than the wall" at this point in the year.
"Was it Lil Wayne who said – I'm quoting Lil Wayne, believe it or not – 'Real G's move in silence like lasagna?'" Holtmann said.
It was, undercover "Tha Carter IV" listener Chris Holtmann. It was.
Apparently that's the more colorful way to say "we're trying not to pay attention to any of the preseason expectations and hype."
Holtmann would probably say that regardless of how many veterans he has on his roster. But he especially doesn't want the underclassmen on his younger-than-he-would-prefer team to believe they've accomplished anything by getting picked to finish top-three in the Big Ten in a preseason projection.
Watch @OhioStateHoops's @ChrisHoltmann's full comments from the #B1GMediaDay podium. pic.twitter.com/6lLVGDOef7

— Ohio State on BTN (@OhioStateOnBTN) October 2, 2019
Ultimately, he wants the Buckeyes to get such preseason notoriety, but he wants to have it come due to their proven ability to sustain success.
He listed off Jay Wright's Villanova, John Beilein's Michigan and Tony Bennett's Virginia to go along with Painter's Purdue as programs that have won consistently in the way he envisions doing at Ohio State. By recruiting well, developing players and having veteran-filled teams complemented by strong cores of youth. 
But Holtmann doesn't even have to look outside of Columbus to find that style of team-building. How about the Ohio State model?
No, not what Holtmann's putting together. Rather, the roster constructed by his predecessor, Thad Matta.
"I think when you saw Thad's incredible run, it was always an incredible mix of older guys that he had been with two, three, four years and some young guys and really talented," Holtmann said. "There was always that mix during his incredible run. Hopefully we can get back to that kind of sustainability."
If Holtmann gets his program to that point, maybe in a few years it'll instead be Painter stopping himself mid-sentence to tell reporters not to ever bet against Ohio State.