CHICAGO – Nobody has a short answer to the question of whether or not they're in favor of athletes having the ability to earn compensation for their name, image and likeness and how the issue should be handled.
Not Jim Delany, not Gene Smith, not Tom Izzo, not Ryan Day. No one.
But Ohio State head coach Chris Holtmann has a short answer ready: "I'm in favor of it."
It's definitely not that simple, of course, which he knows.
Holtmann said he has had multiple conversations about the issue with Gene Smith, who he said knows the specifics of the situation better than him. Smith is the co-chair of a working group that will present a report to the NCAA's Board of Governors later this month with recommendations for how the NCAA should approach whether or not college athletes should be able to earn compensation for their name, image and likeness.
"I think the execution of it is the biggest question," Holtmann said Wednesday at Big Ten media day. "And I think that's what Gene is looking at right now and working on: what is going to be the execution of that? I think it's trending toward the continued modernization by the NCAA of our game. We used to could only give certain meals to our players. Now, it's pretty much open-ended. Your parents couldn't travel. Now they can travel to certain championship events paid for. Cost of attendance. It's continuing. I think the NCAA's going to address it in due time."
"Due time," as Holtmann termed it, likely has to come quickly.
Multiple states have begun legislation to allow college athletes to gain the ability to use their name, image and likeness to earn compensation that are similar to the Fair Pay To Play Act passed in California last week. Less than a half hour after Holtmann's 50-minute interview session at Big Ten media day, news broke that Ohio would soon consider such legislation.
One of the worries sometimes posed centers on whether player compensation will divide locker rooms, causing internal issues. That's not an issue that would cause Holtmann to oppose college players gaining the ability to earn compensation for their name, image and likeness, though.
"Those are concerns, and I think there will be some inequity if you're going to go down this road," Holtmann said. "But again, I think that's why the NCAA is probably taking some time to make sure that there are proper regulations. That's also real life. Not everybody gets paid the same in real life. So if that's the direction we're headed, that's going to be the part of an early real-life lesson that people have varying market value."
Advice for Juwan Howard?
Holtmann isn't sure whether or not he's allowed to admit to it – "I don't know if you can say that" – but he says he "loved" Michigan's Fab Five.
He began his career as a guard at Taylor University in 1990, one year before Jalen Rose, Chris Weber, Jimmy King, Ray Jackson and first-year Michigan coach Juwan Howard signed to play for the Wolverines. From afar, he watched as they reached the national championship game in 1992 and 1993 while gaining national notoriety.
"I just thought they changed the game in so many ways," Holtmann said. "I just thought they were really fun and entertaining to watch. And I think the thing that they sometimes, people forget about them, is really smart, competitive guys. For being as young as they were, to do what they did, it's unprecedented, or at least it was at that point."
That said, he didn't go so far as to follow their lead and wear black socks.
"Self-awareness is important," Holtmann said. "You've got to kind of know who you are and what you can pull off and what you can't, and I'm not sure I could've done that."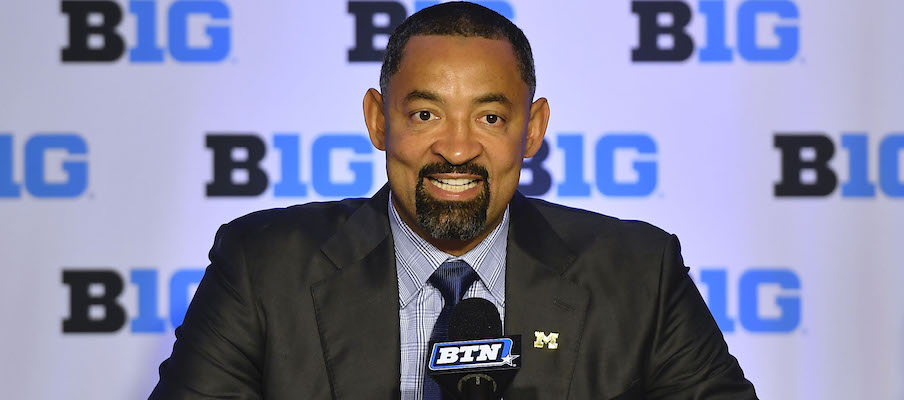 Howard now has followed Holtmann's lead in at least in one area, joining him as a head coach in the Big Ten.
John Beilein revived Michigan, turning the program into one of the Big Ten's most consistent the past few years, and Howard has the unenviable task of maintaining the success of his predecessor while making the Wolverines his own team. So, does Holtmann have any advice for Howard as he enters his first season as a head coach?
"He doesn't need any advice from me. At all," Holtmann said. "And can an Ohio State guy give a Michigan guy advice?"
Redshirt candidate?
Like most coaches, Holtmann doesn't like to designate anybody as a redshirt more than a month before the season tips off.
But due to the rawness of freshman center Ibrahima Diallo, the possibility of preserving a year of eligibility by having the 6-foot-10, 220-pound big man sit out remains. When asked whether Diallo might redshirt, Holtmann was noncommittal.
"Ask me in about three weeks," Holtmann said. "I think I'll have a better answer on that."
If Diallo redshirts, Ohio State would lose its only player taller than 6-foot-9 for the season with the hope that it would benefit the team in the long haul.
Diallo, a native of Senegal, committed to play for the Buckeyes over Pittsburgh in the spring. After playing his senior season at Prolific Prep in Napa, California, he was ranked the No. 367 overall prospect and the 64th-best center in the class of 2019, making him the lowest-ranked recruit Holtmann has brought to Ohio State by more than 100 spots.
Eventually, the Buckeyes want Diallo to develop into a defensive menace in the paint with his long, lanky frame, but he's a while away from reaching that point.
"Awesome kid. Great length," Holtmann said. "He's just got a ways to go as a big guy. Going to need patience."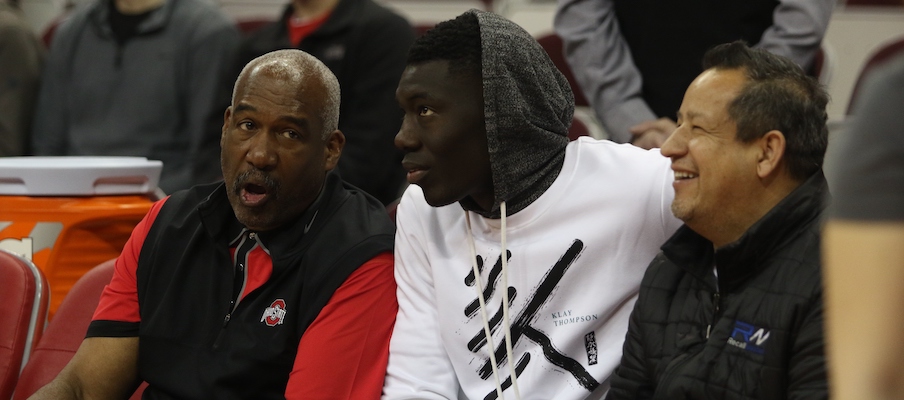 Helping Potter
Micah Potter decided to transfer from Ohio State just two days before the 2018-19 season began, and he chose his destination quickly enough that he enrolled in Wisconsin by the spring semester.
Still, though, neither Potter nor the Badgers know whether a waiver to allow him to play the entire season will pass. If not, he'd have to sit out until the spring semester begins. Potter's argument to the NCAA likely stems from the fact that he essentially already sat out a full season, having not played for the Buckeyes last fall even though he didn't leave the university until after the semester.
Holtmann said both he and athletic director Gene Smith penned letters to aid Potter's case.
"We're supportive of that," Holtmann said. "Micah's a great kid. It's not awkward. These things happen in college basketball. It's really not. We wish him well. I don't know where it's at. I just know we've lent our support."
At Wisconsin, Potter will provide frontcourt help to a team looking to replace Ethan Happ, the team's top scorer and rebounder from a year ago.
Expecting players back soon
When Ohio State opened its preseason practices last week, it didn't have a full roster at its disposal. Justin Ahrens was still working back from a back injury that he had suffered in the offseason, and E.J. Liddell and Musa Jallow were working their way back from unspecified lower-body injuries.
Jallow will remain out for at least a week or two longer, Holtmann said, but the head coach expects Ahrens and Liddell to return to full-go in the next couple days. Ahrens and Liddell have already begun non-contact work.
With more than a month until the season begins, Ohio State doesn't need to rush anybody back to the court. However, with such a young team, October is possibly an even more important month than in the past.
Moving toward "Izzo-ish"
Ever since beginning his tenure at Ohio State, Holtmann has made it clear that he won't shy away from regularly facing difficult non-conference slates.
"It's always going to be bent toward playing a little more challenging of a schedule," Holtmann said. "It's maybe not quite (Tom) Izzo-ish, but it's moving in that direction."
This year, the Buckeyes will play what Holtmann again called "by far" his most challenging schedule ever.
It begins at the Schottenstein Center with the second half of a home-and-home series with Cincinnati and includes a home game with Villanova, a road matchup with North Carolina and a pair of neutral-site tilts with Kentucky in Las Vegas and West Virginia in Cleveland. Ohio State's schedule unintentionally got a bit tougher than expected when it drew Jay Wright's Wildcats in the Gavitt Games and Roy Williams' Tar Heels in the ACC-Big Ten challenge, but Holtmann hasn't complained.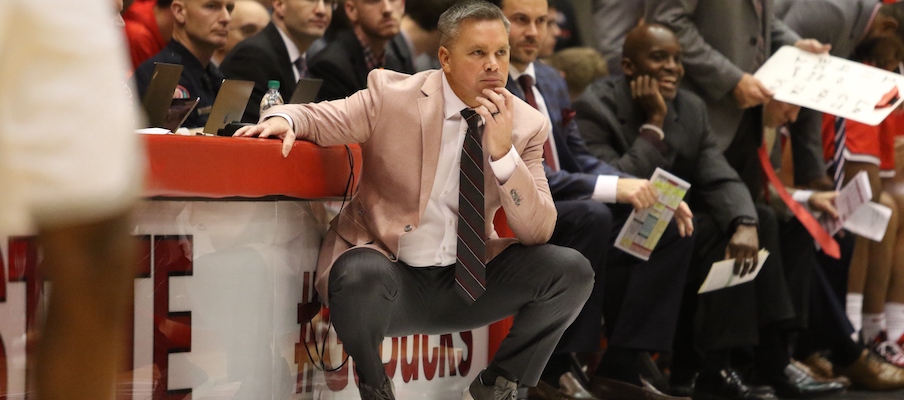 He believes last year's non-conference schedule was a bit too easy. It's hard to imagine he'll be saying anything similar in January.
Going forward, it's fair to expect challenges with similarly tough early-season matchups. The Buckeyes are already locked into the deep 2020 Battle 4 Atlantis tournament field, which also includes Duke, Texas A&M, West Virginia, Wichita State, Utah and Creighton.
"Now, will that potentially affect my overall record at the end of my tenure at Ohio State? Probably," Holtmann said. "But I just feel like hopefully that prepares us. And it is what your fans want to see."
Second chances
The first time Holtmann and his staff wanted to coach CJ Walker came at Butler. He wanted the Indianapolis product to stay home and play for his in-state team. Instead, Walker spurned the Bulldogs to head south and play for Florida State.
"I might suspend him a game for that," Holtmann said with a smile.
Regardless of what happened then, Holtmann's glad he'll have Walker for two years in Columbus. Walker will join freshman DJ Carton as one of the team's two true point guards.
Walker's situation isn't without precedent. Keyshawn Woods and Andre Wesson both chose to play for other head coaches before ending up with Holtmann – by choice in Woods' case and by happenstance in Wesson's.
"In life, you learn lessons about not burning bridges, and I've not always been great at that," Holtmann said. "But I think in recruiting now, that's become more and more important because if you burn a bridge, you may not have a chance at the kid afterwards. So we've tried to not ever burn bridges. We've tried to end it well. Sometimes it doesn't end well. In some of these cases, you're going to have them on the back end."
A not-so-secret scrimmage
The past two years, Ohio State has both faced and beat Xavier in preseason scrimmages that are closed to fans and media but aren't exactly the definition of top-secret.
The matchups and eventual results typically have a way of finding their way into the public sphere, which again happened on Wednesday. Stadium's Jeff Goodman reported the Buckeyes will hit the road to take on Louisville on Oct. 20 in what's commonly known as a "secret scrimmage."