Yesterday, I learned that Columbus is one of the cheapest cities in which to die.
I then learned that "cheap" means $2,747 for a cremation and $5,737 for a burial, confirming my plan to die alone in the Congolese jungle, leaving my corpse to beetles.
Eat at Arby's.
ICYMI
Word of the Day: Sycophant.
 COOPER INJURED? Thanks to my Lassie-esque feline son, who undoubtably sensed a disturbance in Buckeyeland (and wanted to voice his displeasure to my buzzing phone), I awoke early Tuesday morn to rumblings of an injury to a key defensive player, rumored to be Jonathon Cooper.
Apparently, Ohio State beat royalty Tim May is hearing some of the same things, but he was confident enough to report them – kind of.
Hearing @OhioStateFB DE and newly elected captain @JonathonCooper7 dealing with lower leg ailment - probably "high ankle" sprain - and might have undergone procedure to enhance healing. OSU has not confirmed. I have not heard that he necessarily will miss game(s) because of it.

— Tim May (@TIM_MAYsports) August 20, 2019
Now, without disrespecting the proper GOAT of the Ohio State football beat, I'd like to point out that he's hedging the hell out of this with words like "hearing" and "probably" and "might have" and "not confirmed" and "not ... necessarily."
I've never in my life known Tim May to be flat wrong about anything he reports, and he ain't the sort of guy to put this out there if he's got nothing. But at the same time, this was... oddly and uncharacteristically uncertain.
I'd like to say we'll provide y'all with more information soon, but with how hush-hush Ohio State seems to be about injuries under the new regime, don't hold your breath. There's a good chance this is as much "information" as we get until game day.
 TALENT, CHARTED. If you're into visual depictions of how absolutely loaded Ohio State is, I've got a hearty breakfast for you.
Tweeter @zane_rm of the Washington State site CougCenter.com has put together one hell of a data visualization library, and his most recent work is particularly fascinating, breaking down where the top recruiting talent lands on a position-by-position basis.
You'll be shocked to learn that the answer is Alabama and Ohio State, with some Georgia, Oklahoma and Clemson sprinkled in there.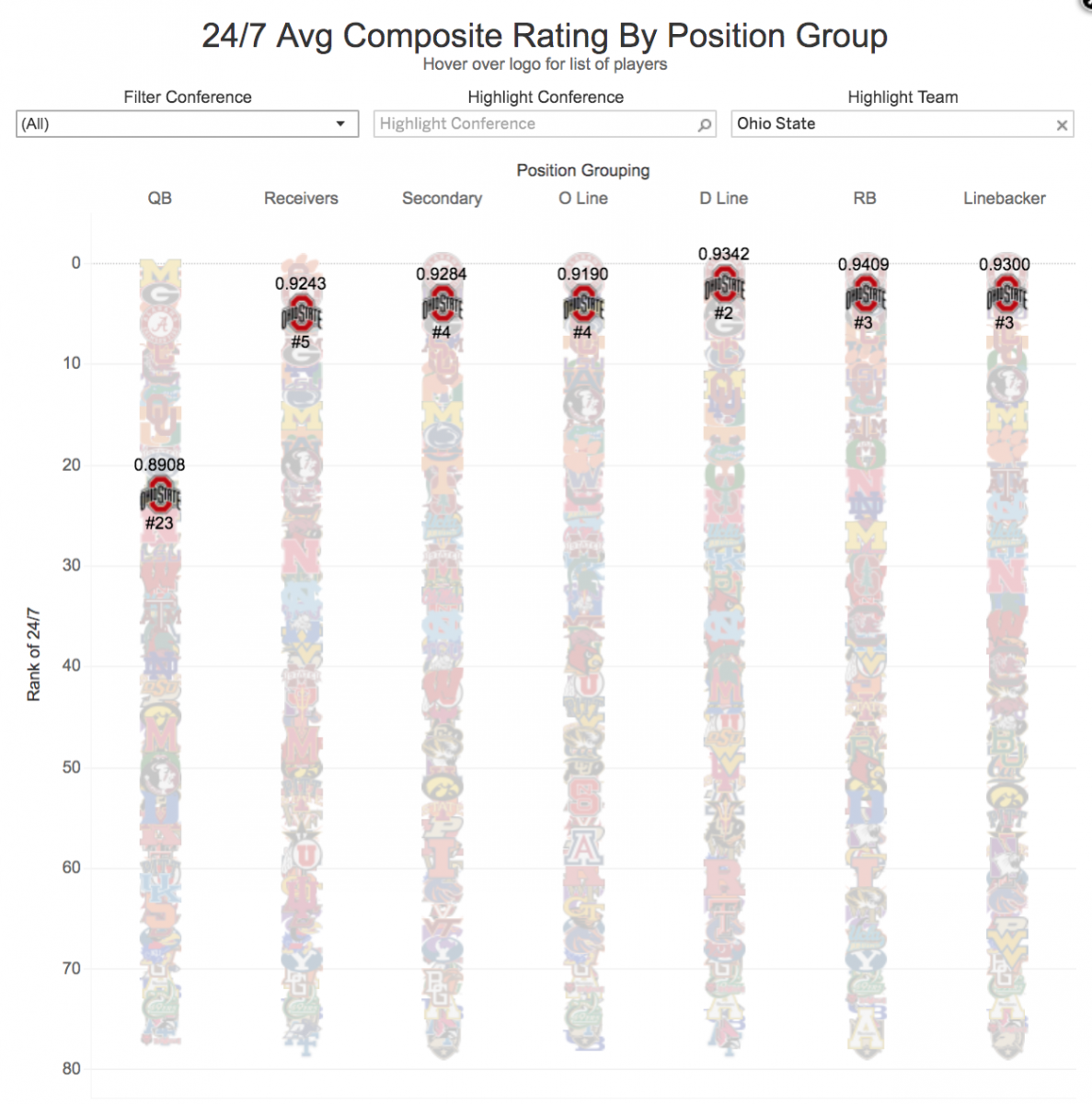 The only category Ohio State does not top is ironically the one in which the highest-rated player in program history is set to start, so I think you can rightfully put a gigantic asterisk next to that No. 23.
We all know how this is going to look when you limit it to the Big Ten, but just for kicks: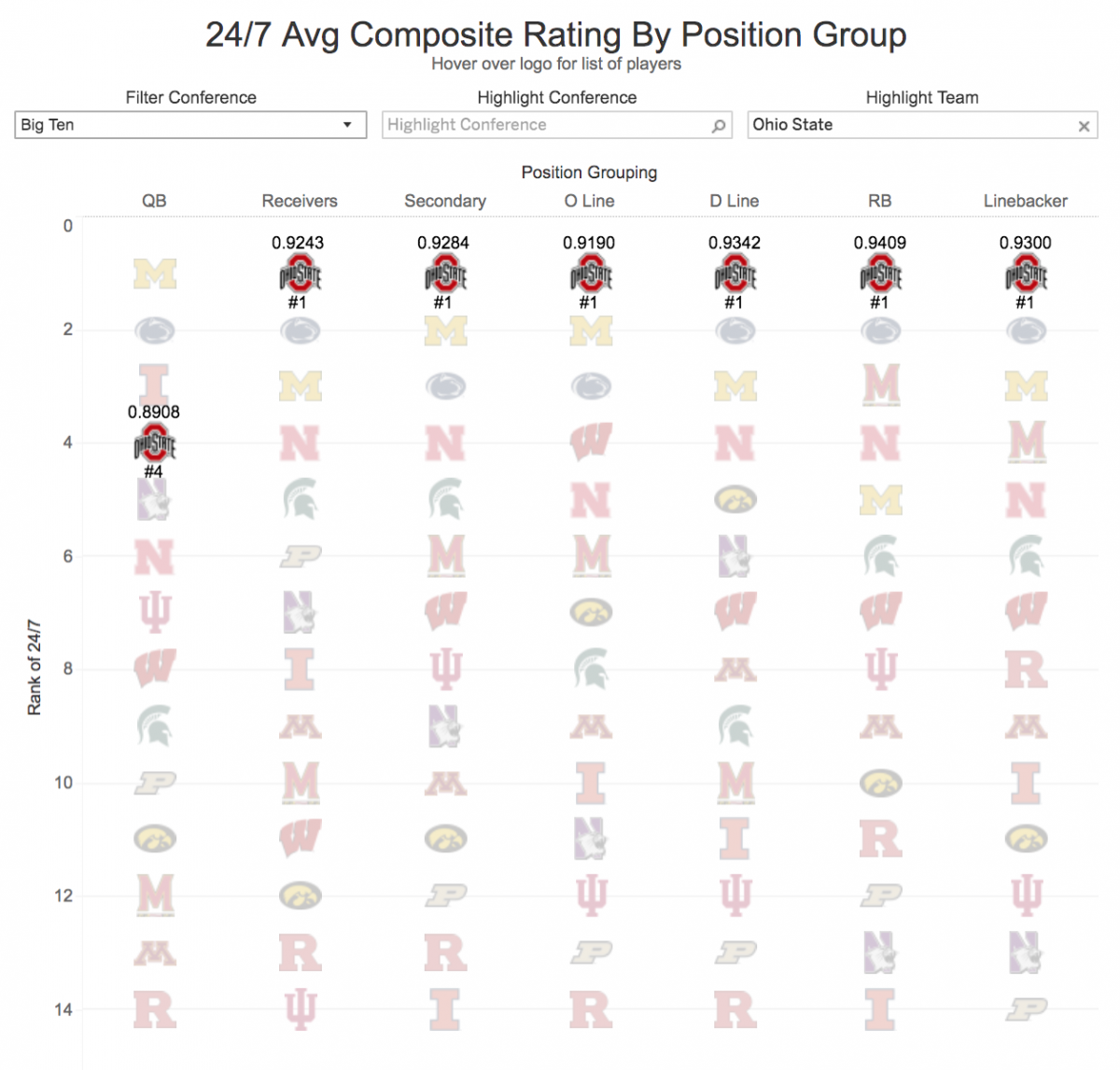 And there's also this, graphing each player (walk-ons included) by their composite rating. 
The good news is, the Buckeyes are by far the most talented team in the conference. The bad news is, they also got their shit kicked in by the least talented team in the conference!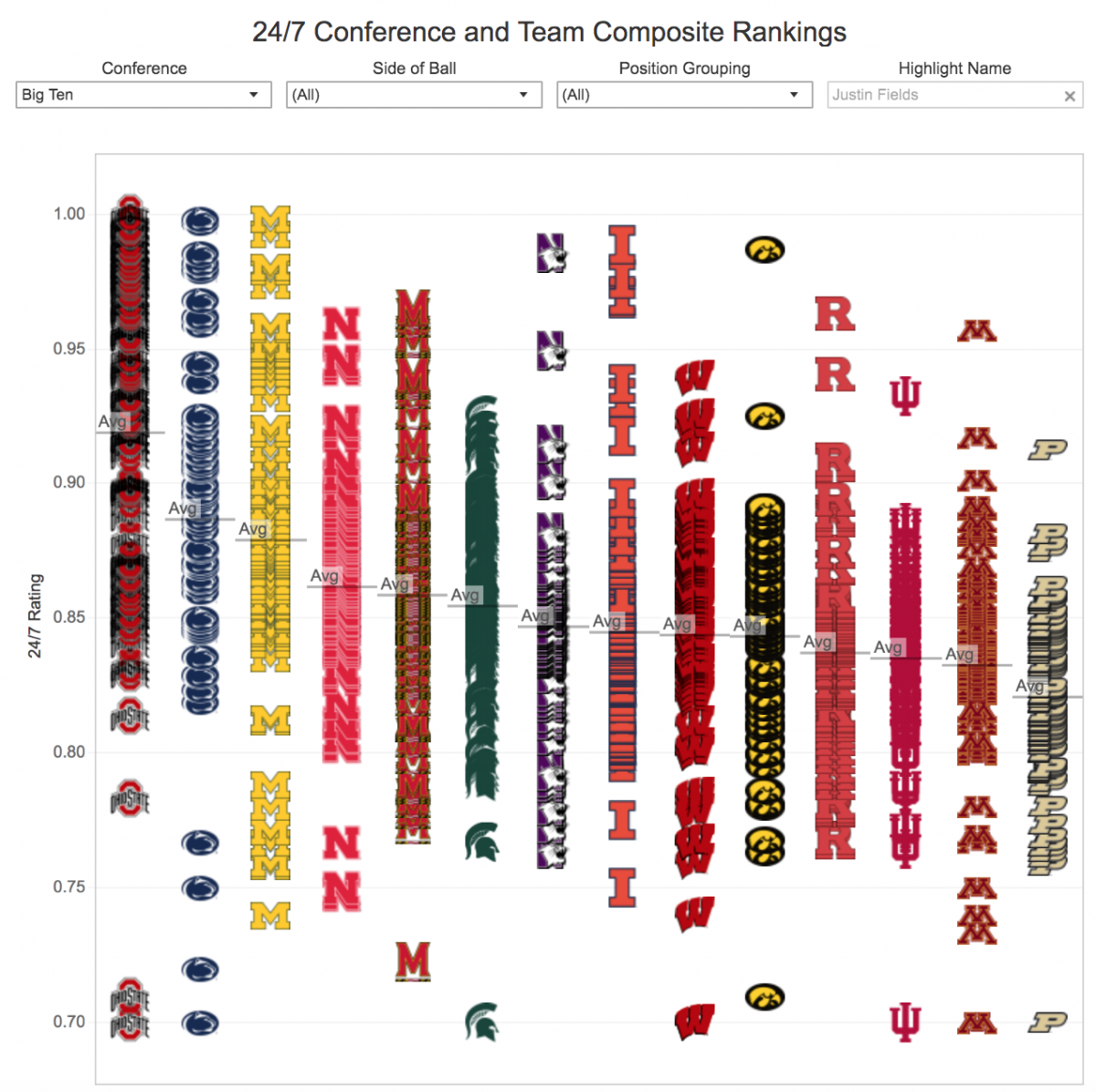 Can you tell which logo is Rondale Moore? It's the one housing the bubble screen.
Needless to say, recruiting can only take you so far.
 GALLOWAY RIPS MICHIGAN. I don't know if it's his Buckeye blood talking or if he's just had enough typical preseason Michigan media hype, but Joey Galloway has been going in on the Wolverines this offseason with some brutal (yet honest!) #takes, and he was at it again on Tuesday.
Here's what Galloway had to say about Michigan on his appearance on ESPN's Get Up! as transcribed by Brad Crawford from 247 Sports:
"Michigan (will disappoint) and I don't even think it's Michigan's fault to be honest with you," Galloway said on Tuesday's appearance on ESPN's Get Up!. "They get so much respect in the preseason that people keep thinking, 'hey, they've got a chance to get to the championship this season' ... well, they don't. There's still a gap between Michigan and Ohio State from a talent standpoint. And so every time we go into a season and people start saying Michigan can get there and into the Top 10, I don't think they can pull it off."

Mike Greenberg jokingly rubbed Galloway coming out of the segment, saying, "breaking news, Ohio State guy says Michigan will be a disappointment this year."

Galloway was quick to respond.

"And I've been right before," he said.
I'd like to credit Mr. Galloway for a bold prediction, but if we're being honest, "Michigan will have a disappointing season" is a historically safe #take that's hit home like 95 percent of the time the past 15 years.
In that span, Michigan is 1-for-15 against Ohio State, shared the conference title just once in 2004 (after also losing to Ohio State), and hasn't finished inside the top five of the AP poll since the turn of the millennium.
Needless to say, this is #take ain't really that hot. In reality, it's probably more conservative than Jim Tressel on fourth down.
 QUESTION DAY. Ryan Day's in a stakeholder-pleasing mood lately. Not only is he opening up practice to the students, he's opening up to questions from the alumni.
My favorite parts are when Day confidently shortens "Gregory" to "Greg" like they're close friends and when he essentially just describes a coach (a teacher involved in sports?) when asked what he would be doing instead of coaching.
If I weren't a professional sports blogger, I would probably be involved with writing and watching sports.
 ALTERNATE CAPTAIN? If y'all needed any more evidence that Michigan not a football school...
In addition to Michigan football captains announced yesterday, Shea Patterson and Josh Metellus are alternate captains.

— Austin Meek (@byAustinMeek) August 20, 2019
If you're wondering what the hell an "alternate captain" is, you can give it a Google and nearly every result is hockey related, which makes a ton of sense given that Michigan is a hockey school.
 NOT STICKING TO SPORTS. The story of the inmate turned millionaire turned lone survivor... Touring the overlooked islands of New York City... Nobody knows why hundreds of people died at this creepy Himalayan lake... How Cloudflare uses lava lamps to generate randomness... What its like to work in the world's most competitive industries as a person with autism... Is this the worst Team USA in modern basketball history?...