C.J. Saunders has come a long way since he first joined the Ohio State football team.
He began his career as a walk-on cornerback, but never saw playing time in a game on defense. After switching to wide receiver in 2017, Saunders started to make a bit of a name for himself, catching 17 passes for 221 yards and a touchdown – albeit mostly in the second half of blowout games – in his first season on offense.
Saunders earned a scholarship in the spring of 2018, and spent some time in games with the Buckeyes' first-team offense in four-receiver packages last season. He ended up playing fewer snaps than he did the prior season and caught only 10 passes for 73 yards, but he was a regular on special teams and returned eight punts for 50 yards as well as two kickoffs for 24 yards.
All of that was already enough to make Saunders' Ohio State career more noteworthy than that of the typical walk-on. On Monday, though, Saunders received the most substantial recognition of his Ohio State career yet, when he was named as one of the Buckeyes' seven team captains – as selected from votes from their fellow players – for the 2019 season.
From non-scholarship defensive back to fifth-year senior wide receiver and captain, @Cj_saunders_ has put in the work to earn this honor.

Watch as he & @brianhartline call his mom to make it official #GoBucks #ToughLove pic.twitter.com/2fp8hITzYF

— Ohio State Football (@OhioStateFB) August 19, 2019
Saunders knows how hard he has worked to get to this point, and he's grateful that his fellow Buckeyes recognized that in selecting him as one of their official representatives.
"It's a huge honor," Saunders said. "I'm extremely thankful. I'm not gonna hold it with any high standing that I'm better than anybody else ... I'm just extremely humbled to be voted by my teammates and that they have seen me in that light that they can rely on me to be there for them day in and day out."
When Saunders first joined the Buckeyes, he "really just wanted to be a part of a team again," he said Monday. As his career has progressed, though – especially since he moved to receiver – Saunders has increasingly gained belief that he could not only contribute on the field at Ohio State, but become a team leader.
After seeing the example former Ohio State wide receivers Parris Campbell, Terry McLaurin and Johnnie Dixon set for the Buckeyes as captains last year, Saunders made it a goal entering his senior season to become a captain himself.
While it's certainly not common for a player to go from walk-on to captain at Ohio State, it's not unprecedented. Linebacker Joe Burger was a captain for the Buckeyes in 2016 after beginning his career as a walk-on, and that showed Saunders that he too could earn the respect of his teammates and coaches and emerge as a leader if he put in the effort.
"It doesn't always matter about how many stars you had or where you're coming out of high school. It's all about the respect you earn once you get here," Saunders said. "Once you get to a place like Ohio State, everybody's good. So it doesn't matter if you came from nothing or came from everything, you got to prove it every day. And I'm thankful that I was raised to be able to go to work every day and treat people with respect, and I think that's just a testament to my family and the program itself."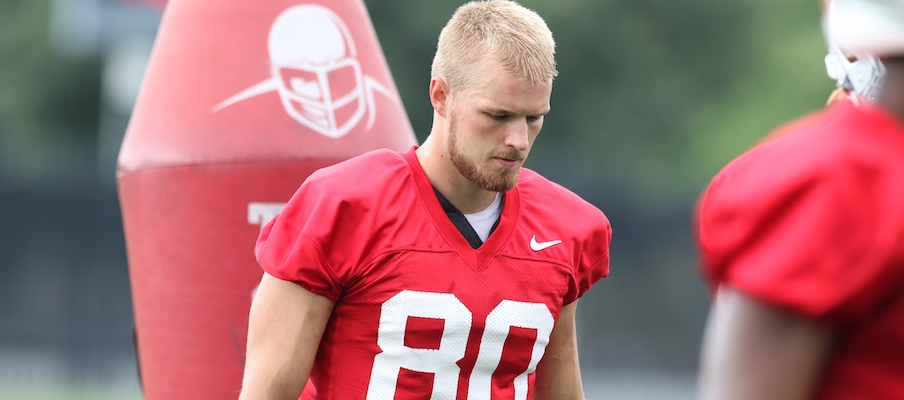 Unlike the other six captains, who have all already been starters for the Buckeyes, Saunders has only seen occasional playing time – and that might not change this year. He could be fellow captain K.J. Hill's backup at slot receiver, but Jaelen Gill is also still competing with Saunders for the second spot in the H-back rotation.
Being a star player isn't a prerequisite to being a team leader, though, and Ohio State coach Ryan Day is glad his players recognized that in naming Saunders as a captain.
"You can tell that these guys respect hard work. They respect and really give a lot of credit to the way he's gone about his work every day, the way he handles himself, his character," Day said. "Because C.J. hasn't played a whole bunch around here. But what matters is how he works in the weight room every day, the way he practices, the way he handles himself off the field, in the classroom and that says a lot about our team, that they voted him a captain."
Saunders' rise to becoming a captain can't be described as expected, considering that he wasn't even recruited to play football out of high school, but it's not a total surprise to those who have known him for years. Fellow captain Tuf Borland said he could see Saunders' work ethic from the time he arrived at Ohio State.
"I remember winter 2016, came in together, guy came in, did everything you asked of him, everything the right way," Borland said Monday. "Great guy, the team loves him, so just to see the way things have gone for him and to see how the story unfolds, it's awesome."
Mark Crabtree, Saunders' coach at Dublin Coffman High School, was among those who always believed Saunders could succeed at Ohio State despite his career's humble beginnings.
"He's not your typical walk-on, that's for sure," Crabtree told Eleven Warriors in an interview this summer. "And what he was able to do with the opportunity is really mind-boggling, but yet not surprising to me, because of what I knew he was all about. His character, his integrity and all that kind of thing are second to none ... I knew that if given the opportunity to grow and compete in the weight room and make himself a bigger and better athlete, I knew he would have an opportunity if they gave him a shot."
Hill said he voted for his fellow wide receiver to be a captain, describing Saunders as someone who "represents this university very well," and wide receivers coach Brian Hartline has also consistently praised Saunders' work ethic and ability to lead by example.
"C.J. Saunders does a phenomenal job," Hartline said this spring. "He is a guy that I use as an example a lot. Whether it be taking tests in our room, whether it be overall effort in our room, he does a great job. It's really hard for me to find a bad clip on film. It's really hard for me to find a lack of effort."
"C.J. hasn't played a whole bunch around here. But what matters is how he works in the weight room every day, the way he practices, the way he handles himself off the field, in the classroom."– Ryan Day on new Ohio State captain C.J. Saunders
Now that Saunders has been selected as a captain, he'll be expected to continue setting that example and being a player who his teammates can trust and look up to. Regardless of what his role in the wide receiver rotation ends up being, he will be a player who teammates turn to for guidance both on the field and in the locker room.
As he enters his final season as a Buckeye, Saunders is glad to have that responsibility on his plate.
"Parris, Terry, Johnnie, I got to go learn from them and see what it's all about to have that impact and be what a captain's all about," Saunders said. "They just set an expectation, and they showed how to do it, the right way to do it. And now it's my turn. Our seniors in the room. It's not just me. There's K.J. and Ben (Victor), Austin (Mack), it's our turn to lead the younger guys and lead the room."