It's certainly no surprise that one of college football's premier conferences is going to have a number of extremely talented rosters. Big-time quarterback transfers may help to define the 2019 season as three of the Big Ten's contenders will likely rely on signal-callers whose careers started with other programs. And each one of them is a former five-star prospect. 
Recruiting rankings are always interesting. It's no secret that the Alabamas and Ohio States of the world have no issues nabbing some of America's best players. And while these rankings are usually pretty indicative of team and individual success, there's always the possibility of an Iowa or Purdue debacle like we've unfortunately seen in recent years. 
Ryan Day has more talent at his disposal than any other program in the conference, but there are a number of other former five-stars scattered throughout the Big Ten who are also expected to do big things; whether it be in 2019 or in the years to come
247Sports has a nifty feature that lists the all-time recruits dating all the way back to the year 2000. It's obviously a pretty impressive list that features No. 1 overall pick Jadeveon Clowney at the very top. While many of the players have gone onto NFL stardom or are currently doing their thing in college, it also has plenty of names that never came close to reaching their potential or lofty rating. 
We've gone through and set aside the top-rated players who are currently suiting up in the Big Ten; all of whom are former five-stars. Some are new arrivals while others have been on campuses for some time already. There's a strong Ohio State flavor as we look to manage expectations for a number of the conference's most heralded one-time recruits heading into the 2019 season. 
---
Justin Fields • Quarterback • Ohio State • Sophomore • Class of 2018 Rank: No. 2 • All-Time Rank: No. 8
Fields battled Trevor Lawrence for the top spot in the 2018 rankings and ultimately finished second to the defending national champion. As a senior, the Georgia native put together some of the finest camp performances in the country before siding with the Bulldogs over the likes of Florida and Florida State. A bit of an odd fit for Kirby Smart's system, he's now the heir apparent to Dwayne Haskins in Columbus. 
The athleticism is off the charts, but now Fields will look to become more of a polished passer under Ryan Day's tutelage. He's surrounded by weapons and has been in the Heisman conversation even before officially being named Ohio State's new starter.
Shea Patterson • Quarterback • Michigan • Senior • Class of 2016 Rank: No. 4 • All-Time Rank: No. 63
Michigan will have a new-look offense under offensive coordinator Josh Gattis in 2019. Shea Patterson has the weapons in place at wideout and it will be interesting to see how Gattis fares as a first-time play-caller. Some pundits have Michigan pegged as the Big Ten favorite and Patterson is a big reason why. The former Ole Miss quarterback hasn't exactly lived up to the hype just yet, but he'll have another chance to shine as a senior.
Micah Parsons • Linebacker • Penn State • Sophomore • Class of 2018 Rank: No. 5 • All-Time Rank: No. 63
Ohio State was very close to landing a commitment from Micah Parsons after he backed off his Penn State pledge. Alas, the Harrisburg product ended up in Happy Valley and is poised to be one of the Big Ten's top defenders already as a sophomore. Checking in at No. 63 on the all-time rankings (tied with Patterson), he likely could have played three or four different positions at the collegiate level.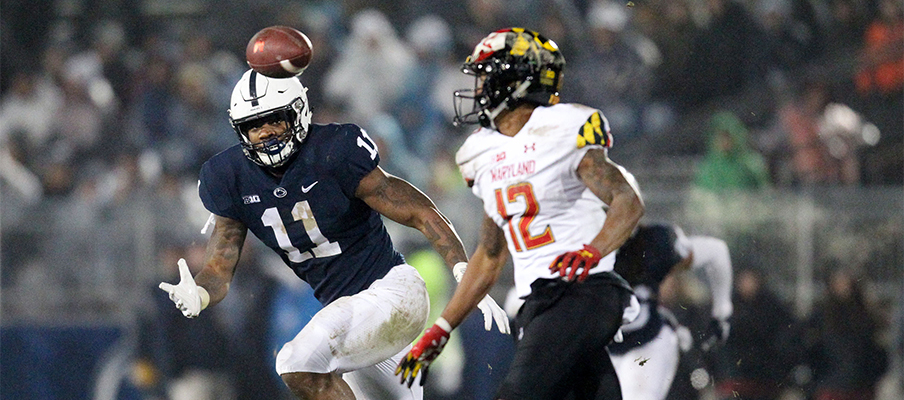 Zach Harrison • Defensive End • Ohio State • Freshman • Class of 2019 Rank: No. 12 • All-Time Rank: No. 130
Keeping the local product in the state of Ohio was perhaps the biggest early recruiting win for Ryan Day. This one had taken a dangerous turn toward the Maize and Blue before Harrison ultimately sided with the Buckeyes last December. His athletic upside is through the roof and he's already flashed at times since arriving in January. Harrison isn't expected to play a major role as a true freshman, but he's likely too good to keep off the field entirely. 
Nicholas Petit-Frere • Offensive Tackle • Ohio State • Freshman (RS) • Class of 2018 Rank: No. 7 • All-Time Rank: No. 146
Urban Meyer got a big one when the Buckeyes landed the country's top tackle for the 2018 class. Nicholas Petit-Frere arrived last summer as an athletic lineman who needed to bulk up before being ready for action. Checking in at 268 pounds when he arrived, the Tampa native has used an 8,000-calorie diet (and Mickey Marotti) to bulk up to 295 pounds. The starting right tackle hasn't been named yet as he continues to battle it out with Branden Bowen. Petit-Frere will contribute in 2019 and looks like a sure-fire starter thereafter. 
2019 Hype Meter: Moderate
Justin Shorter • Wide Receiver • Penn State • Freshman (RS) • Class of 2018 Rank: No. 8 • All-Time Rank: No. 149
Justin Shorter arrived in Happy Valley as one of the country's top wideouts, but he ended up taking a surprising redshirt in 2018. He hauled in just three passes for 20 yards while catching passes from Trace McSorley. Now expected to be one of Penn State's starting wideouts, he'll look to Sean Clifford to get the ball into his hands. The Nittany Lions lose Miles Sanders but K.J. Hamler should be the team's top weapon this year. There's not a ton of hoopla surrounding Justin Shorter at this point. 
Chase Young • Defensive End • Ohio State • Junior • Class of 2017 Rank: No. 7 • All-Time Rank: No. 172
Chase Young is expected to be one of the country's top players in 2019 and the AP Preseason All-American is aiming to break Ohio State's single-season sack record (14). He's recorded 12 sacks over the last two years and is being projected as a top-five NFL Draft pick. Young was just named a captain in what's expected to be his final season in Columbus. 
Chase Young in this picture is the 2019 version of the D.K. Metcalf shirtless gym pic.

No. 2 is going to be a PROBLEM for every offensive tackle he faces this season. pic.twitter.com/aGtkN4U5Ax

— Trevor Sikkema (@TampaBayTre) August 19, 2019
Jeffrey Okudah • Cornerback • Ohio State • Junior • Class of 2017 Rank: No. 8 • All-Time Rank: No. 184
Jeffrey Okudah is expected to be next in line in a long tradition of great Ohio State corners. He was excellent in the Rose Bowl against Washington and is poised for a breakout season in 2019. The departure of Kendall Sheffield opens the door for Okudah to finally see an increased role as a full-time corner. He's long and fast and many pundits have him rated as the top corner for the 2020 NFL Draft. 
Daxton Hill • Defensive Back • Michigan • Freshman • Class of 2019 Rank: No. 14 • All-Time Rank: No. 212
Michigan got a major recruiting win when it flipped Daxton Hill from Alabama. The Wolverines need help in the secondary and Hill is expected to see the field early and often; whether it be at cornerback or safety. He's been clocked at a 4.30 laser-timed forty and could immediately be one of the Big Ten's top athletes. Hill did not enroll early, so it could take a bit of time for him to find his groove even though early playing time is inevitable. 
Hunter Johnson • Quarterback • Northwestern • Sophomore (RS) • Class of 2017 Rank: No. 30 • All-Time Rank: No. 601
Northwestern hasn't named its starting quarterback just yet, but the expectation is that Hunter Johnson will take over Pat Fitzgerald's offense. Still, there hasn't been a ton of chatter surrounding the Clemson transfer. A lot of that probably has to do with Justin Fields' arrival in Columbus, but Johnson was one of the country's best back in the Class of 2017. He's continuing the battle with fifth-year senior T.J. Green as Fitzgerald waits to make his decision.