If you're for some reason running low on hype for this upcoming season, Eleven Warriors user Travis has created this masterpiece to inject straight into your veins.
ICYMI
Word of the Day: Leal.
 (SECOND) BEST DAMN UNIFORMS IN THE LAND. This might be the most subjective offseason subjective list of all time, but if we're listing good things, you best believe I want my team near the top.
And they are. According to Brad Crawford of 247 Sports, the Bucks have the second-best threads in college football.
2. OHIO STATE BUCKEYES

Best look: Home (scarlet jersey, gray pants)

247Sports take: Another nod to tradition, Ohio State's silver helmets with with the black, white and scarlet stripe and leaf decals is top-shelf. Buckeyes fans have gotten used to Nike's uniform takeover of the Michigan game in recent years with a plethora of alternate uniforms saved for the biggest contest of the season. Ohio State's traditional scarlet and grey is a delight, but the recent infatuation with Nike's envelope-pushing secondary options in Columbus keeps viewers guessing on gamedays against nationally-ranked opponents. That strange all-black get up in 2015 vs. Penn State reappeared last fall vs. Nebraska, but fans are split on the look. One of the Buckeyes' most daring alternates in the past decade was the all-gray getup last season which featured a wolf-fur pattern on the helmet, numerals and cleats.
I'm not the "settle for second" kind of guy, but I'm not about to wage that war when the uniforms he picked aren't even the best uniforms in Ohio State's arsenal.
I'll give him the benefit of the doubt that he doesn't know or remember that these beauties exist (and should be the regular home look):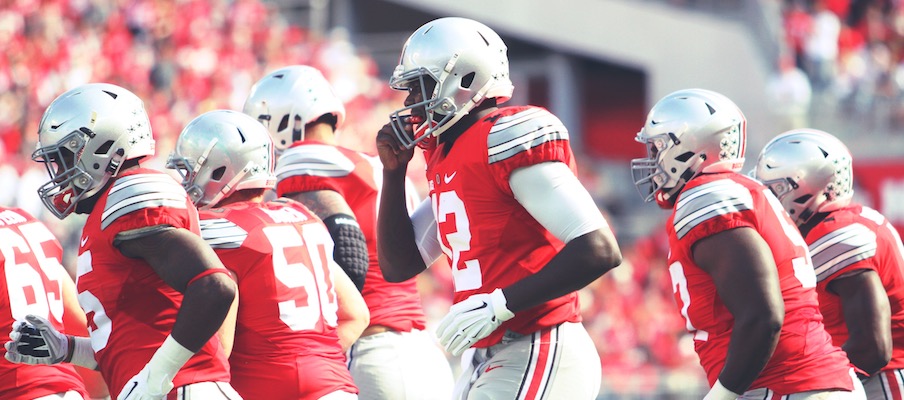 Those are the best uniforms in college football. That's a hill I'll die on.
 BEWARE OF ADRIAN MARTINEZ. I don't know if it's good news or bad news, but we're not going to have to wait long to see how Ohio State's retooled defense fares against a legitimate Heisman contender when the Buckeyes take on Adrian Martinez of Nebraska in the first month of the season.
From Stephen Means of Cleveland.com:
Why he should concern the Buckeyes: Martinez is entering his second season as the Cornhuskers' starting quarterback. Nebraska was the first team to face Ohio State following its loss to Purdue. For most of the game, it looked as if the Buckeyes were in trouble.

Offensively they focused on improving a lacking running game, but defensively they couldn't slow down Martinez, who put together a 338-yard, three-touchdown game. Ohio State pulled out the 36-31 win, but Nebraska showed that it had found its future quarterback. He will surely come into that home game confident that he and his team can compete with a program it hasn't beaten since 2011.

The sophomore quarterback finished the 2019 season with 3,246 total yards and touchdowns while leading Nebraska to a 4-8 record, including 3-6 in the Big Ten. This season the Cornhuskers are the preseason favorite to win the Big Ten West.
Corn Belt Braxton Miller is gonna to get his, I have no doubt about that. But unfortunately for the Huskers, the rules of football don't really work in their favor in that they force teams to play both offense and defense.
Call me gullible, but I'm pretty damn convinced Ohio State's defense is going to be better than *checks notes* the worst defense in program history, and even that was better than Nebraska's last year, and they just lost five of their top six tacklers.
Maybe this game plays out like a tennis match, but I think the Buckeye defense can deliver a few more service breaks than the corn folks.
To quote a great modern philosopher, "I know I'm gonna get got, but I'm gonna get mine more than I get got though."
 THE CURTIS SAMUEL POSITION. After Curtis Samuel's 2016 season where he ran like a running back, destroyed teams from the slot, and beat press coverage out wide for over 1,600 yards from scrimmage, you'll be shocked to learn that he seems to quite comfortable playing the sport professionally.
From Peter King of NBC Sports:
"Adjusting" is certainly a word you could use. I mean, behold:
Clean pocket
Cam's healthy shoulder delivering an accurate deep ball
Curtis Samuel getting wide open down the field

I'M SATISFIED
pic.twitter.com/ESh6enG4AL

— Edgar Salmingo, Jr. (@PanthersAnalyst) July 26, 2019
Same play, different angle, highlighting Curtis Samuel's high level of difficulty to reel in this pass. Wow.

Can't help but drool at the prospects of a healthy Cam and Samuel this year...

pic.twitter.com/iPqJfiKo6K

— Edgar Salmingo, Jr. (@PanthersAnalyst) July 28, 2019
Curtis Samuel at it again. This time on Donte Jackson who covered him pretty well. ( @PanthersMax) pic.twitter.com/lL4M1xvQDa

— Billy Marshall (@BillyM_91) July 27, 2019
At this rate, it won't be too long til the Carolina media folks start questioning Ron Rivera about if Curtis Samuel is getting enough touches within the most productive offense in their division during wins.
"Been there, brother." – Urban Meyer, probably.
 BUCKEYES FOR LIFE. Buckeye blood runs thick for former BasketBucks.
You've got D'Angelo Russell and Keita Bates-Diop hanging out in the basketball facilities:
DAngelo Russell: back at the Schottenstein Center last night with Keita Bates-Diop. pic.twitter.com/v2GbZX0uda

— Colin Hass-Hill (@chasshill) July 27, 2019
Evan Turner putting KBD on skates: 
Fast forward to the 8 second mark to see why @KBD_33 has been and forever will be MY SON https://t.co/eSPK8FVcLo

— Evan Turner (@thekidet) July 29, 2019
And Mike Conley and Deshaun Thomas training together:
Friday is for BUCKETS!

All got some. Some got all. @mconley11 @DT1UpNComin @Raynel23 @baseketballer22

Great week of training! pic.twitter.com/DKVcOOmRhX

— Flight Lab Hoops (@flightlabhoops) July 19, 2019
I love how these guys all seem cool with each other even though some of them never even played together, like Turner and KBD or Thomas and Conley. Even the TBT team is made up of Buckeyes from a bunch of different generations.
The only real thing they all have in common is that they played at Ohio State, and that seems to be enough.
 SHOULDA BEEN A BUCKEYE. Country music star Jimmie Allen is letting everyone know where his loyalties lie before the balls get teed up this fall.
If I woulda went the football route. Lol. @OhioStAthletics pic.twitter.com/SQDNs6kPRc

— Jimmie Allen (@JimmieAllen) July 29, 2019
I'm not going to pretend to be a country music connoisseur by any means, but there's a time a place for a song like Boy Gets a Truck, and it usually involves beer in the bed of a monster truck driving down on Broadway in Nashville.
Just ask my esteemed colleagues.
Colin The American Dream Hass-Hill. pic.twitter.com/pLwUJQCFt3

— Kevin Harrish (@Kevinish) July 13, 2019
@Dan_Hope pic.twitter.com/sPDnR8EcWv

— Kevin Harrish (@Kevinish) July 12, 2019
Enjoy the bandwagon, Mr. Allen. Next time we're in Nashville, you're tagging along.
 NOT STICKING TO SPORTS. The brain-eating amoeba is a nearly perfect killer... Inside the military Facebook scam United States military and Facebook appear helpless to stop... One time, a WWII German U boat sank as a result of a flushing to toilet... The tiny video store that survived Netflix... An American tourist killed a hotel staffer in Anguilla and no one knows why... Scientist have made a contact lens that lets you zoom in by blinking... Dark matter has never killed anyone, and scientists want to know why...