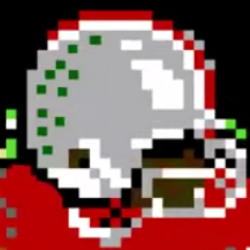 Travis
Springfield (via Springfield)
Member since 30 November 2013 | Blog
I was brought up on Buckeye football and basketball. Nothing is better, unless Gus Johnson is the commentator for their games.
Favorites
SPORTS MOMENT: Being at the Big Ten Tournament to witness Evan Turner's half-court game winner to silence the annoying Sun and Blue student section and to knock TTUN out.
COLLEGE FOOTBALL PLAYER: Kenny Guiton
COLLEGE BASKETBALL PLAYER: Aaron Craft/Matt Sylvester
NFL TEAM: Cleveland Browns
SOCCER TEAM: US Men's National Team
Recent Activity
That was pretty embarrassing to watch.
After taking so many steps forward, we took a big leap back today.
Loving was abused down low today. I don't think I saw him box out once. He is weak. Has always been weak and just seems spaced out most of the time. He has gotta put forth more effort, plain and simple. I don't understand how he was 2-time Mr. Basketball in Ohio... /lovingrant
The biggest difference to me was second chance points which resulted from the Hoosiers crashing the boards, whereas we were nowhere near them on the opposite end.
Yes we know, the potential is there, but damn is it frustrating to lose like that. Still if we get out of this away stretch with only that loss or only one more, I'll be alright with it.
Regardless, gotta trust Thad, anyone questioning him is a dolt. This can only teach this team how to not deal with adversity.
Wow, just wow.
I know he is a kid, but when are these kids gonna learn from others' mistakes.
Also, why did he have a suspended license?
Urban better be doing an off the field training seminar next year, this is getting to be ridiculous.
Suspend him for the Notre Dame game, you have to keep the precedent that was set, you have to teach this kid a life lesson. Fuck man.
I feel like I should add an ending to this now.
BakerJon told me to get upvotes.
Pretty sad stuff...
But according to ESPN, Chris Johnson is being "uncooperative" with police. Now, I've got two opinions on this...
1. If it is true that he is being uncooperative, dude... I'm assuming your friend was shot and police are trying to catch these guys, what the hell are you doing not telling them what you know?
2. Of course, he may know nothing... if I got shot I think I'd be more worried about myself and the people I'm with than whatever car is driving off. So, this could be some crappy narrative bias by the police because he's been in trouble with the law before.
I heard he's moving to Miami.
1998 was, in reality, before I had proper cognition to realize what was happening.
For me, it had to be when we were somehow number 1 ranked with Todd Boeckman and Illinois came to C-Bus and Juice Williams put it on us.
I was not only at that game, but it was my birthday present from my parents.
I really detest Todd as a QB, but whatever.
We need 6.
either 5 power conference champs and an at large or just the 6 top rated teams (I vote for the latter, think If we had a Wisconsin-Nebraska B1G title situation again)
1 and 2 get byes.
3 plays 6 and 4 plays 5.
lowest remaining seed plays 1 and highest plays 2.
#Boom
I agree, but sadly it would only take one garbage fluke for them to never stop referencing, "YOU REMEMBER November of 3004 when we beat you guys!"
... there's no typos there.
Agreed.
Also... ITS NOT BLACK UNIFORMS BUT ILL TAKE IT
Every player was given the opportunity to transfer and not have to sit out.
That's awesome...
But I gotta ask.
When I was a kid my family and I would hit up Sparky's pizzeria every now and again because it was amazing. It's changed in the past 5ish years and its nowhere near what it used to be. Did ownership change or something?
TCU is being overestimated big time.
They played a limping Ole Miss team that got wrecked by Bert and didn't have their best receiver.
TCU's win wasn't that impressive. It was just an angry team playing a battered and injured team.
I'm not saying TCU wouldn't have won, but its another ridiculous claim of ESPN and anyone to try and feed into this ridiculous narrative that Ohio State doesn't belong.
Now, I understand he is getting extra games compared to Eddie and Keith, but...
DAAAAAAAAAAAAAAAAMN.
Give this boy the record.
I'm curious... how many attempts did they have compared to EZE?
I'm also lazy and don't want to look it up... uh go bucks
Lol...
But really.....................
Cardale keep trolling those nerds.
Cuz he's good at his job?
If we can get them in 2nd and 3rd and long I believe we will be fine. Our D-Lineman are damn good and I think we can bully that front four.
We have a much more athletic defense and you're talking about Urban Meyer.
Vonn Bell is good for a pick, he always gets a big one in big games baby.
I want to downvote that original post so damn much.
OSU fans including myself were downright arrogant in '06.
This year we know it's a success... 3rd string QB, but we are confident regardless.