Not really a big podcast guy. Sorry, folks.
ICYMI
Word of the Day: Hidebound.
 EYEING A NATTY. You don't last long in the coaching game if your ultimate goal isn't to win a national title. But Chris Holtmann is taking it a step further. It isn't just a goal, it's an obsession.
From Joe Scalzo of the Canton Rep:
More than 40 minutes into his speech at Monday's Hall of Fame Luncheon Club meeting, Ohio State coach Chris Holtmann was finally asked the big question: When is he going to win a national championship?

"So, just a lighthearted question here," he said, drawing laughs. "That's the only thing I'm obsessed with every day. I understand it's been since 1960, but I'm obsessed with it every day. I understand it's really, really hard to do, but I'd love nothing more than to bring that to this fan base."
Winning a basketball title is tough. It's not good enough to have a good team, you have to have a good team that's built for a deep tournament run.
But hey, I'm not counting Holtmann out. He's done his part on the recruiting circuit so far and has done nothing to convince me he can't coach successfully in the NCAA Tournament.
 RETURN OF THE REAL? It's been almost six years since the last EA Sports NCAA Football video game, and I've felt every minute of them like an addict going through withdrawals.
It gets more painful every year as the latest iteration becomes more and more unplayable with age. But perhaps there is an end in sight.
A group co-chaired by Gene Smith is examining the NCAA's position on name, image and likeness benefits, which could potentially open the door for the return of the greatest video game series ever created.
From Chris Hummer of 247Sports:
The NCAA made a quiet yet potentially momentous announcement May 14 that it would create a working group to examine the issue of likeness in college athletics. Currently, athletes lack the right to monetize their name or brand. If the NCAA choose to alter its rules and allow athletes to capitalize on their image, it would potentially open an avenue for the return of NCAA Football.

EA was reportedly willing to pay athletes in the past but the NCAA's rules prohibited it, according to lawyers of the plaintiffs in the O'Bannon case. If the NCAA softened its rules on likeness, there could be another path toward NCAA Football. 

EA would be open to making the game again, according to former NCAA Football Executive Producer Ben Haumiller. 247Sports reached out to EA Sports prior to the working group announcement and Haumiller, currently a producer for the Madden franchise, responded two days afterward through a PR representative. 

"We loved making college football games," Haumiller told 247Sports via email. "If the opportunity ever presented itself we'd be very interested in potentially getting back into that space."
When this game ceased to exist, it's difficult to express how much free time I suddenly had, but they need to get the hell on it because I'm ready to waste my life again.
 BIG BRAIN DWAYNE. Dwayne Haskins has a missile launcher for an arm that I'm sure had some NFL scouts swooning, but that wasn't what sold the Washington Redskins.
It was his brain.
From John Keim of ESPN:
"At Ohio State, they're far along as far as protections and schemes, so he's got a good base foundation," Gruden said. "Now we just have to expand because we obviously see more fronts and a lot more blitzes that he's going to have to learn."

But Gruden said the most important thing from that April meeting was what Haskins told them he did at the line. Often, college teams get in formation at the line and after seeing the defense, the coaches will then signal in plays. It cuts down on what the quarterback must do.

"I wanted to make sure coaches weren't doing everything for him as far as protection," Gruden said. "How much did you have at the line to call the play? Change the protection? The route concept? I was OK with his answer. He did a lot himself without the help of the coaches. Some quarterbacks just look over there and one coach signals the receivers, one coach signals the line so the quarterback just snaps it and goes. But at Ohio State they do a little bit of everything."

...

It's not just that he loves watching film.

"I just don't like defenses," Haskins said. "I want to be the most prepared to rip them apart. That's what I like about it."
What's wild is how quickly that mental development happened. If you're bored, go back and watch some of the earlier games where Haskins has to look to the sideline for almost every call and protection. By the end of the year, he was in full control. It took him less than 10 games.
If he's that fast of a learner, I think the Redskins are going to be quite happy with their draft selection.
 WAVING THE WHITE FLAG. I don't share many #takes with Paul Finebaum, but the truth is the guy has some excellent and completely correct opinions about Jim Harbaugh.
On his weekly appearance on WJOX, the man my dad once called the SEC's lizard king ravaged that program to the north so hard I might have to pony up some coin to have him ghost write my Michigan Skull Session (Of course, I'd have to fudge a few words or y'all would be suspicious that the copy was too clean).
Transcribed by Dustin Schutte of Saturday Tradition: 
"Michigan has waved the white flag," Finebaum said. "Michigan has surrendered and has simply admitted we're not as good as Ohio State. We're not the Michigan of the past. We're just a good program that occasionally has a big year like last year and then chokes the biggest game of the year."

...

"Michigan reminds me a little bit of Georgia under Mark Richt," Finebaum said. "They were content to win nine or 10 games. They didn't think they could win a national championship after Mark Richt's third or fourth year, and what did they do? They fire Mark Richt after a nine-win season…and now they're in the national championship race.

"I think if Michigan is happy with mediocrity, that's fine. I don't think they will go to the four-team playoff. If they can't beat Ohio State this year with Ryan Day with that game at home, then they might as well just shut the program down."
Ryan Day slander aside, I'm with him. And it's why I damn near did an Irish jig when I read an article in the Detroit Free Press titled Michigan athletic director reiterates desire for Jim Harbaugh to never leave.
Jim Harbaugh is the paperiest of paper tigers, and that's why I love everything about him. He's like a movie villain who's undoubtedly menacing and fun to root against, but you never really fear at all because you know damn well he's going to lose at the end.
He's perfect and I want him to stay forever. He has Michigan back just enough that Ohio State still gets credit for hard-fought wins against a good team (I'm looking at you, Rich Rod and Brady Hoke), but not enough that he's ever proven to be a real threat.
Plus, he's fascinating as hell from afar. I love everything about his personality and antics, as long as he's nowhere near coaching my football team.
 SNUBBED. I regret to inform you that the Buckeyes were wronged by democracy this week – the best jersey in the country will somehow have to settle for third place.
This is how the Top 5 voting finished for the UNISWAG Uniform of the Year Award.#uniswag pic.twitter.com/tdhGPrRTC5

— UNISWAG (@UNISWAG) May 20, 2019
This is an absolute outrage, but I think it's actually even more outrageous that Hawai'i's script rainbow unis didn't even make the top-5.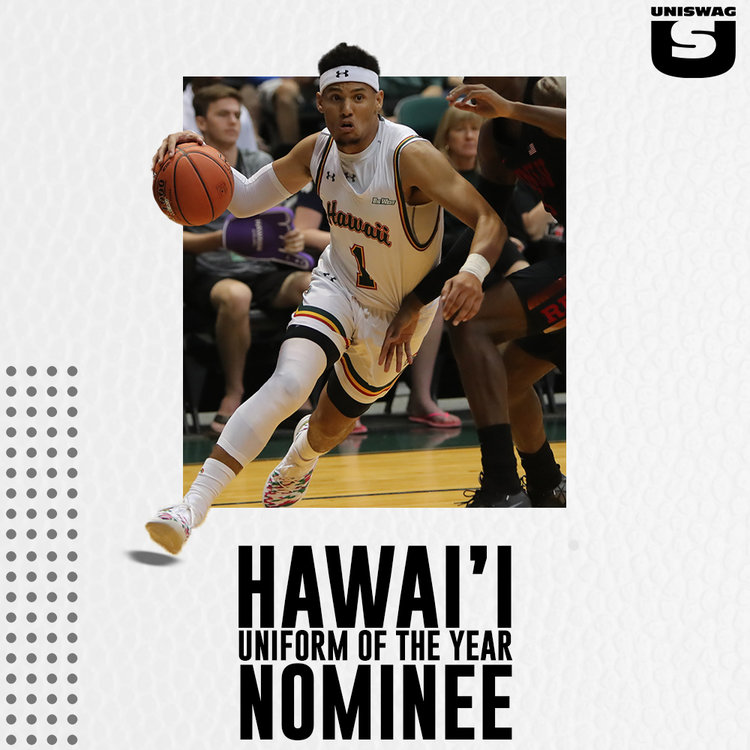 We deserve better than what we got.
 EAT AT ARBY'S. Upset cocaine customers help FBI bust a massive drug ring... James Holzhauer could be two weeks away from 'Jeopardy!' immortality... I make $1,000 a week writing essays for lazy students... The dangerous standoff between Uber and Buenos Aires... That one time Coca-Cola made a dystopian soda...