At the rate things are going, we might not have a day without breaking news until July.
ICYMI
Word of the Day: Pandiculation.
 TATE ON THE MOVE. The big catch with Tate Martell entering the transfer portal is that he can pull his name out and return to Ohio State if he wants to.
But based on his recent social media modifications, I'm gonna go out on a limb and say that ain't gonna happen.
He went through and removed everything about Ohio State, changed his location from "Columbus, OH" to "Las Vegas, NV", and changed his bio to "Quarterback at..."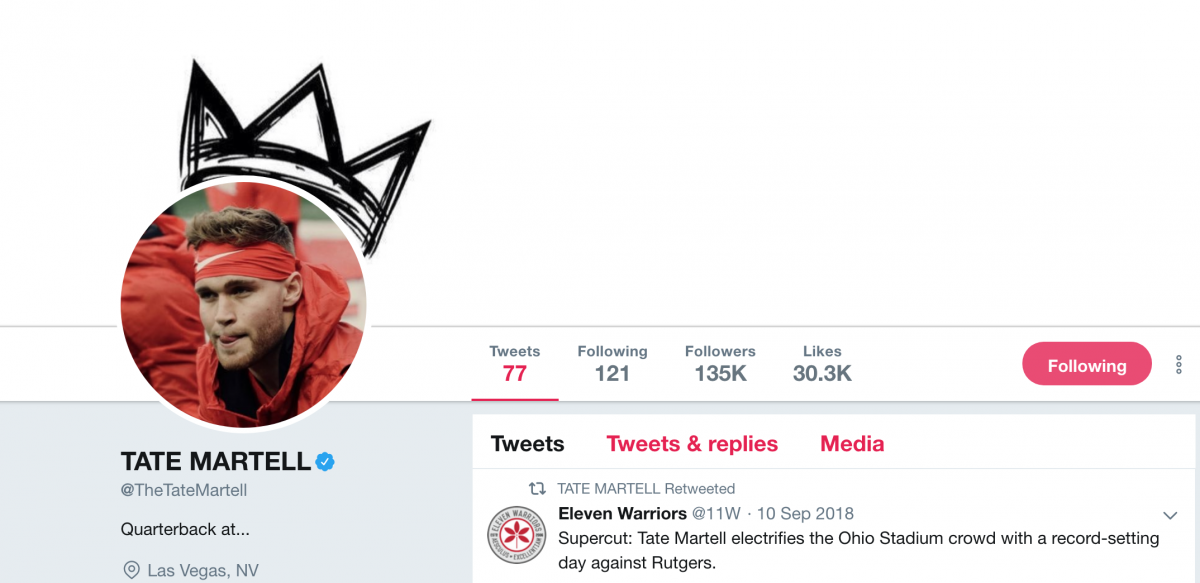 His most recent follows are pretty telling as well, and two of those schools were among the contenders my pal Jeremy Birmingham reported.

So Tate is gone, and selfishly I'm a little upset about it. Not because I'm concerned about Justin Fields as Ohio State's starting quarterback, because I think the Buckeyes will be more than fine.
No, I'm upset about this because by transferring, Tathan is depriving us of an absolutely legendary quarterback battle that saw jabs thrown before one of them even arrived on campus.
I needed that. I needed to write about that for the next nine months. Now what the hell are we going to talk about? Football?
In any case, I wish Mr. Martell all the best. As I've said in these here Skull Sessions before, I was in his corner before he even had an Ohio State offer and maintain that he would have been a great player here, had a fellow I see as a generational talent not transferred in.
Now Tate's likely going to seek a hardship waiver for immediate eligibility, and we'll see if he gets it, but it sounds like he sure ain't getting the help of noted hardship waiver guru Tom Mars.
Tom Mars, who is Fields' attorney related to his waiver request and has represented many others in similar situations, won't do the same for Martell: He told me: "I'm not representing Tate Martell, and I have no intention of doing anything on his behalf."

— Bill Rabinowitz (@brdispatch) January 10, 2019
 THE ORIGIN OF TATHAN. I feel like I let y'all down. I've known Tate Martell's birth name was "Tathan" for months, and it seems I've been withholding that information from the masses.
I sincerely apologize, and as my olive branch, I give you the origin of his name.
From the Las Vegas Review Journal:
Tafi Martell was six months pregnant and hadn't decided on a name for her first child when she noticed "Tate" in the credits of a movie and suggested it to her husband.

But Al Martell, a former wrestler at Fresno State, wanted his future grappling champion to have a two-syllable first name.

"I told my wife, 'When they announce a name, you need to exaggerate the first name. Tate's too short,'" Al Martell said. "So, that's how Tathan came about."

Tathan Martell's wrestling career quickly fizzled, and he was a third-string left tackle when he started playing tackle football at age 7.
Damn, I've never given much thought to how my blogger son's name will sound when read by online fellows. I guess that's something I need to consider.
 KYLER > DWAYNE? Kyler Murray is reportedly leaning towards entering the NFL Draft, and given the guaranteed baseball money he'd be passing up, he probably wouldn't be doing that if he didn't believe he'd be a high pick.
With how notoriously weak this quarterback class is, I buy that. But some folks even believe that he – not Dwayne Haskins – should be the No. 1 quarterback taken this spring.
Trevor Sikkema of TheDraftNetwork.com did a lengthy comparison, and arrived at this conclusion:
Ultimately, I do think these two will be the top two quarterbacks selected in the 2019 NFL Draft, and I think both will be going in the Top 10, too. But, if you're asking me to pick a winner in the Haskins versus Murray debate, and essentially who my QB1 will be.

It's Kyler Murray.
That's certainly an interesting #take that we can revisit in a few years.
I'm a Kyler Murray fan. I'd love him as my quarterback, especially in the college game, and I think guys like Patty Mahomes have proven that you don't have to be a traditional dropback, pocket passer to be successful in the league.
But Haskins is a damn prototype.
 THE SPARTY SHUFFLE. In the middle of the Tathan Martell transfer portal drama and before some expected Ohio State coaching news, I saw a Tweet that Michigan State was having an afternoon press conference shortly.
Now, you don't generally call random, spontaneous press conferences for no reason. Unless you're Michigan State.
I cannot recall ever seeing a stretch of terrible play followed by simply rearranging everyone on the coaching staff. pic.twitter.com/RmV6jFG0Lu

— Chris Vannini (@ChrisVannini) January 10, 2019
They literally called a press conference to explain that they were retaining their entire offensive brain trust that engineered just two touchdowns in their final four games, both coming against Rutgers.
But at least they shuffled their jobs around!
Folks, Sparty might never score again.
 ZEKE DOING ZEKE THINGS. One of the earliest things I wrote at this here website was a piece about how violent Ezekiel Elliott is without the ball.
Almost four years later, I write lots more words online, and he's still extremely violent without the ball.
Scott Linehan: Zeke had probably 5 of those a game at Ohio State. ... I said Were going old-school college right here. Were going to run this play. And he was all-in. He didnt go in there sheepishly. He went in there and frickin brought it like he does on every play. pic.twitter.com/sO4jaOT1ls

— Jon Machota (@jonmachota) January 10, 2019
If I were running the football, I'd want Zeke as my lead blocker. It's one of the only ways I might survive.
 LINK LOCKER. Tim Tebow is engaged to a former Miss Universe... Chicken nuggets spill on highway, authorities beg residents not to eat them... The personality trait that makes people feel comfortable around you... Model reveals she used to subsist on cigarettes, black coffee and cocaine to maintain her thin figure... Hockey players' big butts make it almost impossible to find jeans that fit... JetSmarter tried to be the Uber of private jets, but now it faces lawsuits, losses and security questions...