Ohio State's practice looks like some weird, alternate-reality Twilight zone stuff this week with the practice squad dressing the part to get the starters' juices flowing early.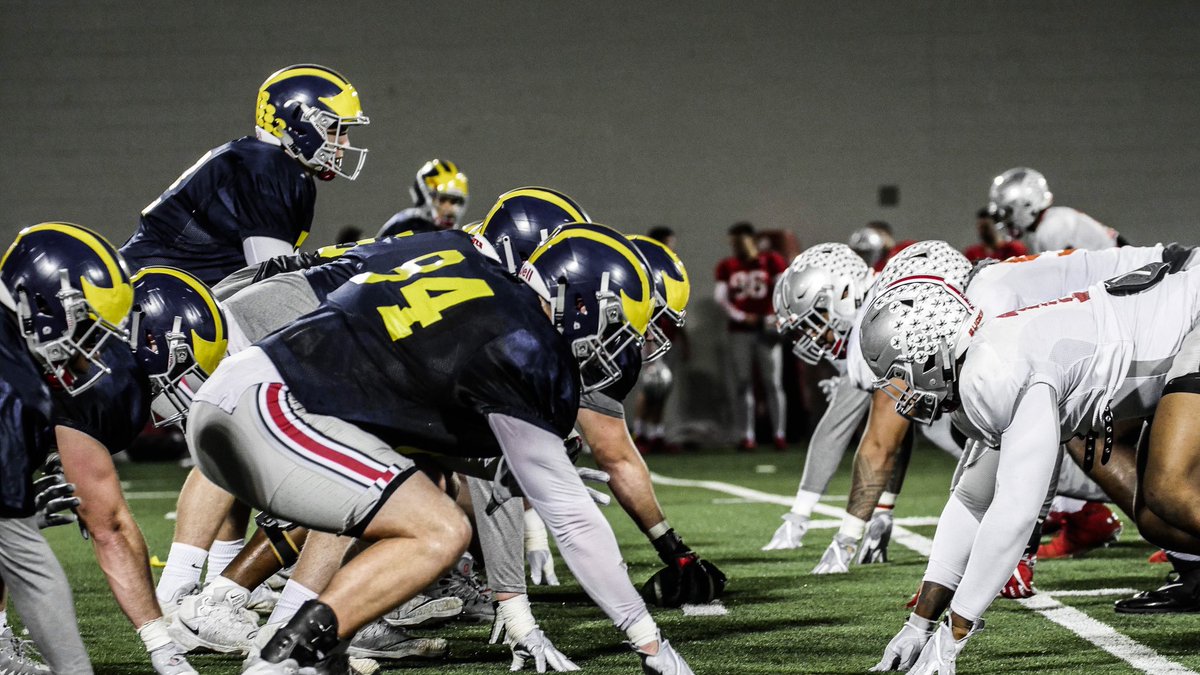 I doubt this is what the practice squad players had in mind when they joined the squad, but you gotta do what you gotta do.
ICYMI
Word of the Day: Abhorrence.
 RANKING A GOOD OFFENSE, QUESTIONABLE DEFENSE. Ohio State is No. 10 again in the College Football Playoff Rankings after getting leapt by undefeated UCF this week, which is fine. 
I've been withholding most of my playoff #takes until at least after this Saturday, because there's just no point until then, but this made me laugh:
CFP selection chairman Rob Mullens tells ESPN that committee spent considerable time on spots 6-8, left Oklahoma at No. 6 because of dynamic offense, QB despite defensive struggles.

— Chuck Carlton (@ChuckCarltonDMN) November 21, 2018
Hey, that sounds awfully close to another team I've become rather familiar with.
To be clear, I'm more than fine with ranking Oklahoma ahead of Ohio State. The Sooners lost one game by one score to the current No. 14 team in the country. Meanwhile, Ohio State lost by more than four touchdowns to a team that might not make a bowl game.
I just thought it was hilarious that the same rationale for keeping Oklahoma up at No. 6 is essentially why Ohio State is ranked No. 10, especially because it doesn't even sound like the Buckeyes are so lowly ranked because of that lopsided Purdue loss earlier in the season.
When asked directly if the Purdue loss was the biggest thing separating Ohio State and Oklahoma, chairman Rob Mullens pretty much said "no."
"That's not the way the discussion happens," Mullens said. "You don't narrow it down like that. Again, we line up the full resumes side by side, and it never comes down to just one thing."
Whatever the rationale – if there really is any – the fact that the committee is ranking the Buckeyes four spots below a team with remarkably similar strengths and struggles is pretty telling about how they view Ohio State, especially compared to the Sooners.
I also don't think it will come to that. I think it's extremely unlikely that both Oklahoma and Ohio State win their next two games. I actually think it's more likely both teams lose a game than both teams win out.
 SIT DOWN, IRON BOWL. Every year, there's a small faction of fans down south that scoff at the belief that Ohio State and Michigan make up college football's best rivalry.
That sect is substantially more silent this season with Ohio State and Michigan playing a top-10 matchup with Big Ten Championship and playoff hopes on the line while unranked Auburn serves as a mere stepping stone on Bama's title chase.
But truthfully, there isn't a valid argument to be made in any season. 
According to numbers compiled in r/CFB, the Ohio State vs. Michigan is the rivalry with the most matchups between ranked teams, the most games featuring two top-10 teams and the most games featuring two top-5 teams.
But yeah, the rivalry where the schools intentionally didn't play for decades takes the cake.
 A LITTLE PIECE OF HISTORY. As a well-documented lover of old-school Ohio State uniforms, I believe it is my obligation to share this crispy piece of history with you all.
We, along with OSU Historic Costume & Textiles Collection, are happy to receive this football uniform which was worn by Tippy Dye in the 1930s pic.twitter.com/QDRFySatok

— OSU Archives (@BuckeyeHistory) November 20, 2018
Worth noting, this jersey never saw a loss against Michigan. Tippy Dye went a perfect 3-0 as a starter against the Wolverines. So, it sure ain't a bad time to add this one to the collection.
 BRINGING THE NOON RATINGS. Buckeye football moves the needle. Ohio State has a naturally large audience with arguably the largest fanbase and alumni base in the country, and folks from across the country regularly hate-watch hoping to see a Buckeye loss.
All that, combined with chickenshit Saturday in the SEC and an unreasonably close game against an unranked team, and you get this:
Ohio State's overtime win over Maryland was the most-watched game of the weekend, even though it was a noon kickoff. It was the most-watched noon game in nearly two years. pic.twitter.com/lpRsaIo0c5

— Eleven Warriors (@11W) November 20, 2018
The audience peaked at an absurd average of 9.2 million viewers during the overtime period. But I'm betting most of them were disappointed with the result.
I know a very specific set of circumstances led to this large number, but 9.2 million viewers in a nooner is absurd to me.
 FILL IT WITH BUCKETS. As a student at the time of Mirror Lake's initial draining two years ago, I have absolutely pondered the possibility of filling the campus pond with buckets to make a body of water big enough to swim in.
Thankfully for us all, my good pal Ed did more than just ponder; he did the maths.
From Ed Sutelan of The Lantern:
If every student on the Columbus campus participates, they will need to average 10.9 gallons of water per person. The lake is already still a little filled, however, and it certainly does not have to reach capacity. So let's say 350,000 gallons of water is the magic number. That brings it down to 5.27 gallons per person.

Of course, not everyone would participate. There are some people out there who might view this idea as "crazy" or "nonsense." But there are dreamers on this Ohio State campus. Students who say, "Yeah, I'll drag a bucket full of water in my swimsuit to an empty pond just so I can jump in it and risk getting arrested."

If 350,000 is the number to hit, that means that there would need to be 43,750 students who each come prepared with two four-gallon buckets filled to the brim.
That's... A hell of a lot more realistic than I expected? I mean, suppose folks were very committed and were each willing to do four trips with their buckets. That brings the number down to just over 10,000 people.
All I'm saying is that throughout human history, I'm sure at some point more people have gathered for much stupider reasons to accomplish far more ridiculous things.
 LINK LOCKER. Feral youths as young as 13 armed with bolt cutters setting up road blocks to rob delivery drivers... The Camp fire burned homes but left trees standing – the science behind the fire's path... Criminal hackers with no shame hit Make-a-Wish website... How the predatory loan machine is chewing up small businesses across America...