"But admit there was no splendor in all the bright array, like the glory of the going when Chic Harley got away."
Typically, it's not a difficult task to find a replica jersey of your favorite Ohio State player. With a quick Internet search or a trip to a Columbus area fanshop, you will usually find whatever you're looking for, be it a jersey of a Buckeye legend like Archie Griffin or Eddie George, or that of a more recent star like Ezekiel Elliott or Joey Bosa. Even many more historic jerseys are available if you search hard enough. At one time, Buckeye Corner sold a 1944 throwback Les Horvath jersey along with a few others.
One jersey has always been noticeably absent on the shelves of retail stores, online suppliers, and even from those bootleg Chinese retailers, that of my favorite Buckeye player of all time – Chic Harley.
There have been many greats throughout Buckeye football history, but Chic Harley might have been the greatest. 
At just 5-foot-9 and 150 pounds (quite small even then and nearly identical to my size, fittingly), Harley was one of the greatest athletes of his day. He was the best at nearly everything he did athletically. The Chicago White Sox and St. Louis Browns offered him professional baseball contracts, he set a conference record that stood for decades in the 50-yard dash while on OSU's track team, shot an 82 the first time he played golf and even beat legendary pool player Willie Hoppe in a game at a Columbus restaurant.
His real success, however, came on the football field.
Harley was the source of many firsts for the Ohio State football program – its first sought after recruit, its first three-time and consensus All-American, its first conference championship and its first win over now bitter rival Michigan.
The legend of Harley began at Columbus East High School. His sophomore year, Harley tried out for the school's football team and quickly became its most valuable player. He was the team's top quarterback, running back, defensive back, punter and placekicker. Harley was so exciting to watch, his high school games regularly saw more spectators than local Ohio State football games.
"If you never saw him run with a football, we can't describe it to you...It wasn't like Thorpe or Grange or Harmon or anybody else. It was a kind of a cross between music and cannon fire, and it brought your heart up under your ears." - James Thurber
The high school sensation started to catch the attention of college football coaches around the midwest, and Harley received a number of scholarship offers. Turning down offers from powerhouse football program such as Notre Dame, Michigan, and Chicago, he instead chose to stay close to where he grew up and attend a small, rural school – Ohio State.
After playing for the freshman team his first year, Harley exploded onto the scene in 1916. He led Ohio State past powerhouse Illinois 7-6, rushing for a last-minute touchdown before kicking the game-winning extra point himself, and also past Wisconsin-Madison 14-13. In both games, Harley was responsible for every point the Buckeyes scored. Ohio State finished the 1916 season undefeated and untied for the first time in program history, and won its first-ever conference championship. Harley was also named the school's first ever consensus All-American.
Bill Harley, Chic's nephew, recalled a sportswriter's explanation for voting Chic to his All-America team: "Red Grange was a great runner, but that's all he was. Chic Harley was a great runner, a great passer, a great kicker and a great defensive back. That's why he's on my first-team."
His junior season, Harley again led the Buckeyes to a conference title and an undefeated season while earning his second All-American honors. Following the 1917 season, however, his playing career hit a tiny roadblock – World War I. Harley suspended his playing career to enlist in the United States armed forces as a fighter pilot.
Following his stint in the armed forces, Harley returned to the football field for his senior season where he accomplished perhaps his most memorable feat – beating Michigan, nearly single handedly. Harley scored on a 50-yard touchdown run and intercepted four passes, which remains an Ohio State record to this day. 
Harley's performance so impressed legendary Michigan head coach Fielding Yost, he requested permission to congratulate the star and the Buckeyes in their locker room. After addressing the team, Yost turned to the Buckeye star and said, "And you, Mr. Harley, I believe are one of the finest little machines I have ever seen."
The Buckeye legend finished his Ohio State career scoring 23 touchdowns, 35 extra points, and eight field goals for a total 198 career points – a school record which stood until Heisman Trophy winner Howard Cassidy eclipsed it in 1955. He left with three All-America honors, two conference championships and just one loss in the final game of his career – a defeat he took sole responsibility for despite scoring the team's only points.
"Red Grange couldn't carry Chic's headgear" -Teammate Charley Seddon
"If you never saw him run with a football, we can't describe it to you," said Bob Hooey of the Ohio State Journal in his piece The One and Only. "It wasn't like Thorpe or Grange or Harmon or anyone else. It was kind of a cross between music and cannon fire, and it brought your heart up under your ears. In the hardest-fought gridiron battles, Harley usually would get away and score the winning touchdown."
Harley helped put a small rural school on the map, kickstarting the football program nearly by himself. Riding the wave of excitement he brought to Ohio State football, the school proposed a permanent stadium be built to house the Buckeyes. After $1.3 million was raised through private donations, Ohio Stadium, The Horseshoe, was born. Though he never played a game there, the stadium became known as The House That Harley Built.
Harley had this to say of the stadium's construction:
"It's pretty hard to say in words what college spirit is but the team on the field and the crowd in the bleachers know mighty well what it is when the cheers are cut loose," Harley wrote. "I want to be there when our team trots out for that first game in the stadium - as an alumnus then, of course. I want to hear those 50,000 rooters roar at the kickoff. We're heart and soul for this stadium, the fellows who know what it is to go in there and fight with all that's in us for Ohio State and her glory."
In the next 100 years, Ohio State football blossomed and new names emerged. Greats like Wes Fesler, Les Horvath, Vic Janowicz, Howard Cassidy, Jim Otis, Archie Griffin, Eddie George, Troy Smith, and Braxton Miller captivated audiences and Harley was largely forgotten. The one who started it all is now relatively unknown to the average Buckeye fan.
The stands of Ohio Stadium are filled with fans donning dozens, if not hundreds of different replica jerseys, paying homage to heroes of past and present. But Harley's, the jersey of the one who built the place, was always missing. That did not sit right with me, so I got to work.
---
Admittedly, much of the dreaming and planning happened in 105 Schoenbaum Hall while I should have been learning the intricacies of a foreign market. Instead, I spent hours of class time sifting through grainy photos and choppy videos to get a clearer idea of what Harley's jersey looked like.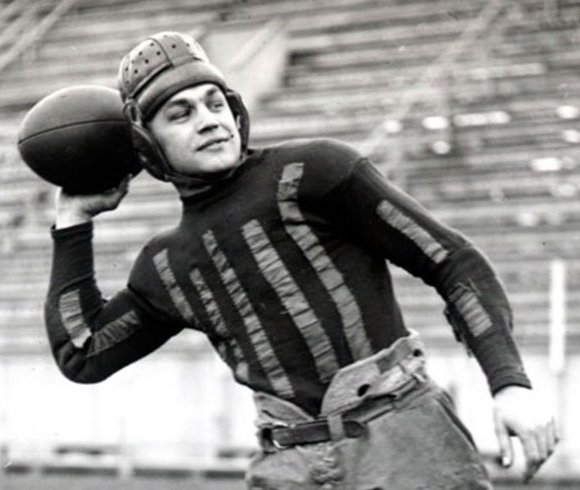 This became a taller task than I anticipated. As far as I can tell, obsession with uniforms is a relatively new phenomenon among football fans. For this reason, among many others, there is no handy database of early 20th century Ohio State uniforms, and the uniforms went almost completely unpreserved. Things like number font and stripe length had to determined and executed using the limited resources I had.
Even more challenging, these uniforms were pretty fluid, even by Oregon football standards. Players rarely wore the same number twice, the hand-sewn stripes typically looked different game-to-game, the number of stripes on jersey uniform was remarkably inconsistent, and there is even debate as to the color of the stripes.
The silver lining: given all these inconsistencies, it was nearly impossible to make the jersey completely wrong, especially if my decisions were grounded in evidence.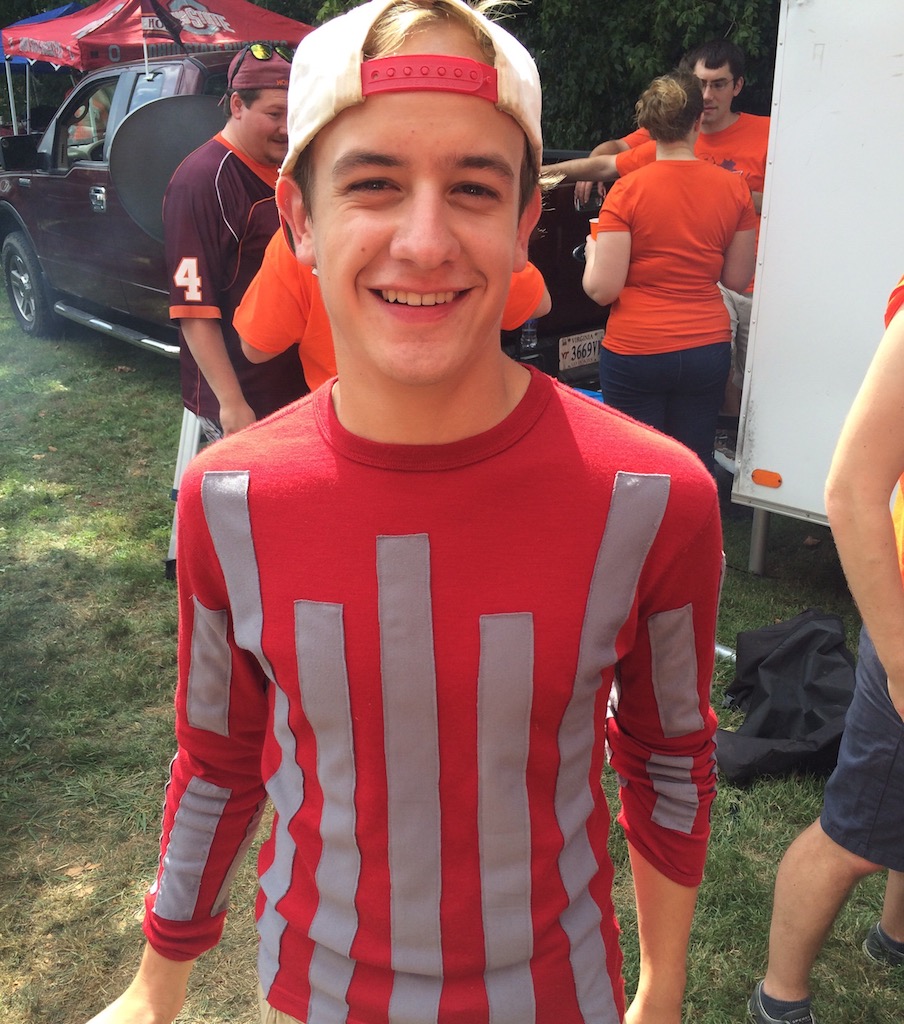 I chose to go with five gray stripes on the front, going with gray instead of white or tan (as some say they may have been, at least for a few appearances) because that's the color that's featured in every colored depiction from the Ohio State athletic department. I went with five stripes instead of four because Harley wears five stripes of uneven length in his most iconic and recognizable photograph.
The most difficult decision I had to make was the jersey number, because these were the most fluid part of the uniform. There is really no telling how many numbers Harley wore during his playing career at Ohio State, but I narrowed it down to two – 10 and 47. Harley wore No. 10 in Ohio State's 1919 win over Michigan, but No. 47 is the number most closely associated with him as it was the last number he wore. Even though it was worn during his only loss as a Buckeye, I chose No. 47 so it would match the number displayed in the Horseshoe when I attend games and increase chances that people would recognize whose jersey I'm wearing.
With a bit of gray fabric, a thick scarlet shirt, and quite a lot of help from my wonderful mother (Pro Tip: Have a mom that's good at sewing), the jersey came to life. I wore it for the first time to the 2014 homecoming game against Rutgers, and have worn it every game day since. It's been to the 2014 Big Ten Championship Game, the 2015 College Football Playoff National Championship Game, the 2015 Virginia Tech game in Blacksburg, and most importantly the 2014 Michigan game.
Wearing my Chic Harley jersey. Because it's The Game. pic.twitter.com/Mbf12RmeKd

— Kevin Harrish (@Kevinish) November 29, 2014
I couldn't be more proud to wear it every game day and for at least one game, I will not be alone. Ohio State announced they will wear throwback uniforms from the Chic Harley era for a game during the 2016 season, rocking vertical stripes across the front of the jersey, with the phrase "music and cannonfire" written on the tag.
Say what you will about the aesthetics, but Chic Harley's jersey finally gets to play in The House That Harley Built. That's pretty cool.
Now if they would only open up the right side of the O's in Script Ohio to spell "Chic" like they used to...
---
"You can name the brilliant players from the year the game began,
You can say that someone's plunging was the best you ever saw –
You can claim the boys now playing stage a game without a flaw –
But admit there was no splendor in all the bright array
Like the glory of the the going when Chic Harley got away."
-James Thurber