C.J. Jackson leapt. Chris Holtmann closed his eyes. Ohio State began its comeback.
It wasn't much more complicated than that.
After falling behind Samford, 32-29, at halftime for its first deficit at the 20-minute mark of the season, the Buckeyes needed a spark. They got one when Jackson hurdled the front row of the crowd to save the ball with a toss over his shoulder, which Luther Muhammad grabbed and threw up the court to begin the fast break. Andre Wesson capitalized on the opportunity, completing what Holtmann called a "momentum play" with a 3-pointer that pulled Ohio State within one point of Samford.
"I had my eyes shut for most of it," Holtmann said. "But it was a fantastic hustle play that I really think was critical because it livened up our crowd."
That shot followed up a jumper from Wesson that kicked off a 19-3 run, which led to Ohio State's 68-50 second half comeback victory against the Bulldogs Tuesday night.
Just like they drew it up, right @OhioStateHoops? pic.twitter.com/rUjnHeDGJO

— Ohio State on BTN (@OhioStateOnBTN) November 21, 2018
Samford, which entered Tuesday having won its first five games of the season for the first time in 21 years, posed a different threat to the Buckeyes than they had faced in their opening four games. Holtmann has constantly said he tries to schedule non-conference opponents that are both good teams and pose different challenges to ensure Ohio State won't be caught off guard when it faces opponents with different styles of play later in the season.
"It wasn't fire and brimstone. You'll know when I'm really upset because I'll come back with a bruised hand right about here and sometimes a broken bone. That means I hit the board. But it was none of that. We just needed to play better."– Chris Holtmann
The Bulldogs offered a couple fresh challenges, and the Buckeyes took some time to adjust. They played zone defense, pressed Ohio State and had Ruben Guerrero, a 7-foot center who averages 17 points and nine rebounds per game.
"We made shots, so we were able to get into our press, which then slowed down the tempo of the game and kind of brought it to a grinding halt," Samford head coach Scott Padgett said. "It's tough for us to do because that's not really how we play. But watching them on film, it's the only way I thought we had a chance was limit their opportunities of scoring, drop into our zone, make them shoot outside shots. And I think they did a great job in the second half of saying we're not going to settle."
Padgett opted to go with a zone because Ohio State "carved up" man-to-man defense. He was worried about Kaleb Wesson's dominance in the paint, so he tried to slow the game down and make the Buckeyes take outside shots.
For a while, that strategy worked. Ohio State shot 37.5 percent from the field in the first half and hit just 2-of-11 3-point attempts. Wesson had nine points in the first half, but he wasn't able to find shooters to kick it out to for open looks.
On the other end of the court, Guerrero picked up two quick fouls, but the Bulldogs rode Myron Gordon's 16 points to a lead at the break. Ohio State wasn't alarmed, though it hadn't been in that position before this season.
"I feel like coach said it best as far as just don't flinch," Wesson said. "Stuff like that happens. You're going to get down in a game. We're not going to hit shots all the time. So, you just have to don't flinch, and you can always give effort on defense, too. It's nothing that should ever break down."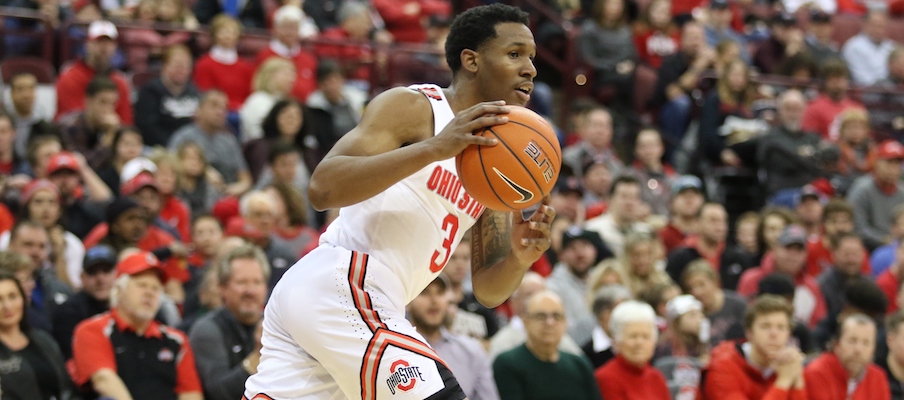 The Buckeyes trailed Cincinnati late in the second half, so halftime of Tuesday's game was no time to panic.
"It wasn't fire and brimstone," Holtmann said. "You'll know when I'm really upset because I'll come back with a bruised hand right about here and sometimes a broken bone. That means I hit the board. But it was none of that. We just needed to play better."
Playing better meant settling for better shots and getting the ball inside to Wesson, who directed the offense in the second half. Though the Buckeyes still couldn't find their range from deep, they knocked down 50 percent of their shots in the latter 20 minutes with Wesson dropping 10 points and Keyshawn Woods adding nine points.
Woods scored 14 points, grabbed four rebounds and had a team-high four assists in 37 minutes.
"You need thinkers, passers," Holtmann said. "You need guys that can see the game and make the right pass against zones, so he was critical for us, and that's why I kept him in there. I don't know if I took him out much at all."
Ohio State buckled down defensively in the second half, adjusting to the slow-paced game to hold Samford to 24.1 percent shooting. After Gordon's first-half explosion, Holtmann said Ohio State adjusted its ball screen coverage, and Gordon had just two second-half points.
In 28 minutes, Guerrero managed just two points, hitting 1-of-6 shots, and grabbed five rebounds. Both numbers were well below his averages. Wesson forced two early fouls on him, but attributed much of the defensive success to his teammates.
"We watched film and a lot of teams were giving him a lot of dribbles," Wesson said. "He was playing a lot of one-on-one basketball. I feel like my teammates really helped me a lot as far as digging down and making him feel uncomfortable playing in crowds."