Yesterday, I was accused of treating the school of my dreams that I paid tens of thousands of dollars to attend for the past five years as a cash cow that I do not care about and will milk as much as I can.
Folks, if that's the case, I think I'm doing it very wrong.
ICYMI
Word of the Day: Obambulate.
 NEW ORLEANS BUCKEYES. If you've ever wondered what it would look like to make an entire NFL team out of former Ohio State players, the New Orleans Saints are about as close as you're going to get.
Entering the season, the Saints' active roster featured five former Buckeyes: Michael Thomas, Marshon Lattimore, Ted Ginn Jr. Vonn Bell and Kurt Coleman. And New Orleans just added a sixth, acquiring Eli Apple in a trade with the Giants.
From Rod Walker of the New Orleans Advocate:
Payton talked to some of the Ohio State players on the roster before making the trade.

"We felt good on the information," Payton said. "We like the skill set and we're excited to work with him."

Apple describes his battles in practice with Thomas as "very intense."

"The Buckeye way," said Bell, whose locker is beside Apple's. "We have another one here. I guess they like (Ohio State players). He is going to add an abundance of talents to us, and he'll buy into what we are doing. He will compete. He can match up with anybody. He's very versatile and with a high IQ."

Lattimore said having former college teammates on the same team should help Apple in his transition.

"We know each other well, so he can come in and take coaching," Lattimore said. "He knows I  am going to have his back."
I know it's not really how their rotations work, but I would love to see an all-BIA NFL secondary of Lattimore, Apple, Bell and Coleman.
Hell, if things keep going south in Piscataway (and they will), Chris Ash might even be available as a defensive coordinator or defensive backs coach soon, if they're into that sort of thing.
 REPRIMANDS ALL AROUND. It seems the Big Ten was not very pleased with Michigan and Michigan State's blood feud over the weekend, and the ensuing pettiness at each coach's press conferences.
The Conference sent out a release on Wednesday announcing a $10,000 fine for Michigan State's arm-linking parade and reprimands all around.
The Big Ten determined that Michigan State violated the policy when its football team walked across the field with linked arms and initiated contact with multiple members of Michigan's team who were legitimately on the field during pregame warmups. Consequently, the Michigan State football team is reprimanded and the institution has been fined $10,000 as a result of the violation.
 
Michigan State head football coach Mark Dantonio is also reprimanded for failing to take action to mitigate a foreseeable conflict from occurring.
 
Michigan's Devin Bush is reprimanded for his conduct.
 
Michigan head football coach Jim Harbaugh is reprimanded for his comments made about the incident and opponent during his media availability on both Saturday and Monday.
 
"We are fortunate the series of events that occurred prior to the Michigan-Michigan State game did not escalate into a much more serious matter," said Commissioner Jim Delany.  "While traditions hold great importance on our campuses, traditions do not supersede the values of good sportsmanship or the requirement for player safety.  We expect more from our coaches, students and administrators and will continue to work with our institutions to prioritize good sportsmanship moving forward."
I love the old reprimand via official release hustle.
"Devin Bush is reprimanded" is about as effective as loudly yelling "bankruptcy!" and thinking that just makes all financial troubles go away.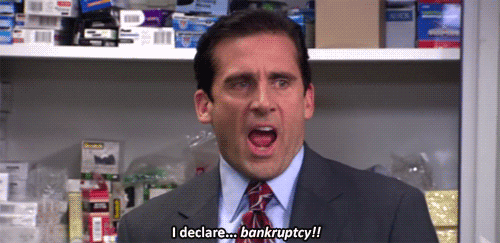 I am absolutely here for a Jim Harbaugh and Mark Dantonio war. Those two polar opposites have been just quietly existing in the same realm for far too long with no fireworks and now that they're flying, I'm more than pleased to watch from afar.
 UNSUNG HERO. ESPN put together a list of the unsung heroes for each team ranked in the AP top-25, and you'll be absolutely shocked to learn that Ohio State's is Terry McLaurin.
From Tom VanHaaren of ESPN.com:
McLaurin hasn't gotten a ton of national attention, but he has been a huge part of this Ohio State offense. With eight touchdowns on the season, he already has two more than he had all of last season. If you ask any of his teammates, they will tell you McLaurin is unselfish. He is one of the better blocking receivers on the team and even blocked three defenders on teammate KJ Hill's touchdown catch against Penn State to help secure a win.
They don't call him Scary Terry for nothing.
When you regularly decleat safeties openly say that you'd rather make a pancake block a defender to spring someone else than score a touchdown yourself, that's a pretty safe way to work yourself onto this list, which is essentially a collection of the grittiest players from across the country. And I'm all in on that.
 70TH IN THE COUNTRY. Matt Norlander took his crack at ranking every Division I college basketball team heading into the season, and just like everyone else, he's not super stoked on the Buckeyes this year.
From Matt Norlander of CBSSports.com:
70. Ohio State

The Buckeyes weren't expected to do much last season -- then they went on to be a No. 5 seed in the NCAA Tournament. Chris Holtmann loses a lot, though, and it feels like a reset is coming this season. Maybe I'm wrong and maybe he overachieves again. It wouldn't stun me. Kaleb Wesson's progress is paramount to OSU staying relevant. 
Keep doubting the Buckeyes. Keep doing it.
I get it, there's no reason why they should be good this year, but there was no reason they should have been good last year either.
And I'm not totally buying the "Oh, well they had good players, actually. We just didn't know that, and now they're gone" argument. That team didn't have a point guard and got a new coach in June who legitimately considered signing players from a rec league to add depth.
I'm not going to undersell Chris Holtmann here. I think he was a miracle worker last season and he's had about six months longer to build this team. Maybe they aren't going to win anything of consequence, but I'm just not buying that they'll be bad.
 10 TRILLION YEARS. If you can believe it, the Internet has now been infested with Mark Titus' words for 10 years.
I started a blog called Club Trillion 10 years ago. It's been a wild ride. But it has only just begun. pic.twitter.com/7mqPNgbxSg

— Mark Titus (@clubtrillion) October 24, 2018
Titus is a big reason why I got into the whole online words business. I read his blog while I was in middle school and followed his writing career when I was in high school. I thought he was super witty, clever and funny 90 percent of the time, but could still be taken very seriously the other 10. I wanted to be that.
Almost six years ago, Tweeted at him to ask what his major was at Ohio State, and he told me marketing. Oddly enough, I now also have a degree in marketing from Ohio State, and I also have a career writing sports words thanks to a bad blog I started for fun while I was in college.
Titus has been a role model to college basketball walk-ons for years, but he's also quietly been one for walk-on bloggers as well.
 LINK LOCKER. These guys made graphs to show how their relationships died... Billionaire plans to build replica ship to follow same route as original... Michigan inmate's deal to reveal hidden remains included an Xbox... The one place in the United States Google Earth stopped mapping...