Whenever Ohio State loses a football game, it tends to cast a cloud of doom and gloom over Columbus.
That's in large part because the Buckeyes don't lose very often. Ohio State has only lost nine games in Urban Meyer's six-plus seasons as head coach, so defeat isn't something that anyone around the program is used to dealing with – not only its coaches and players, but also its fans.
Even so, the Buckeyes typically don't only bounce back, but play better, after a midseason loss occurs – even when it's a lopsided loss to an opponent they shouldn't have lost to at all.
Saturday's 49-20 loss to unranked Purdue was an ugly game for Ohio State, and there's certainly reason to have doubts about the Buckeyes, whose defense has struggled all year while they have also been hampered by a lack of running game and struggles in the red zone on offense.
If the Buckeyes can improve upon their issues, though, they still control their own destiny in the Big Ten and have a shot to compete for a conference championship and a College Football Playoff berth. And history would suggest that you shouldn't give up on the Buckeyes yet after just one loss.
Before Saturday's loss in West Lafayette, Meyer's Buckeyes had lost just five regular-season games over his tenure at Ohio State, all in the past four seasons. Not including the Big Ten Championship Game loss to Michigan State and Orange Bowl loss to Clemson in 2013, and the College Football Playoff semifinal loss to Clemson in 2016, the Buckeyes have always come back to win at least five straight games or win the remainder of their season's games after a regular-season loss.
The past doesn't determine the present, so Ohio State will have to come back from its loss with the same intensity that it has from previous losses in order to achieve similar success. That said, examples from other recent seasons – which we take a look at below – could serve as a blueprint for what the Buckeyes could still accomplish after their discouraging loss to the Boilermakers this year.
2014: Virginia Tech, 21-35
Record at time of loss: 1-1
Record after loss: 13-0
When Ohio State lost to Virginia Tech – its first regular-season loss and first home loss under Meyer – in its second game of the 2014 season, there was certainly concern about the direction in which the Buckeyes were headed. With their back-to-back postseason losses to end the 2013 season, Ohio State had lost three of its last four games, and the Buckeyes – with J.T. Barrett making just his second career start against Virginia Tech – looked nothing like a championship contender at the time.
"I still have confidence that we have enough skill on this football team to get by people," Meyer said after that game. "It didn't look like it (tonight). But we have to get by people or you're going to see what you saw today every week."
As that season progressed, though, the Buckeyes steadily got better, and they never lost another game, winning 13 straight games en route to winning the first-ever College Football Playoff and Ohio State's first national championship since 2002. With that loss to Virginia Tech, there were questions about whether Ohio State even deserved to make the playoff, but it ultimately received the fourth and final spot in the field – then proceeded to upset No.1 seed Alabama before defeating Oregon in the title game – after a 59-0 Big Ten Championship Game win over Wisconsin.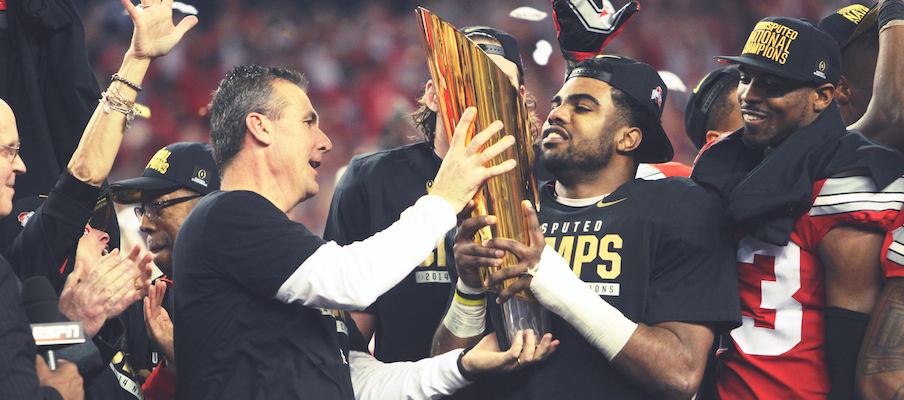 2015: Michigan State, 14-17
Record at time of loss: 10-1
Record after loss: 2-0
With a roster that was as talented as any Ohio State has ever had, returning the vast majority of its star players from its national championship team, Ohio State's 2015 team played underwhelmingly for most of the season before that finally caught up with the Buckeyes – somewhat similarly to what happened to this year's team on Saturday at Purdue – in a 17-14 loss to Michigan State at Ohio Stadium in their 11th game of the year.
It was Ohio State's first loss in 24 games at the time, but unfortunately for the Buckeyes, it was the game they couldn't afford to lose, as it gave Michigan State a tiebreaking victory in the Big Ten East that led the Spartans to a conference title and a playoff berth instead of Ohio State.
Yet even though a championship was no longer on the line, the Buckeyes still bounced back from the loss to play perhaps their two most impressive games of the season, rolling to a 42-13 victory over Michigan one week later before finishing their season with a 44-28 win over Notre Dame in the Fiesta Bowl.
2016: at Penn State, 21-24
Record at time of loss: 6-1
Record after loss: 5-1
Ohio State appeared to be well on its way to moving to 7-0 until the fourth quarter of its seventh game of the 2016 season against Penn State, when the Buckeyes gave up 17 unanswered points to the then-unranked Nittany Lions for a stunning road loss.
The Buckeyes didn't have a great response game the following week, battling to only a 24-20 win over Northwestern at Ohio Stadium, but they ultimately won their final five regular-season games – including 62-3 wins over Nebraska and Maryland, and a thrilling double-overtime win over Michigan – to finish the regular season 11-1 and make the playoff despite missing the Big Ten Championship Game, which Penn State made over Ohio State with its tiebreaking win over the Buckeyes.
Ohio State's 2016 season, of course, ended with its shutout loss to Clemson – so it would be a stretch to say the Buckeyes got better in the wake of defeat that year – but it was another example of the Buckeyes being able to bounce back from a loss and rattle off a string of necessary wins in order to make a playoff run.
2017: Oklahoma, 16-31
Record at time of loss: 1-1
Record after loss: 11-1
Like in 2014, Ohio State suffered a non-conference loss at home in its second game of the season in 2017, as Barrett and the Buckeyes never got going offensively and their defense was unable to contain Baker Mayfield, who went on to plant an Oklahoma flag in the middle of the Ohio Stadium turf at the conclusion of the Sooners' 31-16 win in Columbus.
This loss wasn't quite the upset that the other games on this list were – the Sooners were the fifth-ranked team in the country at the time, and went on to be a playoff team themselves with Mayfield winning the Heisman Trophy – but it certainly still made Ohio State and its fans upset, as it exposed issues that the Buckeyes had on both sides of the ball.
Following that loss, though, the Buckeyes would elevate their play into another gear for their next six games, winning each of their next five games by at least 31 points before turning the tables on Penn State with an epic fourth-quarter comeback of its own in a memorable 39-38 victory, which thrust the Buckeyes right back into the playoff picture – if only for one week – despite their early-season defeat.
2017: at Iowa, 24-55
Record at time of loss: 7-2
Record after loss: 5-0
Part of what made Saturday's loss to Purdue so painful for Ohio State fans was that the Buckeyes suffered a similar and equally embarrassing loss just last season, when they lost by 31 points on the road to unranked Iowa.
The Iowa loss was different in that it came after an exhilarating win over Penn State, whereas this year's Purdue loss came after a pair of uninspiring performances against Indiana and Minnesota, making this year's defeat less of a shocker. Last year's loss to Iowa was also different in that it was Ohio State's second loss of the year – marking the first time the Buckeyes lost two games in a regular season under Meyer – and effectively eliminated the Buckeyes from the playoff.
That didn't stop the Buckeyes, though, from returning with a vengeance in their next game, rolling to a 48-3 victory over Michigan State, who was the nation's No. 12-ranked team at the time. Ohio State would go on to win each of its final three regular-season games, defeat Wisconsin in the Big Ten Championship Game and cruise to a 24-7 victory over USC in the Cotton Bowl.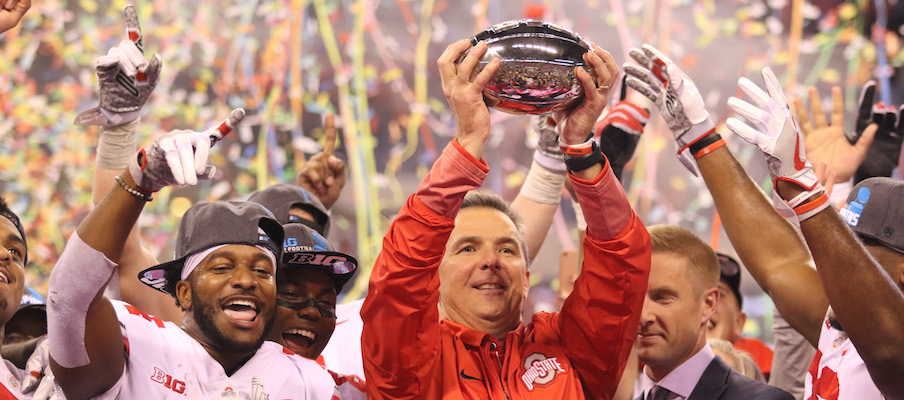 Ohio State proved it could put a blowout loss to an unranked opponent in the rear-view mirror and finish the season strong last season, and that's what the Buckeyes will look to do again – with some bigger goals potentially still on the line – this season.