WEST LAFAYETTE, Ind. – It felt so similar.
A highly ranked Ohio State team fell face-first in a crushing upset loss to a middle-of the-road Big Ten team wearing black uniforms in a mid-season game on the road at night.
Everyone just saw this, right?
Not even a full year after Ohio State's 55-24 debacle in Iowa City last year, it happened again. At Ross-Ade Stadium, just a five-hour drive through the heart of the midwest from Iowa's Kinnick Stadium, the Buckeyes buckled in a 49-20 loss.
Jeff Brohm's Boilermakers held the sixth-best scoring offense in the nation to 20 points despite putting up 546 yards. Ohio State self-inflicted countless wounds that extended Purdue's drives, and the Boilermakers diced up the Buckeyes' defensive backfield. Essentially nothing went swimmingly for the visiting team. Even Dwayne Haskins, who entered the game as one of the Heisman Trophy frontrunners, had his fair share of errant throws.
For the second year in a row, Ohio State lost in embarrassing fashion to a team it was expected to beat by multiple touchdowns. Soon after both upsets, Urban Meyer said he was surprised by the results.
"No I didn't [see the loss coming]," Meyer said after last year's loss to Iowa. "Going through that thought process right now and I did not."
He said more of the same Saturday night.
"I thought we were going to come out here and play our tails off," Meyer said after the loss to Purdue. "And I think we had opportunities to get right back in it, and every time you thought we were going to swing and get back in it, you didn't score in the red zone, you had a turnover or we gave up a big hit."
Even if the results surprised him, Meyer should not be shocked by the areas Purdue exposed, and he should not have been shocked by the facets Iowa took advantage of last season. None of it is, or was, new.
Seemingly every issue that arose in the first half of the season reappeared Saturday night. Again, the Buckeyes didn't solve any of their early season issues.
Last year against Iowa, J.T. Barrett reverted back to his pre-Penn State form and tossed four interceptions, and the wide receivers didn't snag any contested catches. Nate Stanley tore up the defensive backfield and picked apart a shaky linebacker corps with tight ends. Each of those problems had previously surfaced in a way similar to the issues that plagued the Buckeyes on Saturday.
Should it really, truly be surprising that Ohio State committed 10 penalties for 98 yards? Of course not. This is the most penalized team of Meyer's seven-year tenure, with 8.3 yellow flags per game.
"Not very disciplined. I think they're effort penalties. But, just ridiculous," Meyer said in disgust.
The Buckeyes couldn't score in the red zone – again. They reached the red zone four times, not counting their final drive, which resulted in two made field goals, a missed field and a turnover on downs.
Why would that be startling? Last week, Blake Haubeil hit a pair of short field goals, and Ohio State turned the ball over on downs from the 18-yard line. The Buckeyes haven't punched in a red-zone touchdown in two weeks.
"The glaring shortcomings we had, like you said, were exposed," Meyer said. "The number one off the top of my head is the red-zone offense. You go down there a few times: two field goals, one missed field goal. Got to score points. We've never had this issue. We're going to get a real thorough evaluation of that and the big plays on defense."
Following seven games in a row of a decreasing yards-per-carry average, Ohio State finally improved its rushing average to a not-so-great three yards per carry. Mike Weber picked up 45 yards on nine carries and J.K. Dobbins managed just 24 yards on 11 rushes. Opponents have only held the Buckeyes under 100 rushing yards four times in Meyer's tenure, and it happened in each of the past two weeks.
After making Indiana's Peyton Ramsey and Minnesota's Zack Annexstad look good, Ohio State's secondary did little to stop Purdue quarterback David Blough from completing 25-of-43 passes for 378 yards and three touchdowns without an interception.
For a while, it seemed like the Buckeyes wouldn't give up any big plays due to lackluster tackling. That, of course, did not stand. D.J. Knox rushed for a 40-yard touchdown in the fourth quarter, followed by Blough hitting Rondale Moore for a 43-yard touchdown.
"To uphold the standard at Ohio State, all those big plays aren't what we want at all," Jordan Fuller said. "That's definitely been the message. We just couldn't get it done tonight."
Should any of that be confounding – even a little bit? Of course not. The 29-point loss might shock the fanbase, but that factors that led to it shouldn't.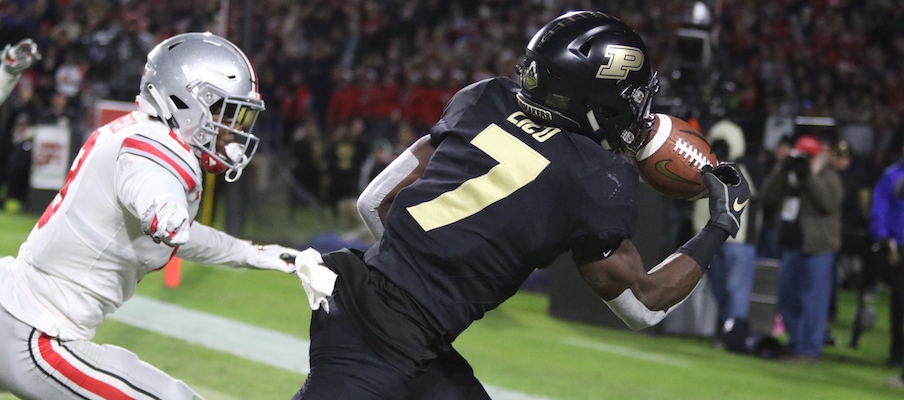 After Haskins threw a pick-six near the end of the fourth quarter, he walked off the field, trudging back to the sideline with an emotionless look on his face.
Tim Hinton immediately grabbed Jeremy Ruckert as he came off the field to discuss what went wrong. Thayer Munford looked around shaking his head. Drue Chrisman paced around, looking at the ground. Greg Schiano talk with Tuf Borland and Fuller in a miniature huddle. Terry McLaurin, sitting on the bench, turned around and began shouting back at Purdue fans in the student section before getting pulled away by his teammates.
Just feet from the Buckeye bench, the Boilermaker students chanted "overrated" again and again, and sang Queen's "We Will Rock You."
"I don't think it's anything you can really describe," Fuller said. "It's just a feeling you never want to experience."
Ohio State has been in this exact position before.
After last season's loss to Iowa, Billy Price stood up in the locker room to address the team. On Saturday, Isaiah Prince took after his former teammate and spoke. Terry McLaurin said Prince had a similar message to Price's speech.
As Haskins said after the game, Ohio State's path to the College Football Playoff remains intact. The Buckeyes thought they still had a chance at the playoff last year, but that proved not to be the case. Though the safety net disintegrated on Saturday, the path remains possible.
"My main message going forward is just we've got to treat this like it's life or death," Terry McLaurin said. "I know we're not in war or anything like that. I would never disrespect what those guys do. But that type of mentality when you're going into battle where somebody's trying to knock you off, if you don't come ready to go, this happens."
Parallels between last year's Iowa game and Saturday night's Purdue game are readily apparent. What matters now is how the Buckeyes respond.
"We've just got to all look in the mirror and see what we could have did better," McLaurin said. "We got hit in the mouth, but it's about how you come back from it."
Ohio State bounced back from last year's upset by crushing Michigan State, beating Michigan on the road, winning the Big Ten championship and beating USC in the Cotton Bowl.
This time, it's not too late to make a playoff run.
But, the Buckeyes need wins against Michigan State and Michigan, along with a Big Ten championship victory. Unless they can fix the multitude of issues that troubled them in the first seven games before tripping them up on Saturday, a playoff berth seems more unlikely than ever before this year.