I dedicate this Skull Session to all the honest dentists. Having one in the rolodex is one of life's most beneficial achievements.
Secondary dedication to the standing desk. I feel like I climbed a mountain yesterday. In the end, better for my body than sitting hunched over my desk all day like that grotesque Notre Dame fan with social anxiety (repetitive, I know).
ICYMI:
Word of the Day: Tetchy.
 OHIO STATE: STILL GOOD AT FOOTBALL. If you're reading a Skull Session in February, you're aware Ohio State knows a thing or two about fielding a football team. 
Still, whenever the numbers are laid out and put in front of you, it's startling to behold.
These last 20 years of Buckeye football have been good, friends. Hopefully you didn't spend it angry in the comments.
From thekeyplay.com (click to enlarge):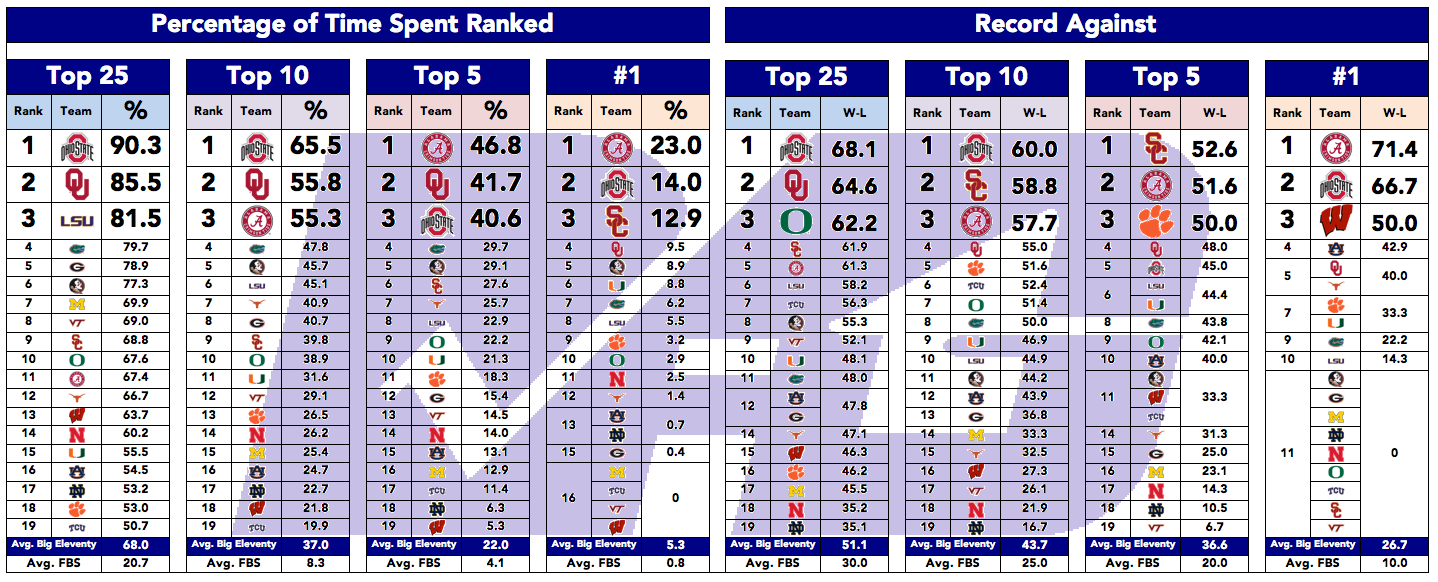 Too bad we gave championship-altering powers to a committee willing to lie to America for higher TV ratings. We could have given it to truly impartial judges like offseason Excel spreadsheets.
This graph also does a great job of illustrating the canyon between Ohio State and Michigan over the past two decades. May it continue that way until the thread of time collapses.
 ANYTHING EASY... Ohio State can wrap up a regular season Big Ten title this month.
However, nothing in the Big Ten is given. (Compare to the rest of the conferences in America, where things are.) The Buckeyes are sitting pretty while staked to a one-game lead over Purdue and Michigan State and possessing the tiebreaker over both teams.
Yet their schedule isn't as easy as their competitors'.
From dispatch.com:
| TEAM | OPPONENTS | AVG. KENPOM OPP. RANK |
| --- | --- | --- |
| OHIO STATE |  at Penn State, at Michigan, Rutgers, at Indiana | 74.3 |
| PURDUE | at Wisconsin, Penn State, at Illinois, Minnesota | 85.3 |
| MICHIGAN STATE | at Minnesota, at Northwestern, Illinois, at Wisconsin | 94.5 |
I'd worry more about the trip to Penn State (Thursday, 8 p.m. on BTN) if the Nittany Lions didn't escape Columbus on a last-second dagger from Tony Carr the last time around. You know Chris Holtmann will have his team ready to even the ledger.
Rutgers may be the trap game, especially if Ohio State needs to dig deep in Ann Arbor for a victory (or suffers a heart-breaking loss). With a trip to Bloomington looming, it wouldn't be the first time in college athletics history that a team overlooked the Scarlet Knights.
 SEVYN ON SNOW. Surviving snow is one of the many things that makes northerners superior to their southern siblings. The specter of snow scares scores of recruits from leaving the south, especially the Sunshine State.
Sevyn Banks, an early enrollee from Orlando, ain't shook about a couple of snowflakes.
He has already learned the importance of layering clothing. Its importance can't be stressed enough.
From theozone.net:
"I've got like four jackets on every day," he said.

For some, the weather can keep them from leaving the South. For others, they realize that they'd just be delaying the inevitable, especially if they have NFL aspirations.

"It really doesn't matter to me," Banks said. "You're going to have to play in it someday."
The winters aren't even bad anymore. This year has been cold, but the snow topped out at about four inches and melts after a day or two. Note my experiences could be biased since I don't deal with morning rush hour (or any rush hour, for that matter).
Still, Columbus offers a good training ground for lake effect winters of Cleveland, where every potential prospect is going to want to play once the road to the 2018 Super Bowl kicks off at this year's draft.
 I'LL HAVE WHAT HE'S HAVING. There is perhaps no bigger fan of Ohio collegiate basketball right now than Andy Katz:
The Power 36 by @TheAndyKatz
1. Xavier 4
2. Cincinnati 2
3. Ohio State 5
4. Virginia 1
5. Michigan State 1
6. Texas Tech 7
7. Rhode Island
8. Purdue 6
9. Villanova 8
10. North Carolina 8

11-36: https://t.co/CNx1U5alZA pic.twitter.com/wyDGrei5aj

— NCAA March Madness (@marchmadness) February 12, 2018
Ohio State being No. 8 in the country and third in Ohio is wild. I hope the Buckeyes can meet the Bearcats and the Musketeers in the tournament. That would settle the debate until next year.
 YEAR 2 OF "TOUCHDOWN" TIM BECK. I didn't know much about Tim Beck when Urban Meyer hired him other than Nebraska fans laughed at the news. 
It's a feeling that's probably starting to wash over the Texas fanbase. Entering Year 2, Texas Tom Herman, who you might not know founded MENSA, the organization for geniuses, isn't ruling out taking over offense play calling duties. 
From burntorangenation.com:
"I'm pressing," Beck said after the Oklahoma State. "I'm sure they are. If I am they are. I'm trying to call the perfect play every time."

[...]

And though Herman declined to rule out taking over play-calling duties — "it's to determined" — he then immediately revealed his candid thoughts (or at least the public party line) on some of the most harsh assessments of Beck's performance last season.

"I think, again, to judge any kind of coach's abilities based on the circumstances that surrounded the offense..." mid thought, Herman paused, looking at the camera directly and speaking pointedly into the microphone.

"We got to get better as coaches. We have to get better as coaches, okay, on that side of the ball."
Herman defending his guy is natural. The proof remains in the play calling flow chart. Beck obviously has his redeeming qualities. It just doesn't look like play calling is one of them.
 THOSE WMDs. A low-level Apple employee leaked the iPhone's most sensitive code... Stewart Resnick's kingdom of dust... Abraham Lincoln's secret visit to the slaves... Welcome to the post-text future... How do you grieve for your work husband, and still prepare the nightly news?