We're often reminded of a popular saying this time of year - "Jimmies and Joes beat Xs and Os." But is it true?

Earlier this week, Urban Meyer and his staff reeled in the best haul of talent ever recorded in the vaunted history of Ohio State football. While analyzing incoming recruits is a relatively recent phenomenon, coming into the mainstream over the past 15 years in a sport with nearly a century-and-a-half of history, the impact of Meyer's recruiting efforts will undoubtedly be felt on the field for years to come.
Of course, just because the public is only now noticing the process doesn't mean a focus on attracting athletes with elite size and ability is new to coaches in Columbus. Woody Hayes famously led the program back to the top of the rankings in 1968 with a heralded class led by John Brockington, Rex Kern, and Jack Tatum while Jim Tressel won a title 34 years later thanks in large part to the infusion of talented freshmen like Maurice Clarett, A.J. Hawk, and Nick Mangold.
Tressel would embrace this aspect of the job throughout his tenure, convincing blue-chip stars like Ted Ginn Jr., Chris "Beanie" Wells, Terrelle Pryor and countless others coveted by every program in the country to wear the scarlet and gray. But his successor, Meyer, has taken recruiting to yet another level, stocking the cupboard with endless depth and positioning the Buckeyes for a run at the College Football Playoff every single season.
To ensure his program maintains their place amongst the nation's elite, Meyer requires each and every member of his staff to excel at this part of their job. "The one thing I've made clear," Meyer said Wednesday, "you can't coach here unless you're a great recruiter." 
But this focus isn't unique to Meyer. Each of the participants in this year's playoff finished with classes in the top-10, as national runner-up Georgia finally knocked Alabama off the top perch in the recruiting rankings, something they couldn't do on the field. 
So if simply convincing five-star talent to attend your school isn't enough to lift the Dr Pepper trophy each January, what else does it take?
Surely, getting that talent to play hard on every snap is a good place to start. But while Meyer reinforces the mantra of "4-to-6, A-to-B" in his players at every opportunity, his competition is doing the same. The first line of the Clemson defensive playbook preaches, "we will have no tourists on defense," while Nick Saban's Alabama playbook goes as far as to classify effort into three elements - Burst, Speed, and Finish - and accuses players of betraying their own team if they don't show all three on every single play.
Against the majority of Power-5 programs, getting players with more talent to play with full effort is enough to win games, almost regardless of the plays being called. But as the talent level continues to rise in places like Los Angeles, State College, Austin, and Auburn, a reliance on maintaining one's edge solely from the talent perspective becomes tenuous at best.
Though many of the biggest schematic advances in the game have emerged from places like Evanston, Illinois, where the talent level was often inferior to the opposition, each of the teams in this year's CFP featured one of the top schematic minds in the game today.
Saban, of course, is one of the greatest defensive minds the game has ever seen, regardless of level. Now, even after six national championships, he continues to push the envelope on that side of the ball, refining his complex coverage schemes that meld man, zone, and pattern-matching techniques into the same play.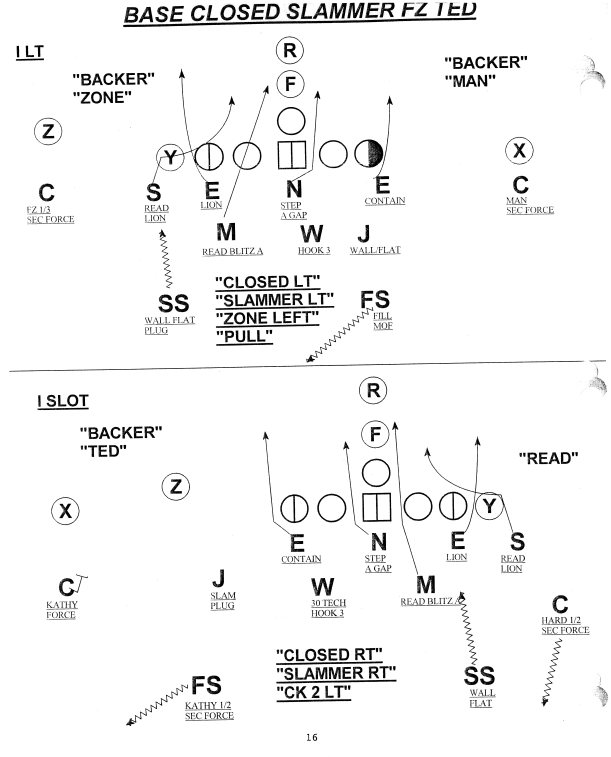 His game plans look to have an answer for every single look his team might see, tailoring the coverage to ensure the Crimson Tide defense is always in the best position to make a play. As seen in this example from his playbook (right), the coverage behind this basic fire zone blitz changes even though all the offense did was line up in a twins look with both receivers to one side. 
Against a balanced formation, the Tide will show a three-deep look with man-coverage to one side. But if one receiver and the tight end trade places, the coverage shifts to a two-deep zone with one side playing a trap technique (called Kathy).
While Saban's only true contemporary on that side of the ball may be Bill Belichick, his former deputy, Kirby Smart, appears to have installed the same system at Georgia. While he'll undoubtedly develop his own flavor for game planning and play-calling over time, Smart's Bulldog defenses should continue to flummox offenses for years to come with him at the helm.
Just up the road in Clemson, Brent Venables just signed a contract extension paying him $2 million annually to continue leading Dabo Swinney's defense, and few Tiger fans are likely complaining. Though he had apprenticed under Bob Stoops at Kansas State and Oklahoma, Venables' system is nearly as complex as Saban's, asTiger defenders may hear any one of 31 different coverages outlined in their coach's playbook before the snap.
Those three have risen to the tops of their profession thanks to their ability to slow down the countless new challenges presented by modern offenses. Yet at the forefront of that side of the ball is none other than Oklahoma head coach Lincoln Riley, who took over for Stoops last year at the ripe old age of 34 thanks to an offense that meshed a one-back power running game with Air Raid passing concepts, often on the same play.
The Buckeyes were able to come away with a victory over Riley and the Sooners in 2016, thanks in large part to their ability to control the line of scrimmage and get to quarterback Baker Mayfield. However, Riley rebounded the following year by adapting his game plan in a way that negated Ohio State's talented defensive line, threatening the seams and alleys with quick run-pass options that left defenders flat-footed.
With the counter-trey run concept already installed, the Sooners were able to add a simple swing pass off jet motion that neutralized Bosa as the optioned defender, leaving Mayfield to make a simple decision based off his movements. Play-calls like this one are a perfect example of the kind of creativity needed to keep up with the top defenses, which the Sooners had no trouble doing last fall as they averaged over 500 yards-per-game against the heralded units of Ohio State, TCU, and Georgia.
Such calls also underscore the subtle difference between creativity and complexity. Kevin Wilson and Ryan Day didn't resuscitate the Ohio State offense by adding countless more pages to the playbook. In fact, they appeared to actually simplify the game plan each week, running a handful of concepts from many different formations, especially in the passing game.
One such example came in the Cotton Bowl against USC as Wilson and Day disguised one of their favorite downfield passing concepts, Bubble Y-Over (a.k.a. Saints). As described by Day's former boss, Chip Kelly, the bubble route is crucial to setting up the play's first read - a high/low stretch against the cornerback to that side.
However, with a full season's worth of film now available for future opponents to scout, the play-calling duo must look for ways to stay fresh and keep defenses from anticipating what's to come. With two additional weeks to prepare, USC was ready for the Buckeye offense, holding them to a season-low 277 yards as wrinkles like the one above were in short supply and led Trojan linebacker Cameron Smith to note after the game, "for the most part, I think they did a lot of what we saw on film."
When there are few limitations on a program due to the talent and resources at hand, such as is the case with Ohio State, it can be easy to lose the edge and desire to innovate and find new ways to be creative. But although Meyer made his name as one of the game's original spread innovators, his offenses seem to have lost the 'underdog mentality' that played a major part in the development of his spread-to-run system nearly two decades ago.
Perhaps giving the open assistant coaching spot vacated by Kerry Coombs to another creative offensive mind may help in this regard, as opposed to hiring a third person to mentor defensive backs with Alex Grinch already in the fold. This doesn't mean hiring an additional play-caller, but simply someone previously exposed to innovative ideas and able to recommend when and where to insert new wrinkles. But adding yet another young, hungry recruiter won't be enough to push Ohio State past their toughest competition.
While the collection and development of superior talent may be enough to win one's own division, it's certainly not the only thing it takes to lift the big trophy come mid-January. Saban and Venables have proven capable of staying ahead of the schematic curve over time, while Smart and Riley certainly appear poised to do the same in the near term. It's now up to Meyer to decide if he and his staff will follow suit.