Even though Ohio State isn't playing football right now, professional teams, high school teams and even one college team in the state are playing football this fall.
Until the Buckeyes return to the field, we'll be keeping up with what all the actually-playing football teams around the state are doing with This Week in Ohio Football, a new feature here at Eleven Warriors, recapping the week that was and looking to the week ahead for the Cleveland Browns, Cincinnati Bengals, Cincinnati Bearcats and the state's top high school teams.
As the NFL season kicks off this weekend, we start by previewing the season openers for the Buckeye State's two pro teams, as the Joe Burrow era begins in Cincinnati while the Browns look to end the league's longest playoff drought.
Burrow set for Bengals debut
There's more excitement for Bengals football in Cincinnati entering this season than there has been in years, and that's all because of their No. 1 overall pick Joe Burrow, who will start his first NFL game on Sunday eight months to the day after he led LSU to a national championship.
After growing up in Athens, Ohio and winning the state's Mr. Football award in 2014, Burrow never got the chance to start a game in his three years at Ohio State. Yet Burrow remained a beloved son in his home state even after he transferred from the Buckeyes to the Bayou, and now, he's the undisputed franchise quarterback in Cincinnati.
He begins his NFL career in challenging circumstances – because there was no preseason this year, Sunday afternoon's home game against the Los Angeles Chargers (4:05 p.m., CBS) will be his first NFL game action of any kind – but his teammates and coaches have expressed confidence that he'll be ready for the task at hand.
"How he approaches the huddle, how he comes into the huddle, he doesn't come in like a rookie," Bengals wide receiver Auden Tate said, according to ESPN. "He comes in almost like a vet, like he's been there before."
Burrow is joined by four of his former Ohio State teammates on the Bengals' roster, and three of them are also expected to be in the starting lineup for Sunday's season opener: Michael Jordan is the starting left guard, Sam Hubbard is a starting defensive end and Vonn Bell is a starting safety on the team's Week 1 depth chart. Billy Price is the Bengals' backup center, while they also added another former Buckeye who transferred for the end of his college career – Keandre Jones – to their practice squad on Tuesday.
After the Bengals won just two games in 2019, few are expecting them to be an actual contender in 2020 – they're tied for the second-longest odds to win the Super Bowl this year, per Bovada – but after years of mediocrity fizzled into complete inferiority with Andy Dalton, Burrow gives Bengals fans legitimate reason to be excited for the future, and Sunday will be their first opportunity to finally see No. 9 take the field.
Browns begin season in Baltimore
At this time last year, the Browns were the Ohio NFL team that entered the season on a hype train. After a promising stretch run in 2018 in which the Browns won five of their last seven games, followed by an offseason in which they made numerous high-profile roster additions including Odell Beckham Jr., there were plenty of believers that 2019 would finally be the year Cleveland made it back to the playoffs for the first time since 2002.
However, that hype train veered off the tracks almost as soon as it left the station, as the Browns were blown out 43-13 in their season opener against the Tennessee Titans and went on to lose six of their first eight games. Baker Mayfield hit a sophomore slump after a promising rookie season, and Freddie Kitchens was fired after just one season as head coach in which the Browns finished with a 6-10 record.
Now, after hitting the reset button once again and bringing in Kevin Stefanski as their new head coach, the Browns will look to get their season off to a better start this year when they play the Baltimore Ravens on the road at 1 p.m. Sunday (CBS).
That's a tough test to start the season, as it means a matchup against reigning league MVP Lamar Jackson and the team that has the second-shortest odds to win the Super Bowl. The Ravens are favored to win by more than a touchdown. But the Browns had perhaps their best win of last season when they earned a 40-25 victory over the Ravens in Baltimore last year, and they're certainly motivated to get this season off on the right foot after last year turned out to be such a disappointment.
Any Browns fan who has suffered through the last 17 years should know better than to get their hopes up too high entering this season, but they aren't short on talent – Beckham, Jarvis Landry, Nick Chubb, Kareem Hunt and Austin Hooper give them plenty of weapons on offense, while Myles Garrett and Denzel Ward give them two young stars on defense – and if they can avoid the misfortune that always seems to come their way, a push for the postseason isn't unrealistic.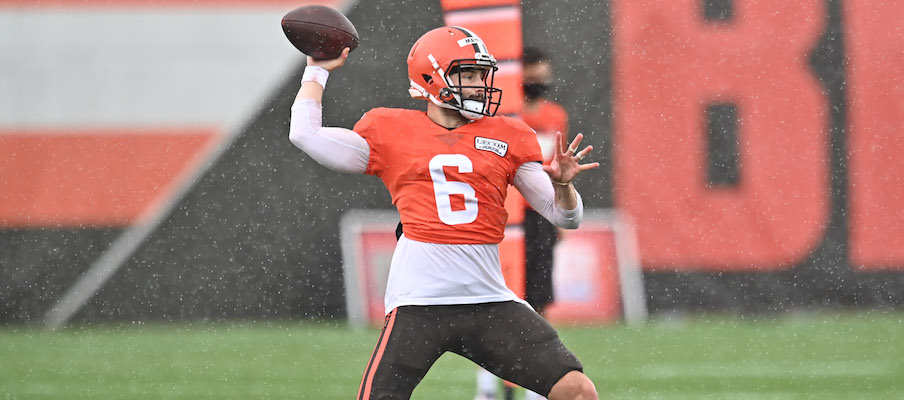 Bearcats ramping up toward first game
This might be the one stings the most for Buckeye fans: While Ohio State is sidelined by the Big Ten's decision to postpone fall sports, the school less than two hours south on I-71 is set to play its season opener in just 10 days, as Austin Peay – which already played Central Arkansas in the FCS Kickoff game and will play at Pittsburgh this Saturday – will head to Nippert Stadium to wrap up its three-game fall slate and play Cincinnati on Sept. 19.
As crazy as it seems that the Bearcats are playing and the Buckeyes aren't, Cincinnati would be a logical option for Ohio State fans who are looking to adopt a college football team to root for this fall. Head coach Luke Fickell and defensive coordinator Marcus Freeman are both former Buckeyes, and the Bearcats are the only Football Bowl Subdivision team in Ohio scheduled to play games this fall after the MAC also postponed its fall sports season.
While Fickell's nerves are starting to ramp up as the start of what will certainly be an unusual season approaches, he's thrilled to be able to feel those emotions right now.
"It kind of gave me a little burn in my stomach," Fickell said last week after watching Austin Peay's season opener, according to Keith Jenkins of the Enquirer. "I needed some anxiety for something to get ready for. Some of the things they did gave me some anxiety. I feel like I'm in a lot better place when I've got that."
After an 11-3 2019 season that recently earned Fickell a big raise – Freeman just got a new contract of his own earlier this week – Cincinnati is expected to be one of the top non-Power 5 teams playing this fall. With the Big Ten and Pac-12 out of the equation, the Bearcats have even shown up in some preseason College Football Playoff projections, as the door could finally be open for a Group of 5 team to make the four-team field.
We'll get our first look at this year's Bearcats two Saturdays from now in a noon game that is scheduled to be televised on ESPN.
Hoban, Pick Central, St. X earn statement wins
At the high school level, the most eye-popping score from Week 2 of high school football action came in Northeast Ohio, where Archbishop Hoban dominated St. Edward – who had been ranked as the No. 2 team in Northeast Ohio by cleveland.com – in a 35-0 rout. By handing St. Edward its first shutout loss since 2009, Hoban – whose roster includes several future FBS players such as Wisconsin defensive end commit Darryl Peterson, Mike Doss' younger brother A.J. Kirk and Dustin Fox's nephew Brayden Fox – made a strong case for potentially being the state's best team this year.
In Central Ohio, another team who's certainly making that case for itself is reigning Division I state champion Pickerington Central, who followed up its season-opening 35-9 win over Pickerington North with a 49-0 display of dominance at Newark. Another team that's loaded with Division I talent – including Notre Dame wide receiver commit Lorenzo Styles Jr. and recent Ohio State offer Sonny Styles, both sons of former Buckeye linebacker Lorenzo Styles – the Tigers are currently ranked as the No. 1 team in the state by MaxPreps.
Down in Southwest Ohio, another team that made a statement this past weekend was St. Xavier, who bounced back from its season-opening loss against Brownsburg (Indiana) to earn a 24-10 win over La Salle – who was ranked as the state's top team by MaxPreps after Week 1 – in a clash of two Cincinnati powers. The Bombers held La Salle's star running back Gi'Bran Payne, an Ohio State target, to just eight rushing yards on eight carries (though he did have four catches for 99 yards) to limit the Lancers' offense.
Despite the loss, La Salle is still ranked by MaxPreps as the No. 2 high school team in the state, two spots ahead of St. X. In between them is Mentor, who improved to 2-0 with a 27-12 win over Euclid on Friday and are now set to face St. Edward – who will certainly be looking to bounce back in a big way – at home this Friday.