The Eleven Warriors staff was out in full force on Friday night, covering Ohio State prospects across the state.
Our team was able to get out and hit up:
Northeast Ohio, as Colin Hass-Hill got to see Streetsboro's Mike Hall – the No. 54 overall player, No. 4 defensive tackle and No. 3 player in Ohio's 2021 class – lay the wood down on Field High School.
Kettering, Ohio, as Dan Hope checked up on both 2022 commit C.J. Hicks – ranked No. 71 overall, No. 3 at outside linebacker and No. 2 in Ohio – who seems to keep climbing the rankings each week and Derrick Shepard – No. 198 overall, No. 14 at defensive tackle and No. 8 in Ohio's 2022 cycle – who recently reached four-star status.
Southwest Ohio, as I got out of the house to make my way over to Cincinnati to see La Salle's Jaylen Johnson – No. 354 overall, No. 24 safety, No. 11 in Ohio's 2021 class – and Gi'Bran Payne – No. 162 overall, No. 17 at running back and No. 6 in Ohio in the 2022 cycle – square up with rival St. Xavier.
Just as we did last week, will have more from these prospects throughout the next few days, and we will be covering Buckeye commits and targets throughout the season, so be on the lookout.
Mike Hall
MOGADORE – Hall, a two-way player for Streetsboro, noticed a linebacker blitzing, took a quick jab step to the left and knocked the poor soul from Field High School off of his axel, sending him spinning into the grass. As Hall – playing right tackle – adjusted his helmet mid-play due to the collision, his quarterback loaded up for a deep incompletion down the sideline. But a second after releasing the ball, he got drilled by a Field defensive end for an egregious late hit penalty, careening into his unexpecting running back's legs.
Quickly turning around, Hall grabbed the offender and pulled him off to the side. As he leaned his right hand down to help his quarterback stand up after getting rocked, Hall turned his attention to the defensive end. He walked him down, standing facemask to facemask as he let his thoughts be known.
"It was just a crazy feeling because, you know, you've got to treat your quarterback like your mom," Hall said. "You would never want anybody to hit your mom. So I treat my quarterback like my mother. I would never let anybody do nothing. You've just got to treat it as that. You've just got to take that leadership."
Those 16 seconds – the pancake, the pull-off and the jawing – personified Hall's performance on Friday. He was physically unstoppable while serving as both the vocal presence and a leader by example for his team in a 35-0 victory, which improved its record to 2-0 on the season. Except for a less-than-three-minute stretch when he battled a charley horse in his leg, Hall played every single snap on both sides of the ball.
Hall's future as a Buckeye will come as a defensive tackle. Yet versus an overmatched Field team – which plays Ohio high school football in Division-IV – with nobody who could handle the 6-foot-3, 290-pounder, Hall showed why he had Division-I teams such as Iowa State who wanted him to play offensive line for them, too.
Moving around between nose tackle, 3-technique and defensive end, Hall shut down everything that came his way, picking up several tackles for loss and a sack. At right tackle, he either neared or reached double-digit pancakes (hand up, I wasn't writing that count down).
Oh, and the coaches subbed him in with a 21-0 lead and one second left in the first half, lined him up at fullback and called for him to take a handoff.
THE FRIDGE https://t.co/qtEbFu03r7

— (@MichaelHallJr_) September 5, 2020
Naturally, he plunged into the end zone for six points.
"I played great, definitely," Hall said. "Even my coach said I just played with effort. It was just crazy. It was better than anything he's seen before, so it was definitely a great compliment."
–Colin Hass-Hill
C.J. Hicks, Derrick Shepard
KETTERING – Hicks showed his athleticism and playmaking ability in all three phases of the game on Friday night. 
On defense, where Hicks is a mainstay for Archbishop Alter, the junior Ohio State linebacker commit made multiple big plays including a first-quarter sack and a second-quarter fumble recovery.
C.J. Hicks, in the right place at the right time, recovers a fumble early in the second quarter. Also had a sack in the first quarter. pic.twitter.com/SJ04ZrdEqV

— Dan Hope (@Dan_Hope) September 4, 2020
On offense, Hicks began the game rotating in at wide receiver but took over at running back for the Knights in the second half after Branden McDonald – who has his own Division I offers from several MAC schools – left the game with an injury. Hicks used his explosive speed and shiftiness to make several highlight-reel plays in that role, including one run on which he hopped over the line of scrimmage and then spun through another defender to break multiple tackles en route to a gain of over 15 yards.
Hop and a spin by C.J. Hicks to break a few tackles on this run. pic.twitter.com/cqjcWLd6uc

— Dan Hope (@Dan_Hope) September 5, 2020
Hicks also returns kickoffs and punts for Alter. He made one costly mistake in the return game when he lost a fumble late in the first half after taking a big hit around the 20-yard line, but he helped his defense get off the field without surrendering any points following the turnover.
Despite Hicks' efforts, Alter suffered a 14-12 loss to Badin, in large part because the Knights couldn't generate much passing offense. Hicks couldn't hide his disappointment after the game, but said he believes his team – which also suffered a 42-32 loss to Clinton-Massie in Week 1 – is improving despite the defeat.
"The first half of the first game, we didn't really play that good. The way we played the second half and the way we played this game was way, way better," Hicks told Eleven Warriors. "If you watch the film, you can tell that we made a whole lot of mental mistakes the first game. This game we played smart, we still came out with the L, but we'll bounce back next week."
Shepard only played occasional snaps on defense against Badin, as he played every snap on offense – mostly at right tackle, though he occasionally shifted over to left tackle – so there wasn't much opportunity to evaluate him as a defensive tackle on Friday. The 6-foot-3, 295-pounder's power and athleticism was evident at offensive tackle, though, as he did a nice job opening holes for Hicks and others in the run game.
Derrick Shepard (50) at right tackle opens the hole for a long run by C.J. Hicks. pic.twitter.com/sG0ySVxuA9

— Dan Hope (@Dan_Hope) September 5, 2020
This is the first year Shepard has played regularly on offense, so he's been spending most of his time practicing on the offensive line, which he believes has made him a better player even though he expects his college future to be on defense.
"They always tell me that you really don't need to practice defense, you play defense, but you need to practice offense," said Shepard, who does not yet have an offer from Ohio State but said he has talked to Buckeye coaches every day since Tuesday, the first day coaches were allowed to directly contact juniors. "It's definitely helping me understand, because I pick up stuff from my teammates, so it just helps me while on the defensive end, I know what the offensive guard, offensive tackle wants to do before he's going to do it."
–Dan Hope
Jaylen Johnson, Gi'Bran Payne
CINCINNATI – Originally, I went to Friday night's La Salle-St. Xavier game for the classic killing three birds with one stone type of deal. But three-star cornerback Devonta Smith – who was committed to Ohio State for more than three months before flipping to Alabama in late June – was handed a two-game suspension after being ejected from the Lancers' season-opening double-overtime win over Elder last Friday.
So this ended up being a two-for-one deal, but Smith's absence on the field was noticeable. (He still stayed engaged on the sidelines, getting as close to the action as he could and getting into the huddle during each timeout.)
The Lancers got burned on pass plays a few times, especially when they ran zone coverage with St. Xavier head coach Steve Specht countering with zone beaters. 
La Salle fell behind 17-3 midway through the third quarter when Liam Clifford – a three-star Penn State athlete/receiver commit – beat the Lancers' linebackers in coverage, forcing the safety Johnson over to help, and Clifford snagged a low pass before breaking a Johnson arm tackle and spinning around to head for the pylon. 
Exactly two minutes later, however, Payne got Johnson's back, streaking down the middle of the field and hauling in a wide-open pass before sprinting to the end zone for a 32-yard touchdown, outracing a group of St. Xavier defenders with his helmet nearly popping off and his chin strap in his mouth.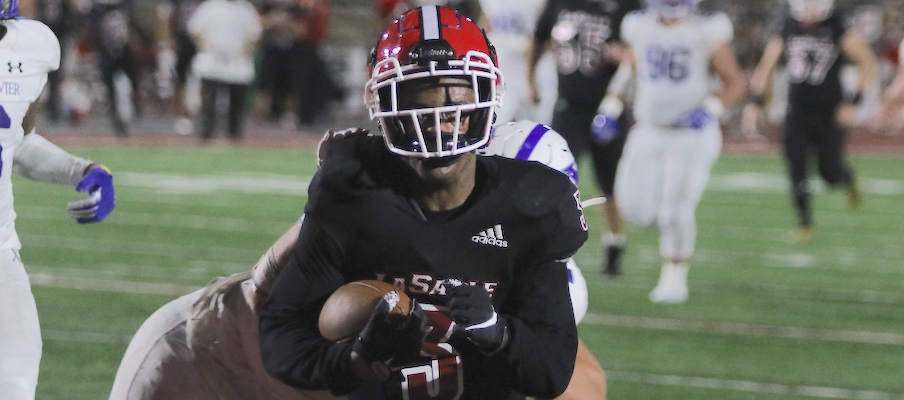 That was part of a four-catch, 99-yard effort for Payne, who spent most of the game lined up as a slot receiver before he either went out for a route or went in motion into the backfield. Minutes later, that play had a drunk beer-on-his-breath St. Xavier fan telling yours truly, "That No. 3 kid is incredible. Absolutely amazing. You know he's like No. 10 in the country, right?"
Not quite ... but it was nice to have drunk fans back.
That was La Salle's last score of the night, however, as St. Xavier responded with a 67-yard catch-and-run touchdown to start the fourth quarter en route to a 24-10 win and kept Payne (eight carries, eight yards) bottled up in the run game all night.
Except for a missed tackle early in the game, Johnson was great in run coverage throughout the night, including a couple nice open-field tackles while leading La Salle in solo tackles (six).
Johnson racks up a tackle to close out the 3Q. La Salle trails 17-10 pic.twitter.com/SvKDNvryAV

— Zack Carpenter (@Zack_Carp) September 5, 2020
Though he did let a pair of receivers get behind him in pass coverage – one would have been a 40-plus-yard completion but the ball was overthrown, and on the other he read the quarterback's eyes and ran to the flat, which left a receiver open deep but the quarterback didn't throw his way – Johnson did not allow any of Clifford's catches (six receptions, 55 yards, one touchdown) when he manned up on him, and he added one pass breakup. 
"It wasn't (my coverage)," Johnson said of Clifford's touchdown catch. "It was supposed to be a linebacker. The only time I had coverage on Liam is when we went man, and obviously when we went man, Liam didn't catch a ball."
–Zack Carpenter
Other highlights
A quick rundown of the other Ohio State commits who played on Friday night:
Ohio State Commits' Results for Sept. 4, 2020

| Player (Class) | Team | Opponent | Result (Record) |
| --- | --- | --- | --- |
| WR JAYDEN BALLARD (2021) | MASSILLON WASHINGTON | BISHOP SYCAMORE | W, 35-0 (1-1) |
| LB REID CARRICO (2021) | IRONTON | GALLIA ACADEMY | W, 55-7 (2-0) |
| DT MIKE HALL (2021) | STREETSBORO | @ FIELD | W, 35-0 (2-0) |
| S JAYLEN JOHNSON (2021) | LA SALLE | ST. XAVIER | L, 24-10 (1-1) |
| OG BEN CHRISTMAN (2021) | REVERE | AURORA | L, 12-7 (0-1) |
| CB JYAIRE BROWN (2022) | LAKOTA WEST | HAMILTON | W, 40-13 (2-0) |
| OT TEGRA TSHABOLA (2022) | LAKOTA WEST | HAMILTON | W, 40-13 (2-0) |
| LB GABE POWERS (2022) | MARYSVILLE | HILLIARD DARBY | L, 31-28 (1-1) |
| LB C.J. HICKS (2022) | ARCHBISHOP ALTER | BADIN | L, 14-12 (0-2) |
| TE BENNETT CHRISTIAN (2022) | ALLATOONA (GA.) | HARRISON | W, 27-17 (1-0) |