NEW YORK – When Ohio State played TCU at AT&T Stadium in Arlington, Texas, on Sept. 15, 2018, one of the loudest cheers of the night from the tens of thousands of Buckeye fans in attendance came before the game they were attending even started.
With the end of that day's LSU-Auburn game playing on the massive jumbotron inside "Jerry World," Buckeye Nation roared as LSU kicker Cole Tracy drilled a 42-yard game-winning field goal as time expired. Those roars grew even louder as CBS' broadcast of the game cut to a shot of the reason Ohio State fans were cheering for LSU: Joe Burrow, who was in his first season with the Bayou Bengals at the time after leaving Ohio State as a graduate transfer.
Ohio State fans cheer as Cole Tracy hits the game-winning kick to clinch a 22-21 win for Joe Burrow and LSU. pic.twitter.com/orSSdvzoOf

— Dan Hope (@Dan_Hope) September 15, 2018
Block O, Ohio State's official student section, paid a tribute of its own to Burrow one week later. During the Buckeyes' home game against Tulane, the students held up gold cards that spelled out "Eaux" – an homage to LSU inspired by the former Ohio State quarterback – in place of the traditional "O" during a Stadium O-H-I-O chant.
EAUX-H-I-O chants throughout Ohio Stadium. pic.twitter.com/rUdcNTPeLh

— Colin Hass-Hill (@chasshill) September 22, 2018
More than one year later, and likely just one day away from becoming the second Heisman Trophy winner in LSU history, seeing those videos still resonates with Burrow.
"It's meant the world to me," Burrow said Friday about the support he has continued to receive from Ohio State fans since his transfer to LSU. "When I saw the video when we played Auburn last year, when they were playing TCU and the fans were going crazy and then the Block O 'Eaux,' that's super special to me because Ohio State has a special place in my heart and I stay in contact with a lot of coaches and a lot of players there. So that means so much to me and my family."
Even this year, as Burrow has emerged as the best player in college football while leading LSU to the No. 1 seed in the College Football Playoff – taking that seed away from Ohio State, and setting up a potential matchup with his former school if both teams make it to the national championship game – he's continued to receive plenty of support from Columbus, both from Ohio State fans who still cheer for the Athens, Ohio product and from the Buckeyes themselves, including fellow Heisman finalist Chase Young, who was teammates with Burrow at Ohio State for one year.
"We always watch Joe. Because we still feel like he's a part of us too," said Young, who also said he is hoping for a matchup with LSU in the national championship game, "God willing."
Burrow's decision to transfer to LSU in the summer of 2018 was met with nearly universal support from Ohio State coaches, players and fans, who could easily understand why he made the decision he did. After Dwayne Haskins pulled ahead in the competition to be Ohio State's starting quarterback last season, Burrow faced the possibility of never starting a game for the Buckeyes, and realized it was in his best interest to transfer after graduating that spring – even though he said that spring that "it would be pretty devastating" if he had to leave.
In a season that has gone as well as anyone could have possibly imagined for Burrow and LSU, he certainly doesn't regret that decision now, but he also hasn't forgotten how hard it was for him to leave Ohio State at the time.
"It was a really tough decision for me because I have so much love for that place and so much love for those coaches and players that I stay in contact with," Burrow said. "So that was a gut-wrenching decision for me, and one that I'm glad that I made, but it was really tough for me and my family."
Burrow's still proud to call himself an Ohio State graduate, especially with the love the Buckeyes and their fans are still showing for him.
"Honestly, I didn't know how it would be taken," Burrow said regarding his decision to leave Ohio State. "But I think everyone understood why I left. And I got my degree, so I'm a Buckeye for life. And having that support means so much to me, and I just want to voice that."
"Ohio State has a special place in my heart."– LSU quarterback Joe Burrow
Burrow's development into the Heisman frontrunner and a potential No. 1 overall pick in the 2020 NFL draft have been attributed partially to LSU's first-year passing game coordinator, Joe Brady, who reinvented the Tigers' offense into one in which Burrow has absolutely thrived this season, completing 77.9 percent of his passing attempts for 4,715 yards and 48 touchdowns with only six interceptions.
That said, Burrow was also coached for more than a year by Ohio State head coach Ryan Day – back when Day was the Buckeyes' quarterbacks coach – and he credits Day with helping him become the quarterback he is today, too.
"One of the first things that I said to you guys when I met Coach Day is he was an expert at the quarterback position," said Burrow, who also said Day and Brady are "very similar" as coaches. "I still use a lot of the tools that he gave me today, and he's a great coach. I couldn't be happier for he's having the success that he's having."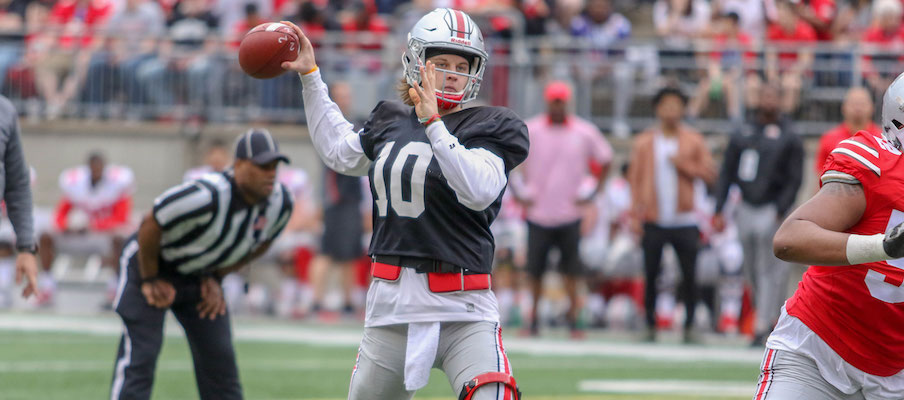 That happiness has been reciprocated by Day, who has offered nothing but praise of his former quarterback when he has been asked about Burrow on several occasions this year.
"Proud is definitely a word," Day said of Burrow during a November press conference. "Really happy for him, seeing the way he's playing and competing. He's a tremendous competitor."
Including Burrow, three quarterbacks who have been coached by Day at Ohio State have now been Heisman finalists in the past two years, as Haskins was a Heisman finalist last year and Justin Fields is in New York this year along with Burrow, Young and Oklahoma quarterback Jalen Hurts.
Young, who isn't surprised by Burrow's success, considers that to be "testimony to Ohio State."
"That's where he was, I think, built from," Young said.