As another NFL season gets set to kick off this week, Across the Shield is back to serve as your weekly Monday morning roundup of how former Ohio State players are performing around the league.
Typically, this article will focus on what happened in the previous weekend of games, highlighting the top performances and plays you need to see by Buckeyes in the NFL from Sunday (and Thursday night when applicable) action. Without a preseason of buildup to the 2020 season, though, we kick off this season of Across the Shield by looking ahead to Week 1 and previewing some of the opening-week games that might interest you most if you bleed scarlet and gray.
Deep rookie class set for debuts
As many as nine members of Ohio State's 2019 football team could be on the field on Sunday as this year's class of NFL rookies see their first game action as professional football players.
Chase Young will make his NFL debut at 1 p.m. Sunday when the Washington Football Team – whose passing offense is also full of Buckeyes in starting quarterback Dwayne Haskins, star receiver Terry McLaurin and tight end Marcus Baugh – host the Philadelphia Eagles in a divisional rivalry game.
Jeff Okudah and Jonah Jackson are both expected to be in the starting lineup for the Detroit Lions when they host the Chicago Bears, which could mean matchups between Okudah and former Ohio State wide receiver Ted Ginn Jr., in a season-opening division rivalry game of their own at 1 p.m. Sunday.
Damon Arnette – who is nursing a thumb injury, though that won't stop him from playing if last year at Ohio State was any indication – could face some one-on-one battles with former Buckeye receiver Curtis Samuel in his NFL debut, as the Raiders are set to travel to Carolina to play the Panthers in a 1 p.m. contest.
J.K. Dobbins and Malik Harrison will face off against the Cleveland Browns in their first NFL games as the Baltimore Ravens host their divisional foes in another 1 p.m. game Sunday. DaVon Hamilton and the Jacksonville Jaguars play host to the Indianapolis Colts in their 1 p.m. Sunday season opener.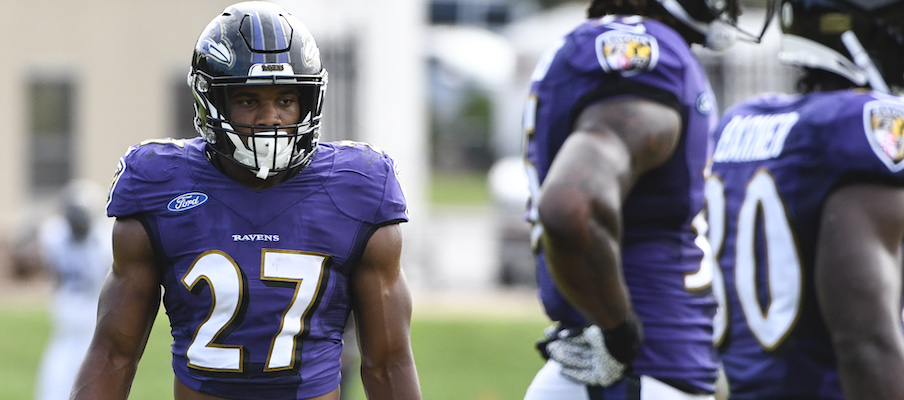 K.J. Hill and the Los Angeles Chargers will face off against five of his former teammates – including fellow rookie Joe Burrow, who started his career throwing passes to Hill at Ohio State before transferring to LSU, in addition to Vonn Bell, Sam Hubbard, Michael Jordan and Billy Price – as they head to Cincinnati to play the Bengals at 4:05 p.m. Sunday.
Jordan Fuller and the Los Angeles Rams will begin their season in primetime as they take on Ezekiel Elliott, Noah Brown and the Dallas Cowboys on Sunday Night Football (8:20 p.m., NBC).
Roby, Conley open season against reigning champs
Former Ohio State cornerbacks Bradley Roby and Gareon Conley will be the first Buckeyes in the NFL to see game action this year when the Houston Texans face the Super Bowl champion Kansas City Chiefs (Zack Carpenter insisted I introduce them this way), who don't have any Buckeyes on their season-opening roster, at 8:20 p.m. Thursday on NBC.
Considering the performance Patrick Mahomes had against their defense last year in the playoffs, when he threw for 316 yards and five touchdowns to lead the Chiefs back from a 24-0 deficit to a 51-31 victory, Roby and Conley and their teammates will surely have revenge on their minds as they look for a more respectable showing against the star quarterback. (Update: Conley was placed on injured reserve by the Texans on Monday, so he'll miss at least the first three weeks of the season and will not play Thursday.)
The final Buckeyes to take the field in Week 1 will be Cam Heyward, Nate Ebner, Dre'Mont Jones and Nick Vannett, as each of their teams are set to play on Monday Night Football as part of the league's annual season-opening Monday night doubleheader. Ebner's Giants are hosting Heyward's Steelers in a 7:15 p.m. game that will be called on ESPN by the college football commentating tandem of Chris Fowler and former Ohio State quarterback Kirk Herbstreit, while Jones, Vannett and the Denver Broncos will host Mike Vrabel's Tennessee Titans in a 10:10 p.m. nightcap.
At Least One Buckeye in 15 Games
Of the 16 games scheduled for the NFL's opening weekend, the Buffalo Bills' game against the New York Jets is the only one between teams that don't currently have any former Ohio State players on their rosters.
Going into the first week of the season, 26 of the league's 32 teams have at least one former Ohio State player on their rosters. The only exceptions, in addition to the Bills, Jets and Chiefs, are the Titans, Arizona Cardinals and Tampa Bay Buccaneers.
The full list of 50 players who finished their college careers at Ohio State and are on NFL teams' active rosters entering the opening week of the season, and who they're playing and when in Week 1, can be found in the table below.
Buckeyes on Current NFL Rosters

| Player | Pos | Team | Week 1 Schedule |
| --- | --- | --- | --- |
| NICK BOSA | DE | 49ERS | vs. CARDINALS, 4:25 p.m. (FOX) |
| TED GINN JR. | WR | BEARS | at LIONS, 1 p.m. (FOX) |
| VONN BELL | S | BENGALS | vs. CHARGERS, 4:05 p.m. (CBS) |
| SAM HUBBARD | DE | BENGALS | vs. CHARGERS, 4:05 p.m. (CBS) |
| MICHAEL JORDAN | OG | BENGALS | vs. CHARGERS, 4:05 p.m. (CBS) |
| BILLY PRICE | C | BENGALS | vs. CHARGERS, 4:05 p.m. (CBS) |
| DRE'MONT JONES | DE | BRONCOS | vs. TITANS, 10:10 p.m. Monday (ESPN) |
| NICK VANNETT | TE | BRONCOS | vs. TITANS, 10:10 p.m. Monday (ESPN) |
| DENZEL WARD | CB | BROWNS | at RAVENS, 1 p.m. (CBS) |
| JOEY BOSA | DE | CHARGERS | at BENGALS, 4:05 p.m. (CBS) |
| K.J. HILL | WR | CHARGERS | at BENGALS, 4:05 p.m. (CBS) |
| PARRIS CAMPBELL | WR | COLTS | at JAGUARS, 1 p.m. (CBS) |
| MALIK HOOKER | S | COLTS | at JAGUARS, 1 p.m. (CBS) |
| TYQUAN LEWIS | DE | COLTS | at JAGUARS, 1 p.m. (CBS) |
| NOAH BROWN | WR | COWBOYS | at RAMS, 8:20 p.m. (NBC) |
| EZEKIEL ELLIOTT | RB | COWBOYS | at RAMS, 8:20 p.m. (NBC) |
| JEROME BAKER | LB | DOLPHINS | at PATRIOTS, 1 p.m. (CBS) |
| CAMERON JOHNSTON | P | EAGLES | at WASHINGTON, 1 p.m. (FOX) |
| KENDALL SHEFFIELD | CB | FALCONS | vs. SEAHAWKS, 1 p.m. (FOX) |
| NATE EBNER | S | GIANTS | vs. STEELERS, 7:15 p.m. Monday (ESPN) |
| DAVON HAMILTON | DT | JAGUARS | vs. COLTS, 1 p.m. (CBS) |
| ANDREW NORWELL | OG | JAGUARS | vs. COLTS, 1 p.m. (CBS) |
| TAYLOR DECKER | OT | LIONS | vs. BEARS, 1 p.m. (FOX) |
| JONAH JACKSON | OG | LIONS | vs. BEARS, 1 p.m. (FOX) |
| JEFF OKUDAH | CB | LIONS | vs. BEARS, 1 p.m. (FOX) |
| COREY LINSLEY | C | PACKERS | at VIKINGS, 1 p.m. (FOX) |
| ELI APPLE | CB | PANTHERS | vs. RAIDERS, 1 p.m. (CBS) |
| CURTIS SAMUEL | WR | PANTHERS | vs. RAIDERS, 1 p.m. (CBS) |
| JOHN SIMON | DE | PATRIOTS | vs. DOLPHINS, 1 p.m. (CBS) |
| DAMON ARNETTE | CB | RAIDERS | at PANTHERS, 1 p.m. (CBS) |
| JOHNATHAN HANKINS | DT | RAIDERS | at PANTHERS, 1 p.m. (CBS) |
| RAEKWON MCMILLAN | LB | RAIDERS | at PANTHERS, 1 p.m. (CBS) |
| JORDAN FULLER | S | RAMS | vs. COWBOYS, 8:20 p.m. (NBC) |
| JAKE MCQUAIDE | LS | RAMS | vs. COWBOYS, 8:20 p.m. (NBC) |
| J.K. DOBBINS | RB | RAVENS | vs. BROWNS, 1 p.m. (CBS) |
| MALIK HARRISON | LB | RAVENS | vs. BROWNS, 1 p.m. (CBS) |
| MALCOLM JENKINS | S | SAINTS | vs. BUCCANEERS, 4:25 p.m. (FOX) |
| MARSHON LATTIMORE | CB | SAINTS | vs. BUCCANEERS, 4:25 p.m. (FOX) |
| MICHAEL THOMAS | WR | SAINTS | vs. BUCCANEERS, 4:25 p.m. (FOX) |
| CARLOS HYDE | RB | SEAHAWKS | at FALCONS, 1 p.m. (FOX) |
| JAMARCO JONES | OL | SEAHAWKS | at FALCONS, 1 p.m. (FOX) |
| CAM HEYWARD | DE | STEELERS | at GIANTS, 7:15 p.m. Monday (ESPN) |
| GAREON CONLEY | CB | TEXANS | at CHIEFS, 8:20 p.m. Thursday (NBC) |
| BRADLEY ROBY | CB | TEXANS | at CHIEFS, 8:20 p.m. Thursday (NBC) |
| PAT ELFLEIN | OG | VIKINGS | vs. PACKERS, 1 p.m. (FOX) |
| JALYN HOLMES | DT | VIKINGS | vs. PACKERS, 1 p.m. (FOX) |
| MARCUS BAUGH | TE | WASHINGTON | vs. EAGLES, 1 p.m. (FOX) |
| DWAYNE HASKINS | QB | WASHINGTON | vs. EAGLES, 1 p.m. (FOX) |
| TERRY MCLAURIN | WR | WASHINGTON | vs. EAGLES, 1 p.m. (FOX) |
| CHASE YOUNG | DE | WASHINGTON | vs. EAGLES, 1 p.m. (FOX) |
---
Header photo: Geoff Burke – USA TODAY Sports