Ohio State has experienced all kinds of success on the trail over the past year.
The 2019-20 athletic season was once again quite fruitful for the folks in Columbus, and we've been spending some time looking back at some of Ohio State's most impressive feats and performances. For Ryan Day and his staff, there was plenty to celebrate on the field and the recruiting trail.
Any questions of the Buckeyes' recruiting in a post-Urban Meyer world were quickly put to rest as Day has continued to pluck top talent from all across the country. Over the last several months, we've seen plenty of big-time wins on the trail as well as a little bit of heartbreak. 
It's a challenge to sift through some of the headliners as Ohio State annually assembles one of the nation's top recruiting classes that is filled with four- and five-star prospects. But that's precisely what we're doing in the latest installment of Eleven Warriors' Year in Review series.
Each commitment has its own story as the Buckeyes battled foes from across the Midwest and the nation. And while no one knows what the future holds for our selections, we've put together a list of the seven biggest recruiting wins of 2019-20.
7. Donovan Jackson • Class of 2021 • ★★★★ • Jan. 8, 2020
Greg Studrawa's turnaround on the trail has been a sight to behold, and the Class of 2021 got a huge addition a few months back in Bellaire, Texas' Donovan Jackson. At 6-foot-4 and 308 pounds, Jackson is a prospect who's listed as the country's No. 1 guard but does possess the length to play tackle if need be. 
The Buckeyes have made regular stops in the Lone Star State, and it was Jackson's unofficial visit for the Penn State game that really put Ohio State in the driver's seat. He's got family in Ohio and told 11W that his mother raised him to be a Buckeye. Rated as the nation's 36th-best prospect (and No. 8 according to 247 Sports), Studrawa beat out the likes of Alabama and Texas A&M for the prized lineman. 
6. Lejond Cavazos • Class of 2020 • ★★★★ • April 12, 2019
The Lejond Cavazos recruitment was an interesting one. The Texas native turned IMG Academy defender was originally pledged to Urban Meyer. When Meyer announced his retirement on Dec. 4, Cavazos backed off his commitment on that same day. The Buckeyes failed to sign a corner in the 2019 class, so his decommitment came as a pretty big blow. 
Ryan Day and Jeff Hafley then went to work to re-recruit the versatile defensive back. After about four months of work, Cavazos once again committed to Ohio State and was one of Day's early wins on the trail. At 6-foot and nearly 200 pounds, he's viewed as a player who can man a number of different roles in the secondary. However, he's expected to get his first shot at corner and was one of the team's 14 early enrollees back in January.
5. Lathan Ransom • Class of 2020 • ★★★★ • July 16, 2019
Ohio State was out in front for a pair of Tucson teammates in Bijan Robinson and Lathan Ransom. Columbus almost became the new home for them both, and while Robinson is now a Longhorn, landing Ransom was a big win for Ryan Day and Jeff Hafley. The Buckeyes managed to hold on despite Hafley accepting the Boston College job just a few short days before December's early signing period. 
Ransom was rated as a four-star prospect who's listed at 6-foot-1 and 193 pounds. He's a rangy safety who can lay the wood to opposing pass-catchers. His recruitment focused primarily on Ohio State, Texas, LSU and Notre Dame. Ransom's June official visit helped the Buckeyes to land one of the staff's top defensive targets. He's set to arrive on campus this summer.
4. C.J Stroud • Class of 2020 • ★★★★ • Dec. 18, 2019
The biggest concern during the 2019 season was how Ohio State would handle an injury to Justin Fields. Fortunately, things went about as well as possible and Ryan Day didn't have to get Fields out of games too often for anything other than a blowout. Heading into 2020, it was imperative that the Buckeyes add to the quarterback room, and Day did just that with two key additions. 
California's C.J. Stroud saw his stock rise more than any quarterback in the country, and Ohio State got in on his recruitment earlier than most. Still, it turned out to be a battle between the Buckeyes and Bulldogs as Kirby Smart made a late push leading up to the early signing period. Stroud enrolled early and is expected to battle fellow 2020 signee Jack Miller to take over after Fields heads to the league.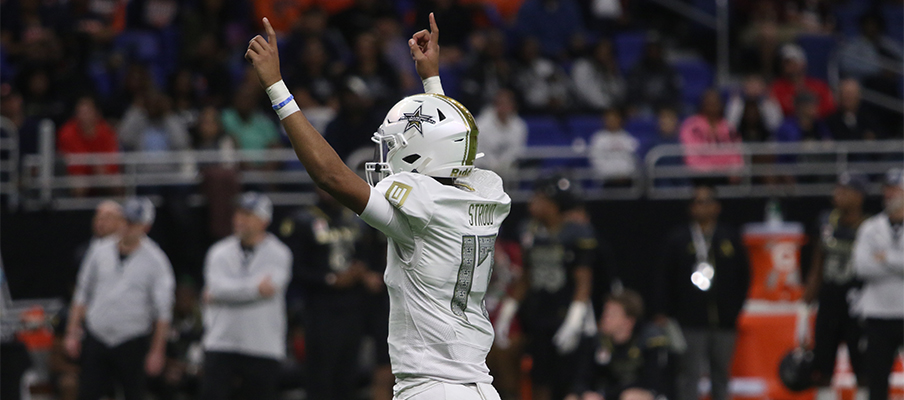 3. Jack Sawyer • Class of 2021 • ★★★★★ • Feb. 3, 2019
Pickerington's Jack Sawyer committed a little more than a year ago and may be the best prospect in the entire country. Larry Johnson has been manufacturing first-round draft picks for years now, and the 6-foot-5, 220-pounder certainly looks like someone who could follow in the footsteps of the Bosas and Chase Young. 
Ohio State was always viewed as the favorite, but Sawyer's recruitment took an entirely different path than that of another five-star local pass rusher. While Zach Harrison waited until the early signing period to make his intentions known, Sawyer committed in February of his sophomore year and has been an active recruiter for the Buckeyes ever since. He's rated as the nation's No. 3 prospect in the composite rankings and is tops overall according to ESPN. 
2. Julian Fleming • Class of 2020 • ★★★★★ • May 31, 2019
Brian Hartline has had his share of wins on the trail, but last May's addition of five-star wideout Julian Fleming was his most noteworthy victory. Rated as the country's No. 3 overall prospect, the Pennsylvania native sided with the Buckeyes over Penn State, Clemson, Alabama, Georgia and every other national powerhouse. 
Ohio State lost several wideouts following the 2019 campaign, so one of the biggest 2020 recruiting storylines was restocking the receiver room. Hartline ended up adding four of the country's best, but securing Fleming gave him a signature win over Clemson and others. Fleming enrolled early in January and should see plenty of action as a true freshman.
1. TreVeyon Henderson • Class of 2021 • ★★★★★ • March 27th, 2020 
Yesterday's commitment from five-star Virginia tailback TreVeyon Henderson takes the top spot on our list, and it has nothing to do with any sort of recency bias. Ohio State's struggles with running back recruiting have been well-documented and are a big reason why the team was in a precarious spot leading up to the Trey Sermon addition. In a matter of just two weeks, that problem has been remedied. 
Henderson's rise to stardom came this past fall when he first started seeing action at running back and earned Virginia's Gatorade Player of the Year honors. Prior to that, programs such as Clemson were recruiting him as more of an athlete or even defensive back. He was recently elevated in the 247 Sports rankings and now checks in as one of the nation's very best backs.
Henderson visited Michigan and Clemson and was being pursued by just about everyone in America. Tony Alford securing his commitment before he could even visit campus will undoubtedly go down as one of the top feats of the 2021 recruiting cycle, and it has brightened the future of the Buckeye running back room.