The 2015 and 2016 seasons led to some major changes for the Buckeye offense.
Greg Studrawa was hired to be Ohio State's newest offensive line coach back in January of 2016. The move allowed Ed Warinner to focus more on his co-offensive coordinator duties alongside Tim Beck. As we all now know, the Warinner/Beck marriage proved to be downright disastrous and eventually led to Ryan Day and Kevin Wilson coming to Columbus.
Dating back to the 2016 season, only Studrawa, Tony Alford, and Larry Johnson have maintained the same roles on the coaching staff. Johnson gets all sorts of well-deserved praise for his recruiting and knack for developing NFL first-rounders. Alford's been a fine position coach who helped J.K. Dobbins surpass the 2,000-yard mark in 2019. Known for his recruiting prowess, he has had some struggles on the trail of late.
Studrawa tends to be the guy that receives the least amount of fanfare. The offensive line isn't the most glamorous position, and it's probably the toughest one to project in terms of high school talent translating to the next level. The Buckeyes ran into some tough times during the 2018 and 2019 recruiting cycles, and some were actually calling for a change in leadership despite the mostly solid play on the field.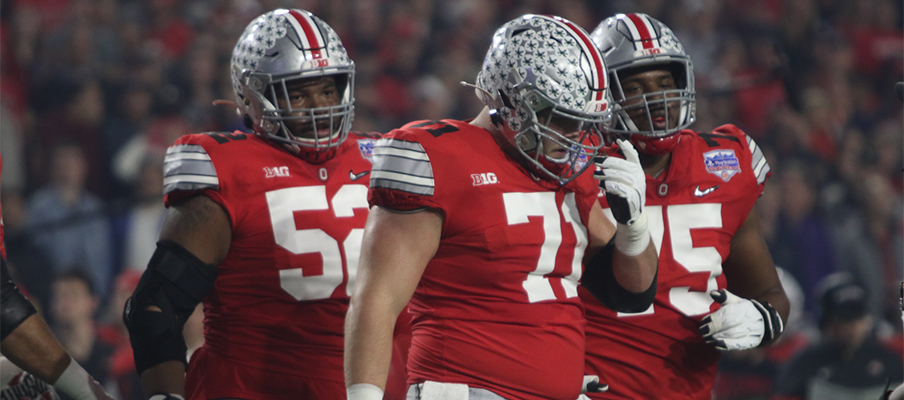 The 2018 class saw Ohio State sign Nicholas Petit-Frere, Max Wray, and Matthew Jones. It was a decent haul, but the Buckeyes still missed on a number of top targets, including Fairfield tackle Jackson Carman. Petit-Frere was the country's No. 1 tackle prospect, but that was a recruitment that Urban Meyer took full control of to help the Buckeyes win out.
For the 2019 class, the Buckeyes signed four offensive linemen in Harry Miller, Ryan Jacoby, Enokk Vimahi, and Indiana's Dawand Jones. Miller was a five-star and was a big-time get. Jacoby was a solid in-state prospect while Dawand Jones was a developmental guy who already seems to be paying off. And then Ryan Day led the late charge to help land Vimahi out of Hawaii. 
Even when Ohio State was landing some talented and top-of-the-board line prospects, you just weren't hearing Coach Stud's name mentioned a whole lot as a force on the recruiting trail. Things have now turned around, however, as the Buckeyes' 2020 class came together nicely and 2021 is already off to a spectacular start.
The Buckeyes' 2020 offensive line class was stellar at the top with five-star tackle Paris Johnson Jr. and one of the country's top interior prospects in New Jersey's Luke Wypler. The success of the class may ultimately depend on how a few of the three-stars pan out in Columbus as Jakob James, Grant Toutant, Josh Fryar, and Trey Leroux will each have an opportunity to out-perform their recruiting rankings. 
2021 Outlook

| PROSPECT | POS. | HOMETOWN | MEASURABLES | RATING | CONSIDERING |
| --- | --- | --- | --- | --- | --- |
| Ben Christman | OT | Richfield, Ohio | 6-foot-6, 299 pounds | ★★★★ | Ohio State Commit |
| Donovan Jackson | OG | Bellaire, Texas | 6-foot-4, 308 pounds | ★★★★ | Ohio State Commit |
| J.C. Latham | OT | Waukesha, WI | 6-foot-5.5, 285 pounds | ★★★★ | OSU, LSU, FSU |
| Tristan Leigh | OT | Fairfax, VA | 6-foot-5, 275 pounds | ★★★★ | OSU, PSU, VT, Clemson |
| Jager Burton | OG | Lexington, KY | 6-foot-4, 271 pounds | ★★★★ | OSU, Bama, Clemson, UK |
Studrawa and the Buckeyes have two in the fold already for the 2021 class, and both Ben Christman and Donovan Jackson are two of the nation's best at their respective positions. Four seems like the likely number in the trenches, and we already have a fairly clear picture of how things are trending. 
IMG Academy's J.C. Latham appears to be the most likely addition at tackle, but Ohio State is going to have to fend off LSU for the Milwaukee-area native. Jager Burton has been at the top of the board for several months now, and it sure looks like the Buckeye are in prime position to beat out Clemson and Alabama for the Lexington product. 
A four-man 2021 haul of Christman, Jackson, Latham, and Burton would be just about perfect to continue the offensive line rebuild. That would give Stud and Day two tackles and two interior guys and would allow them to potentially pluck another high-end talent (such as Virginia's Tristan Leigh) or perhaps a local prospect with some upside. 
Jonah Jackson and Branden Bowen are both gone, but the expectation is for the offensive line play to actually be better in 2020. Thayer Munford struggled at times in 2019, but a number of the team's 35 sacks allowed can at least partially be attributed to a first-year quarterback under center; even if that first-year starter was someone as talented as Justin Fields. 
Most are expecting Harry Miller to take over Jackson's vacant left guard spot, but right tackle may be a bit of a mystery at the moment. Petit-Frere's development has been a somewhat baffling dating back to his arrival in 2018, but he's put on weight and may very well be thrust into the right tackle spot with someone like Dawand Jones or Paris Johnson Jr. serving as the backup. 
Not long ago, the depth along the line was a pretty big concern in Columbus. Now, the cupboard appears to be fully stocked with even more help on the way. Greg Studrawa was once viewed as the staff's "meh" recruiter and potentially even as a liability on the trail. 
He's been anything but that for the last year and is showing no signs of slowing down.