The greatest thing about college football is how it loses itself in *the moment*.
Pick any year and you will find a good example tucked into the middle of that season. I'll go first - two weeks ago Alabama crapped all over itself and gave an extremely mediocre Texas A&M team a shot to win on the game's final play in Tuscaloosa.
The Crimson Tide escaped, but it was clear this 2022 edition isn't Nick Saban's usual military-grade killing machine. To put it mildly, Bama looked shaky - so shaky it dropped two spots in the AP Poll after winning. That does not happen to Saban's Crimson Tide.
Six days later they visited Knoxville and shaky would have been an upgrade. Bama dropped a defense-optional affair where its secondary could not cover anyone - especially junior receiver Jalin Hyatt, who entered Saturday with nine career touchdowns. He scored five on the Crimson Tide.
We are all now gloriously lost in *the moment*. Hyatt burst into the Biletnikoff discussion after setting a despondent Alabama defense on fire. Prior to Saturday he had one career 100-yard game, at Akron's expense. Yet Bama looked as lost trying to cover him as we all are in the moment he helped create.
This is every bit of what makes the sport so enjoyable. In the fervor of Tennessee beating Alabama for the first time in 16 years, college football enthusiasts predictably lost their minds.
The world burns scenario:

- Alabama wins out.
- Georgia beats Tennessee (close game) loses to Bama in SEC title game.
- Tennessee only loses to Georgia.

Its only October but 3 SEC playoff teams would send people over the ledge.

— Dugs (@yuggsy) October 16, 2022
Don't tell anyone this excited to calm down and take deep breaths. Allow them to tweet through it.
Tennessee QB Hendon Hooker will turn 25 the week of the CFP title game, which makes him nearly four years older than current Heisman favorite CJ Stroud. Hendon abused Bama's defense like no other he's ever faced - which is a lot of defenses, because he's been playing college football since 2018.
Tennessee racked up 30 more yards on the Tide than Ohio State did in the 2015 Sugar Bowl. The Buckeyes won that CFP title. Vols on a CFP trajectory? Makes you think, for sure.
It's a wonderful story, illuminating how Saturday in Knoxville was the chaotic and exhilarating affair which justifies our year-long obsession with a painfully brief and seasonal sport. That was *the moment* and by the grace of B1G schedulers, most of us got to enjoy it on account of not being preoccupied by Ohio State, which had the weekend off.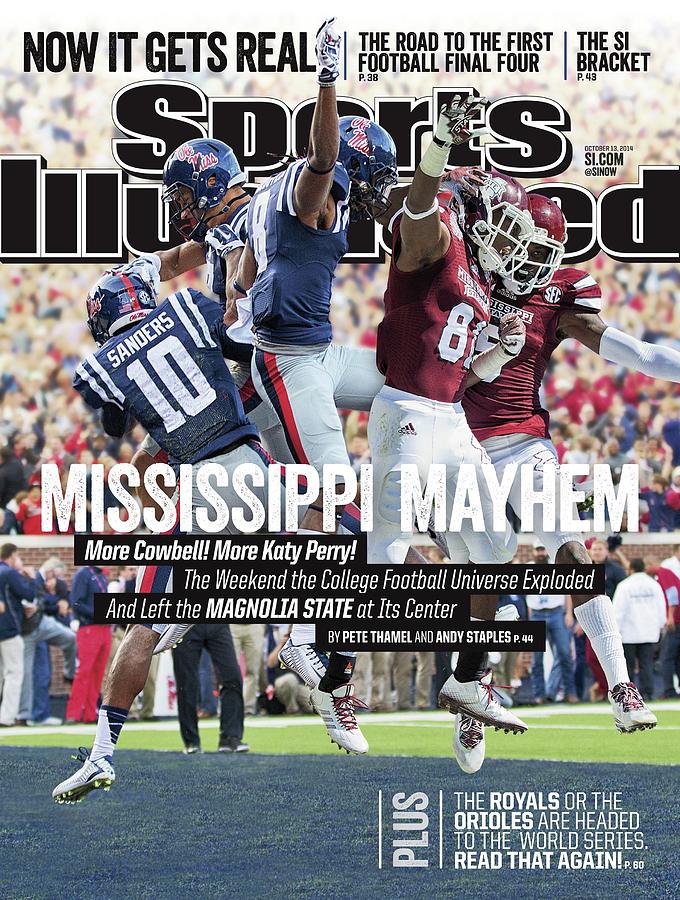 This October euphoria smacks us every season and then we just forget it happened. Eight years ago this month the national chatter was about how two Mississippi teams would be crashing the inaugural College Football Playoff. They were the centerpiece of ESPN's Saturday morning zoo chucklefest formally known as College Gameday for several weeks.
It began when both Mississippis beat Top-10 Texas A&M, which was considered a showcase win for both programs. The Aggies finished 2014 unranked with five losses. Another thing we forget every year? Texas A&M sucks, actually. Bama's not that bad, it's just not cohesive at all. Bunch of talented strangers all NIL'd up wearing the same helmets. The team part is missing.
That 2014 State of Mississippi chatter continued until Ole Miss endured a four-week stretch which included losses to LSU, Auburn and Arkansas (with a 48-0 shutout over Presbyterian wedged in there #chickenshitsaturday).
Meanwhile in Starkville, the Bulldogs lost two of their final three before dropping their bowl game to Georgia Tech. But for a beautiful, lost moment in October - we could not help ourselves.
That was *the moment* UT and the rest of us are currently enjoying, especially because the Vols have been lost in the abyss for all of their almost-25-year old QB's life. If you don't remember why that happened, it began when Tennessee tempted fate one morning in Orlando.
The Buckeyes return to action Saturday! No more weekends off. Let's get Situational -
OPENER | THE USUAL SUSPECTS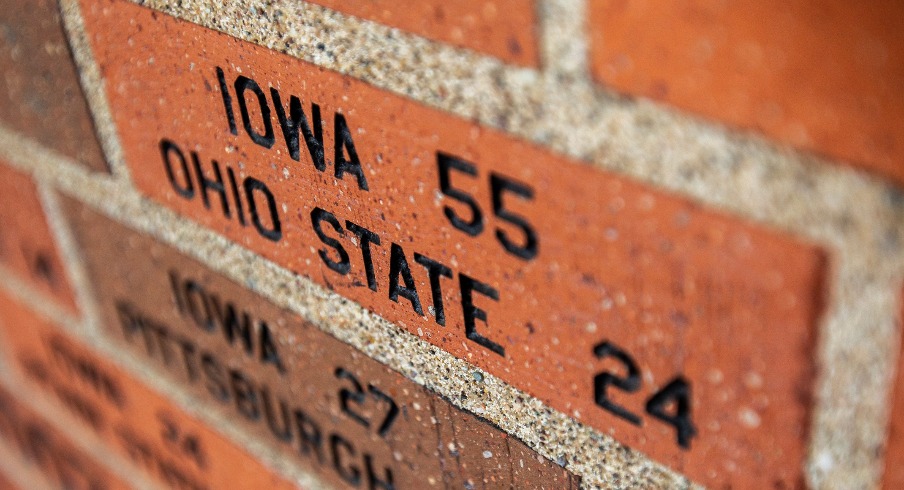 Ohio State is currently a 27.5-point favorite over Iowa. Covering that spread requires more points than Iowa has allowed to anyone this season. The Hawkeyes have the top-ranked SP+ defense in football. The Buckeyes own the no.1 SP+ offense. Fun matchup!
The Buckeyes were three-touchdown favorites the last time they met, and Iowa covered that spread by a cool 52 points. Vegas rarely misses that badly. Ohio State rarely misses that badly.
But more importantly, Iowa rarely hits that...goodly. Whatever. Let's turn back the clock five years and see what the shellshocked author was thinking about at halftime.
Iowa has 31 points in the 1st half. Iowa scored 27 points combined in the previous two games.

— Ramzy Nasrallah (@ramzy) November 4, 2017
Nothing made sense. Accurate, though - I love getting the math right. I'll show my work:
IOWA 2017: UH, WHO ARE WE?

| DATE | OPPONENT | OUTCOME |
| --- | --- | --- |
| 10/21 | @ NORTHWESTERN | L 10-17 (OT) |
| 10/28 | MINNESOTA | W 17-10 |
| 11/4 | No.6 OHIO STATE | W 55-24 |
| 11/11 | @ No.8 WISCONSIN | L 14-38 |
| 11/18 | PURDUE | L 15-24 |
Teens, teens, FIFTY-FIVE, teens, teens. Ohio State won the B1G championship that season.
Iowa scoring 55 points was far more shocking than a year later when Purdue beat Ohio State 49-20. The Boilermakers hit 37 in half of their games that season; that's who they are. Iowa? Iowa doesn't score points. Iowa hates points. Iowa really hates yards. More on that in a bit.
Watching Iowa rack up 55 that afternoon was jarring like McGruff the Crime Dog bombing into the final scene of Scarface to devour all the cocaine before Tony Montana could get to it. This is not who you are, Iowa.
By the way Iowa is losing to Wisconsin next week 31-14 and they will punt from inside the Wisconsin 40 twice

— Ramzy Nasrallah (@ramzy) November 4, 2017
That's who you are, Iowa. *McGruff voice* Don't do drugs, kids.
Inaccurate, though - I hate getting the math wrong. The Hawkeyes did not lose 31-14 to Wisconsin the following week. They lost 38-14. And they didn't punt from inside the Wisconsin 40 even once (because they never crossed it, even once).
Iowa's defense scored both TDs. The most predictable football program. Except when it isn't.
INTERMISSION
The Solo
I once saw a video on Youtube where someone's cat passed away and they had taken it to a taxidermist for preservation. But - let's name it Whiskers - wasn't stuffed in a classic feline pose. This cat's body was incorporated into a remote-controlled toy airplane structure.
The video (which I'm not going to look up, but have at it) showed Whiskers with all four paws spread outward like wings, in flight doing loops around what appeared to be the bereaved's front yard. This video was set to I Want to Know What Love Is by Foreigner.
We're not showcasing that song today - I just wanted to share the cat story. Urgent, also by Foreigner, features a saxophone solo. Let's answer our two questions.
Is the soloist in this video actually playing the saxophone?
The solo was performed by the immortal Junior Walker, but this video shows Mark Rivera (an actual saxophone player) performing it dutifully. The version played is the album cut, so the video is lying. We'll assume Walker had a scheduling conflict during shooting. VERDICT: No.
Does this saxophone solo slap?
Urgent only exists because Thomas "She Blinded Me with Science" Dolby had a riff he called Urges that he didn't know what to do with. Replace "urgent" with "urges" in these lyrics and woof this song gets creepier than a dead flying cat. The riff landed in Foreigner's lap, and they mercifully uncreepified the chorus.
It is a certified 80s banger, and no unconventional taxidermy can dampen the immaculate shredtasticness of Walker's sax solo - even if he was too busy to shoot the video. VERDICT: Slaps
The Bourbon
There is a bourbon for every situation. Sometimes the spirits and the events overlap, which means that where bourbon is concerned there can be more than one worthy choice.
We've reached the second of three B1G West opponents on the schedule. Ohio State could uncork a fourth if it's able to recapture the East's bid to play the West champ in Indy in December. One game at a time, as they say.
I first tried Campfire at the High West distillery in Park City several years ago. It was smoky and rich; just a tremendous experience. Years later I picked up a bottle on account of that fond memory and hoo boy it was so bad I couldn't even take it to a party and just leave it on the booze table in good conscience.
Either High West had changed its process or I got ahold of a bad batch. That smoky, rich experience was replaced by the biting misery of Chloraseptic throat spray. Instead of transporting to Park City, I was mentally back to being petulant and whiny seven-year old with a sore throat, gagging on the world's least effective medicine.
My experience wasn't uncommon, as I've talked to numerous people who soured on Campfire for a spell. But I'm happy to report the 2022 edition - at least the one I got my hands on - has been corrected. No more throat spray, just smoky richness.

CLOSER | AUDACIOUS NEPOTISM FOOTBALL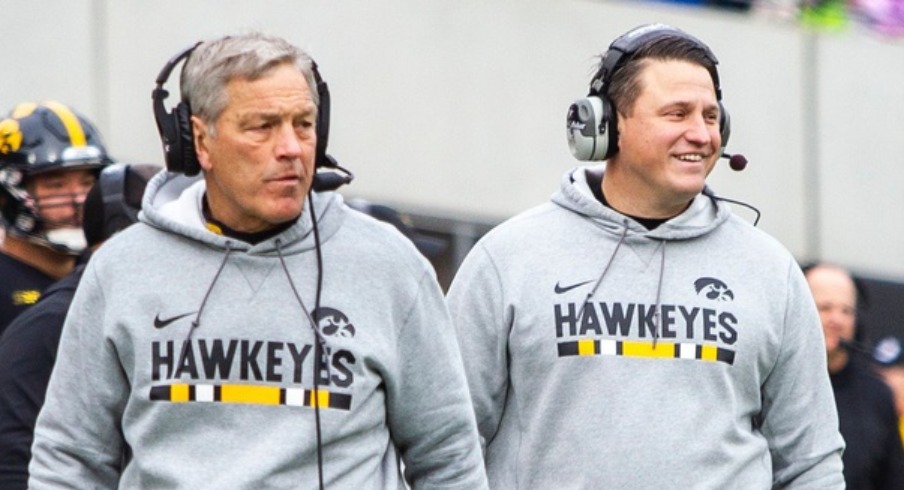 Kirk Ferentz was hired at Iowa before any of his current players were born, which makes him a state institution. Coaches who reign long enough to grow into the campus infrastructure and apparatus predictably reach a point where they feel like they own the place.
They don't...but they do. New hires at Power Five programs almost always become their state's highest-paid employee. If they're not first, they're top three. Ferentz is the highest-paid public employee in Iowa. His boss, AD Gary Barta, is third. Iowa State's Matt Campbell is second.
Coaching institutions like Ferentz who have grown roots often end up doing whatever they want with public assets. This includes skirting nepotism policies like the one Iowa has - he sidestepped it by having his son Brian report to Barta instead of him. When nepotism goes wrong, it gets rancid.
Seventeen years of position coaching experience at a prestige program like, say, Penn State should carry high market value in a ruthless business where longevity is intermingled with success. Yet Jay Paterno hasn't coached anywhere since his father, hiring manager and boss Joe exited in 2011. Just one example. We can talk about PSU next week.
Coaching is rife with cronyism, favor-hires and nepotism. Ohio State's current QB coach is Ohio State's former head coach's son-in-law. But Corey Dennis is still around despite no longer having familial protection in the org chart, which speaks to his results exceeding his connections. Football has a whole lotta someone's son coaches in coaching.
But there's a reason institutions have policies guarding against nepotism. Take a look at Iowa's unit SP+ rankings since Father hired Son to run the offense in 2017:
TWO FACE, FOOTBALL-EDITION

| IOWA FOOTBALL SEASON | OFF. SP+ | DEF. SP+ |
| --- | --- | --- |
| 2017 | 69 | 12 |
| 2018 | 51 | 21 |
| 2019 | 87 | 2 |
| 2020 | 55 | 3 |
| 2021 | 86 | 6 |
| 2022 (partial) | 98 | 1 |
Here's what this chart doesn't show:
Last season OC Brian Ferentz's salary was $860,000.
DC Phil Parker, who has been coaching since Brian was five years old made $890,000.
There are 130 FBS programs, 65 of which are Power Five, aka Iowa's peers.
Let's quickly answer the off-topic questions your brain asked while gazing at the Iowa chart:
Reader, Ohio State's historically maligned 2018 and 2021 defenses ranked 59th and 62nd respectively. As you know Ryan Day turned over the staff both times. Jim Knowles' unit is currently 5th.

The OSU offense has not ranked lower than 5th in SP+ since Day's arrival in 2017 (5th, 4th, 4th, 2nd, 1st and currently 1st again). Kindly remind your brain we're discussing Iowa.
The Hawkeyes are currently 124th in offensive efficiency success rate, 128th in explosiveness, 131st in points per scoring opportunity and 129th in rushing marginal explosiveness. Friends, it's so bad. Defensively in those same categories Iowa ranks 13th, 1st, 2nd and 1st.
National championship-caliber when they don't have the ball. Praying for bowl-eligibility when they do. But Dad isn't worried. At B1G Media days he was asked what he thought was the most overrated statistic in football:
I knew what was coming but I still gasped pic.twitter.com/3zlYbDKwbE

— Ramzy Nasrallah (@ramzy) October 7, 2022
It's so overrated he put his son in charge of it.
Managers routinely explain poor performance by insisting their team just needs to execute, which is code for hey it's not my fault. You hear that phrase from uncomfortable sales directors whenever their numbers are lagging. Okay, do something about it.
Fixes include retraining/removing staff and adjusting strategy to adapt to a changing environment, and if those actions don't produce the blame shifts to the guy in charge. In this case, that guy's father runs the program and he colluded with his supervisor to create...all of this.
College football features both natural and abrupt attrition, which means Brian's offense can pair with fresh and seasoned talent every year that could execute it better. But Year Six has taken the Hawkeyes from bad to impossibly bad. Iowa has scored double-digits in two out of 24 quarters this season.
They scored a second TD against Nevada (SP+ 123) right as the 1st quarter expired, and another two touchdowns against Michigan in a garbage time 4th quarter with the L already secured. That's it, those are the two quarters.
Failure from the top down. Which - if you look at the org chart - actually makes this Barta's fault.
Iowa's offensive production has barely changed in five years, with the notorious exception of one November afternoon in 2017. Personnel? Iowa ranks 125th in 247's Transfer Portal rankings. Purdue's top two WRs - Charlie Jones and Tyrone Tracy - are both Iowa transfers. Brian and his father have repeatedly said the offense just needs to execute since Brian's hiring. Iowa fans can just keep waiting for that moment.
In the meantime, Dad can continue to act like he owns the place. Because he does.
Thanks for getting Situational today. Go Bucks, beat Iowa.