Penn State is always a banger. And after a banger - the hangover.
The Buckeyes cleared a big hurdle Saturday night in finally admitting the Nittany Lions into the Five Straight Losses to Ohio State Club that already claimed every other B1G program as a member. Hooray, high-fives all around (no high-fours in that club, not anymore).
Unfortunately, Penn State in the rearview mirror reliably means there are icebergs, right ahead. Ohio State's post-Nittany crises have ranged from uncomfortably choppy to outright disasters.
But they smoked Michigan in 2019 yes, after a queasy 1st quarter that included a JK Dobbins run where he dribbled the football like it was a basketball. Penn State's fault? Makes you think.
That 2016 loss in State College atop the bad chart is still Ohio State's most recent B1G East setback, an incredible streak. Its two most recent conference losses are claimed by mediocre B1G West programs Iowa and Purdue and yoooo guess who's up this weekend?
NO TEAM ON NEBRASKA'S SCHEDULE HAS BEATEN NEBRASKA AS BADLY AS NEBRASKA HAS BEATEN NEBRASKA.
Zero of Nebraska's six losses this season are by double-digits. The Huskers took Michigan State to overtime in East Lansing after they didn't allow a 1st down in the 2nd half. They let Michigan and Oklahoma off the hook; two games they could and should have won.
The Huskers also dropped close heartbreakers to Illinois, Purdue and Minnesota and they have not quit on anyone or anything, let alone this season - their demise has greatly been exaggerated. The post-Nittany icebergs this season are radioactive and filled with knives waiting to make this year's edition of the Penn State hangover extra stabby.
So hey welcome back, thirsty comrades! Let's get Situational.
OPENING: HOLY SPARTY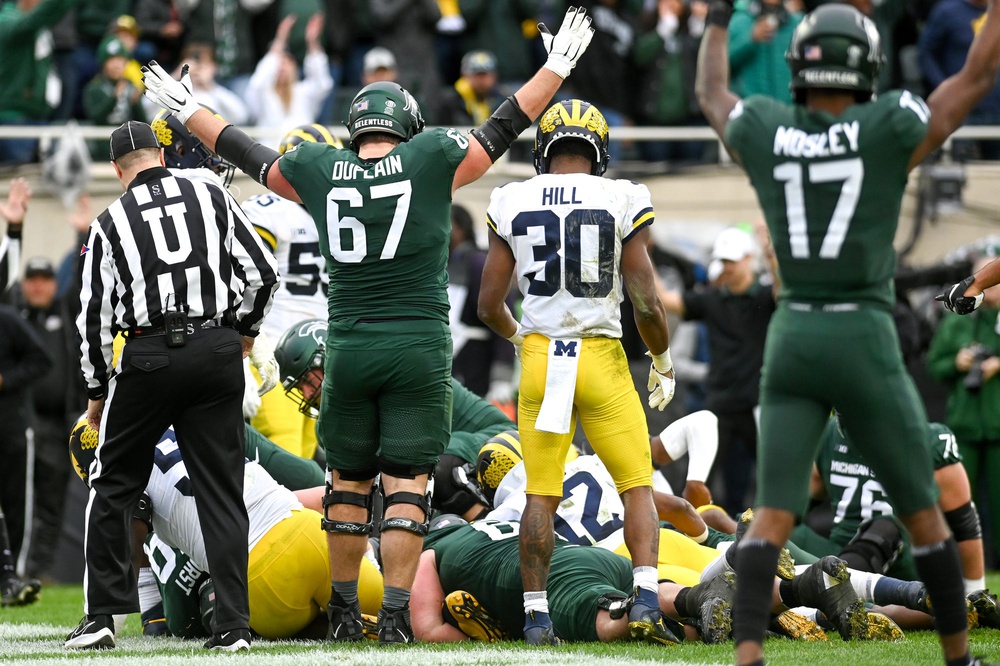 While we have been gawking at the parallels between Ohio State 2021 and Ohio State 2014 like giddy, romantic fools, we failed to notice the similarities between Ohio State 2002 and the current edition of the Michigan State Spartans.
OHIO STATE 2002 vs. MICHIGAN STATE 2021: *SPOOKY NOISES*

|   | OHIO STATE 2002 | MICHIGAN STATE 2021 |
| --- | --- | --- |
| HEAD COACH | JIM TRESSEL | MEL TUCKER |
| AGE | 49 | 49 |
| FROM | NE OHIO | NE OHIO |
| ASSISTANT AT MIAMI | 1979 | 1999 |
| TENURE | 2ND YEAR | 2ND YEAR |
| RECORD AFTER 15 GAMES | 10-5 | 10-5 |
| 17 YEARS EARLIER | WAS COACHING AT OSU | WAS COACHING AT OSU |
| WIFE'S NAME | ELLEN | JO-ELLYN |
| SURPRISE RUNNING BACK | MAURICE CLARETT | KENNETH WALKER III |
| RAISED EYEBROWS BY | BEATING THE MIAMI HURRICANES | BEATING THE MIAMI HURRICANES |
| BUT ALSO | WINNING HIS FIRST TWO VS. MICHIGAN | WINNING HIS FIRST TWO VS. MICHIGAN |
| YSU CONNECTION | FORMER COACH, CURRENT PRESIDENT | BEAT YSU IN WEEK 2 |
| QUARTERBACK | CRAIG KRENZEL | PEYTON THORNE |
| AGAINST STRONG OPPONENTS | CLOSE, TOUGH WINS | CLOSE, TOUGH WINS |
| AGAINST WEAK OPPONENTS | CLOSE, TOUGH WINS | CLOSE, TOUGH WINS |
Their quarterbacks have the same number of letters in their names and celebrate their birthdays during the same week. Curious officiating has been credited with their respective successes. Sound familiar?
Anyway, Michigan State heads to West Lafayette this week to play Purdue, the same weekend of the season that this happened in 2002. Whatever. I'm sure it's probably nothing.
INTERMISSION: THE SOLO
Forty years ago a Dutch guitar player named George Jan Kooymans settled in with a new spy thriller written by Robert Ludlum and was so enamored with the story he was inspired to write a song about it.
That book was...not Twilight Zone, the TV series based on Rod Serling's stories. But that's what he named it, which is confusing like southerners calling every carbonated drink Coke.
Twilight Zone dropped nearly two decades after the show went off the air, and for the unfamiliar - it was a serial of spooky and supernatural stories. There was nothing spy thrillerish about it. This disconnect is yet another artifact in what's become known as the Denniz Pop/Max Martin genre of Nordic Bangers that carry nonsensical lyrics and puzzling messages.
Twilight Zone carries a lengthy tutti, punctuated by a guitar solo. Let's answer our two questions.
Is the soloist in this video actually playing the guitar?
Kooymans is not only on lead vocals and lead guitar, he's also the spy being detained in the video and forced to reckon with the interrogation dancers torturing state secrets out of him through rhythmic movement.
Our songwriter and protagonist is tied up at the moment, which makes it impossible for him to play his guitar solo, despite how audible it is in the video at the same time. VERDICT: No, conclusive.
Does this guitar solo slap?
Only the choreography in the video has aged poorly - the weakest TikTok shuffle of 2021 is superior to the bondage-adjacent spy thriller dance troupe that appears to be spicing up the CIA black site in Amsterdam in this harrowing musical tale. The guitar solo itself snap-fits into the song and theme with flawless perfection. It flows and captivates like a Ludlum novel.
Oh, the spy thriller Kooymans fell in love with? The Bourne Identity. VERDICT: Slaps like Treadstone
THE BOURBON
There is a bourbon for every situation. Sometimes the spirits and the events overlap, which means that where bourbon is concerned there can be more than one worthy choice.
A lot has been made of Nebraska's current football program trajectory, which I'm not buying - I went on the record this week and suggested Scott Frost has the Huskers as close as they've been in decades to what should be considered success in Lincoln.
Not sure how they finish against the Buckeyes, Badgers and Hawkeyes - but eight wins next season feels like their floor. I do not buy that Nebraska is on the downslope.
So you'd think an appropriate bourbon here would be 100% corn - except Frost is trying to remake his alma mater in a new and extremely challenging era for a program with a barren footprint. Therefore, we're pivoting away from corn entirely this week.
Double Diamond from the Downslope Distillery is 65% Maris Otter floor-malted barley and 35% rye, which means a) this isn't bourbon b) it's very different and unconventional, and c) if you like beer but aren't sure about whiskey, this might be the one the wins you.
If you do like whiskey, this is basically what happens when a Colorado distillery pretends it's Irish. Nebraska has to do a lot of pretending to compete in the current era, which means it has to operate differently.
You can get DD online for about the same price as you'd pay for Jameson.
CLOSING: CHERNOBYL DIARIES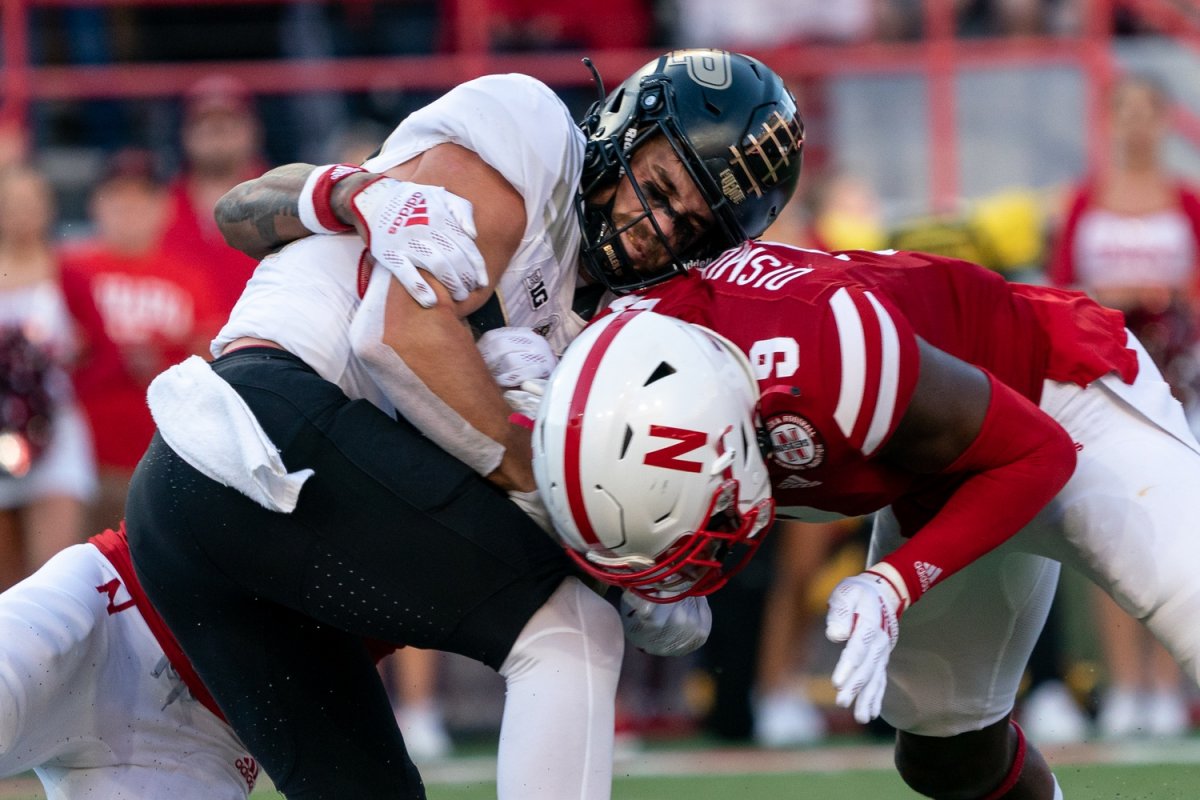 Ohio State's final four regular season opponents get to face the seasoned, weathered and calloused version of the team the first third of the slate was deprived of playing. It's also challenged with the scouted, documented and chronicled version of the Buckeyes - but Ohio State hasn't snuck up on anyone for ages.
TreVeyon Henderson isn't surprising Nebraska, Purdue, Michigan State or Michigan. Neither is C.J. Stroud. Every year when November arrives the Buckeyes are the devil the B1G already knows. And yet, Ohio State has lost exactly twice in November since 2011.
History doesn't make this final third of the schedule any easier. Ohio State's first four opponents currently have 14 losses among them. The second third the Buckeyes just cleared without a blemish have 16.
Mistake-free or even just mistake-resistant Nebraska is 9-0 entering thIS Ohio State game.
Nebraska has six losses, each of which was 1-2 plays from being a win - and still Ohio State's final four opponents have just 10 losses, combined.
That makes this third of the schedule the toughest four-game stretch the Buckeyes have faced since the final four games of the 2016 regular season, which went No.9 Nebraska, at Maryland, at Michigan State, No.3 Michigan. It's a similar spread five seasons later.
On paper Nebraska is the lowest hurdle, but this game has stunk for weeks as the frustrating losses pile up in Lincoln. Mistake-free or even just mistake-resistant Nebraska is 9-0 entering this game, which is still getting Big Noon trimmings and treatment from Fox.
A fourth clunker from the Buckeyes would put the Huskers in a very familiar position where they have an opportunity to win in their grasp. One team in this matchup has unparalleled close-game seasoning - and it isn't the visitors. Ohio State is 2-1 in its clunkers on the season, but untouchable with just a B+ performance against this schedule.
Shorter version: Ohio State needs to begin this final third clicking, and not doing its opponents so many unforced favors - especially this one. Nebraska hasn't quit once this season. It would be foolish to expect anything but a four-quarter brawl on Saturday.
And if they survive another dreaded B1G West ambush? They get one more the following week.
Thanks for getting Situational today. Go Bucks. Beat Nebraska. Take care of each other.