There are revenge games, and then there are *revenge games*.
If you were unaware, last weekend's trip to Bloomington was the latter.
Indiana's fourth-biggest win last season - behind victories over 4-5 Penn State, 2-4 Michigan and 4-3 Wisconsin - was its 42-35 loss to Ohio State, a game where the Hoosiers trailed 35-7 before the Buckeyes prematurely began thinking about postgame plans. Obviously, I'm kidding. No one had postgame plans in 2020.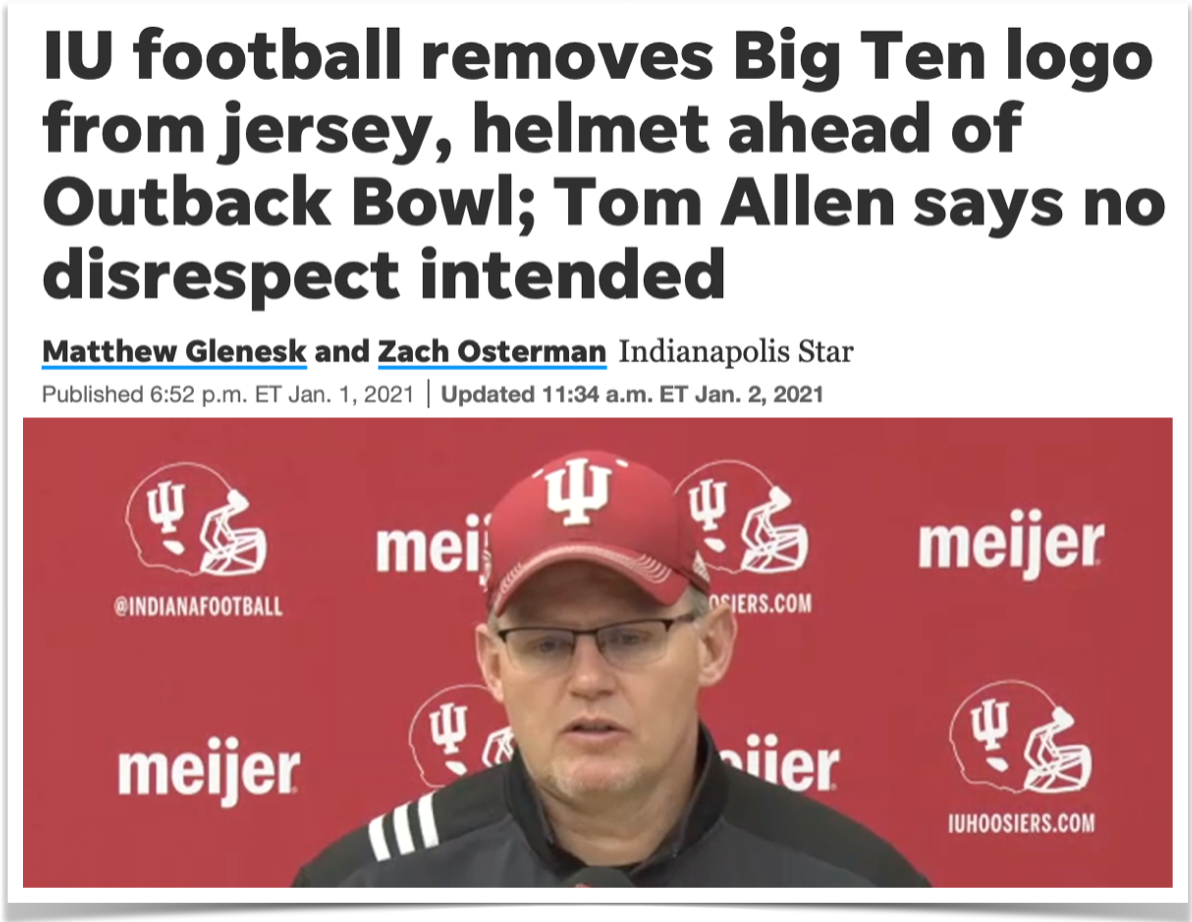 This game was precarious - Ohio State's win probability slipped all the way down to 90.6% during IU's furious comeback which ultimately fell short. And you're right, punching down at a program the Buckeyes held a 51-9-4 advantage over (prior to the current 27-game winning streak) is extremely petty.
But we need to remember what came next as well as what was revealed following the rematch: Ohio State beat every team that wasn't quarantined in 2020, but fell short of the minimum games threshold to qualify for its annual Indy trip after Michigan forfeited the game due to COVID but still held a spirited practice the weekend of its scheduled visit to Columbus.
The conference quickly adjusted its rule, denying IU an Ohio State forfeit. The Hoosiers would have forfeited their gifted Indy trip anyway, because IU was unable to play Purdue twice due to COVID, the second time of which was scheduled for B1G championship weekend (we don't know if IU held a spirited practice that weekend). So it didn't matter.
Or did it? IU was so unbothered by the B1G's decision that it removed the conference logo from its jerseys and helmets prior to the Outback Bowl. IU wasn't mad. It was laughing, actually.

If you're curious, here's how the B1G's two previous Outback Bowl participants applied the required corporate steak patches to their uniforms. They made room for all of their other pieces of flair - which is appropriate for what is basically the Chotchkie's Bowl.

So last Saturday's reunion was a low-key retribution affair, which the Buckeyes made boring very quickly like in 2020, but this time they didn't take their eyes off the blowout. And IU was a shell of its former self. That did not help the Hoosiers.
Now, here's where we pivot to what we learned in Saturday's aftermath.
On Monday Charlton Warren, IU's defensive coordinator and linebackers coach who spent the previous two seasons coaching Georgia's secondary (and Florida's and Tennessee's prior to that, hashtag SEC) was asked about what happened to his defense on Saturday night:
Warren on what went wrong for IU's defense: "It was just a whole different animal," in Ohio State's offense than they had dealt with before. Mentioned the combination of the O-line talent and "three NFL wide receivers."

— Dustin Dopirak (@DustinDopirak) October 25, 2021
It's been Ryan Day and Kevin Wilson's offense for years; there's plenty of tape. Ohio State lost 40% of its OL to the NFL in April, so it's nice to know the Buckeyes have adequately filled in the vacancies. As for Ohio State's receivers, they are the least mysterious aspect of this team and Warren's secondary bonafides are as good as it gets.
IU was down two starters but C.J. Stroud still made it look easy all night, in a rainstorm no less.
Warren takes responsibility. Said he ultimately didn't get them ready for what they would be dealing with and it wasn't until well into the second or even third quarter that they got a handle on the quality of talent they were dealing with.

— Dustin Dopirak (@DustinDopirak) October 25, 2021
Imagine getting into the 3rd quarter before saying oh shit we should do something about Ohio State's receivers. Imagine not realizing the quality of that unit - the most lauded and least mysterious one in that game - until after halftime.
What...did IU do last week? They watched film. That secondary room has seen these guys before; it was a refresher. But imagine being unprepared for the Ohio State game after working for three SEC programs.
But I guess to be honest there, I owe some context. The question I asked was "What did you see go wrong for this defense, which has generally been good, that you haven't seen before" and he started his answer with "facing three NFL wide receivers."

— Dustin Dopirak (@DustinDopirak) October 25, 2021
Warren coached and schemed against Kyle Pitts, DeVonta Smith, Jaylen Waddle, Elijah Moore, Kadarius Toney, Treylon Burks, Kayshon Boutte, Jaden Walley, Ja'Marr Chase and Jerry Jeudy - and that's just at Georgia. Those guys are all wealthy now. Not SEC Bag Man or NIL wealthy, wealthy wealthy. Few defensive coaches have faced as many NFL WRs as Warren has.
It's this admission that flew under the radar - following a retribution game, no less - that tells us the Buckeyes might actually be for real, and not just getting thick eating pastries after losing to Oregon. The last time Ohio State fans were treated to honesty like this was in 2019 when Pat Fitzgerald had to answer to a 52-3 beating in Evanston:
TL;DR Actually, Im not even mad. Im impressed. Thats amazing. pic.twitter.com/hfvJDIXXRc

— Ramzy Nasrallah (@ramzy) October 19, 2019
Fitz wasn't mad. He was laughing, actually. Let's close the opening with one more hit off the Ohio State football compliments pipe:
Not exactly. Some more context is needed, so that's on me for tweeting it out a little too fast, but it's still not exactly exonerating on his part. Basically, he was saying "we knew they were good, but you don't know how good until you get out there and see it up close."

— Dustin Dopirak (@DustinDopirak) October 25, 2021
Everyone who points to the analytics to prove how explosive the Ohio State offense is this season is right...but you have to actually get run over and pasted by it to appreciate how good. The film simply didn't do it justice. IU only thought it knew what was coming.
And thus, we close the loop that began with IU's fourth-best win of 2020 with what is by far its worst loss of 2021. There are erotica games, and then there are *erotica games*. If you were unaware, last weekend's trip to Bloomington was the latter.
Welcome back, thirsty comrades! Let's get Situational.
OPENING: CLUNKER CONNOISSEURS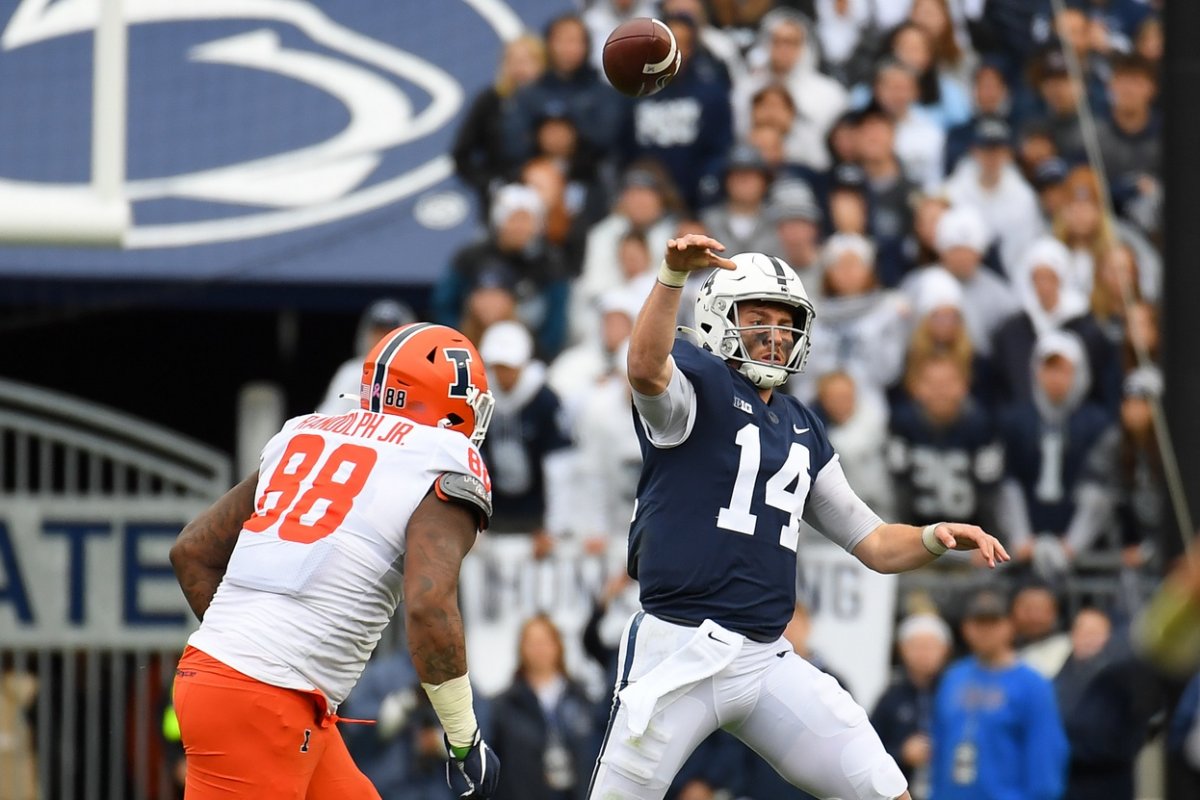 Ohio State wins nearly every game it plays on Signing Day.
On Game Day, it can either amplify that win through superior coaching and execution, shrink it by being outcoached and outplayed - or squander its talent surplus so badly it loses.
Those last two scenarios are colloquially known as clunkers. The Buckeyes have produced two clunkers this season, Oregon and Tulsa. They went 1-1 in those. Ohio State has not suffered a B1G clunker since last year's B1G championship game, which it survived, emphatically. Weirdest clunker in recent memory.
The hallmark of a strong program is one that can win its conference clunkers - Oklahoma is a great recent example of this; the Sooners suck every week and still win. Now let's look at The Pennsylvania State University Nittany Lions:
PSU HAS WAY TOO MANY CLUNKERS

| OPPONENT | RESULT | CLUNKER? |
| --- | --- | --- |
| @ ILLINOIS 2018 | W 63-24 | NO |
| NO.4 Ohio State | L 26-27 | NO |
| MICHIGAN STATE | L 17-21 | YES |
| @ INDIANA | W 33-28 | YES |
| NO.18 IOWA | W 30-24 | NO |
| @ NO.5 MICHIGAN | L 7-42 | YES |
| WISCONSIN | W 22-10 | NO |
| @ RUTGERS | W 20-7 | YES |
| MARYLAND | W 38-3 | NO |
| @ MARYLAND 2019 | W 59-0 | NO |
| PURDUE | W 35-7 | NO |
| @ NO.17 IOWA | W 17-12 | NO |
| NO.16 MICHIGAN | W 28-21 | NO |
| @ MICHIGAN STATE | W 28-7 | NO |
| @ NO.17 MINNESOTA | L 26-31 | YES |
| INDIANA | W 34-27 | YES |
| @ NO.2 OHIO STATE | L 17-28 | NO |
| RUTGERS | W 27-6 | NO |
| @ INDIANA 2020 | L 35-36 (OT) | YES |
| NO.3 OHIO STATE | L 25-38 | NO |
| MARYLAND | L 19-35 | YES |
| @ NEBRASKA | L 23-30 | YES |
| IOWA | L 21-41 | YES |
| @ MICHIGAN | W 27-17 | YES |
| @ RUTGERS | W 23-7 | YES |
| MICHIGAN STATE | W 39-24 | NO |
| ILLINOIS | W 56-21 | NO |
| @ NO.12 WISCONSIN | W 16-10 | YES |
| INDIANA | W 24-0 | NO |
| @ NO.3 IOWA | L 20-23 | YES |
| ILLINOIS | L 18-20 (9 OT) | YES |
My unscientific #analysis says about half of Penn State's B1G performances since the 2018 season kicked off have been clunkers, and they're just 6-9 in those hard-to-watch games. That's not nice.
Worse, PSU's clunker frequency seems to be accelerating. You know what's decelerating?
Penn State, Running Back Yards Per Carry
2019: 5.9
2020: 4.4
2021: 3.9

— jamie mac (@justcoverblog) October 25, 2021
The Nittany Lions can't Run the Damn Ball like they used to. TreVeyon Henderson averages more than double what PSU's tenured running backs are producing, and that makes everything a lot more difficult for Penn State QB Sean Clifford, who currently appears to be held together with duck tape and wire hangers.
Last weekend's death match with Bert was merely a symptom of what's been plaguing Ohio State's weekend guests for awhile. Penn State is going to need to bring its least clunky effort to the Horseshoe to be victorious. You could say this bodes well for the Buckeyes, or you could say hey that only means Penn State is due.
Either way, you're right. But I wouldn't stress too hard about Ohio State's chances if Penn State brings another clunker into the Horseshoe.
INTERMISSION: THE SOLO
I miss physical music media mostly because it deprives us of pitting Side A and Side B against each other. You can kind of still do it with streaming services, but it's just not the same.
The best Side B of 1987 belonged to The Joshua Tree by U2, which goes Red Hill Mining Town, In God's Country, Trip Through Your Wires, One Tree Hill, Exit and Mothers of the Disappeared. It's aged wonderfully, and Side B excellence carries a high degree of difficulty. That's where you hide your, um, clunkers.
A few years ago U2 toured and just played Joshua Tree in order from front-to-back. I saw that show in Cleveland Browns Stadium, still the only win I've experienced in that building. Side A was where bands stacked their hits, but The Joshua Tree was relentless from front to back.
The upset winner of the 1987 Side A championship went to Hysteria, by Def Leppard. Women, Rocket, Animal, Love Bites, Pour Some Sugar on Me and Armageddon It in that order - just a guilty pleasure parade of screamy, stupid melodic bangers that all charted highly; the opposite of a no-hitter!
Side B does not contain a single redeemable song. This wasn't an unusual album arrangement strategy. The stupidest banger on Hysteria is its second song, which features a guitar solo. Let's answer our two questions.
Is the soloist in this video actually playing the guitar?
Mercifully, the video for Rocket heavily edits down the album version of this solo, which is several minutes long. What we're able to see in this cut are co-leads Stevie Clark and Phil Collen making rock star poses - surprise twist; this is technically a guitar duet.
There are also bongo drums, though no bongos were harmed or used in Rocket. It's part of a tribute smattering. You don't make the rules. Def Leppard makes the rules. VERDICT: Inconclusive
Does this guitar solo slap?
Mutt Lange layered the band doing what sounds like a Tibetan monk chant (they're chanting satellite of love) over the top of the solo, but no amount of production can save it. Everything except the chorus on Rocket is clunky, but that chorus rocks hard enough to overcompensate. Sometimes all you need is one sentence everyone likes to shout to have a hit.
Rocket is 90 seconds long otherwise. The solo was basically Side B. VERDICT: Does not slap.
THE BOURBON
There is a bourbon for every situation. Sometimes the spirits and the events overlap, which means that where bourbon is concerned there can be more than one worthy choice.
The 6-1 Buckeyes are aiming for a seventh win Halloween weekend. They'll be dressed as hulky ketchup bottles while Penn State wears its trusty salt shaker road whites - and if you're mouthing there's no way there's a bourbon for this well bad news, you're wrong for like the fourth time since lunch.
The Jokester from Lucky Seven Spirits is a deep amber six-year old bourbon whose mash bill is a total mystery - that's spooky! What we know is that L7 sources other distilleries' components and then blends them. If you peel the label off their bottle, the tasting notes are shared on the back side (mine will stay unpeeled, use the force Luke).
This bourbon runs hot from start to finish - so hot it practically overwhelms what feels like a crème brûlée overstuffed with raisins. I hate raisins. One raisin is too many.
A raisin is the grape's lowest calling, but from a bourbon flavor notes standpoint, they don't get stuck in your teeth or remind you they could have been wine instead. Raisins could have been jam, man. They could have been sorbet. But they failed, became raisins and they shamed their parents. I just forgot what I was reviewing.
I'm guessing The Jokester runs ~60/~25/~15 corn/rye/barley, based on the burn masking the sweet and complex - if you're into high heat and creamy raisin essence, this will suit you well. You can buy it direct for ~$69 plus fees.
CLOSING: OUR KIND OF CRUELTY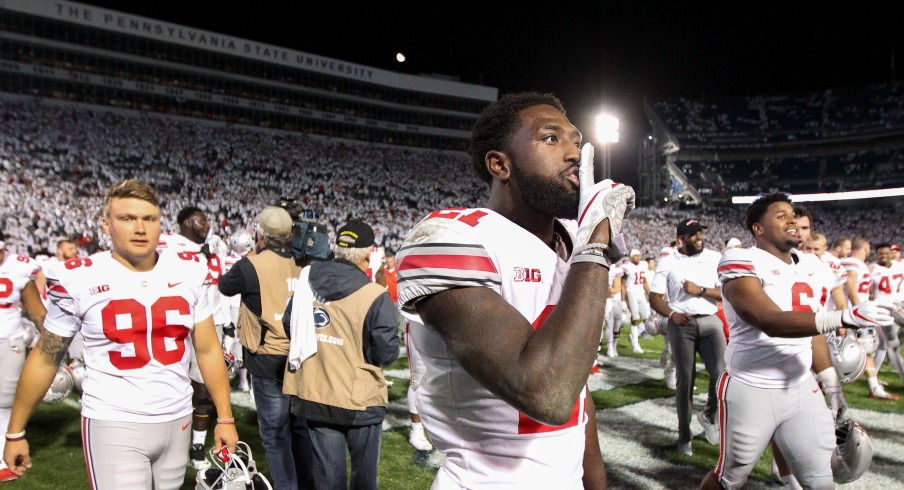 Penn State beat Ohio State 63-14 during my senior year in college. That was a tough day, and when I try to remember how John Cooper survived that Saturday I remember how he ended that season.
That beating is tied for the biggest blowout in the series with Ohio State's 63-14 win from 2013. Most OSU-PSU bangers are competitive. All of them have been scrappy, even in 1994 and 2013.
The Nittany Lions enjoyed a four-game winning streak in this series prior to joining the Big Ten. A four-game streak at Ohio State's expense is rare - Penn State is in an exclusive club with Michigan, Illinois, Southern Cal and Clemson. The Buckeyes have enjoyed two four-game winning streaks against Penn State, from 2012-2015 and from 2017 to...hey, right now.
Ohio State owns at least one 5-game winning streak against every B1G program, except one.
But there's something neither team has enjoyed at the other's expense: A five-game streak.
Not only have the Buckeyes never taken five straight from the Nittany Lions, Penn State is the only B1G program that has never gained admission into the Five Straight Losses to Ohio State Club. The other 13 12 (edit: integer math remains unfair) programs are all in the lounge wearing their smoking jackets, staring longingly at one unoccupied barcalounger.
What that should tell you is nothing is granted in this series. Ohio State blew a 27-9 lead in 2001 that prevented what could have been a five-game streak. Its inability to get a field goal off in 2016 is why the Buckeyes have two four-game streaks instead of trying to make Saturday their 10th in a row.
And there have been plenty of great escapes for your favorite team. This is rarely a lay-up.
The visitors may have bottomed out and definitely have their backs against the wall, so if the Buckeyes are expecting a walkthrough we're all going to be disappointed. If Penn State can manufacture an upset, they'll remain the sole holdout of a club that claims every other B1G program as a member. But if they lose, their jacket and barcalounger are both ready.
Thanks for getting Situational today. Go Bucks. Beat Penn State. Take care of each other.