The bye week sure didn't slow down Ohio State's momentum.
Much like it was in its final three games of the first half of the season against Akron, Rutgers and Maryland, Ohio State was dominant in its first game of the second half of the regular season against Indiana. The Buckeyes scored touchdowns on seven of their first eight possessions on the way to a 54-7 win over the Hoosiers, marking the fourth straight game Ohio State has won by at least 39 points.
For the third game in a row, Ohio State scored a touchdown on its opening drive. The Buckeyes marched 75 yards down the field in 12 plays, capping off the drive with an 11-yard touchdown run by Miyan Williams, who returned to action after missing Ohio State's previous two games.
 
Q1
Q2
Q3
Q4
 

#5

 Ohio State
14
30
7
3
54
INDIANA
7
0
0
0
7
Indiana responded with a lengthy opening drive of its own, converting four third downs on a 15-play, 75-yard drive that Jack Tuttle capped with a 7-yard touchdown pass to Peyton Hendershot, though Tuttle – who started the game in place of Michael Penix Jr., who did not play due to injury – was injured on the play as he took a hard hit from Haskell Garrett.
TreVeyon Henderson found the end zone with a 21-yard touchdown run on Ohio State's second possession of the game, which also featured a 32-yard pass through triple coverage from C.J. Stroud to Jaxon Smith-Njigba as well as a 21-yard pass from Stroud to Garrett Wilson. Henderson scored another touchdown on the Buckeyes' next possession when he caught a pass from Stroud and weaved his way into the end zone for a 14-yard score.
He's a freshman, but all he does is score TDs.

That's TD No. 13 for @OhioState star RB @TreVeyonH4. pic.twitter.com/VvfMPoHT6l

— Big Ten Network (@BigTenNetwork) October 24, 2021
True freshman quarterback Donaven McCulley replaced Tuttle on Indiana's second possession of the game, but he was replaced by walk-on quarterback Grant Gremel on the Hoosiers' third possession. Both of their first drives in the game were 3-and-outs, and after Gremel's first drive of the game, Marvin Harrison Jr. tackled Indiana's punter in the end zone after a bad snap for a safety.
That's @MarvHarrisonJr making the tackle for the safety.

No. 5 @OhioStateFB extends its early lead to 23-7. pic.twitter.com/4F4akJnN9Q

— Big Ten Network (@BigTenNetwork) October 24, 2021
After Emeka Egbuka returned Indiana's subsequent free kick 42 yards to Indiana's 39-yard line, Stroud completed a 16-yard touchdown pass to Chris Olave to extend Ohio State's lead to 30-7. The Buckeyes' offense took the field on the 30-yard line for its next possession after a 20-yard punt return by Wilson and scored in just two plays, with Henderson scoring his third touchdown of the night on a 6-yard run after a 17-yard run that was followed by a late hit by an Indiana defender.
Stroud completed a 14-yard pass to Jeremy Ruckert to make it six touchdowns in six first-half possessions for Ohio State. The Buckeyes took a 44-7 lead into halftime as Indiana did not score on any of its final five first-half possessions.
Quick look at how No. 5 @OhioStateFB's six first-half drives have ended:

TD
TD
TD
TD
TD
TD pic.twitter.com/eBwG6z5q2c

— Big Ten Network (@BigTenNetwork) October 24, 2021
| OHIO STATE |   | INDIANA |
| --- | --- | --- |
| 539 | TOTAL YARDS | 128 |
| 187 | RUSHING YARDS | 48 |
| 32 | RUSHING ATTEMPTS | 37 |
| 5.8 | AVERAGE per RUSH | 1.3 |
| 3 | RUSHING TOUCHDOWNS | 0 |
| 352 | PASSING YARDS | 80 |
| 28-37 | COMPLETIONS–ATTEMPTS | 8-17 |
| 12.6 | AVERAGE per COMPLETION | 10 |
| 5 | PASSING TOUCHDOWNS | 1 |
| 31 | 1st DOWNS | 10 |
| 69 | TOTAL PLAYS | 54 |
| 7.8 | YARDS PER PLAY | 2.4 |
| 7-7 | RED ZONE | 1-1 |
| 6-9 | third down conv | 5-14 |
| 5-40 | PENALTIES | 1-7 |
| 32:01 | POSSESSION | 27:59 |
For the first time since the Akron game, Ohio State's first-team offense was stopped by something other than the first-half clock on its opening drive of the second half, when the Buckeyes went 3-and-out. Stroud threw a 2-yard touchdown pass to Ruckert on Ohio State's next possession, though, to extend the Buckeyes' lead to 51-7 with 1:15 to play in the third quarter.
After Kyle McCord replaced Stroud as Ohio State's quarterback in the fourth quarter, the Buckeyes added another three points on a 26-yard Noah Ruggles field goal.
Stroud finished the game with 21 completions on 28 attempts for 266 passing yards and four touchdowns. Henderson finished the game with 95 yards from scrimmage (81 rushing, 14 receiving) and three touchdowns on just 10 touches, while Smith-Njigba led Ohio State receivers with six catches for 99 yards.
Indiana's offense, which never scored again after its opening possession, finished the game with just 128 total yards, the least allowed by an Ohio State defense since the Buckeyes held Illinois to 105 yards on Nov. 18, 2017.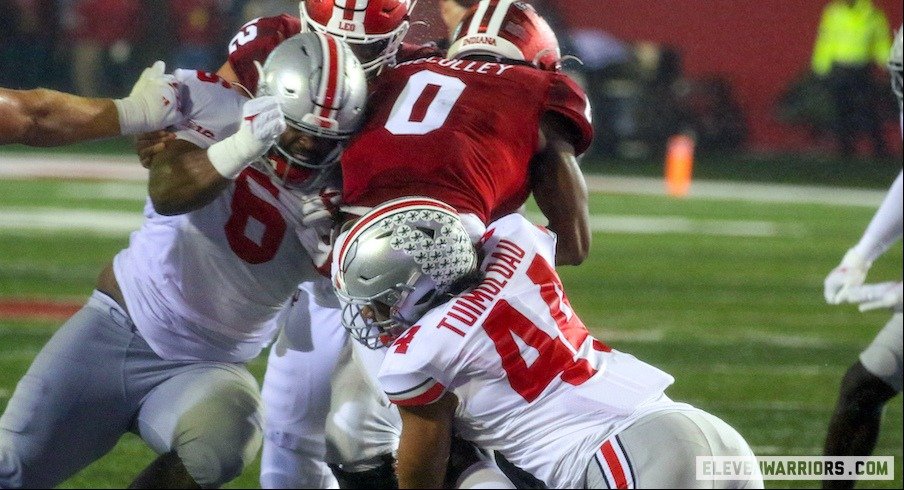 Game Notes
Jerron Cage made his first start of the season for Ohio State at nose tackle. Otherwise, Ohio State's starting lineups remained unchanged from the Buckeyes' previous game against Maryland.
Ohio State's game captains for the opening coin toss were Kamryn Babb, Thayer Munford, Zach Harrison and Haskell Garrett. Indiana won the opening coin toss, dropping the Buckeyes to 1-6 in winning the opening coin toss this year.
14 Ohio State players were unavailable to play against Indiana, including running backs Master Teague and Marcus Crowley. Henderson, Williams and Evan Pryor were the only running backs on the travel roster for the game.
Henderson now has three games with three touchdowns scored this season. He continued his streak of scoring at least one touchdown in all seven games he's played this season, bringing him to 14 total touchdowns scored so far this season – four shy of Maurice Clarett's freshman touchdown record.
Olave has now caught 30 touchdowns in his Ohio State career, tying him with Devin Smith for the second-most touchdown receptions in school history. David Boston holds the record with 34.
Ruckert has now caught 12 touchdowns in his Ohio State career, the second-most all-time for an Ohio State tight end. Jake Stoneburner holds the record with 13.
Saturday's game was only the seventh time Ohio State has scored 44 or more points in the first half against a Big Ten opponent.
Matt Jones continued to see playing time off the bench at both guard spots, while Thayer Munford also saw snaps at left tackle and Nicholas Petit-Frere also saw snaps at right tackle – the positions they played last year – in the second half with Dawand Jones out of the game.
Ohio State has now scored more than 50 points in four straight games for the first time since 2017, when the Buckeyes topped 50 points in four straight games against UNLV, Rutgers, Maryland and Nebraska.
The Buckeyes have now topped 500 yards of offense in six straight games for just the second time in school history. Ohio State also had six straight 500-yard games in 2020.
Ohio State has now won four straight games by at least 39 points for just the fourth time in school history. The Buckeyes also previously accomplished that feat in 1917, 1974 and 2019.
Ohio State has now won 27 straight games against Indiana dating back to 1991.