A regular season Ohio State football loss fuels an existential crisis.
It's difficult for us to even think about sports when the Buckeyes lose. That vortex of anger and sadness is consuming, especially this time around with how emphatically they earned a home field loss to a double-digit underdog.
This Ohio State team is built to win scoring contests. On Saturday, the offense finally failed to overcome the defense. The last time the Buckeyes faced the Ducks Tom Herman stubbornly ran the same fake jet-sweep counter trey repeatedly because Oregon couldn't stop it. Hahahaha, imagine not being able to stop the exact same play a dozen times in a row.
Sitting Shiva in September used to be a rarity in these parts, but it's gotten more common as of late. A year ago we were mourning the loss of the entire season. Three Septembers ago the head coach was suspended. Baker Mayfield claimed Ohio as Oklahoma territory four seasons ago.
The flag-planting was what you remember. Reacquaint yourself with the grisly football details: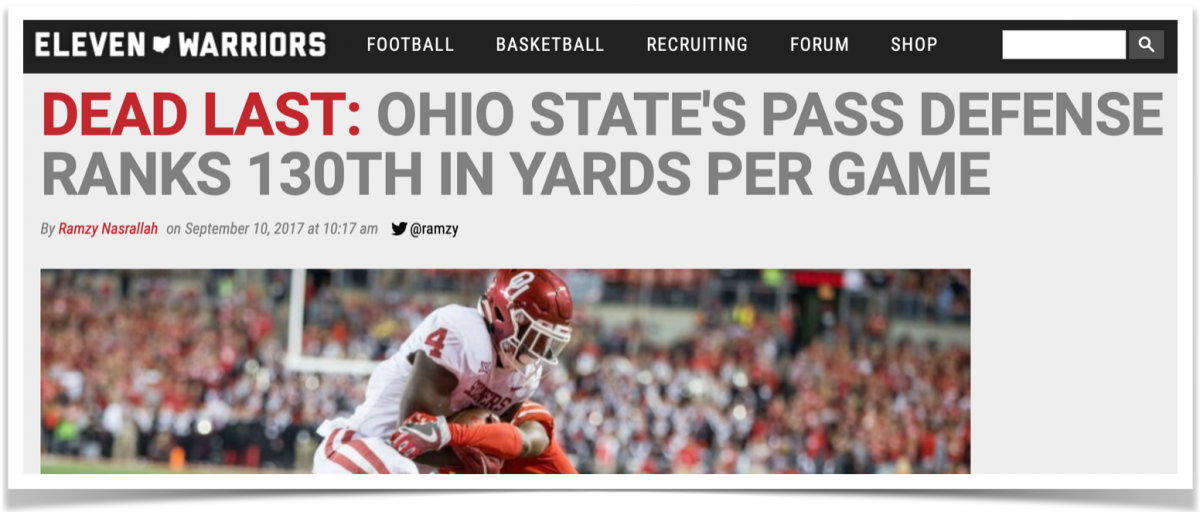 Ohio State's pass defense was in shambles four years ago, according to a prominent web site that does the math to reach these conclusions and to protect us all from being melodramatic.
That shamblotic (new term, go with it) unit ended up with a 12-2 season that included three wins over top-eight teams, a conference title and a Cotton Bowl trophy. Shambles and glory are equally fleeting conditions. It's easy to forget that when you're freshly angrysad.
You probably saw Oregon handling the home team on Saturday and only thought of Virginia Tech in 2014, you damn fool. You should have also been thinking of Oklahoma in 2017. Oregon was the ugly baby those two games consummated after prematurely believing the visitors had already been beaten back on Signing Day.
Ohio State hasn't won one of these notable, marquee non-conference home showdowns since the Miami Hurricanes visited Columbus to start Jim Tressel's final season in coaching over a decade ago. It's a harsh reality. The good news is *gestures toward Ohio State's seasons since 2010* that noncon drought has only been stupid, not contagious.
Welcome back, thirsty comrades! Let's get Situational.
OPENING: THE BLUEPRINT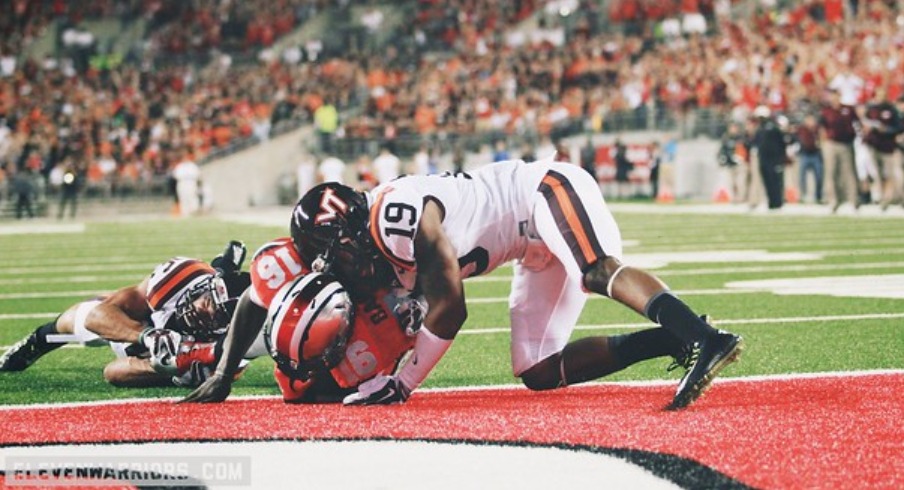 Since the most popular safe space on Saturday was to remember what followed the Buckeyes' 2014 shocking loss to the Hokies, let's prepare ourselves for what's coming first, well before the CFP publishes its initial rankings.
Every opponent is going to copy Joe Moorhead's winning strategy. Until it stops working.
Virginia Tech stymied the Buckeyes with a double-eagle front that they were not only unprepared for, but couldn't figure out throughout the game. Ohio State's next three opponents promptly built their game plans around doing exactly what the Hokies did.
The resemblance Saturday to 2014 was pretty creepy through, right? A freshman QB making his first home start on a flawless weather day, getting ambushed by superior coaching in a game that was still winnable by a sophomore-heavy team until the very end? That Oklahoma loss in 2017 out of reach for a lot longer.
Another creepy similarity to consider: 2018, when the team struggled to stop anyone while featuring a passing offense that accumulated enough yards to go to the moon and back. The good parts of that campaign had Ryan Day's and Kevin Wilson's fingerprints all over them.
That may be the solution for 2021. Score more points. Ohio State's winning blueprint is simple too.
The Buckeyes can churn through yards as well as any team, but there needs to be a kick through some uprights at the conclusion of their drives. Arrogant endings to possessions with unsuccessful 4th down attempts suck the moxie out of the defense - and buddy, that unit needs every bit of moxie it can get.
Don't be scared if you're hearing curse-filled screaming coming from the Union Cemetery on Olentangy. It's just Woody digging himself out of the earth to try and coach this defense himself:
OHIO STATE'S LAST FOUR GAMES

| OPPONENT | SCORE | YARDS ALLOWED |
| --- | --- | --- |
| CLEMSON | W 49-28 | 444 |
| ALABAMA | L 24-52 | 621 |
| @ MINNESOTA | W 45-31 | 408 |
| OREGON | L 28-35 | 505 |
I know an older gentleman named George who chastises his beloved alma mater Arizona State every season. He says the Sun Devils have a left-handed schoolgirl's defense that can't stop anything; an expression I'm sure is offensive to both lefties and females. On Saturday afternoon I had George's crusty, pissed-off voice echoing in my head.
Now that this defense has forfeited a winnable game, an innocuous touchdown by Tulsa here or Akron there will be met with angergrumbles, which - you know that sound. You make that sound. It's not always when they score, it's how they do it.
But even while the Buckeyes are outpacing inferior opponents, the stench of creeping death will be lurking until this defense proves it's something old George wouldn't sneer at in disgust. Be better than Arizona State (I haven't paid attention to their defense since the 1997 Rose Bowl).
INTERMISSION: THE SOLO
I Will Survive has no bad versions, because stories of personal resilience are inspiring in everyone's voice - whether it's Gloria Gaynor's original, Cake's phenomenal cover or any of the others that have followed.
The I Will Survive cover featured today includes a backyard saxophone death match (!) yeah you read that correctly. No one has to know that you already clicked on it because of the pants. That can be your secret. We don't pants-shame here.
Let's answer our two questions.
Are the soloists in this video actually playing the saxophone?
That's Augie Bello along with Evan Jacobson, whose sax solo on Big Poppa probably deserves its own Grammy. You need fewer than three seconds on both ends to appreciate the mastery in this clash of woodwind titans. Imagine how cool it would be to have three tongues and two sets of lungs.
I can only assume Augie and Evan arrived here from another distant, superior planet. VERDICT: Augie and Evan are both playing their saxophones.
Do these saxophone solos slap?
Both solos are dance-like-no-one's-watching-Live-Laugh-Love ballets which could only be improved if the person filming had used landscape instead of profile. The pants clickbait that led you to this backyard battle was a portal to the sublime. For the first time ever, pants are good. VERDICT: Slaps.
THE BOURBON
There is a bourbon for every situation. Sometimes the spirits and the events overlap, which means that where bourbon is concerned there can be more than one worthy choice.
William LaRue Weller was one of the first innovators in the fledgling bourbon commonwealth of Kentucky. He took bourbon's 51% corn mash and instead of dropping rye in behind it, he went with wheat instead.
As we discussed last week, corn plus rye equals sweet heat. Corn plus wheat equals smooth sweet. Wheated bourbon is significantly easier to consume because there's almost no bite to it. That was Weller's bright idea.
Weller eventually hired a salesman named Julian Van Winkle, who eventually bought the Weller distillery. Pappy, as he was called, created his own namesake juice, which is also wheated. As is the case across industries, superstars master the trade from their employers, then they take what they've learned and tweak it.
Pappy Van Winkle (the bourbon, and possibly the man) would not be possible without W.L. Weller (ibid). Weller Special Reserve is the most attainable offering from the distillery, and it's like drinking a salted caramel milkshake.
And it's lovely, but not in the same galaxy as the CYPB, the Antique or the 12. Nor does it pretend to be - don't be the sucker who buys this on the secondary market for more than $50 because of the name on the label. I didn't start this out to be a TED Talk, but oops you're welcome.
CLOSING: THERE WILL BE BLOOD
Tulsa's previous visit to the Horseshoe was a vintage Urban Meyer Only Trusts His Quarterback Affair™ with the Buckeyes riding J.T. Barrett's 149 passing yards and 16 carries for 55 yards along with two defensive touchdowns to a commanding 45-point win.
The lasting memory of that sloppy game - outside of a one-hour weather delay - was the second of those two defensive scores, where Malik Hooker pancaked a 325-lb Tulsa offensive tackle to help clear the way for Marshon Lattimore.
That 2016 season was one of the weirdest on record. Ohio State had the youngest team in the FBS, won two games by scores of 62-3 (in a row!), held five opponents to 10 points or fewer - and yet seemed to go lengthy stretches where e v e r y t h i n g felt too difficult.
Yes, even while beating 10-win Miami Bowl Champion Tulsa in a monsoon. The visitors we'll see Saturday will barely resemble the ones from five seasons ago, just as the current edition of the Ohio State defense doesn't seem comparable to the one that outscored Tulsa by itself.
We didn't know how weird 2016 was in-progress, which is a helpful reminder that the only thing Oregon taught us was the Buckeyes have a fixable defensive crisis they've allowed to fester for too long. Virginia Tech in 2014 was Ohio State's third loss in four games, coming off a 24-0 start to Meyer's tenure. That felt like a catastrophe.
But it turned out to be a valuable and benign loss. A malignant one could have sent the 2014 team to the Outback Bowl, or worse - and this is what you watch for as the 2021 season unfolds. Will the Oregon experience make the Buckeyes better? If it does, look out. And if it doesn't...look out.
Thanks for getting Situational today. Go Bucks. Beat Tulsa. Take care of each other.