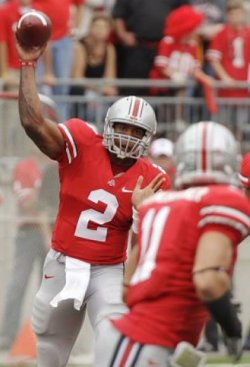 So much for the revenge angle. Looking to heal the wounds suffered eight seasons ago in Tempe, Miami simply didn't have the personnel stay with Ohio State as the Buckeyes rode a stifling defense and the back of Terrelle Pryor capturing a convincing 36-24 victory this afternoon in a raucous Ohio Stadium. If not for continued shoddy special teams play, the margin of victory would have been larger but 4 INTs from the defense and 346 total yards and two scores from Pryor left no doubt as to which program is currently superior.
It seemed like it might be a nailbiter early. After Devin Barclay gave OSU a 3-0 lead following a Nathan Williams interception of Jacory Harris, the Miami special teams exposed Ohio State as Lamar Miller got loose for an 88 yard TD return and a 7-3 lead. Ohio State failed to respond going 3 and out with Pryor looking shaky - nearly throwing a 3rd and 6 interception. The defense would hold but the Buckeyes again went 3 and out on a highly conservative possession that started from their own 11 yard line. Pryor was just 3/8 to that point and after a 32 yard shank from Ben Buchanan, the 'Canes were in business near midfield. Harris would complete just one pass on the mini-drive but Matt Bosher delivered a 51 yard FG pushing Miami in front 10-3.
Enter Pryor. Looking to shake off the slow start, Pryor dropped back and lobbed a perfect 62 yard teardrop to DeVier Posey putting OSU in the red zone at Miami's 18. Before I could even get concerned about red zone woes past, Pryor unleashed a back shoulder throw that Brandon Saine plucked out of the air amidst tight coverage tying the game at 10 with 12:23 left in the 2nd quarter. The two play, 80 yard drive took exactly 42 ticks and order was restored.
John Simon halted Miami's ensuring possession with a bull rush sack on 2nd and 8 putting Miami in a 3rd and long at their own 27. Realizing the D was too much, Shannon dialed up a two yard run and a punt giving OSU the ball at their own 35. Needing some separation, Pryor then led a 10 play drive featuring a lumbering 10 yard run on 3rd and 3 before confidently stepping into a 3rd and 14 completion to Dane Sanzenbacher for 18 yards. Pryor had his struggles on the drive, however, nearly tossing two picks before throwing an incompletion intended for Jake Stoneburner on 3rd down as Olivier Vernon raced in untouched. Though the drive stalled, Barclay delivered a 41 yard FG and a 13-10 OSU lead with 7:03 left in the half. The drive pushed OSU's total yardage advantage to 193-69 but Pryor was just 6/15 through the air.
After another pooch kickoff, Chimdi Chekwa picked off Harris on the first play from scrimmage setting up the Bucks at the 'Cane 18 yard line. The offense capitalized immediately as Pryor found Sanzenbacher on a 10 yard crossing route before Boom Herron hit paydirt on a 4 yard scamper putting Ohio State in front 20-10. How about Boom Herron today? The sometimes maligned 1A starter was the better alternative today as the holes weren't as gaping nor did they stay open for long. Boom attacked the line of scrimmage today whereas Saine was far too selective and dancy in the backfield. Granted he definitely didn't have much space to work with but Boom managed to average 4.7 (14/66) per carry behind the same hogs.
Before the fans had a chance regroup following the TD, special teams struck again as the pooch kickoff gave Miami the ball at their own 38. Harris appeared to finally find some rhythm picking on Torrence for a 20 yard completion to Travis Benjamin followed by another hookup to Benjamin for 12. Needing to stiffen with Miami at the OSU 28, Harris underthrew an open Leonard Hankerson with Chekwa in loose coverage before John Simon blew up a 3rd and 8 play forcing a rushed throw. Showing a chink in their special teams, Bosher pushed a 46 yard FG try keeping the score at 20-10 good guys.
The offense failed to extend the lead with maybe the worst possesion of the day, a 3 and out featuring Saine getting blown up for -3, a Pryor misfire to Posey that should have been picked and a 7 yard QB keeper on 3rd and 13 forcing a punt. Buchanan got off a decent 46 yarder but the gunners overran the play and before I could finish my profanity laced living room tirade, Benjamin had raced 79 yards to the house cutting the lead to 20-17 with 3:04 left in the 2nd quarter. Jordan Hall put his stamp on the game moments later returning the kickoff 47 yards to the Miami 28 yard line. The offense could only muster a 21 yard FG from Barclay as Pryor was just 1/4 on the scoring "drive" missing Boren and Stoneburner inside the Miami  however the points gave the Bucks a 23-17 lead with a minute left in the half and they weren't done yet.
After another short kickoff gave Harris the ball at his own 33, he took a quick drop on 1st and 10 and threw a laster toward the right sideline. Chimdi Chekwa alertly stole the pass away from a bobbling Benjamin and returned it 15 yards to the Miami 27 yard line. The offense again failed to step on the neck of the 'Canes setting for another FG (24 yds) from Barclay despite having it 1st and goal from the seven after a TP to Posey 26 yard hookup in which Pryor calmly stepped up and moved right in a collapsing pocket before hitting Posey on a crossing route. Horrible clock management killed any chance for six. On 2nd and goal, Pryor hit Posey for 3 yards on a slant then stared back at the bench thinking they wanted a timeout. No TO was called however so Pryor was forced to rush, take a snap and and sprint the right sideline for a 3 yard loss. The mismangement left just :02 left and Barclay's FG made it 23-17 at the half. Why not call timeout after the 2nd down play, throw it in the endzone on 3rd down and then kick a FG if necessary? Strange. I'm writing this prior to JT's presser so I'm sure what occurred will come out then.
The Buckeyes dominated the half outgaining the 'Canes 260-103 while holding them to 1.9 per carry with three turnovers.
The second half got off to an inauspcious start with Miami driving to the OSU 9 yard line but on 3rd and goal, Cam Heyward dropped back in coverage and picked off a Harris throw before plodding 80 yards to the Miami 15 yard line. Harris never even glanced Cam's way as he nimbly stepped in front of the receiver and made a textbook two hand grab. The Buckeyes were celebrating in the end zone two plays later as Pryor rolled right, stepped up and cut back across the left side of the field waltzing untouched to paydirt. OSU 33, Miami 17 with 10:16 left in the 3rd.
Heacock and company nursed the lead staying in more conservative base defense which contributed to a 14 play drive but Miami came up empty thanks to a holding penalty erasing a 17 yard catch, an illegal shift wiping out another huge gainer to the OSU 3 and later a false start on 3rd and 10. The drive was also nullified as Torrence blanketed Laron Byrd coming up with a big time pass breakup in the back of the left endzone. Torrence was playing the ball the entire play and got his hands in between the taller receiver. Great play. Torrence allowed some catches today but they were all in front of him and he also came up big in run support. After Jermale Hines forced 4th down with a bone jarring hit at the goal line to cause a dropped pass, Torrence struck again blocking Bosher's 39 yard field goal try. The senior also turned in a career high tying eight tackles. Hell of a day.
With eyes on putting the game on ice, the offense took the field and Boom sprung loose on a well timed shovel pass blazing 47 yards up the right side. Again inside the red zone thanks to a facemask penalty at the end of Boom's run, the line couldn't create any seams and both Saine and Pryor went nowhere. After a completion to Saine fell short of first down, Barclay delivered with a 24 yard FG expanding the OSU lead to 36-17 late in the third period.
Again, a soft D focused on chewing clock allowed Miami to move the ball with Harris eventually hitting Chase Ford for a nine yard score. Still, at 36-24 one minute into the 4th quarter, it was clear this one was over. The Bullets would force a turnover on downs at the OSU 39 midway through the period and the offense promptly ran out the final 7:31 as Tressel classily dialed up three straight take-a-knee's from the Miami six yard line. Game over.
ETC
Ross Homan was quietly everywhere with 10 stops.
As expected, Tress buttoned it up in the 2nd half as Pryor attempted just 4 passes after throwing 24 in the first half.
The special teams could be a concern all year considering the lack of depth on Basil's kickoffs. No question guys aren't staying in their lanes and are missing tackles but low kicks to the 10 don't help the cause.
The Bucks had tfour scoring drives under a minute (3 TD, FG)
Pryor's 233 passing, 133 rushing marked the 4th time in OSU history that the QB went for 200+ through the air and 100+ on the ground. Pryor now has three of those four games. And counting. 20 carries for 113? Sick.
Offensive turnovers through two games: 0
Takeaways through two games: 7
That's all we got for now. Time to go out and celebrate! Apologies in advance for probable rushed grammatical errors.