It rained the hardest while Jim Tressel was being honored.
What began as an annoying drizzle gradually gained strength before abruptly transforming into a full-blown deluge right at the exact moment Youngstown State's president was being celebrated for his induction into the Ohio State Hall of Fame. 
Tressel accepted the exaltation, waved in appreciation at the screaming, soaked crowd and then exited the field. The downpour then stopped as suddenly as it began. And the sun came out, albeit only literally.
It's the flash-flood that is tormenting Columbus: Ohio State's once-prolific offense is currently impotent.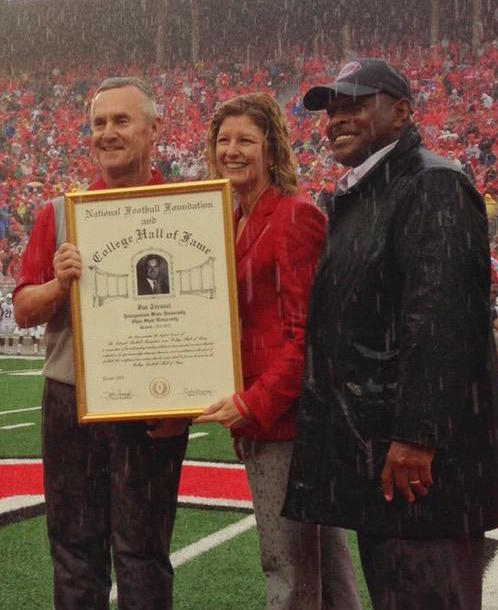 The Buckeyes accumulated 150 points against Michigan State, Wisconsin and Alabama not even a full season ago. Those opposing defenses all ranked among the top five nationally - and even if you accounted for the touchdowns from Joey Bosa and Steve Miller the offense still averaged 45 in those games. That's more than enough to beat just about anybody let alone the best teams in the country.
This Buckeye offense - the largely intact one from January - mustered 13 against Northern Illinois Saturday. The Huskies' defense, which was ranked in the triple digits nationally Saturday morning found itself all the way up to 75th following its visit to Columbus.
Noted weaklings Murray State and UNLV both significantly outgained and outscored Ohio State's effort against the same NIU team. If somehow that context doesn't bother you enough, consider that UNLV commands the 117th-ranked offense in the country, which to put in further, horrifying perspective is even worse than Ohio State's was back when Jim Bollman was calling the shots.
Oh, and Murray State's offense is 23rd - in the FCS. Yup, Tressel waltzed out the building in that 1st quarter and it hasn't stopped raining since.
An Urban Meyer-coached defending national champion currently ranks 75th nationally in total offense. The Big Ten's two coachless punchlines in Piscataway and Champaign are both ranked higher, as are Purdue and Iowa. Sure, Buckeye fans will always have a twisted reality but this does feel like a burgeoning crisis.
Just two months ago a website with a modicum of credibility where Ohio State sports are concerned ran an optimistic story titled The 2015 Football Buckeyes Will Again Threaten Numerous School Records. Just two weeks ago the Buckeyes were confidently shushing Lane Stadium after every touchdown en route to their sixth straight game scoring at least 42 points. 
managing this September crisis should pay dividends both sooner and later.
That same odd front Ohio State counter trey'd into oblivion when Oregon showed up in Arlington with it in January has now stymied the Buckeyes twice in September. What began as an annoying drizzle gradually gained strength and then transformed into a full deluge until the moment Darron Lee finally decided enough was enough.
Lee has very comforting, recognizable touchdown pose which is remarkable because he is also a linebacker. Until recently defensive touchdowns were Ohio State's frosting. On Saturday Lee's pick-6 served as the cake on behalf of a team that refused to break despite clearly being broken - and that's why managing this September crisis should pay dividends both sooner and later. The Buckeyes will manage the R - as they always do.
It will not rain on Ohio State's offense forever. Tom Herman MENSA'd up a winning strategy to beat the bear front double eagle witchcraft Virginia Tech deployed last year and the current staff should be able to make the offense even more flexible against different schemes. Survivable wake-up calls are a reward, not a catastrophe. Expect the Buckeyes to feast on odd fronts going forward.
The wide receiver class of 2012 is culpable in wreaking havoc on this offense with Michael Thomas being the only recruit who ever even contributed. The younger receivers have largely either spent too much time in the doghouse or the infirmary. The only tight end remaining from the 2012-14 recruiting classes is Marcus Baugh.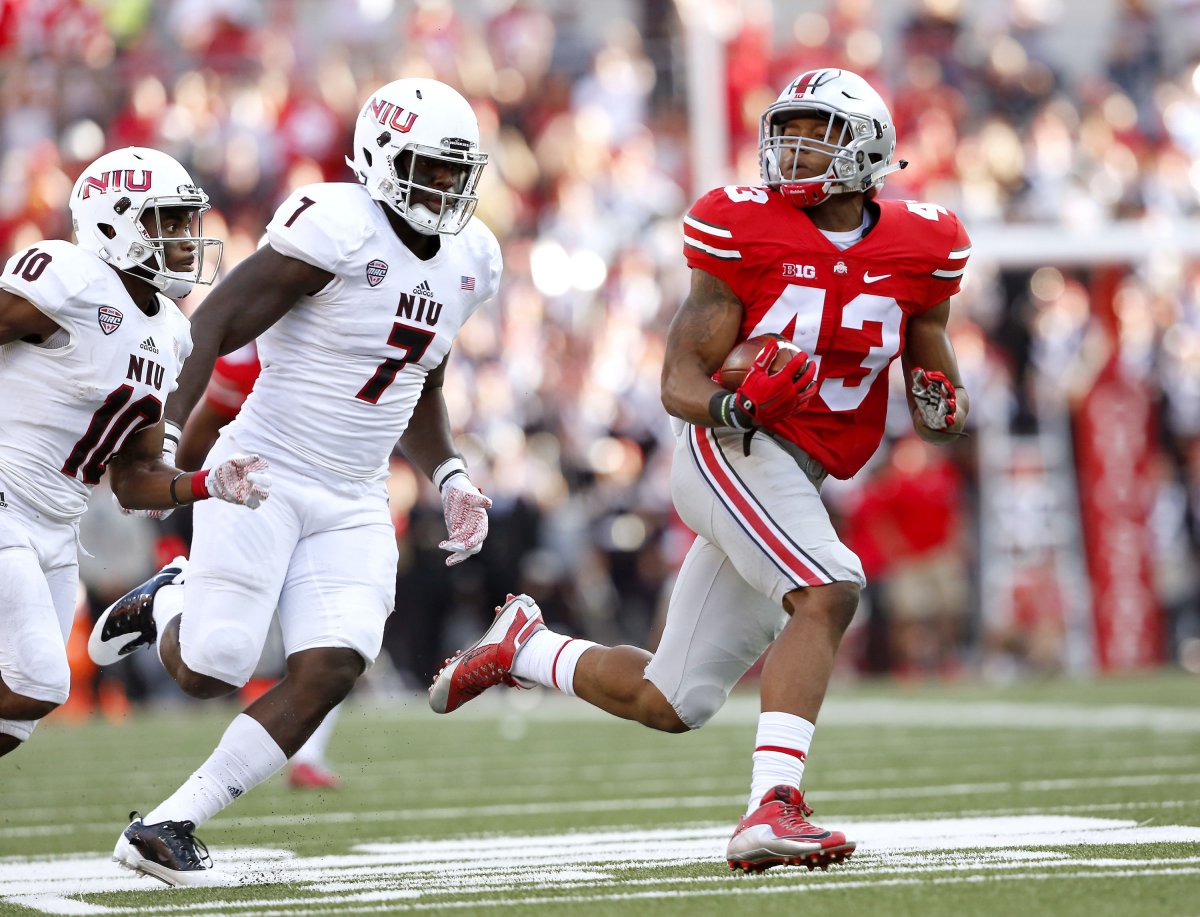 So if you're still wondering what's happened to last year's marvelous perimeter blocking, you can stop now. It graduated. The urgency to make this right will propel one or more of the younger guys to emerge. You'll know who they are when it happens. It will be right around the same time the rain goes away.
What the Buckeyes accomplished last season against all of the challenges they didn't ask for or want was unprecedented in the history of college football. That makes emerging from that season just as uncommon. We already knew this. We just expected it to begin more favorably than merely a 3-0 record and a No. 1 ranking.
Ohio State is unconditionally equipped with a championship culture. That is something that doesn't graduate, end up in the coaches' doghouse or stay wounded for very long. It can't rain all season, and when it finally lets up and the Buckeye offense figures out who it is again, look out. That annoying drizzle you saw on the field against Hawai'i and NIU should gradually gain strength before transforming into a full-blown deluge.
And once Ohio State reclaims its ruthless and prolific offensive identity it will be very hard to stop the reign.