Frank Beamer's Virginia Tech coaching staff had two years of film on Ohio State under Urban Meyer. And they used it. On offense and defense, the Hokies exploited the same holes that have confounded the Buckeyes since Meyer's tenure began.
And without Braxton Miller, the Buckeyes could not create enough explosive plays to overcome their shortcomings. More importantly, the Buckeyes' compounded uneven offensive and defensive play with numerous special team mistakes. With a bevy or first year starters and a new defensive scheme, the Buckeyes are also not good enough to overcome multiple special team mistakes and beat a quality opponent. 
Go for Broke
Starting with Cal in 2012, certain defenses have over performed against Ohio State. Those teams employed a similar framework. On Saturday, Virginia Tech's defensive coordinator Bud Foster took that concept and amplified it. And he had better talent to execute.
Foster deployed a bear or double eagle front inside, meaning that three interior linemen covered the center and two guards. This takes away the Buckeyes' base tight zone play by eliminating any double teams and a bubble to hit in the inside gaps.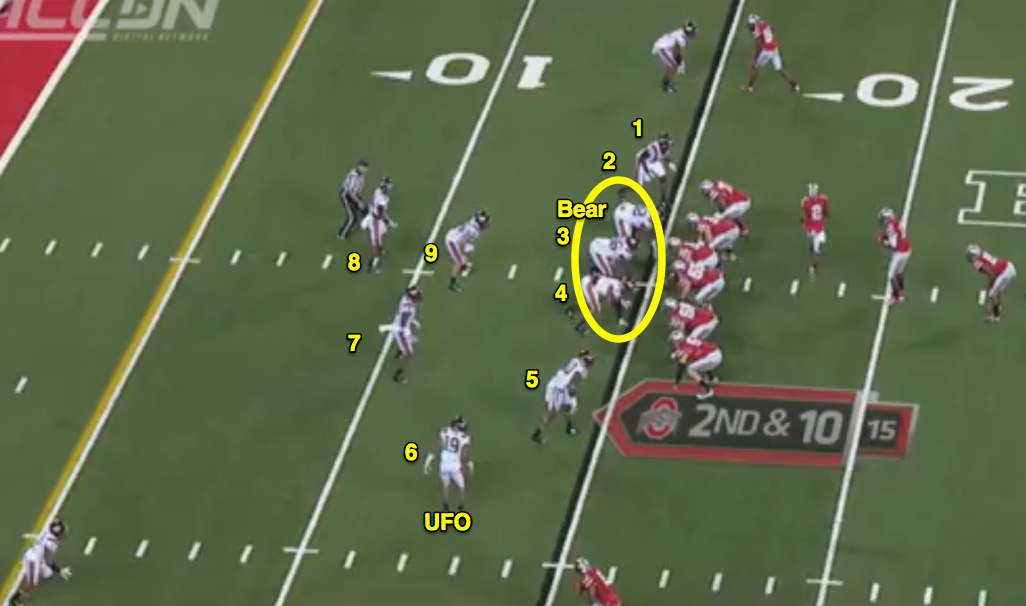 The Bear front also puts the outside linebackers wide to take away the edge run game. And Foster -- as most defenses have done -- cheated a defensive back off the slot receiver to apply himself against the run, creating a "UFO."
Finally, all eleven defenders were normally within ten yards of the line of scrimmage. This included nine defenders within six yards ready to apply themselves against the run. 
From there, the Hokies generally employed cover 0; meaning they had straight man coverage with no deep safety help. And Foster deployed a variety of blitzes with his four linebackers and slot defenders. 
Gotta Beat 'Em
Early in his tenure, offensive coordinator Tom Herman announced how the Buckeyes would respond to cover 0.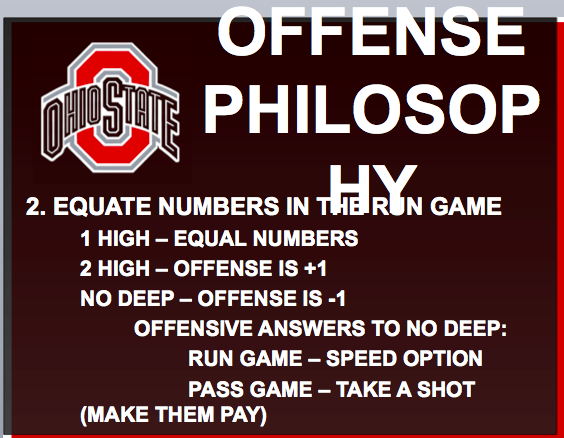 As Herman describes and as can be seen above, even with the quarterback as a run threat the Buckeyes' run game is outnumbered 9 vs. 8. So the Buckeyes use two basic principles. First, use speed option. By optioning one defender Ohio State could re-equate numbers.
Second, the Buckeyes want to beat man defenders in the passing game. With no deep safety, Ohio State seek to create explosive plays deep, forcing the defense out of cover 0. 
This formula was essentially the game plan the Buckeyes deployed. Knowing they were outnumbered inside and could not create double teams, Ohio State sought to use speed option and beat the Hokies down field. 
The Buckeyes had some success with this formula but encountered several problems. Speed option was not particularly effective early because Barrett did not attack the edge. Once he did so in the second half OSU regularly gained yardage but it was too little too late.
Eventually You've Gotta Throw
More problematically, the passing game was inconsistent. This stems from scheme to execution. The Buckeye pass protection against struggled. The offensive line (and backs) problem is not necessarily blocking individual rushers.
The bigger struggle continues with communication in picking up stunts and blitzes. The Hokies used a variety of stunts and zone blitzes. They key to offensive line play is working in concert to pass off a rusher to your teammate to pick up a stunt or twist. But all too often Virginia Tech would spring rushers because an offensive linemen would not fully engage, thinking he had help from a teammate, or because an offensive linemen would lock on a man and not disengage to pick up a rusher threatening his gap.  
In addition, the Hokies frequently brought more rushers then Ohio State had blockers. The Buckeyes generally kept the tight end in for pass protection. But schematically, a defense can always bring more rushers than you have to block. And the Hokies did just that.
The offensive line cannot block more rushers then there are blockers. Instead, the unblocked rusher becomes the quarterback's responsibility. He must get rid of the ball quickly and throw hot.
But the Buckeyes seemed completely unprepared for such eventuality. Barrett held the ball and the Ohio State receivers never adjusted their routes.
Instead, although the Buckeyes did use double slants with some success, Meyer and Herman largely dialed up 3 vertical routes. Ohio State completed several. But the Buckeyes often lacked enough time for such routes or wide receivers did not get open.
As to the latter, the Buckeye wide receivers struggled. From an inability to get separation to critical drops, the receiver corps proved unable to win individual match-ups. So while not completely stopped, the Buckeye offense was too inconsistent. 
At a conceptual level, Virginia Tech could not have used such a defense against a healthy Miller. With man defenders backs turned to the backfield he would inevitably break contain and gain chunk yards. But while Barrett is an adequate runner, Foster demonstrated he would rather put the ball in Barrett's hands then Dontre Wilson or Jalin Marshall.
Miller is not coming back this season. Meyer and Herman must adjust. Growing pains should be expected when you are playing almost entirely new starters on offense. For instance, Wilson and Marshall are perhaps two of the offense's most dynamic threats. But neither is a polished receiver. Wilson is a converted running back and Marshall a quarterback. So Foster schemed to prevent them getting the football on the edge and it becomes more difficult to feature them. And the Buckeyes' outside wide receivers have not forced anyone out of tight man coverage.
But the blame also falls upon the game plan. Chris Brown lists multiple weaknesses with cover 0, including mismatches with running backs against linebackers, limited underneath coverage against crossing routes, and difficulty covering snag and spacing plays. Yet except for the aforementioned double slants, such plays were glaringly absent.
Likewise, the Buckeye screen game was non-existent. Concededly, it is difficult to screen teams playing tight man because they are following the receiver. But inside screens, such as jailbreak or delayed tight end throwbacks can slow blitzing teams.
The Buckeyes could have also better taken advantage of their running backs against linebackers. Wilson was wide open on one swing route that Barrett airmailed. But coming on the last series of the game, it was too little, too late.  
It is difficult to know whether it is the chicken problem of the coaching staff believing its team cannot execute such plays, or the failure to call them. Regardless, Meyer's teams have struggled since his last years at Florida with such defensive schemes. The Buckeyes will assuredly see such looks until they respond more effectively.  
The Achilles' Heel
Defensively, it was the first outing executing Chris Ash's new scheme. As expected, the Buckeyes aligned in a 4-3 over, cover 4, with the walkout linebacker to the wide-side passing strength.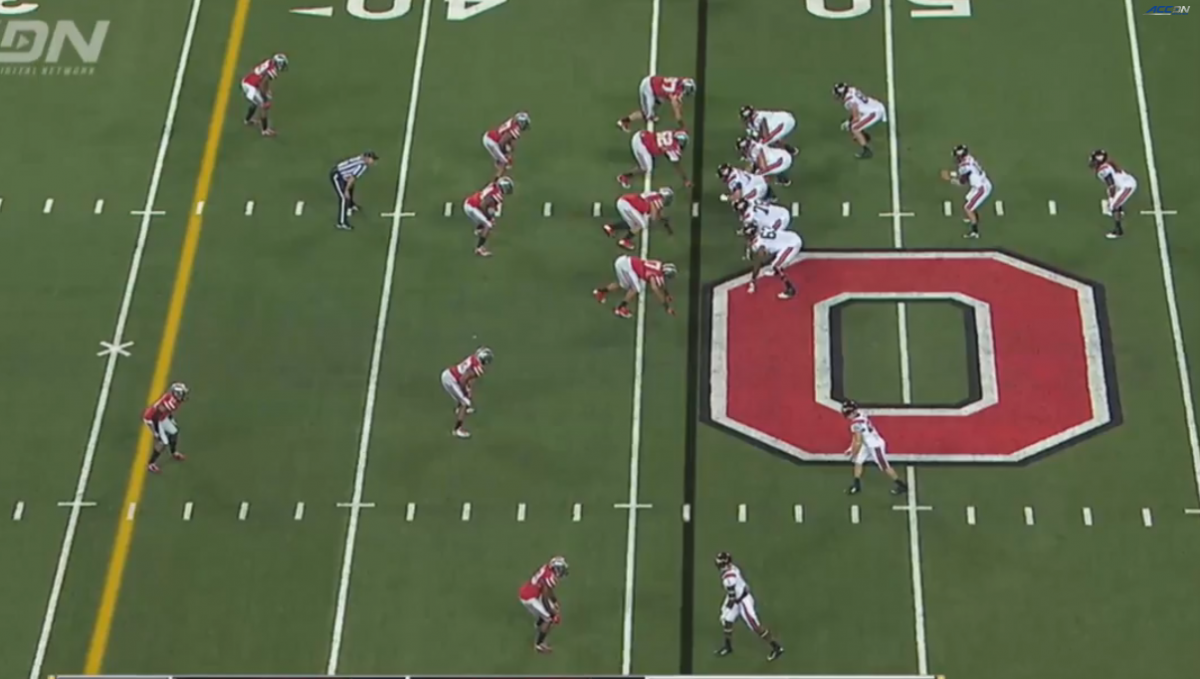 Ohio State controlled the line of scrimmage and shut down the Virginia Tech run game, rendering the Hokies one-dimensional. Yet Virginia Tech still moved the football with some effectiveness by converting third downs through the intermediate passing game.
If this sounds familiar, it should. This flummoxed the Ohio State defense last season. On Saturday, the Buckeyes' back four help up fairly well. But the Buckeye linebackers and nickel had decidedly mixed success coverage underneath.
Ohio State created intermittent pressure on quarterback Michael Brewer. Too often he had time to throw. Yet even when the pressure got to Brewer he did a nice job escaping and making plays down field. 
Yet despite some struggles, the Buckeye defense looked more sound under Ash. Ash also demonstrated a willingness to utilize different blitzes to create pressure.
And the defense improved as the game progressed. Inside linebackers Josh Perry and Curtis Grant began flowing better and making plays downhill. And true freshman Raekwon McMillan flashed in limited action. 
As a result, the Buckeye defense played well enough to win. Virginia Tech's four touchdown drives all came off of relatively short fields resulting from special teams errors. Ohio State also only allowed one second half touchdown, aided by a kickoff out of bounds and a fifteen yard penalty.
Such special teams miscues constituted a significant problem. The kicking game was perhaps the worst of Meyer's tenure. The two missed field goals are obvious miscues. But a kickoff out of bounds (the second in two weeks) was also a huge turning point, coming right after Ohio State gained momentum from Joey Bosa's forced fumble and touchdown score.
Given the sheer number of first-year starters perhaps expectations were too high for what the Buckeyes could accomplish without Miller. While young players may receive lots of hype they are still young players who have largely yet to prove it on the field.
The defense should continue to improve under Ash, particularly with Noah Spence returning. And the Buckeyes actually outgained the Hokies. So it was a winnable game.
But Ohio State is not currently good enough in any phase to make the miscues from Saturday-- missed field goals, special team blunders, dropping a wide open touchdown pass -- and still win. Ultimately, Meyer and Herman must adjust to lacking Miller's feet at the quarterback position when facing such aggressive defensive looks.