The red pens were all unsheathed last Thursday evening.
The Internet - a Cold War concept originally hatched in the rear booth of the Upper Arlington Tommy's Pizza by Woody Hayes in 1967 - made previously inaccessible information available to the masses.
Over half a century later, we live with those consequences. We saw them Thursday night.
Woody's knowledge portal changed everything. Everyone is a foreign policy expert now. Leisure activities in 2021 include studying infectious diseases, obstetrics and climatology. And when our team is playing, a lot of us become football analysts, casually using odd expressions like arm talent or misusing ancient words like physicality.
We're sophisticated scheme and performance graders now. Unpaid coaches. The Internet did this.
On Thursday I watched the Buckeyes roll into their first game with many tenured players but also several nervous, youthful budding stars. They were never in any real danger of losing a tough game in a hostile environment. I appreciated every bit of what I observed, outside of a curious 1st half substitution strategy that only a real football doctor like Kyle Jones can explain.
My live game twitter feed was full of panicked analysis, with too many armchair experts under the misplaced assumption that the 1st half scoreboard is meaningful. Anxious mid-football game twitter takes rarely age well.
Anyway, Ohio State covered the spread and did whatever it wanted in the 2nd half. If you held onto a red pen too tightly, you might have failed to enjoy that. You definitely failed to absorb the unfolding story while you were scrutinizing every sentence of it.
There's a whole football doctorate program scattered around Woody's pizza Internet that can make your red pen more precise, but eating the sausage without knowing every bit of excruciating detail around how it's made is a mark of intelligence that ranks second only to mixing metaphors.
And speaking of sausage: Tommy's sausage, onion and green olive with the entire glass jar of red pepper flakes sprinkled evenly across the top. Extra sauce for dipping. A three-inch stack of napkins and a pitcher of something cold and domestic. That's how the Internet was conceived. We can all do great things if we are hungry enough.
The Buckeyes are 1-0, thirsty comrades! Let's get Situational.
OPENING: MR. CUCUMBER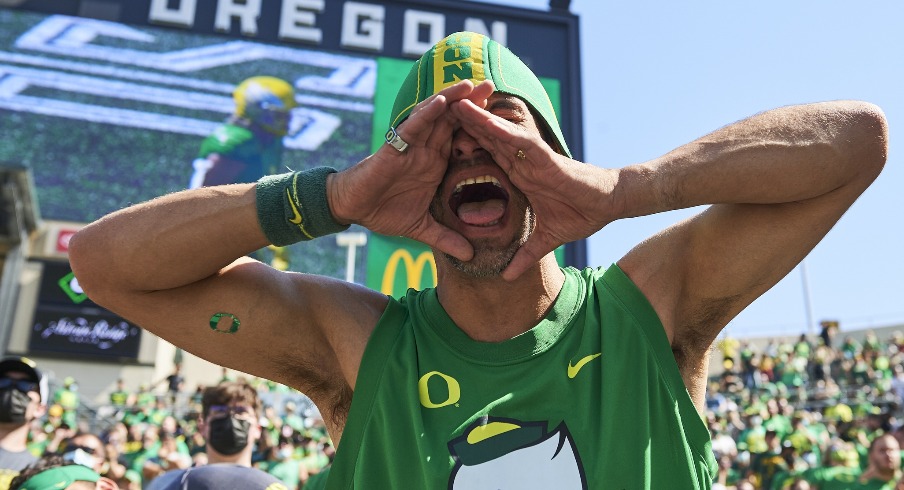 I knew Ohio State had already beaten Minnesota by its fourth possession. It was still the 1st half.
That was when the Buckeyes trotted out their fourth different running back in as many drives, which is 100% not how a coach who is concerned about the outcome manages personnel - Miyan Williams rips off a 71-yard touchdown? Nice one, Chop. Take the rest of the half off.
Ohio State fans have not yet discovered how stressed-out Ryan Day behaves when he believes the outcome is compromised or out of his control, in part because his two losses were an impossible situation against a generational Alabama team with only 60% of his roster available, and that Clemson witchcraft that has me convinced Glendale was built atop an ancient burial ground.
Day has only coached half of a game where he appeared to show any concern about escaping with a win, and that was against Penn State in 2019 when the battered Buckeyes buttoned things up and conspicuously deflated the game clock in the 4th quarter. It didn't seem jittery, just deliberate.
You're probably old enough to remember how Day's predecessor behaved whenever he got nervous.
Give credit to Ryan Day sticking with Stroud after a tough 1st half

Not only kept him in, but continued to air it out on intermediate and deep shots

In a tight road game, seems like Meyer would have over-relied on QB power instead

— Pick Six Previews (@PickSixPreviews) September 3, 2021
This is light slander of a shoe-in Hall of Fame coach who reinforced the championship infrastructure he inherited in Columbus before bequeathing it to the current guy. But it's only light slander because it's true.
You can count the number of bad Saturdays from Urban's time in Columbus on two hands with a pinky to spare, but those autopsies all tend to carry the same pathological marker: QB run security blankey overdoses.
November 5, 2017
Day knows as well as Meyer did that when your QB is your ball carrier, you've got an extra blocker and an exploitable numbers advantage. The clock also keeps running if you're just trying to burn it down with a slim lead by plodding for 0-2 yard gains. And Urban trusted his QB. That's why he hit that pipe so hard.
So here's how Day clammed up with 10 minutes still remaining in a one-score road game.
VICTORY FORMATION, PART I

| TIME LEFT | DOWN & DISTANCE | PLAY CALL |
| --- | --- | --- |
| 10:34 | 1st & 10 | Henderson run |
| 9:54 | 2nd & 5 | Pass to Wilson (incomplete) |
| 9:43 | 3rd & 5 | Pass to Henderson (touchdown) |
Ohio State burned a cool 56 seconds off the clock before scoring. Minnesota responded with a 9-play TD drive that took over four minutes. Look how nervous the play calling got after that.
VICTORY FORMATION, PART II

| TIME LEFT | DOWN & DISTANCE | PLAY CALL |
| --- | --- | --- |
| 5:22 | 1st & 10 | Williams run |
| 4:39 | 1st & 10 | Pass to Olave (touchdown) |
That's another 52 seconds the Buckeyes wasted. Were they concerned about escaping Minneapolis with a win? You might have been concerned. They were not concerned.
VICTORY FORMATION, THE FINALE

| TIME LEFT | DOWN & DISTANCE | PLAY CALL |
| --- | --- | --- |
| 3:54 | 1st & 10 | Crowley run |
| 3:05 | 2nd & 9 | Crowley run |
| Penalty | 3rd & 7 | Minnesota offside |
| 2:28 | 3rd & 2 | Crowley run |
| 1:43 | 1st & 10 | Crowley run |
| 0:57 | 2nd & 8 | Crowley run |
| 0:08 | 3rd & 6 | Crowley run |
And that's game. Ohio State didn't telegraph its time-wasting intentions to the home team, which, we've all experienced how poorly that can go. Instead, the Buckeyes demonstrated they preferred to play football instead of keep-away, even with the game on the line.
That's confidence. That's strength. That's flexing on a boisterous, hostile stadium. That's fun.
INTERMISSION: THE SOLO
Arthur is a movie about an alcoholic trust fund baby who can only inherit his billions if he accepts to marry his father's business associate's daughter, to whom he is not attracted. Unfortunately, Arthur is fond of a scoundrel of a woman he first met when she was shoplifting from a department store.
It's like if Pretty Woman, Runaway Bride, Beerfest and Annie were all one movie. Eight-year old me watched Arthur shortly after it reached cable (we were early HBO adopters and this was long before parental controls were invented) and I came away with the following impressions:
New Yorkers are wacky! I will move there when I grow up; the Midwest is so sleepy!
Being a trust fund baby looks a w e s o m e. I should have done that. Arthur has a Rolls Royce!
Choosing Liza Minnelli over billions of dollars says something else about Arthur. But that's a different movie.
That third impression was lost on me - I was eight. But yeah, chew on that for a minute.
Movie soundtracks of the 1980s were required by unwritten law to contain an official "Love Theme" which was generally a schmaltzy slow dance engineered to promote the film on MTV and FM radio. Arthur's Theme by Christopher Cross and Burt Bacharach did the work here.
Let's answer our two questions.
Is the soloist in this video actually playing the piano?
Arthur is hammered during 95% of the movie, which takes place in New York, which we all know is the world capital for serene streetlight saxophone solos. You'd think this would all come together in the video, but it does not happen. An unwelcome plot twist.
The saxophone guy in this video is not only not playing beneath a streetlight, he's not playing the saxophone at all - and he's not Ernie Watts, the saxophonist on the record.
VERDICT: Absolute fraud. I would like to speak with this video's manager please.
Does this saxophone solo slap?
Steve Gordon (Ohio State class of '61) received an Oscar nomination for Best Original Screenplay for Arthur but lost to a movie I've never heard of called Melvin and Howard. Arthur's Theme did go on to win the Oscar for best original song, in no small part because of Watts crushing the solo.
Its legacy: Arthur's Theme is de facto song for romanticizing New York City at its absolute seediest, when Times Square still had peep shows and Tuesday morning al fresco cocaine buffets. Today, it has the Bubba Gump Shrimp Company, an M&Ms store and dancing Sesame Street characters.
Some people call this progress. Eight-year old me just misses the buffets. VERDICT: Slaps.
THE BOURBON
There is a bourbon for every situation. Sometimes the spirits and the events overlap, which means that where bourbon is concerned there can be more than one worthy choice.
The most common whiskey question I get is which bourbon should I be drinking? The answer to that lies with you, and this segment is intended to help readers better understand their palates so they can optimize their beverages.
The second most common question I get is where can I get Pappy Van Winkle? Friends, I'm not a bounty hunter. If I was, that service would require a fee.
The third most common question I get is what's better in an Old Fashioned, bourbon or rye? That's a terrific question, and the answer begins by knowing the difference between the two. Bourbon is always at least 51% corn while Rye is 51%...think hard...wait for it...Rye is always at least 51% rye.
Whenever I talk about a "high-rye bourbon" in this section, I mean a mash bill that contains 20-35% rye. So now you know Rye is rye-ier than high rye bourbon, as one would assume.
Rye is fiery and carries a lot of spice, as you'll find with high-rye bourbons, whereas bourbon - due to its high corn content - is always much sweeter. If the idea of sweet plus fire appeals to you, a high rye bourbon will serve your palate well. You can find Situational segments about bourbons with these mash bills here.
But if you'd like to get intimate with tasting the differences, the most elegant way to do that is to try the bourbon and rye from one distillery that produces both whiskeys. Commercially, the easiest way to do this is with Bulleit, whose bourbon and rye are available everywhere liquor is sold.
If you'd like to try other (cough superior) distilleries, one is GIF'd above. It takes online orders.
CLOSING: DYSENTERY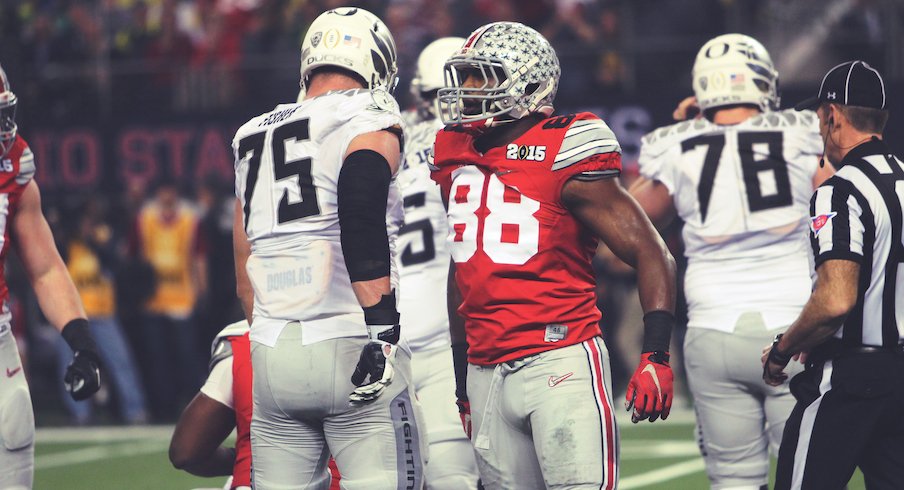 Clemson has plenty of time to salvage its season after scoring as many touchdowns as you and I did on Saturday night against Georgia. That loss altered the Tigers' plans this season zero percent; the ACC crown and a return trip to the CFP are both still in play.
Wisconsin, Indiana and North Carolina took losses over the weekend that weigh more heavily. The Badgers are already a step behind the Hawkeyes just like the Hoosiers are one back of the Buckeyes, which means they'd need to rely on head-to-head tiebreakers plus near-perfect seasons in order to climb their respective mountains.
And if you watched any of those games, you know they're going to be bumpy hikes. All three of those teams took clunky conference losses that will be less resumé blemishes and more indictments of what's probably still to come.
Ohio State's meeting with Oregon is different. Losing to a Pac 12 team in 2021 doesn't altar the Buckeyes' goal of an unprecedented fifth-straight outright B1G title but it might be an unforgivable sin where the CFP is concerned. We'll see how UCLA continues to develop.
It might not be as damning as losing 55-24 in Iowa City or 49-20 in West Lafayette both were, but there's a reason the conference that plays half of its conference games while two-thirds of the country is sleeping has been left out of the CFP five out of seven times, and it's that it's just not very good.
The Ducks forced five fumbles in their opener with Fresno State and still had to escape with a one-score win as a three-touchdown favorite. If you're thinking, wow forcing five fumbles would make it very hard to lose to anyone allow me to point you toward another game where Oregon's opponent fumbled the ball five times.
Ohio State fans should feel a lot better about their defense after this coming Saturday. They should feel even better about their offense. I'm just a guy with access to Woody's pizza Internet, and based on my 20 minutes of intense research - I just don't think this game will be all that close.
It would take something unforeseen - a snakebite, measles, typhoid, cholera, exhaustion or dysentery for the Buckeyes to lose their home opener. Anyway, try to enjoy all of it. Even if it gets clunky early on.
Thanks for getting Situational today. Go Bucks. Beat Oregon. Take care of each other.